Breeze Airways is the US airline startup that launched operations earlier this year. While the airline initially launched operations with used Embraer E190/195 aircraft, eventually the Airbus A220 will be the backbone of the carrier's fleet, as Breeze has 80 of these on order. Breeze has now taken delivery of its first Airbus A220, and has revealed what passengers can expect. Goodness, this is impressive.
Breeze Airways A220s will have just 126 seats
Breeze Airways' Airbus A220-300s will be in a shockingly premium configuration. The planes will feature 126 seats, split up between three different seating options.

At the front of the plane are 36 first class seats (marketed as "Nicest"):
These are in a 2-2 configuration
The seats feature 39″ of pitch and a foot rest
The seats have both 110v and USB outlets
Perks for booking "Nicest" include a drink and snack, priority boarding, a carry-on bag, two free checked bags, free Wi-Fi, and 6% BreezePoints earned
Behind that are 10 extra legroom economy seats (marketed as "Nicer"):
These are in a 2-3 configuration
The first row (exit row) features 49″ of pitch, while the second row features 33″ of pitch
The seats have USB outlets
Perks for booking "Nicer" include a drink and snack, priority boarding, a carry-on bag, one free checked bag, and 4% BreezePoints earned
In the back are 80 standard economy seats (marketed as "Nice"):
These are in a 2-3 configuration
The seats feature 30″ of pitch
The seats have USB outlets
Perks for booking "Nice" include a personal item and 2% BreezePoints earned
The Airbus A220 in general is a joy to fly, as it's one of my favorite narrow body jets, thanks to the 2-3 layout. While Breeze won't have personal televisions at every seat, the airline will have USB outlets, streaming entertainment, and Wi-Fi. I think the one disappointing aspect of these new cabins is that there won't be 110v outlets in economy. That shouldn't be too much to ask for on a brand new plane on an airline that's trying to offer a great experience.
As a point of comparison, JetBlue's A220s feature a total of 140 seats, and that airline is generally known for having comfortable cabin layouts.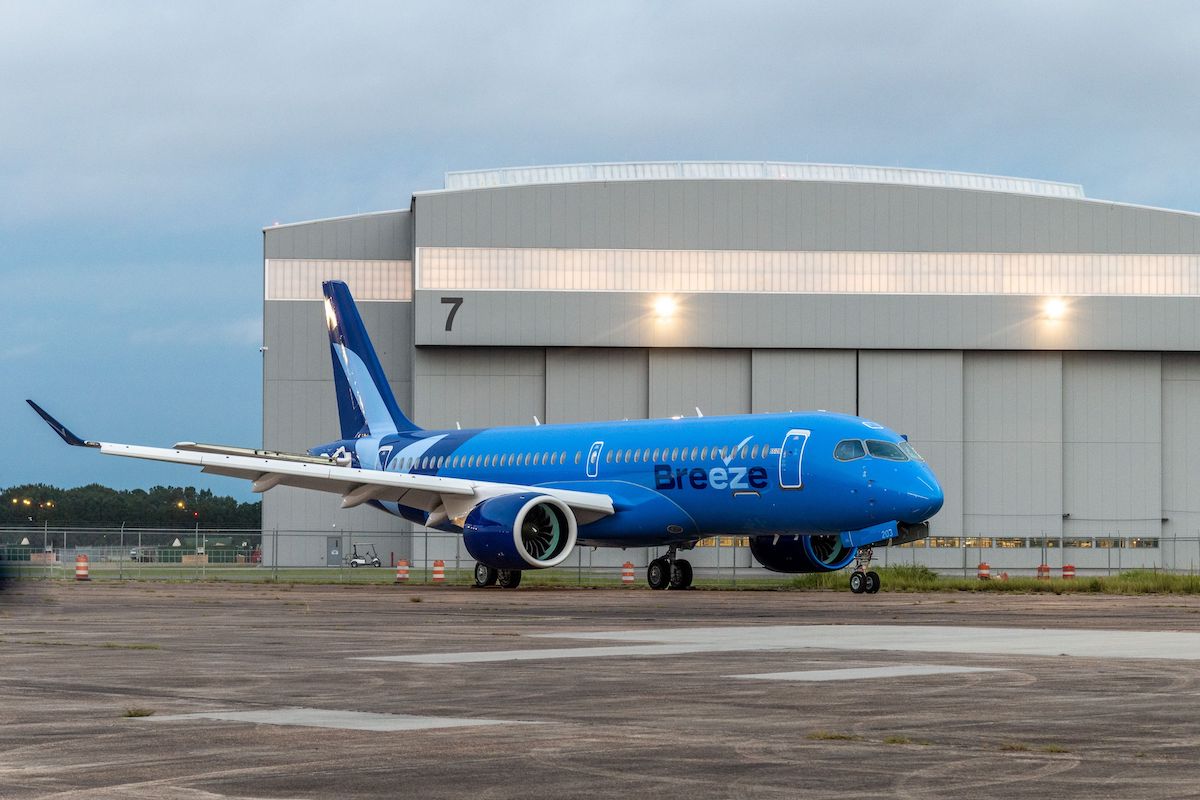 Breeze Airways' surprising gamble on premium seats
Breeze Airways is an airline that operates point-to-point routes in leisure markets. In other words, the airline is competing with the likes of Allegiant Air. Usually these airlines are all about getting per-passenger costs as low as possible, and that means cramming as many seats as possible onto planes.
Therefore it's a bit surprising on the surface that Breeze would introduce one of the most premium-heavy configurations in the industry (not just among low cost carriers, but among all airlines).
What's the logic here?
Breeze doesn't plan to charge a huge premium for first class, but rather the airline intends to charge a modest premium that customers will be willing to pay, though it'll vary by market
The opportunity cost of first class on the A220 is much lower than on other mainline jets, since you're only losing one seat per row (due to the 2-3 configuration in economy) rather than two seats per row (A320s and 737s have a 3-3 configuration in economy)
The airline is giving this configuration a try, but notes that there's lots of flexibility; the cabin could quickly be reconfigured into a 145-seat cabin with just economy, or the 36 first class seats could be turned into 21 flat beds, if Breeze eventually flies longer or more premium routes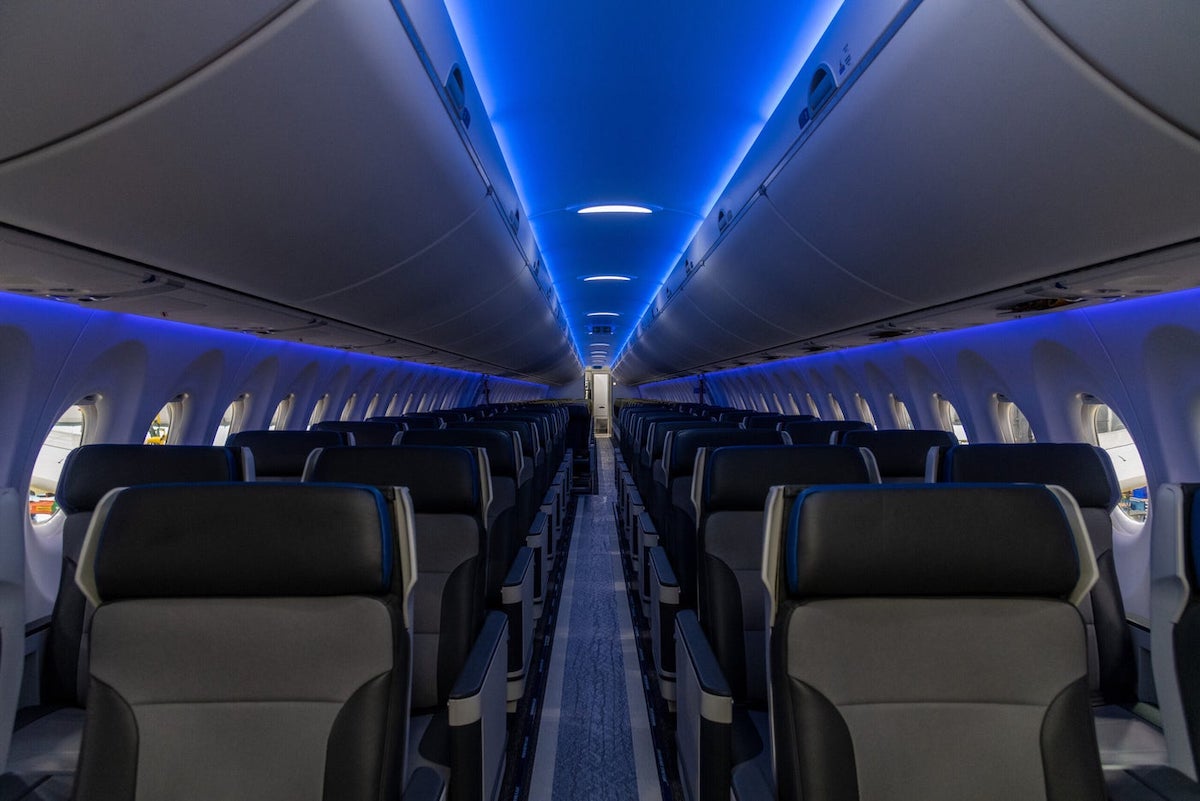 Don't expect Breeze Airways A220s to fly anytime soon
While Breeze Airways has now taken delivery of its first Airbus A220, don't expect the airline to actually start service with this new aircraft type anytime soon. The airline plans to launch A220 operations in the spring of 2022, so we're most likely still six months from these planes entering service. Along similar lines, potential routes haven't yet been announced for the A220s.
The A220 now needs to go through the certification process with the airline and the FAA, with the plan to launch operations once Breeze has half a dozen A220s in its fleet. Breeze plans to take delivery of an average of one A220 each month over the next several years.
Bottom line
Breeze Airways has unveiled its Airbus A220 interiors, and the jets look incredible. They'll feature just 126 seats, including 36 first class seats, which is almost unheard of.
How cool to see Breeze try something truly innovative in the leisure space, since otherwise airlines just seem to be trying to cram as many seats as possible onto planes. I'm curious if Breeze's gamble pays off, though, and if the price sensitive point-to-point leisure traveler is willing to pay a reasonable premium for a much better experience.
What do you make of Breeze's A220 configuration?
(Tip of the hat to paxex.aero)