US low cost carrier Breeze Airways has just revealed its latest expansion, which is interesting on a whole different level.
Breeze Airways expands to Charleston, West Virginia
Breeze Airways has announced that Charleston, West Virginia (CRW), will be its newest destination. As of May 31, 2023, Breeze will fly 2x weekly from Charleston to the following destinations:
Charleston, South Carolina (CHS)
Orlando, Florida (MCO)
This is a big win for Charleston's Yeager Airport:
The airport has service on American Eagle to Charlotte (CLT) and Washington (DCA), on Delta Connection to Atlanta (ATL), and on United Express to Chicago (ORD)
Spirit Airlines has flown to Myrtle Beach (MYR) and Orlando (MCO), but will be discontinuing both routes as of May 4, 2023
Breeze is largely focused on operating point-to-point routes that other airlines don't serve. As you can tell, both of these routes are ones where the airline won't have any competition. However, in the case of Charleston to Orlando, Breeze is simply replicating a route where Spirit didn't have any success.
It's interesting to see Breeze try a route where Spirit failed. That doesn't exactly instill much confidence that Breeze will have success. However, Breeze does have a couple of advantages:
Breeze has smaller planes, as the company's Embraer E190s have just 108 seats; meanwhile Spirit's smallest plane (the Airbus A319) has 145 seats
Breeze seems more willing to operate flights with only a couple of weekly frequencies, while Spirit's business model is more about operating in higher frequency markets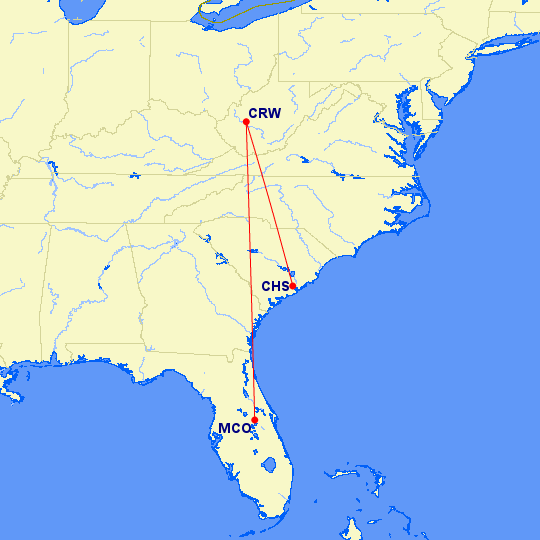 A Charleston to Charleston route is kind of cool
While new service in general is kind of cool, a nonstop route from Charleston to Charleston is especially fun, if you ask me. It's not often you'll be welcomed aboard a flight to and from the same cities.
I believe this is the first route in the world between two cities that have exactly the same name. The closest I can otherwise think of is a route from San Jose, California (SJC), to San José del Cabo, Mexico (SJD), but those aren't identical names.
Breeze also claims that it operates an Orange County to Orange County route, given that it flies from Santa Ana (SNA) to Orlando (MCO), but I think that's a bit different.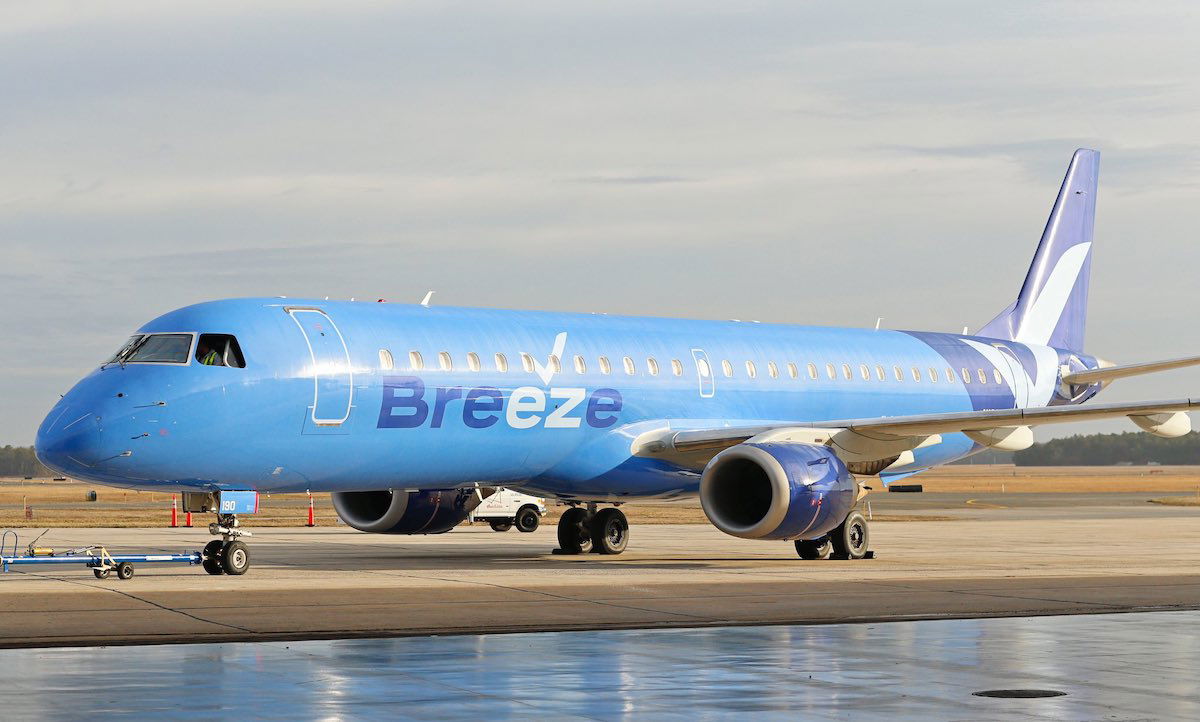 Bottom line
Breeze Airways is expanding to Charleston, West Virginia, and will operate the only point-to-point routes that the airport has (as the routes on US regional airlines are primarily to feed into hub networks). Breeze is expanding to Charleston as Spirit pulls out of the market, so hopefully Breeze has better luck.
Particularly cool is a new Charleston to Charleston flight, as I think this is the only service in the world between two cities with identical names.
What do you make of Breeze's expansion to Charleston, West Virginia?