First of all, greetings from 37,000 feet as we make our way across western Europe in Emirates Airbus 380 first class!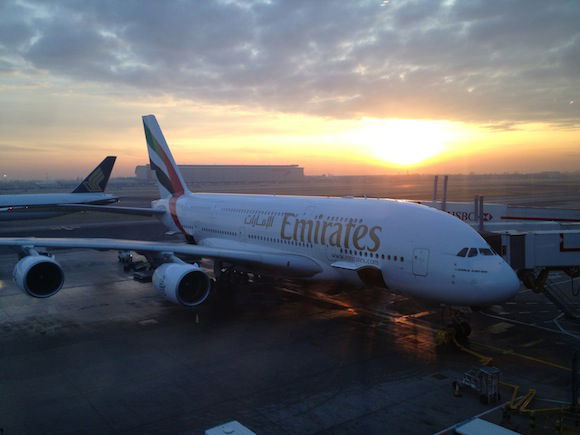 Based on my post earlier this morning I know a lot of you are wondering how the heck I got into Emirates Airbus 380 first class. As you guys know I was supposed to be flying British Airways first class from Seattle to Dubai via London using Avios and a companion certificate.
The flight from Seattle to London was perfectly nice. We experienced a delay of over two hours due to a late arriving aircraft, though we had a nine hour layover in London, so that even worked out for the better. We were scheduled to land in London at 11:20AM and depart for Dubai at 8:35PM.
Everything was normal when we checked in last night at Seattle Airport, or so I thought. The agent checked our bag all the way through to Dubai, though informed us that she couldn't print our connecting boarding pass. I didn't think twice about it, figuring it was just because we had such a long connection. I did find it funny that they were giving each passenger a $19 meal voucher for the delay, which you'd never see with US airlines for a two-hour delay.
Anyway, we landed at Heathrow terminal 5 and it was utter chaos. We got in the Fast Track lane to reclear security, though the queue was extremely long.
After waiting for about 20 minutes a British Airways agent asked for our connecting boarding passes, though I explained we hadn't been issued them and instead showed him the e-ticket receipt.
He typed in his computer, and said "no, you're not booked on our flight to Dubai." I asked him to look up the itinerary by the ticket number, and after typing it in he responded with "you're on the EK30 to Dubai at 4:30PM."
I've flown two million miles and booked over a hundred million miles worth of award tickets for people, though this was a first to me. There are some times in life you ask questions, and some times you just shut up and accept things. This was definitely the latter case, with one exception. I responded with "could you tell me which fare class we're booked in?" He responded with "it says 'P,' sir." Not only is that first class, but it's a revenue first class fare, so I could even credit miles to Alaska Airlines Mileage Plan for the flight.
That's all I needed to know, and I responded with "it's off to terminal 3 then." We took the bus to terminal 3, and headed straight for the Emirates lounge, where the agent quickly issued us first class boarding passes. The agent asked if we had any checked bags, and I gave her the bag tag, explaining that the bag probably needed to be transferred over from the other British Airways flight to the new one, since we were apparently just rebooked. She looked at the stub and said "what do you mean sir, your luggage stub already says the bag is checked on EK30?"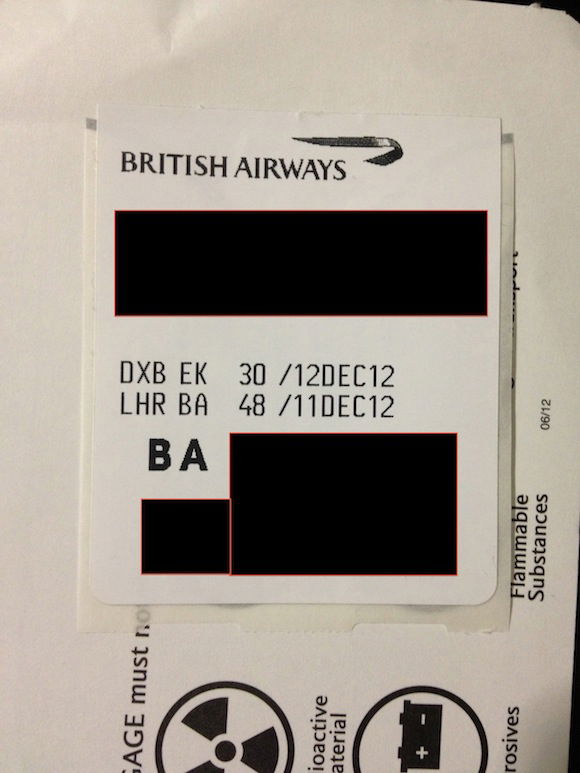 So apparently we had been booked on EK30 since before we even left Seattle, since that's the flight our bag was checked on. That would also explain why the agent in Seattle couldn't issue our connecting boarding passes.
Why did this happen? I have no damn clue. Even with the delay we had a six hour connection. The only thing I can think of is that when the delay posted British Airways automatically rebooked everyone on the next available flight, without considering whether someone had a more than adequate connection.
Anyway, pardon me for a few minutes, as it's dinner time. I'll be back later in the flight after dinner and a shower to share my thoughts.
My first impression of Emirates? This is unlike anything I've ever flown before. Ever.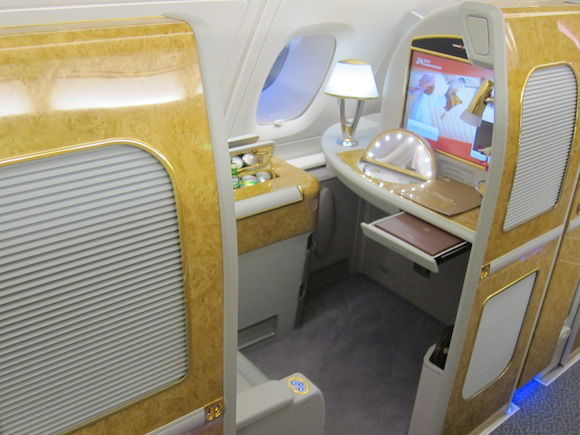 So did British Airways give me the greatest early Christmas present or what?