While airlines are doing everything they can to squeeze more seats onto planes in economy, in many cases airlines are increasingly allocating more space to first and business class.
For the most part this comes in the form of more comfortable and spacious seats, though about half a dozen airlines take it a step further by offering onboard lounges. After all, when you're on an ultra long haul flight, there's something really nice about being able to stretch your legs, and possibly even mingle with some of your fellow passengers.
In this post I wanted to provide a rundown of the airlines offering onboard bars, starting with my favorite.
I should mention that I'm curious to see the status of these bars in a decade or so. As you'll see, most of the airplane bars are on the A380, and with production of that plane soon ending, it seems unlikely we'll see bars that are as large as airlines increasingly opt for smaller and more fuel efficient planes.
Anyway, here's my list:
Qatar Airways has perfected the onboard bar on their A380. The bar is available to first & business class passengers, and is located behind the business class cabin (in front of the small upper deck economy cabin). The bar is gorgeous, spacious, and has plenty of seating.
Furthermore, there's virtually no foot traffic, given that the flight attendants don't have to walk past the bar to provide their service.
At the bar you can order the a huge selection of drinks, from wine to cocktails to mocktails. There are also some light snacks available there throughout the flight.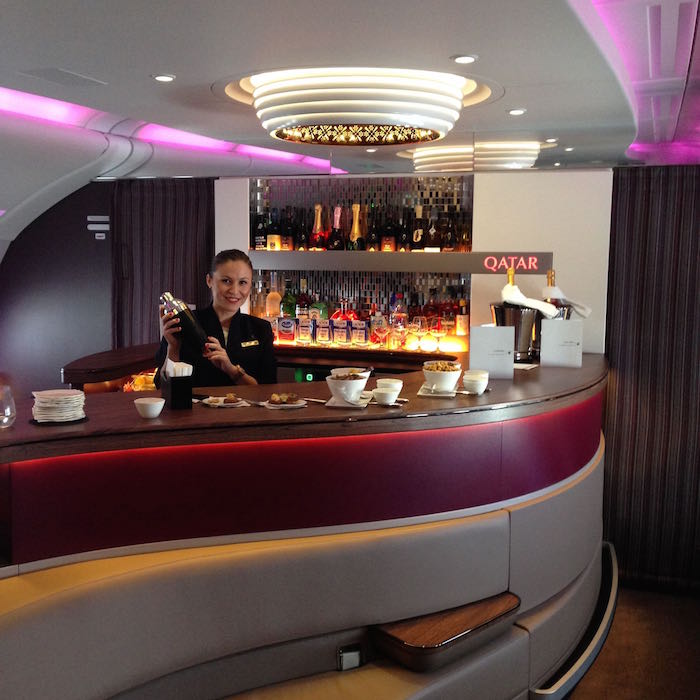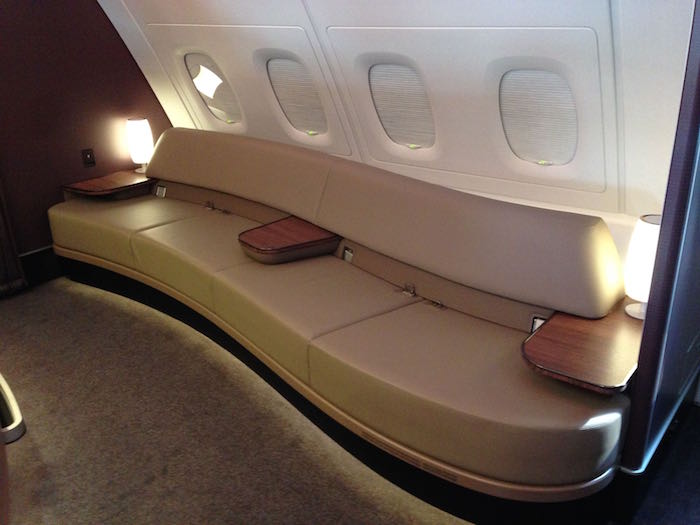 While Qatar Airways' bar might not be especially well known, I'm sure most of you have seen pictures of Emirates' onboard bar. It's located at the very back of the upper deck, and is available to first & business class passengers. This is something that Emirates has marketed widely, and for good reason.
The lounge isn't quite as spacious as the one on Qatar Airways, and there's also a lot more foot traffic, given that the business class flight attendants are constantly walking through the bar to get between the galley and cabin. That being said, it's also one of the liveliest onboard bars, and if you have a fun flight attendant, you're sure to have a good time.
In addition to a special cocktail menu, the bar also has light snacks throughout the flight.
Note that Emirates is starting to roll out a new bar on their A380, though not many of the planes have the bar yet. This is intended to feel more like a yacht interior, and has booths, rather than just a bench along the side of the plane.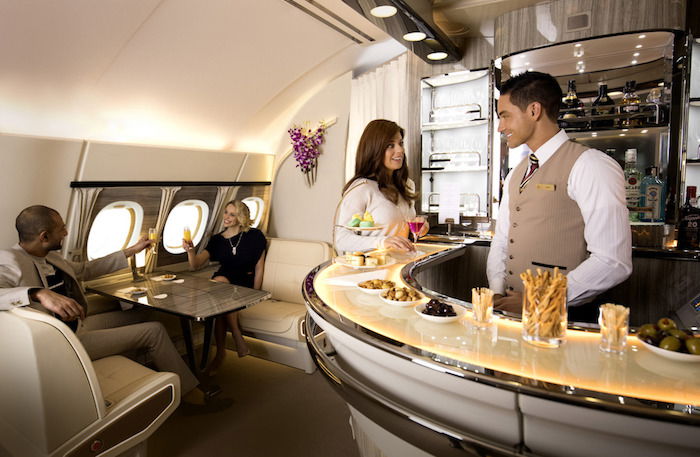 Korean Air has a business class lounge at the back of the upper deck, which is called the Celestial Bar. It's extremely inviting, with a good amount of seating. It's operated in conjunction with Absolut vodka, and they've created some signature aviation-themed cocktails.
What's a bit odd is that they just serve the signature cocktails at the bar, and not other drinks. So if you want something else to drink you explicitly have to ask the crew to fetch it from the galley.
Still, the space itself is gorgeous, and who doesn't love a vodka-based aviation-themed libation?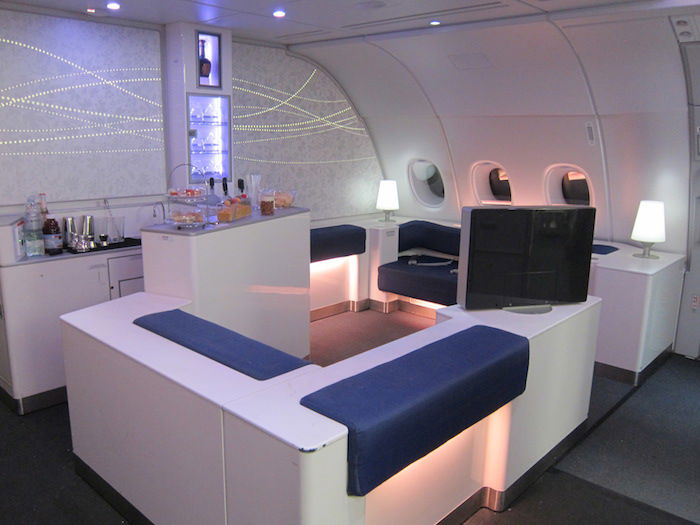 This bar is in addition to the lounge at the front of the upper deck on the Korean Air A380.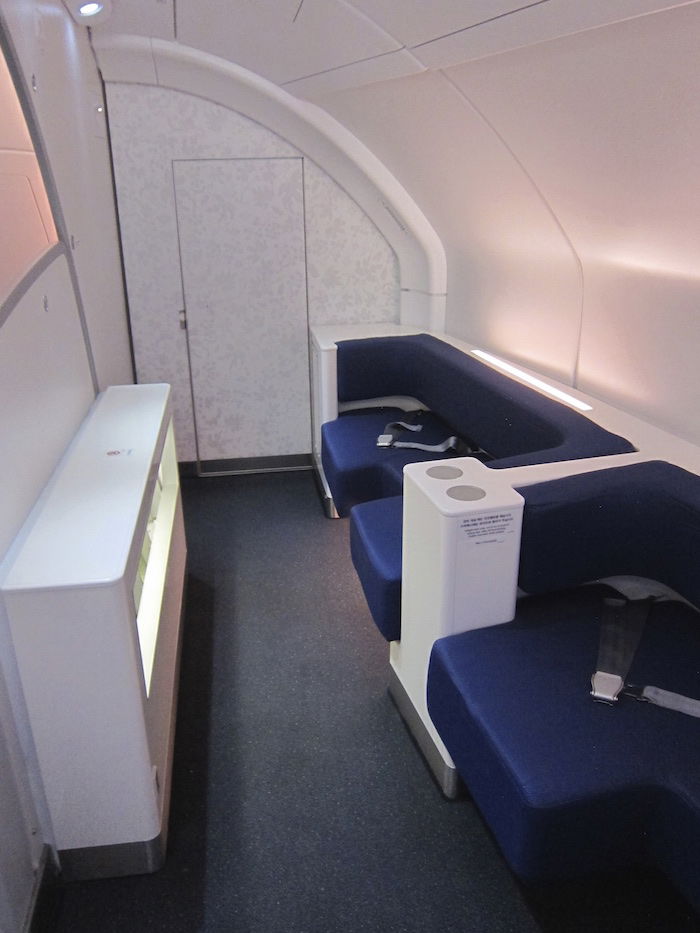 Etihad Airways has a lounge on their A380, located between the first and business class cabins. The lounge is known as "The Lobby," and features a circular seating area with six seats. There's also a TV on the wall, though a social lounge isn't exactly the ideal place from which to watch TV.
This isn't a traditional onboard bar, in the sense that there's not a bartender. But a good crew should be attentive and serve you whatever you want to have in The Lobby… even afternoon tea! My one other issue is that this is between the galley and business class, so the crew is constantly walking through this area.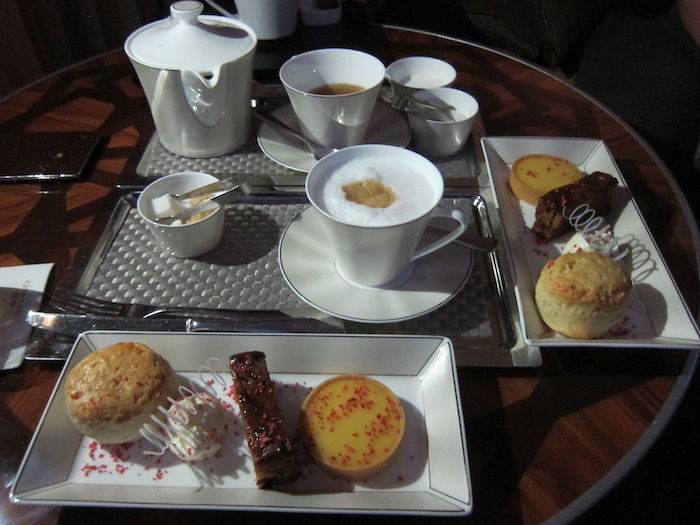 Virgin Australia has a very nice bar between their two business class cabins on the 777-300ER. In addition to the four stools at the bar, there are a further two seats behind them.
While this is a cool concept, the reality is that often the bar stays quite empty, given that many of Virgin Australia's flights are overnight flights to & from the US.
Virgin Atlantic has a bar for their Upper Class (business class) passengers on all their aircraft. The airline is well known for this feature.
Personally I find that the Virgin Atlantic bar is consistently the busiest on daytime flights, to the point that they have to turn people away. Passengers can get so loud that it can disturb other passengers, especially since there's not much separation between the bar and the cabin. I've written a post asking if Virgin Atlantic should get rid of their onboard bars, given how disruptive they can be.
But hey, I guess that means people are just having fun!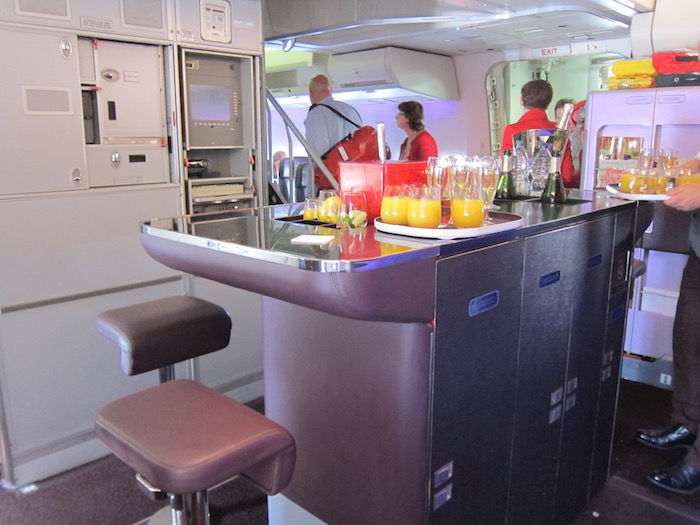 With their upcoming A350, Virgin Atlantic is actually eliminating their onboard bar, in favor of a lounge-type area instead, called "The Loft." This should be a quieter environment, so should be less disruptive to other passengers.
Bottom line
It's incredible to see how far airlines have come with onboard bars. However, I'd say going forward we'll see fewer bars on planes, rather than more bars. This is especially true as the number of A380s in service decreases. Similarly, we're even seeing Virgin Atlantic cut bars on their A350s going forward.
Which airline has your favorite onboard bar?