In early August I first wrote about the rumor that Austrian Airlines will be launching flights between Vienna and Los Angeles. Austrian has one of my favorite transatlantic business class products thanks to their exceptional catering, so I'd be excited to see them expand further within North America.
Austrian's new flight to Los Angeles is official!
Well, it's now official. Austrian Airlines will begin flying between Vienna and Los Angeles as of April 10, 2017.
The new flight will operate as follows:
OS81 Vienna to Los Angeles departing 10:00AM arriving 1:30PM
OS82 Los Angeles to Vienna departing 3:05PM arriving 12:00PM (+1 day)
The flight will initially operate 5x weekly (Mondays, Wednesdays, Thursdays, Fridays, and Saturdays), and as of June 12, 2017, will operate 6x weekly (just not on Sundays).
Austrian will fly a Boeing 777-200 to Los Angeles, featuring 48 business class seats and 260 economy seats.
While Austrian's staggered hard product isn't my favorite, the catering, and in particular the coffee menu, makes Austrian one of my favorite airlines to fly in business class.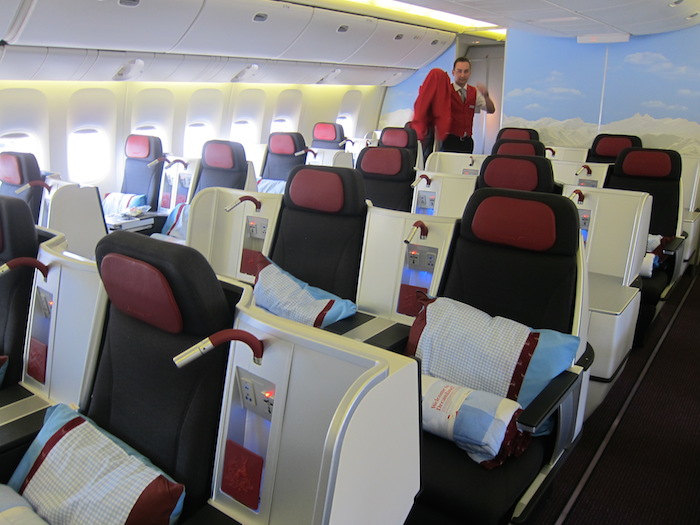 As of now the furthest west Austrian flies is Chicago, so it's great that there will finally be a longer flight on which to enjoy their product. It's tough to fully enjoy their service on just a (roughly) eight hour flight from the east coast to Vienna, so color me very excited about this. This flight is blocked at 11hr55min eastbound and 12hr30min westbound.
Business class award availability is WIDE OPEN!
This is really exciting news for those looking to redeem Star Alliance miles between Los Angeles and Europe, given that nonstop awards from the west coast to Europe are usually very tough to come by, especially out of Los Angeles:
Lately Austrian has been releasing a ton of business class award availability, and there's good news… that trend is continuing on their new flight to Los Angeles.
Austrian has six business class award seats available on every flight between Los Angeles and Vienna.
This route was literally just loaded, so this availability won't be reflected on many airline websites just yet. However, it's already bookable by phone, so you'll want to call the airline with which you have miles to book (I just called United, and they could see six seats per flight). Otherwise you can wait a bit, as I imagine within a few hours the space will be bookable online as well.
Bottom line
I'm thrilled that it's now official that Austrian will launch flights to Los Angeles as of April 2017. Austrian has a lovely business class product, so it will be nice to experience it on a longer flight.
Best of all, having six business class award seats every single day between Los Angeles and Europe is incredible, so I'd recommend taking advantage of that availability as soon as possible!
Do you plan on booking Austrian's new flight between Los Angeles and Vienna?