Hello from Vienna! On Thursday evening I flew from Newark to Vienna on Austrian's 767, and in this post wanted to share my initial thoughts on the expereince. The last time I reviewed Austrian's longhaul business class was in 2013, and at that point I flew the 777 to Tokyo Narita. I wanted to see what the 767 would be like on the shorter transatlantic flight.
Austrian's 767 business class cabin consists of 26 seats, spread across seven rows in a 1-2-1 configuration. For a 27 year old 767, I thought the plane was in immaculate condition.
Austrian has staggered seats in business class, which I find to be really tight on the 767. Like, uncomfortably tight, especially when trying to recline. In fairness, there aren't many 767s with great hard products, perhaps with the exception of United's 767s featuring the new Polaris seats. Since these seats are in a staggered configuration, I selected a "true" window seat.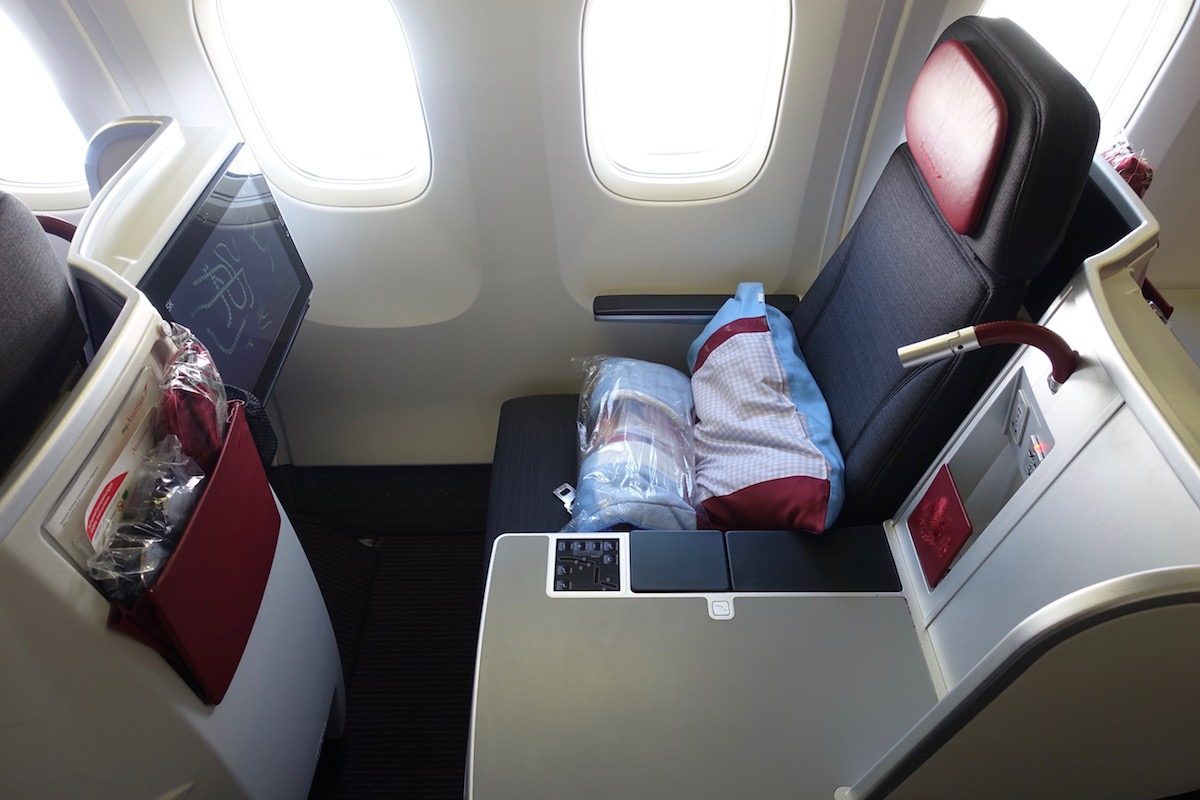 Austrian has solid amenities — the pillow and blanket are not only stylish, but comfortable as well.
The amenity kit is a cute little shoe bag, with all the essentials, including socks, eyeshades, earplugs, a toothbrush and toothpaste, lip balm, and lotion.
Austrian is known for their DO & CO catering, which is among the best in the sky. They even have an onboard chef. However, the service was much more abbreviated than in the past, but I guess that makes sense for a short overnight flight.
Service began with the table being set, as well as mixed nuts.
Then a trolley was rolled down the aisle with appetizers. I selected the beef carpaccio and tumeric pumpkin soup, both of which were quite good. On my previous Austrian flight they'd plate the appetizers on the trolley at your seat, while here they were pre-plated.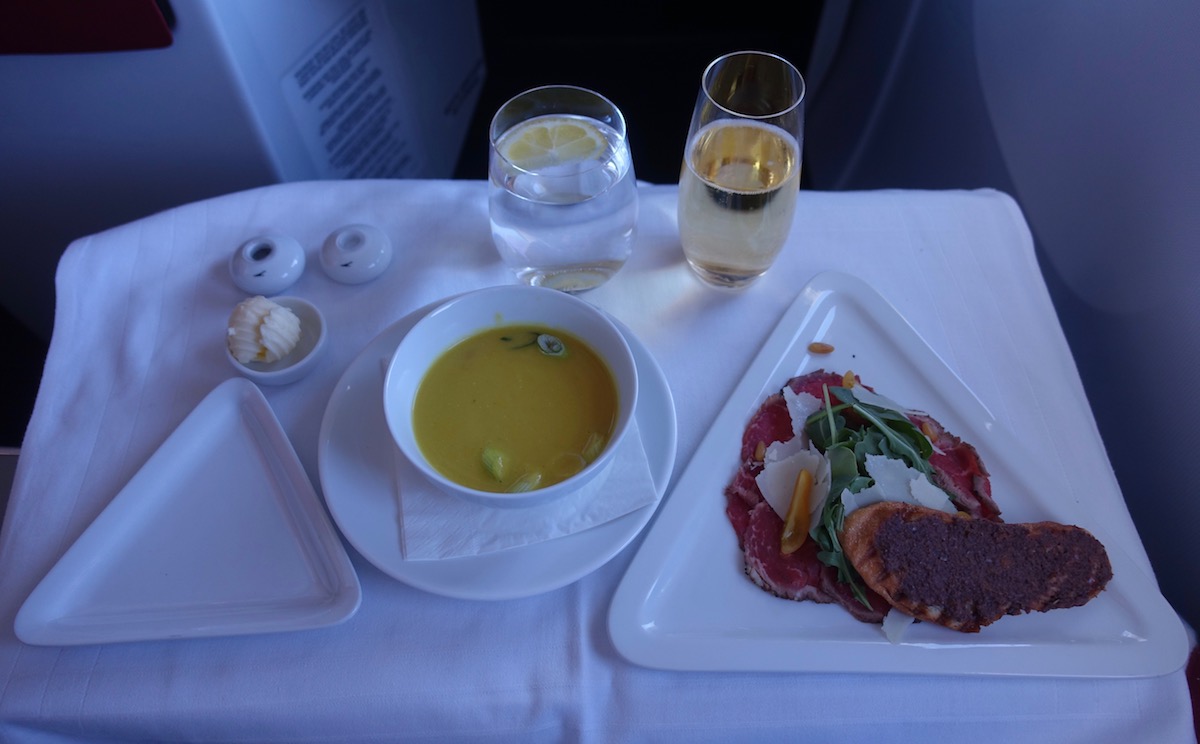 For the main course I ordered the seared chicken breast, which was also good.
Then there was a dessert trolley, where you could choose from fruit, cheese, and desserts. For the purposes of the review I ordered some cheese, fruit, and a mango mousse, all of which I enjoyed.
However, the highlight of this (and any) Austrian flight is the coffee. Austrian has a special coffee menu with all kinds of cool creations you'd also find in Austria, so I ordered an Eiskaffee, which is a double espresso with ice cream and whipped cream. #HealthyLiving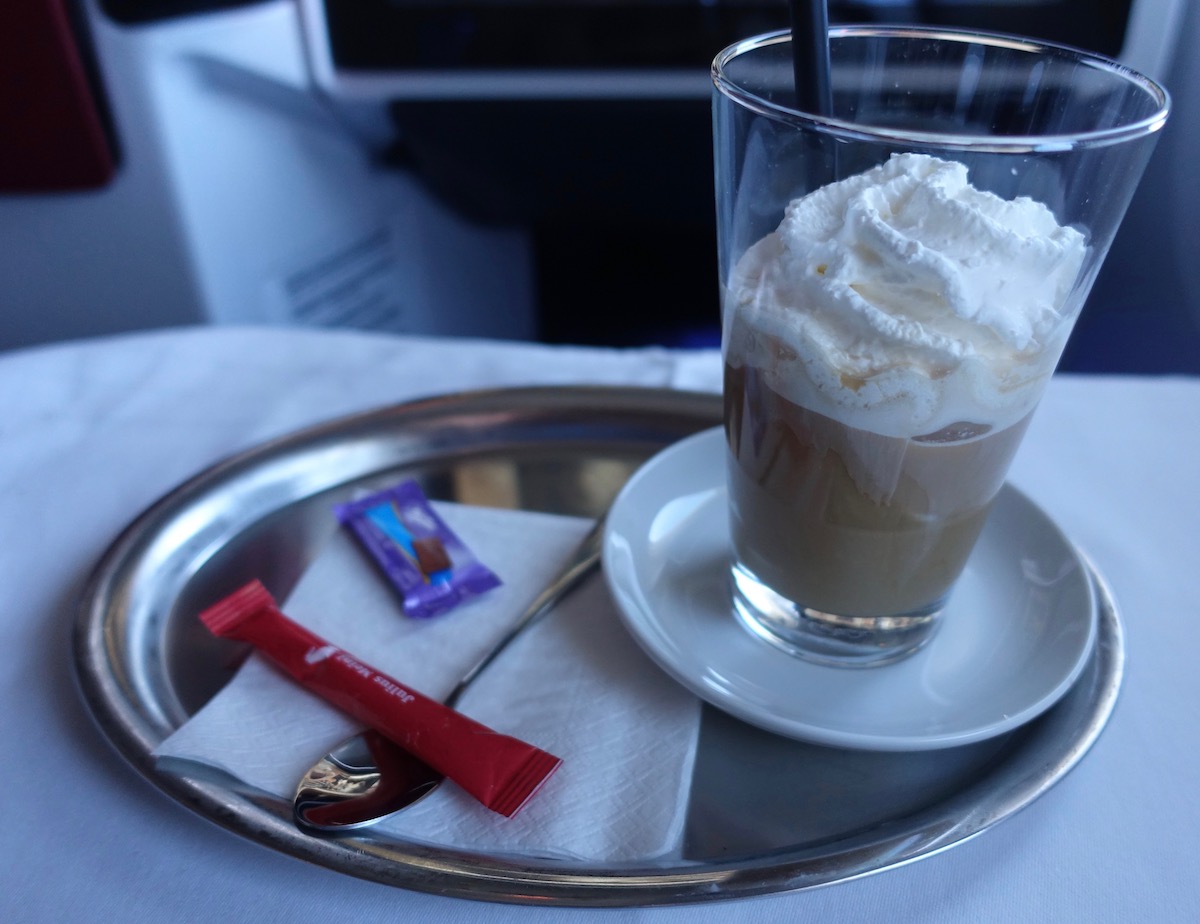 The flight was only 8hr15min, so less than five hours after the lights were turned off, breakfast was served. For breakfast I had yogurt, fresh fruit, and an omelet, which was a surprisingly big breakfast for such a short flight.
Austrian's catering is among the best out there for transatlantic airlines. However, it's not to the level of Turkish, which still has the best business class catering, in my opinion.
The service on this flight was… fine. It matches my experience with Austrian in the past, which is that service really isn't very personalized, and that flight attendants seemed like they were going through the motions and weren't very engaged. They did their jobs, and nothing more or nothing less.
Bottom line
I'm conflicted about Austrian business class. I love the coffee menu. The catering is excellent as well, probably among the best five available on transatlantic airlines. I also appreciate the solid bedding and nice amenity kit.
However, I just find these seats to be so tight and uncomfortable. If you're short then maybe this won't be an issue, but I just found myself to be so uncomfortable when reclined. My feet couldn't move when in bed mode, and I could barely turn. I always say that business class is all about the seat, so while I enjoy Austrian's soft product, I still think I'd choose something like American's 777 business class on a transatlantic flight, with reverse herringbone seats and wifi.
If you've flown Austrian's business class, what was your experience like?