As I wrote about last September, American is having issues with Zodiac, the supplier for the business class seats on their Boeing 777-200 and Boeing 787 aircraft. Not only are they apparently having issues delivering seats within the promised timeline, but the seats also have issues, the worst of which is that they shake.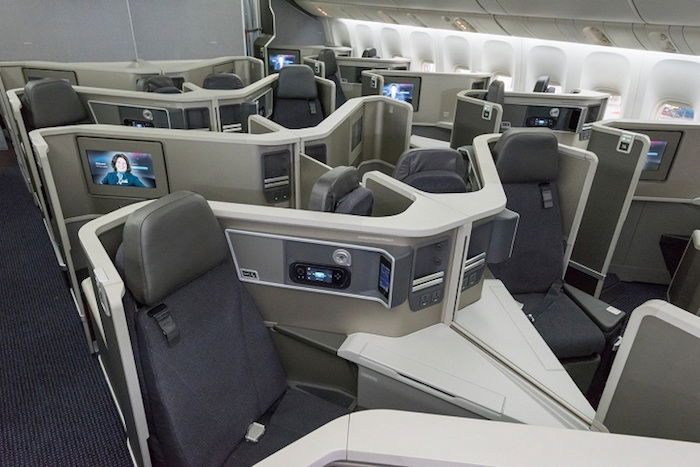 American decided to suspend their 777-200 retrofits, though is continuing to take delivery of 787s with these seats for now, given that they couldn't take delivery of the planes otherwise.
As has been speculated since the seat changes were first announced, B/E Aerospace seemed like the most likely manufacturer to take over the contract, given that they're one of the few manufacturers large enough to handle an order of American's size, and have also already worked with American (well, US Airways, to be more exact).
The most likely candidate for American's new business class seat was the "Super Diamond" seat, which is B/E Aerospace's version of a reverse herringbone seat.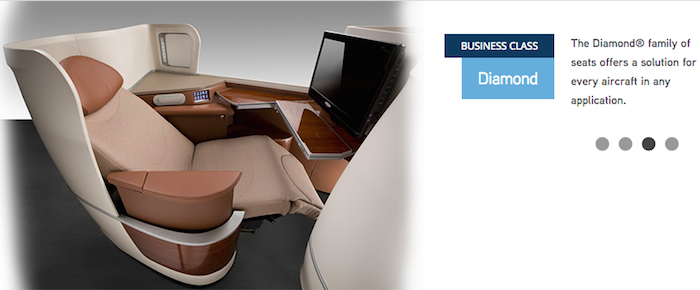 Well, it's now official. View from the Wing has confirmed that American will use the B/E Aerospace Super Diamond seat as their new business class product on their 787s, A350s, and 777-200s (which remain to be reconfigured).
This is the same product which Qatar Airways has in business class on their A350s, A380s, and 787s. The seats are also in a 1-2-1 configuration.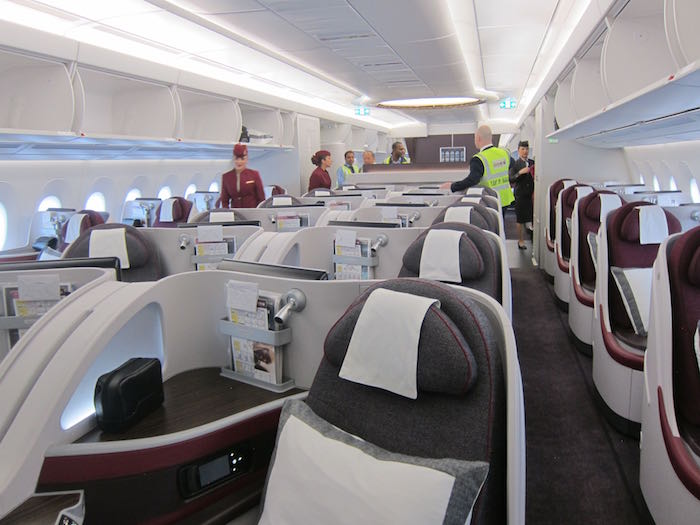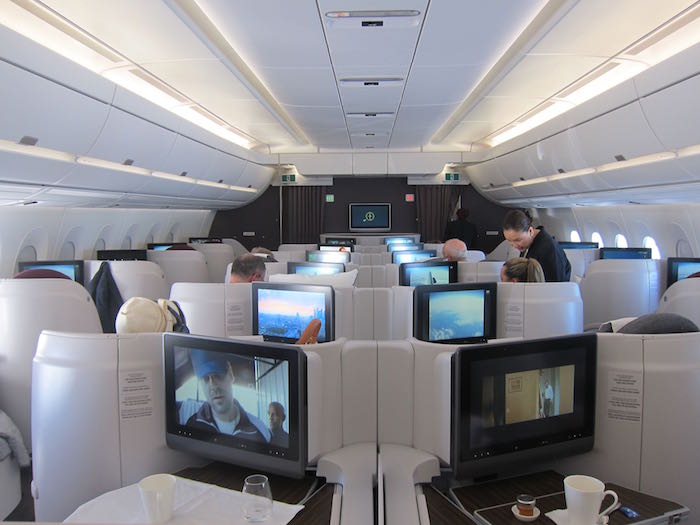 What makes this seat slightly different than your standard reverse herringbone seat is that it has a bit more tray table surface area, and the tray table slides out from under the TV with multiple positions you can adjust it to, which is nice, since the tray is fairly restrictive with American's current product.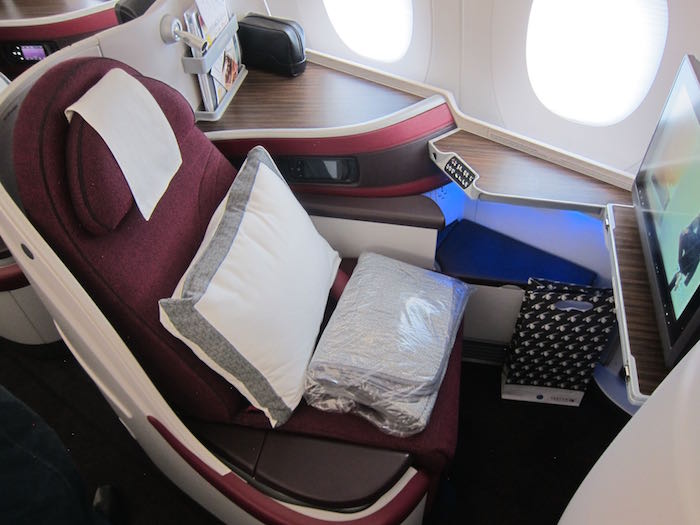 The seat is spacious in the fully flat position, and there's plenty of room for your feet, since there's not just a small cubby in which to place your feet. One thing I don't like about this seat is the lack of privacy, as there's not really a "shield" along the aisle-side of the seat. So the seat does feel fairly exposed.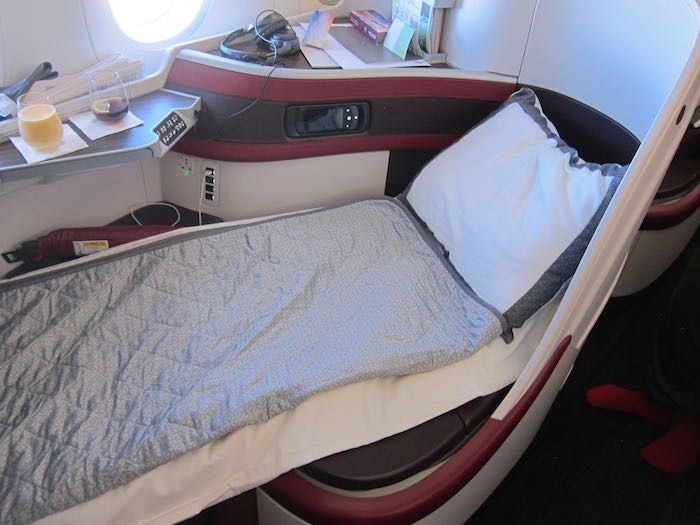 There are minor variations to this seat, so I wouldn't expect American's to look exactly like Qatar's. Virgin Australia is also using B/E Aerospace for their new seat, and they're just finally putting that first plane in service.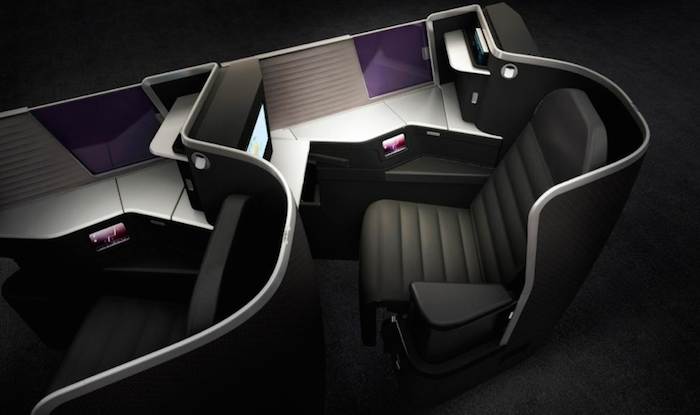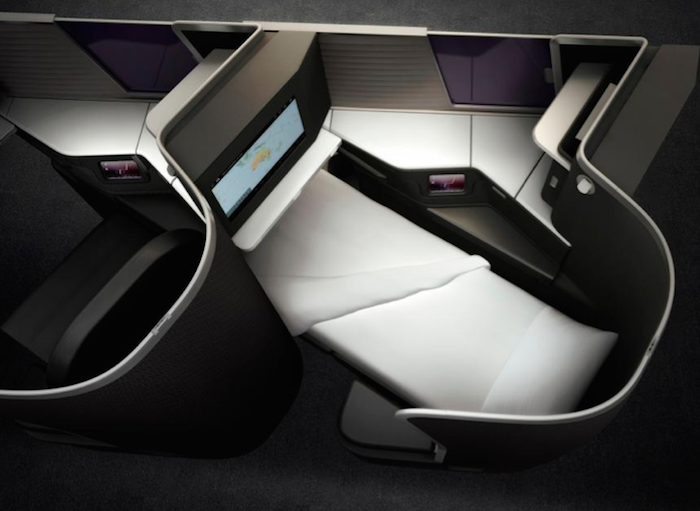 Overall I'd say I prefer this seat slightly to the reverse herringbone seat American has on the 777-300ER. So color me very excited about this being the new seat.
Bottom line
The B/E Aerospace Super Diamond seat is probably the all around best seat in the market right now, so I'm happy to see this is the one American will be getting. At the same time, I can't get over how inconsistent American's product will be on international flights. They'll have different products on the 777-300ERs, A330s, 767s, and 757s. Then there will be two types of products on the 777-200s and 787s. The lack of fleet commonality nowadays is sort of insane.
Hopefully American reveals the exact details of these new seats soon (including finishes, seat counts on various aircraft, etc.), as they seem to be quite far along in the design process.
What do you make of American's new business class seat choice?