Today Virgin Australia revealed their brand new business class product, which they'll offer through their Airbus A330 and Boeing 777 fleet by early 2016.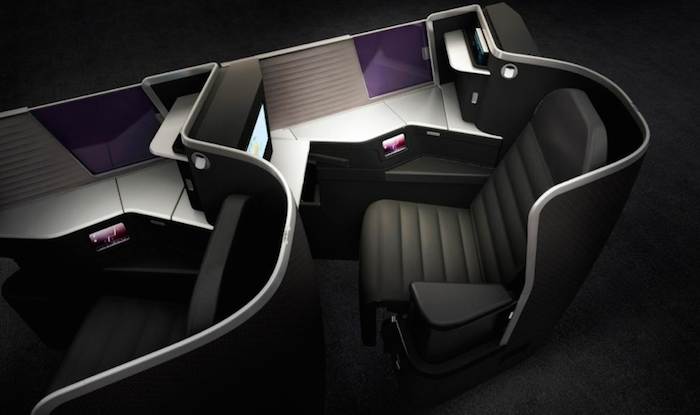 Virgin Australia's new business class product
It looks like their new product will consist of reverse herringbone seats, which are my favorite type of business class hard product. Here's how they describe the new business class suites:
The revolutionary Business Class suites, which convert into 80 inch lie-flat beds, represent a major enhancement to the travel experience on board Virgin Australia's Airbus A330 and Boeing 777 aircraft and the first major product innovation to be announced under the airline's new three-year strategy, Virgin Vision 2017.

The innovative 1-2-1 configuration will guarantee passengers a window or aisle seat and maximum privacy to work, rest and unwind. The suite includes a unique tablet holder, a 16 to 18 inch touch screen for entertainment, multiple lighting settings and plenty of storage. The seat also offers the ultimate comfort with new soft furnishings, a number of adjustable positions to suit the differing needs of customers and an adjustable arm rest to increase the seat width when sleeping.
In terms of the "bones," the seat looks very similar to the other reverse herringbone products out there, though perhaps a bit longer, at 80″. But beyond the "bones," this cabin has among the sexiest finishes I've ever seen.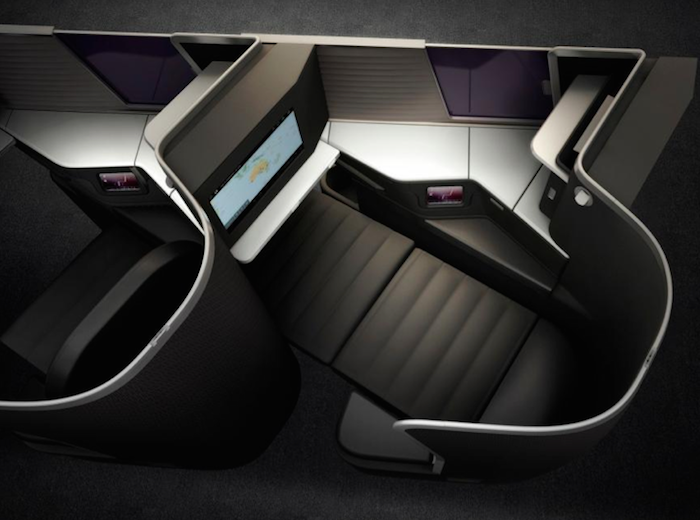 Virgin Australia's new business class product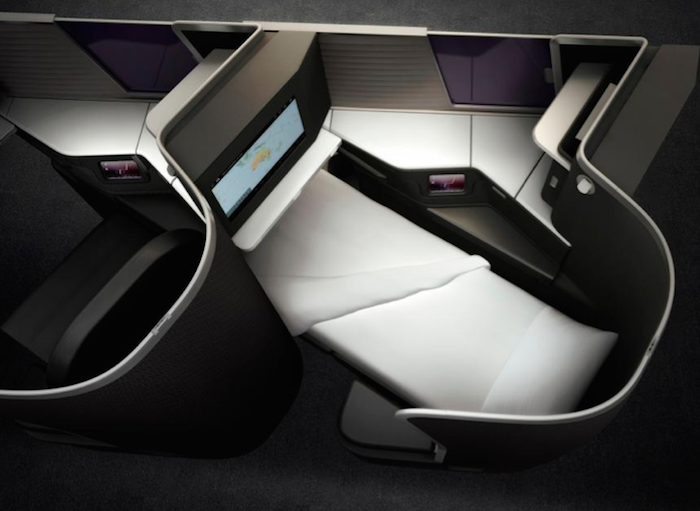 Virgin Australia's new business class product
Here's a video of the new product:
What's most impressive is how quickly Virgin Australia plans to roll out the product:
The suites will roll out to Virgin Australia's Airbus A330 fleet in early 2015 with the first aircraft expected to be in service by March and the complete refit of the fleet to be finalised by August.

The roll out of the new Business Class product to the Boeing 777 fleet will commence from November 2015 and be complete by early 2016. The upgrade will also include the introduction of a redesigned Business Class bar and changes to the Premium Economy cabin. A reduction in the number of seats will make Virgin Australia's International Premium Economy a more exclusive experience, and give passengers three inches more legroom.
So they'll be reconfiguring all seven of their A330s between March and July of 2015, and will be reconfiguring all five of their 777s between November 2015 and February 2016.
With the cabin redesigns, we'll see the business class cabin on the A330 shrink from 24 seats to 20 seats, while on the 777 we'll see the business class cabin go from 33 seats to 37 seats.
What's interesting is that Virgin Australia flies their A330s mostly domestically, so really they're just trying to beat Qantas even further. So while Qantas unveiled their new business class last October, Virgin Australia is just even further one upping them here. That's probably why we're seeing them install the new product on the A330 before the 777s — they want to kick Qantas out of the domestic market even further.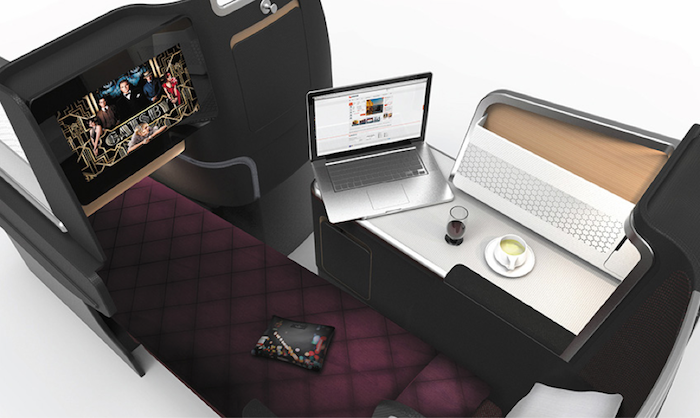 Qantas' new A330 business class
And let's be clear, their "Virgin Vision 2017" initiative could just be renamed "Run Qantas Completely Out Of Business." 😉
Anyway, kudos to Virgin Australia on this new product — it's mighty impressive!
What do you think of Virgin Australia's new business class product?
(Tip of the hat to Australian Business Traveller)