I'll save my American flying experience today for a separate post (OMG), but in this post wanted to write about an interesting situation I found myself in today when it comes to American's companion upgrade policy.
American's companion upgrade policy
I'd like to think I'm fairly well versed in American's upgrade policy, for better or worse, given how much I fly with them. Just over a year ago American changed their companion upgrade policy, which is good or bad depending on how you look at it.
With this updated policy, companions of elite members are prioritized based on the status of the highest tier member. This works pretty well for Ford and me:
I'm Executive Platinum, so I get complimentary upgrades and have pretty high priority
Ford is Platinum Pro, so he gets complimentary upgrades as well, but has lower priority
When you combine the two, I just book us on the same record locator, and then sometimes 100 hours out we both get our upgrades, based on my status. That's a pretty good setup.
Companion upgrades get complicated at the airport
The catch is that when it comes to the airport upgrade waitlist, that's not how it works anymore. While an elite companion automatically clears based on the higher status prior to check-in, on the day of travel everyone clears on their own… unless you specifically know to request that they be prioritized with you.
Let me share the situation I was in today. Ford and I were flying from Miami to Charlotte. There were two first class seats left for sale, and I was showing as number one on the waitlist (SCH/B), while Ford was showing as number three on the waitlist (BEC/J).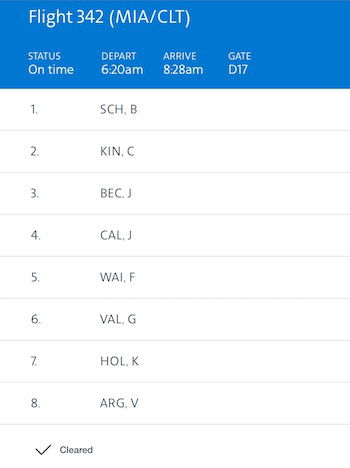 When I arrived at the Admirals Club in Miami I explained the situation to the agent, and asked if she could work whatever the magic is that would give him my status. Like I said, this is allegedly supposed to be possible, but isn't automatic — you have to specifically request it.
This turned out to be quite a process. The lady had to call her support desk, and it must have taken her 15 minutes.
What's even stranger is that she told me I had to redeem my own 500 mile upgrade certificates for Ford's upgrade. I explained that he should be entitled to complimentary upgrades on account of his Platinum Pro status (he doesn't need 500 mile upgrades to be upgraded), but she said the only way to get him to get my priority is if I was redeeming my 500 mile upgrades for him. In other words, his status was completely irrelevant at this point.
I'm not sure that's actually accurate, but I wasn't going to argue, given that it was 5AM and we were boarding soon. I had to buy one 500 mile upgrade certificate for $40, though that seemed well worth it if it meant we could both sit in first class.
After I paid for the upgrade and she checked Ford back in, the upgrade list was updated to show Ford as number two (sorry, KIN/C):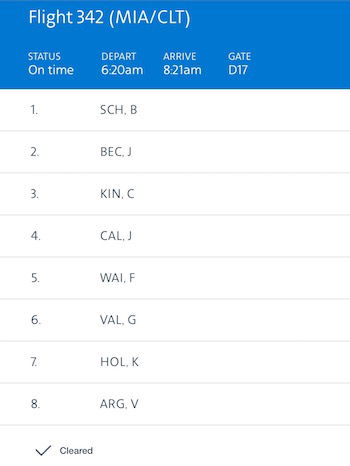 In this case it paid off, because we both ended up clearing our upgrades, and got the last two first class seats — yay!
Unfortunately that was literally the only "yay" in our entire travel day, as it was otherwise a complete disaster (I got up over 13 hours ago and have taken one flight so far).
Bottom line
This was my first time trying to adjust a companion's place on the upgrade list. In every other situation since the rules changed I either had the upgrade cleared in advance, or we were so far down the upgrade list that there wasn't a chance anyway.
This is one situation where it paid off. We both cleared our upgrades, and as luck would have it the last two remaining seats were next to one another.
I'm still not sure the process the agent followed was actually correct, though. I'm confused by the fact that I had to redeem my own 500 mile upgrade certificates (including buying one of them) for his upgrade. Like I said, it was worth it in this case, though.
I also don't get why American makes this process so complicated. If companions are supposed to inherit the priority of the highest status member, why do the make the process so complicated, rather than making it automatic? Or I guess maybe I should be happy about it, since it means those of us "in the know" can benefit, while others can't.
Anyone have experience with American companion upgrades on the day of departure?