A Private Island Getaway
It's time to review my recent stay at Calala Island, though I first want to write a separate installment about getting to Calala Island. Why?
Because as Ford described it to me while we were on our way there, "this is the most ridiculous thing I've ever voluntarily put myself through." Below is what that sentiment looks like in a facial expression…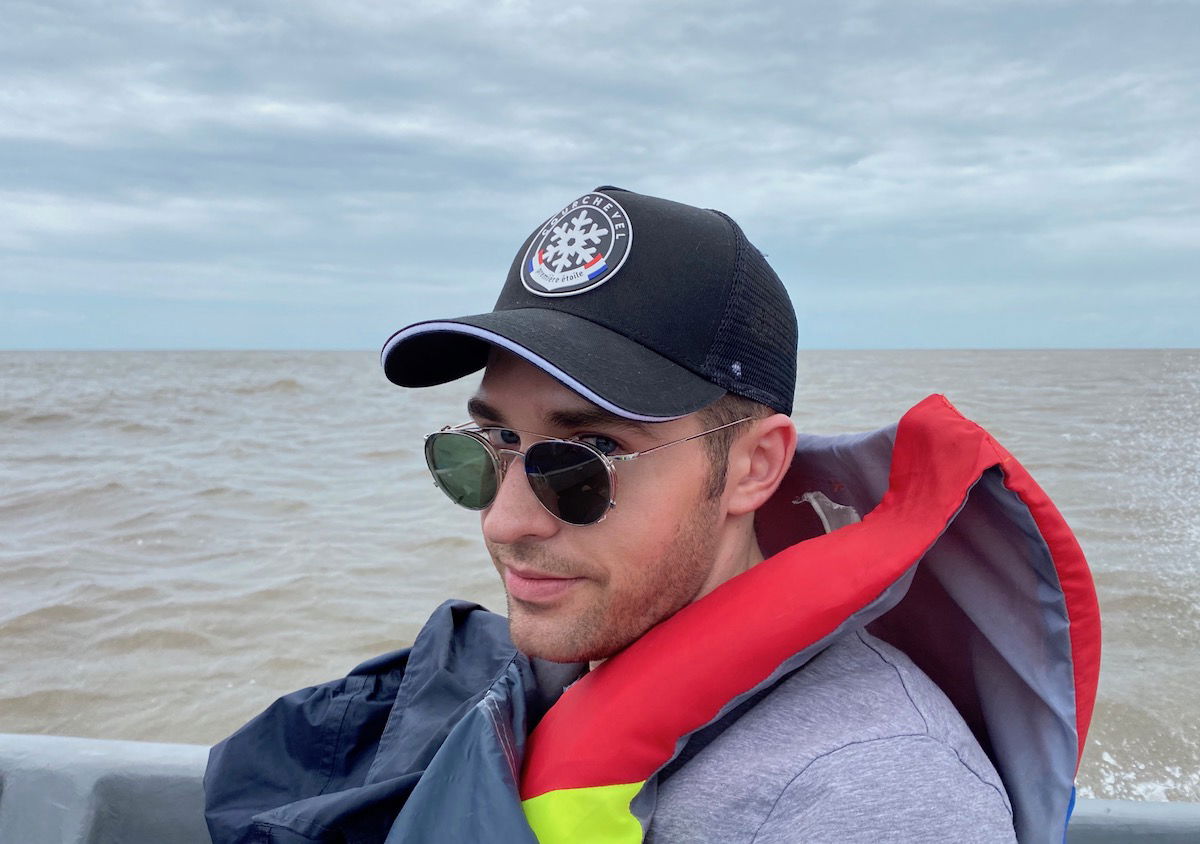 "Really?"
I actually don't disagree with Ford, at least as far as hotel transfers go. This makes getting to a secluded resort in the Maldives seem easy, by comparison.
What Is Calala Island?
When I mention "Calala Island," I'm guessing some regular readers will immediately know what I'm talking about, while everyone else will be saying "eh?" Calala Island is a private island on the Caribbean coast of Nicaragua (or the "NiCaribbean," as the hotel calls it).
Calala Island was turned into a luxury resort with just four rooms, with nightly rates of $2,800 per room. The reason this suddenly became relevant in our world was because Calala Island belongs to Small Luxury Hotels of the World, and they have a partnership with Hyatt.
You can redeem 40,000 World of Hyatt points per night for a stay here, which is pretty incredible, especially when you consider that the resort is all inclusive, so it includes food, drinks, transfers, etc.
Arranging Transfers To Calala Island
Prior to our stay Mandy was in touch with us, who is in charge of the pre-stay experience for guests. We were staying March 7-10, 2020, and for our dates we were advised of two options for our transfers:
To get from Managua Airport to Calala Island, we either had to be at the airport at 5:45AM or 1PM
To get from Calala Island to Managua Airport, we could either be back at the airport at 9:45AM or 5:15PM
We chose the early transfer in both directions, and that meant on the way back we were actually leaving at 5:30AM from Calala Island. For what it's worth, these transfer times are based around the timing of the flights within Nicaragua, since that's the limiting factor.
As mentioned above, transfers are included with room rates at Calala Island, so Mandy takes care of all of that.
Getting To Calala Island
Even once you get to Managua Airport, your transfer to Calala Island includes planes, cars, and boats. We flew to Managua Airport the evening before on American from Miami, and we spent the night at the Hyatt Place Managua.
Just to give you a sense of how time consuming the transfer process was, we left the Hyatt Place Managua at 5AM, and we only made it to the resort at around 11AM, so it took about six hours door-to-door.
The transfer first includes flying to the Nicaraguan coastal city of Bluefields, then you have to take a car to the port of Bluefields, and then there's a 90-120 minute boat ride to the resort.
Being Met At Airport By Nestor
Calala Island has a Managua Airport representative, Nestor. The resort asked when we were arriving, because when we landed in Managua the night before, Nestor met us upon arrival. He showed us the domestic terminal at the airport, and then would meet us again the following morning at 5:30AM.
Flying With La Costeña Airlines To Bluefields
The first step in getting to Calala Island is to fly with La Costeña Airlines, which is Nicaragua's airline. They have a small fleet of just seven planes, including two ATR42s and five Cessna Grand Caravans.
The airline operates two daily flights to Bluefields, though the routing they take varies by day. Essentially they operate the flight to Bluefields in conjunction with the flight to Corn Island, which is a popular Nicaraguan vacation destination off the coast.
Based on my research, the flight operates in one of the following ways, and you don't know until the day-of which route they take (even though they publish schedules as if it's certain):
From Managua to Bluefields to Corn Island to Managua
From Managua to Corn Island to Bluefields to Managua
From Managua to Bluefields to Corn Island to Bluefields to Managua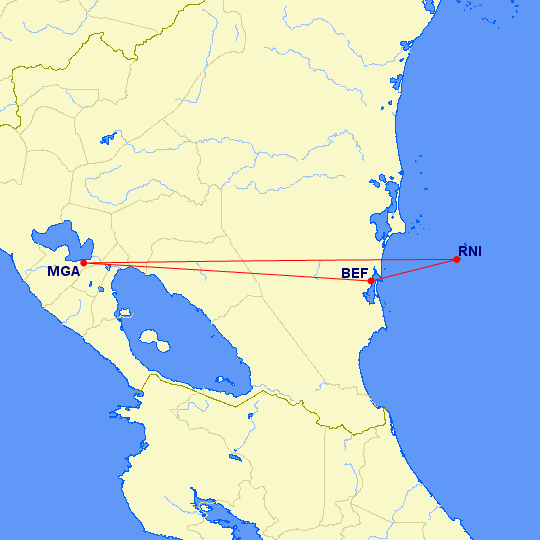 It seems that they decide which route to operate based on what people booked on a particular date. To give you a sense of the distances:
Managua to Bluefields is 162 miles
Managua to Corn Islands is 210 miles
Corn Islands to Bluefields is 50 miles
The domestic terminal at Managua Airport is to the side of the international terminal. When you're facing the terminal from outside, it's on the right.
Nestor met us there at 5:30AM sharp, and he escorted us right to the front of the line, which was almost awkward, since they even have a special Calala Island VIP counter.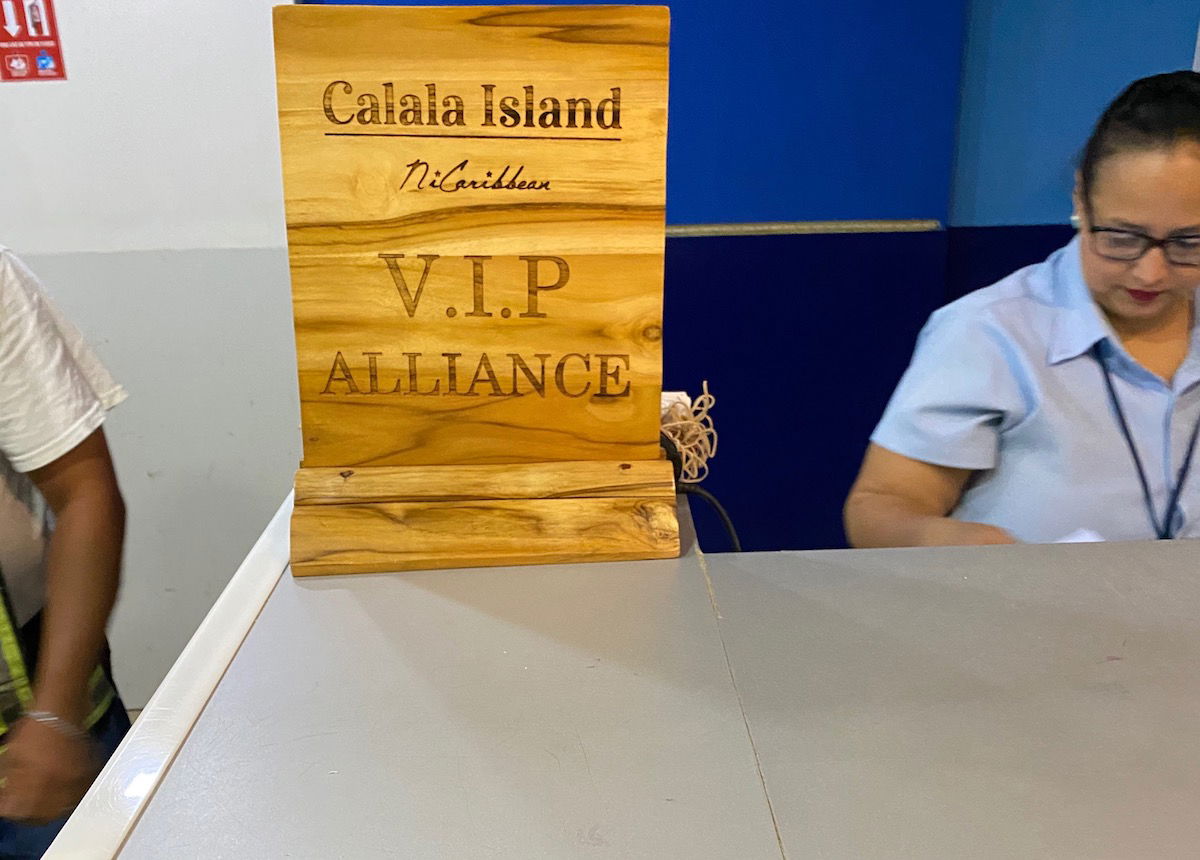 Calala Island airport VIP service
The check-in agent was friendly, and handed us a laminated boarding pass with a number, as well as a bottle of water with a baggage tag on it. Lol…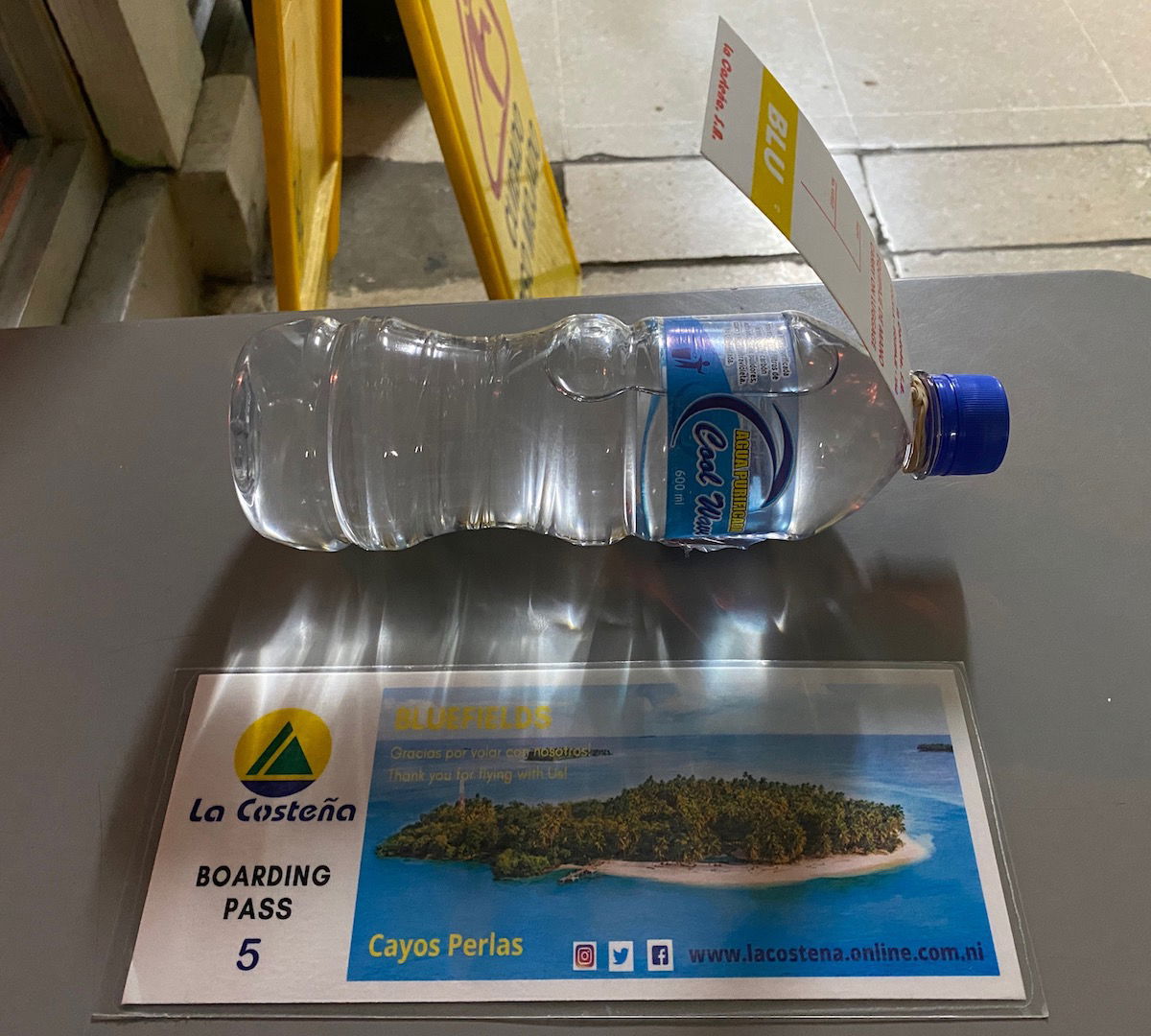 La Costeña Airlines boarding pass
Security took just a minute, and then we were inside the small domestic terminal. The crowd was a combination of Nicaraguans and American backpackers of all kinds.
I never thought I'd actually hear anyone say this, but there were two girls seated next to us that got to talking:
"Where are you going?"
"Well, I'm on a spiritual journey…"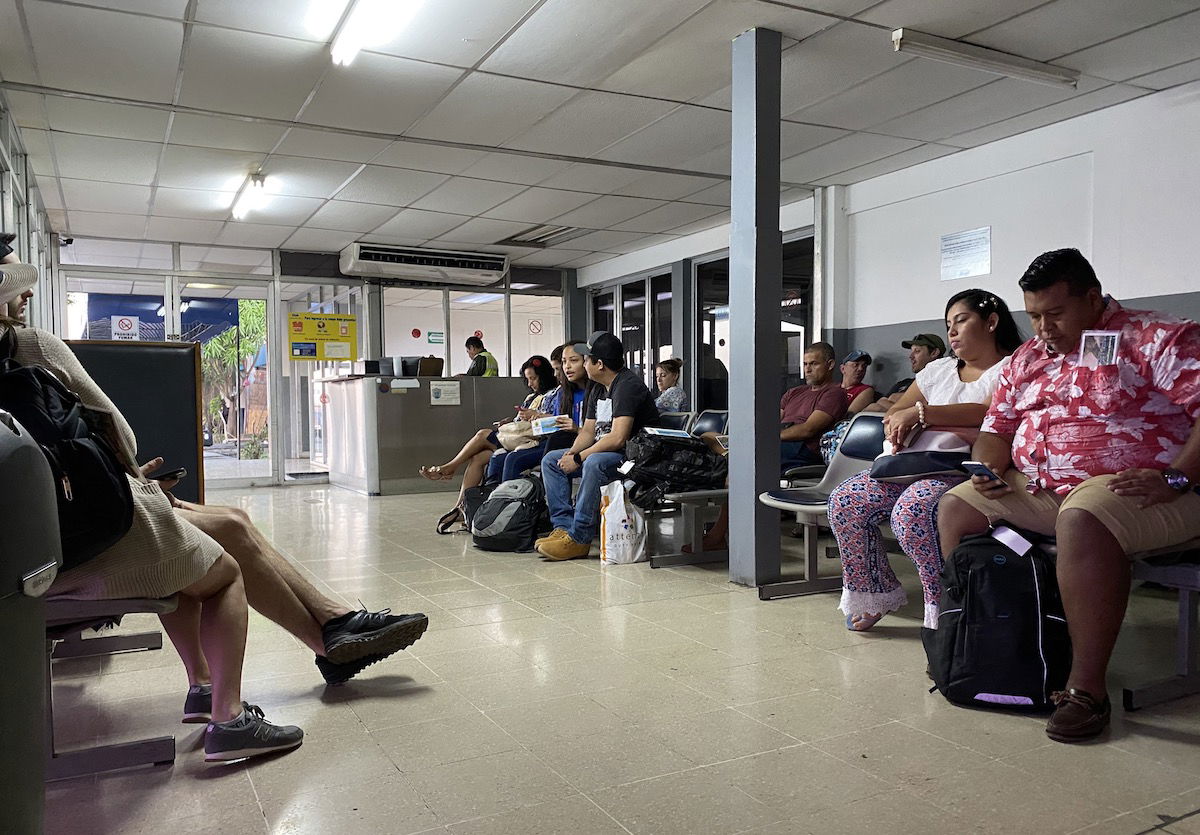 Managua Airport domestic terminal
Our flight was scheduled to depart at 6:30AM, and at 6:25AM boarding was called. While everyone rushed up to the gate, I was pleasantly surprised that the gate agent came and got us first.
"Calala?"
"Yes."
"You are my VIPs, come with me."
Talk about impressive service! The ATR42 was parked outside, and as the gate agent escorted us to the door of the plane, she explained that we would be making a stop on Corn Island first.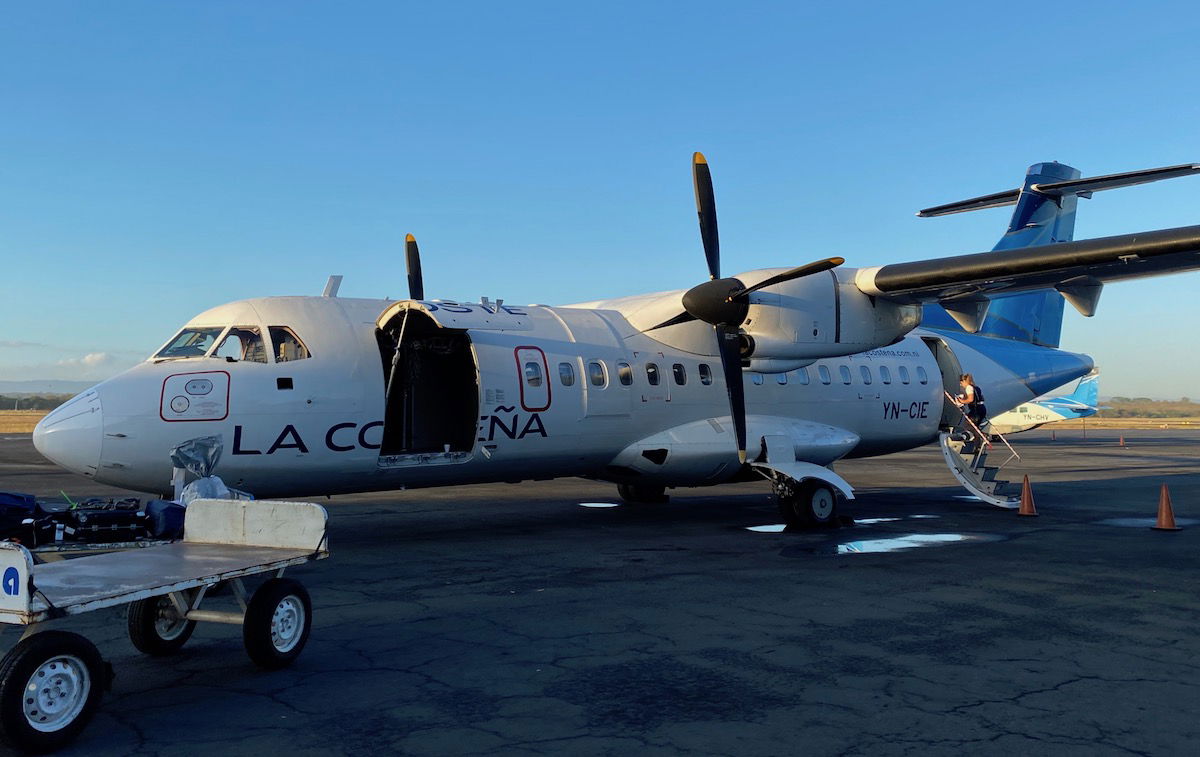 La Costeña Airlines ATR42
On the ATR42 you board through the rear, since the cargo hold is in the front of the plane, behind the cockpit.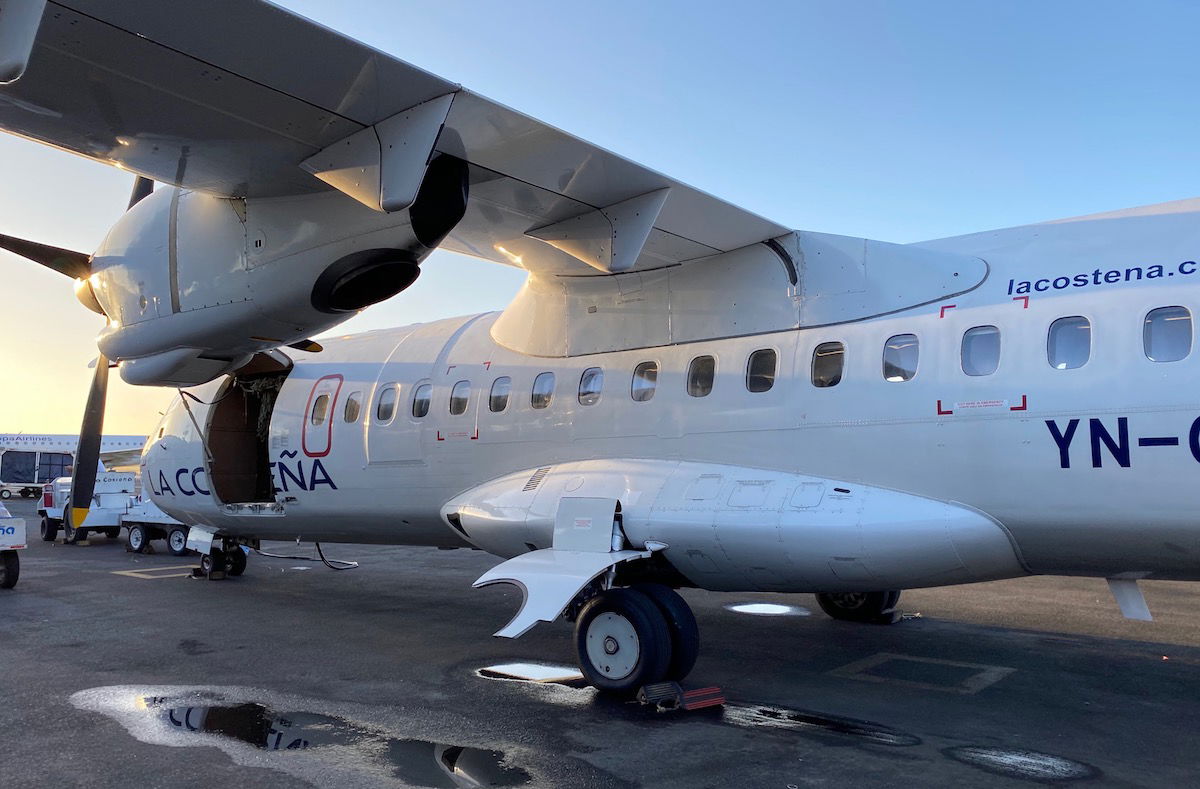 La Costeña Airlines ATR42
The ATR42 is pretty nice for a turboprop, and we had our choice of seats.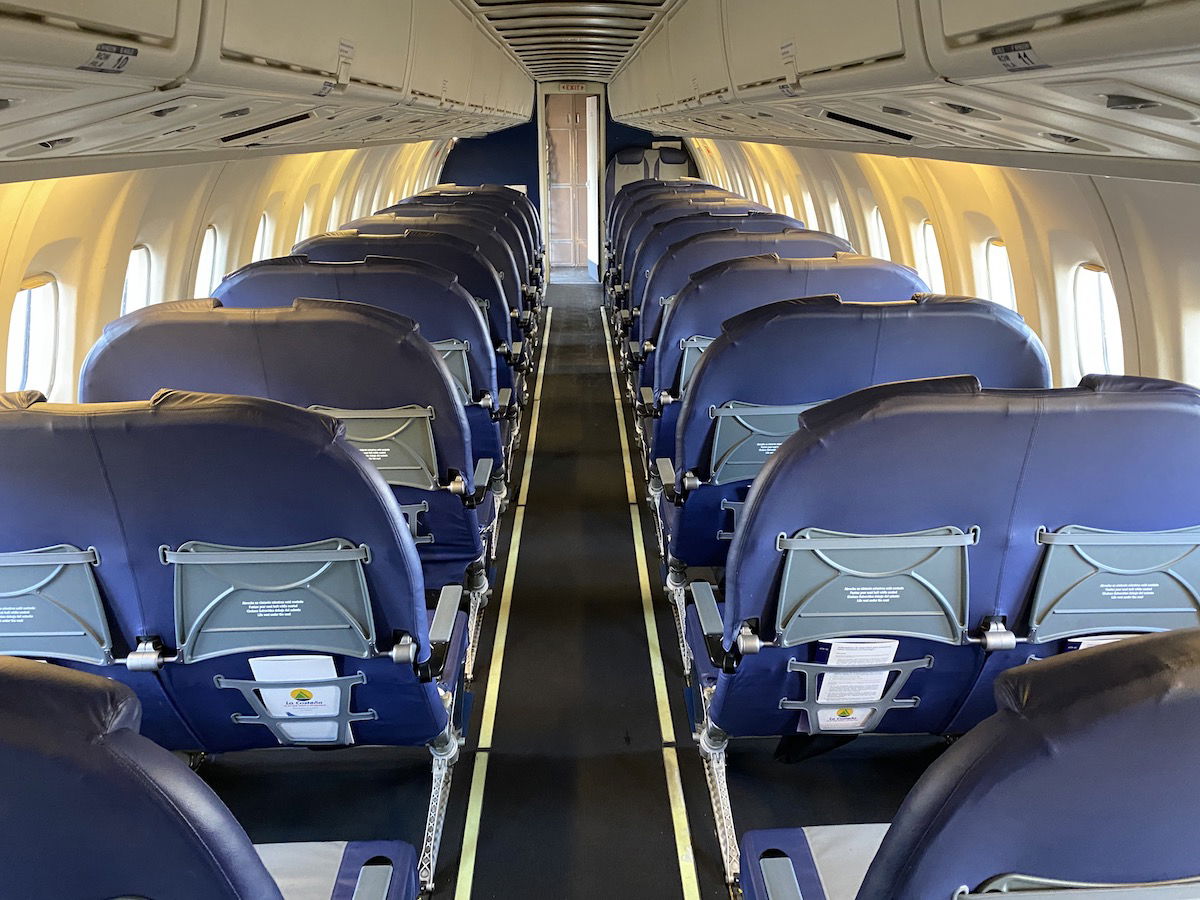 La Costeña Airlines ATR42 cabin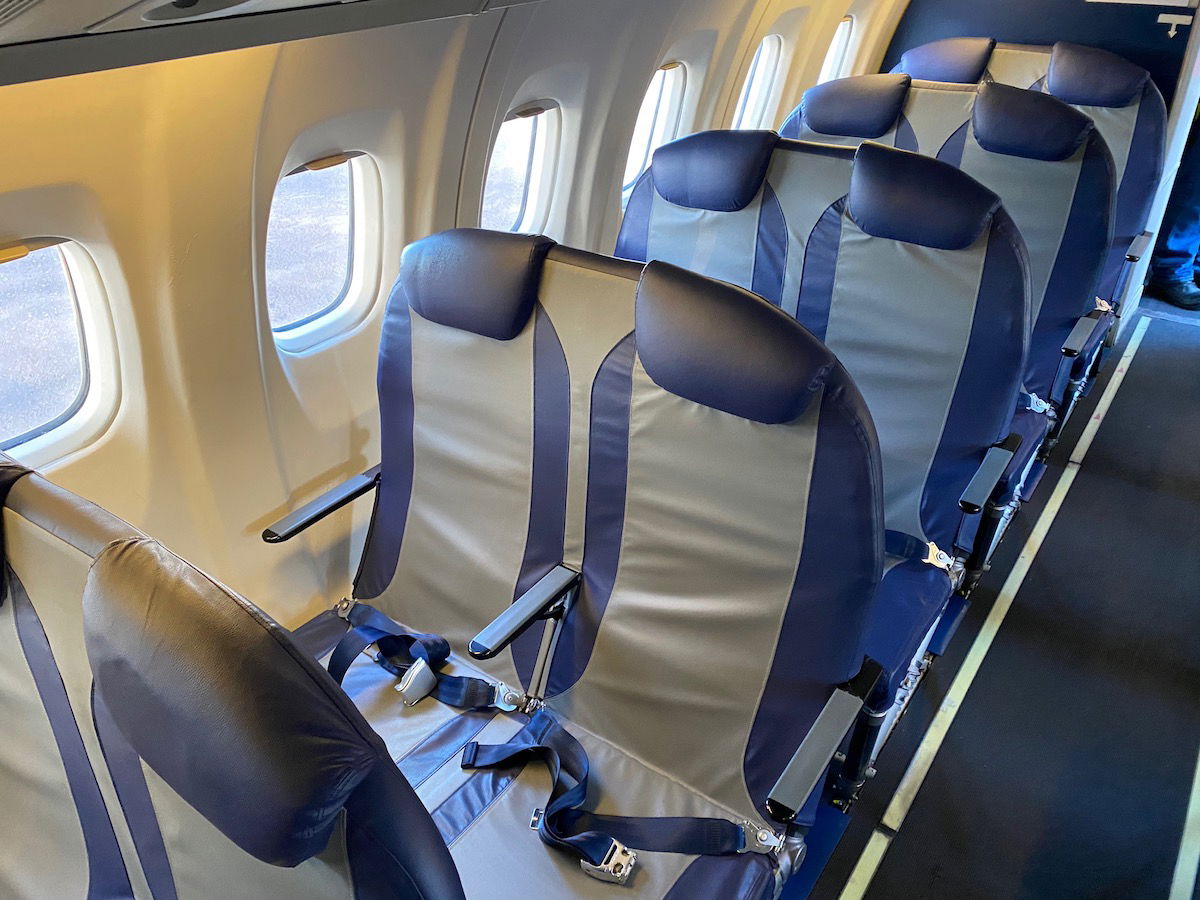 La Costeña Airlines ATR42 cabin
We sat in row seven, behind the wing on the left side. The plane has "bench" seats, rather than Individual ones.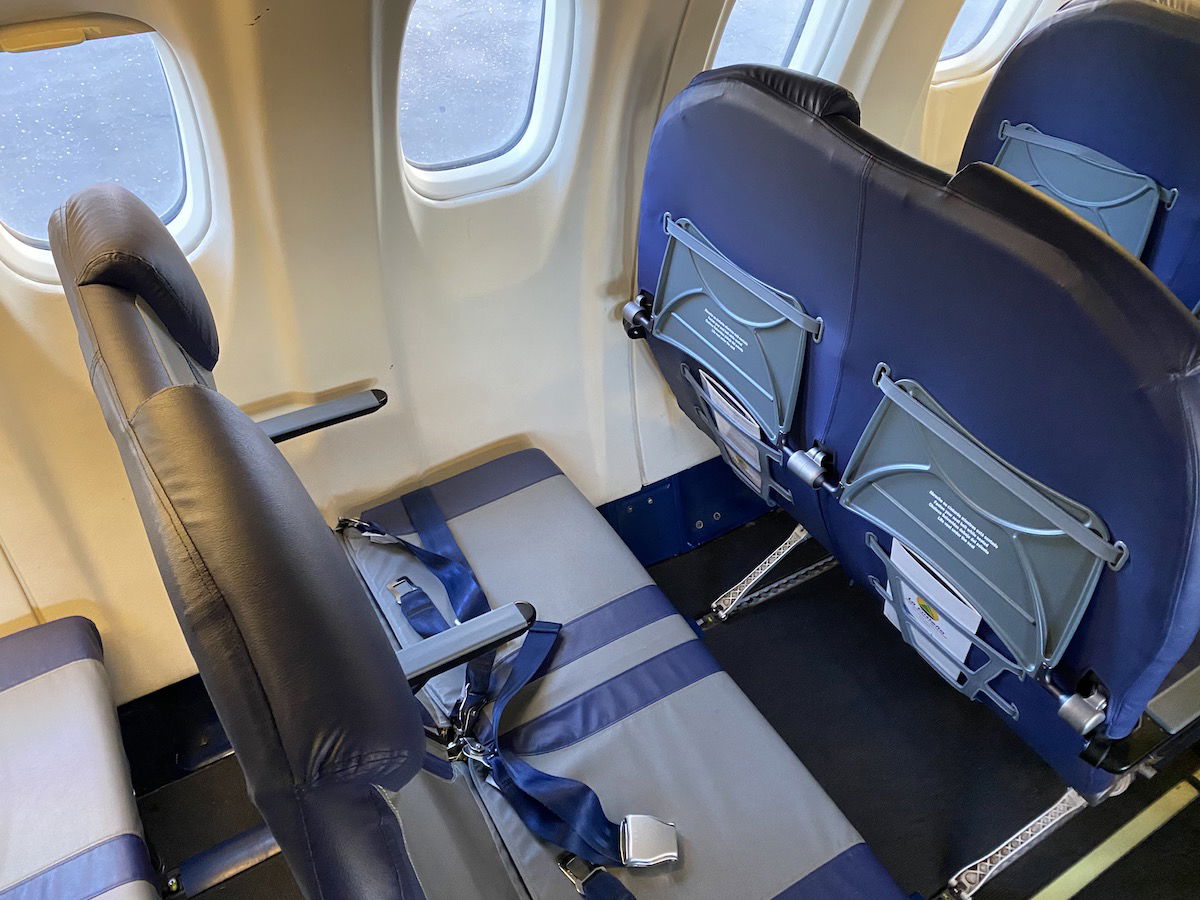 La Costeña Airlines ATR42 seats
Anyway, the flight was about 90% full, and within five minutes boarding was completed. We pushed back at 6:30AM, and were airborne five minutes later — interestingly there was no safety demo.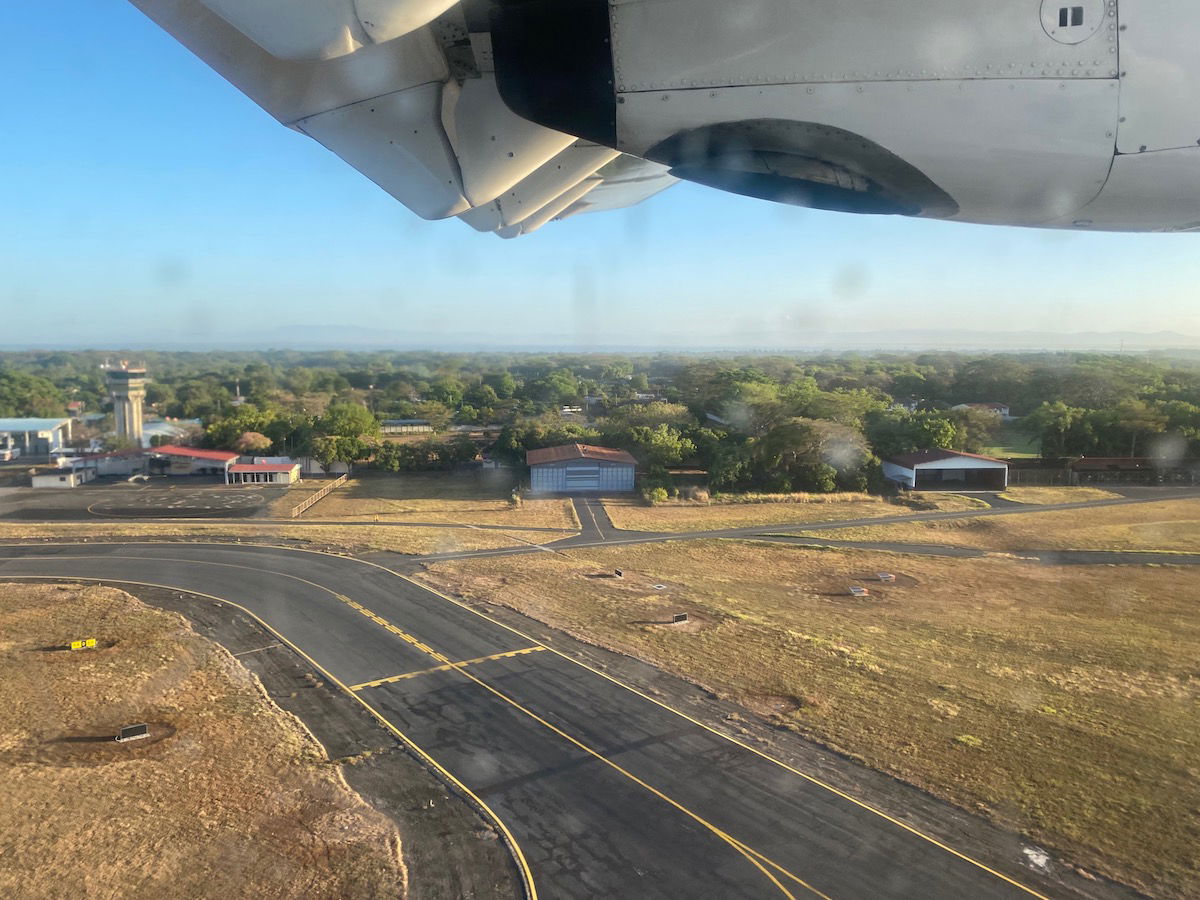 View after takeoff from Managua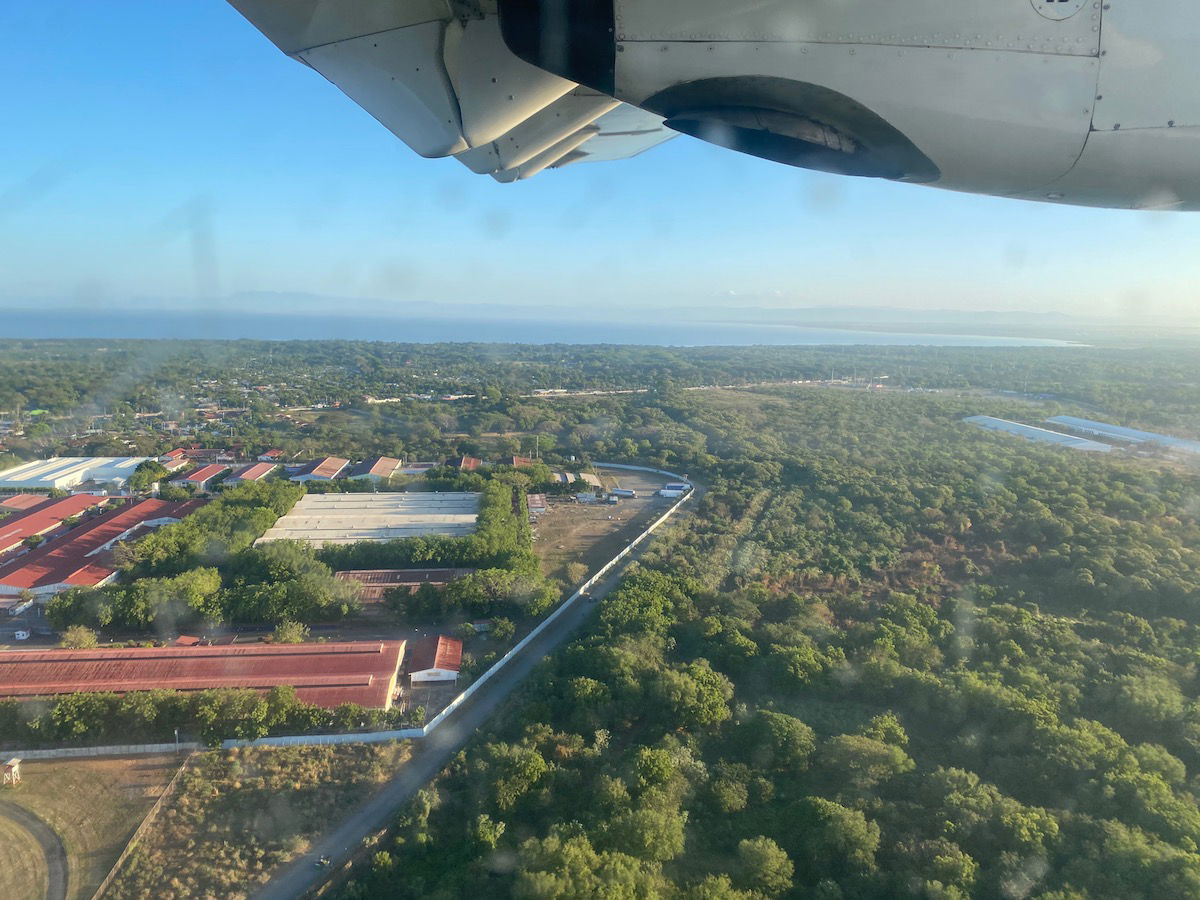 View after takeoff from Managua
The flight was fine — there was a water or juice service, but otherwise there's not much to talk about. I would note that the bathroom door wouldn't close and the light in there wouldn't turn on, but otherwise the experience was fine.
While the nonstop flight to Bluefields would have taken 45 minutes, the flight to Corn Island took about 60 minutes. Below you can see us leaving the coastline (right where Bluefields is) and crossing some of the Caribbean Sea to get to Corn Island.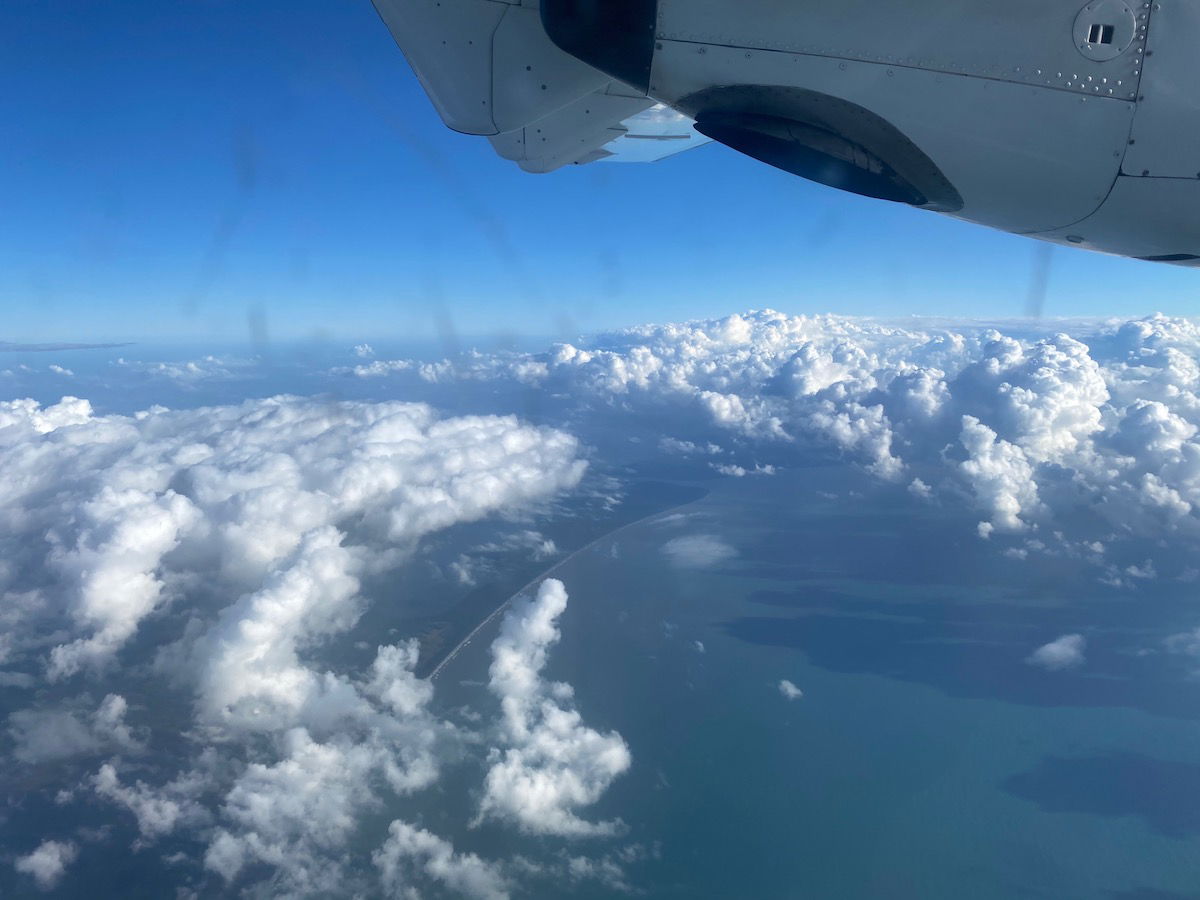 View enroute to Corn Island
We arrived there at 7:30AM.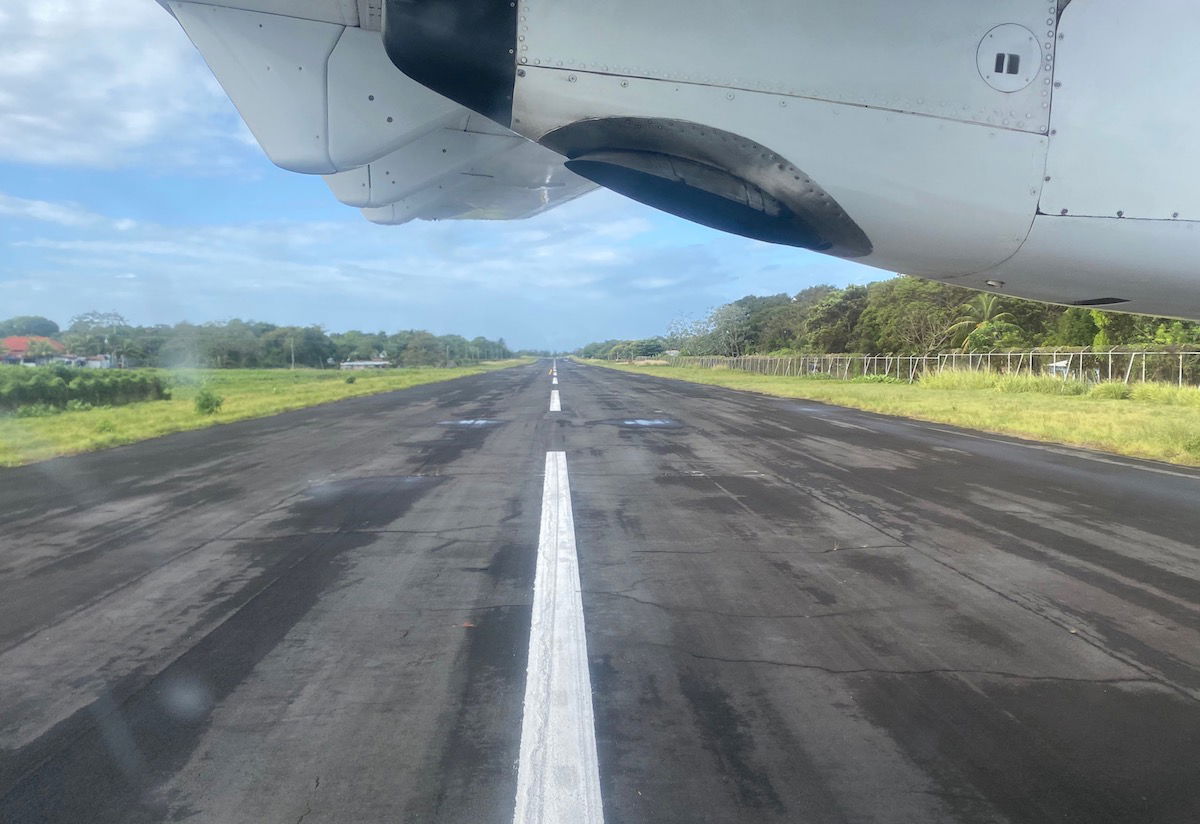 Corn Island Airport
We parked on the apron, and about two thirds of passengers got off. We had quite a wait, and then 30 minutes later we departed for Bluefields, again with a nearly full load.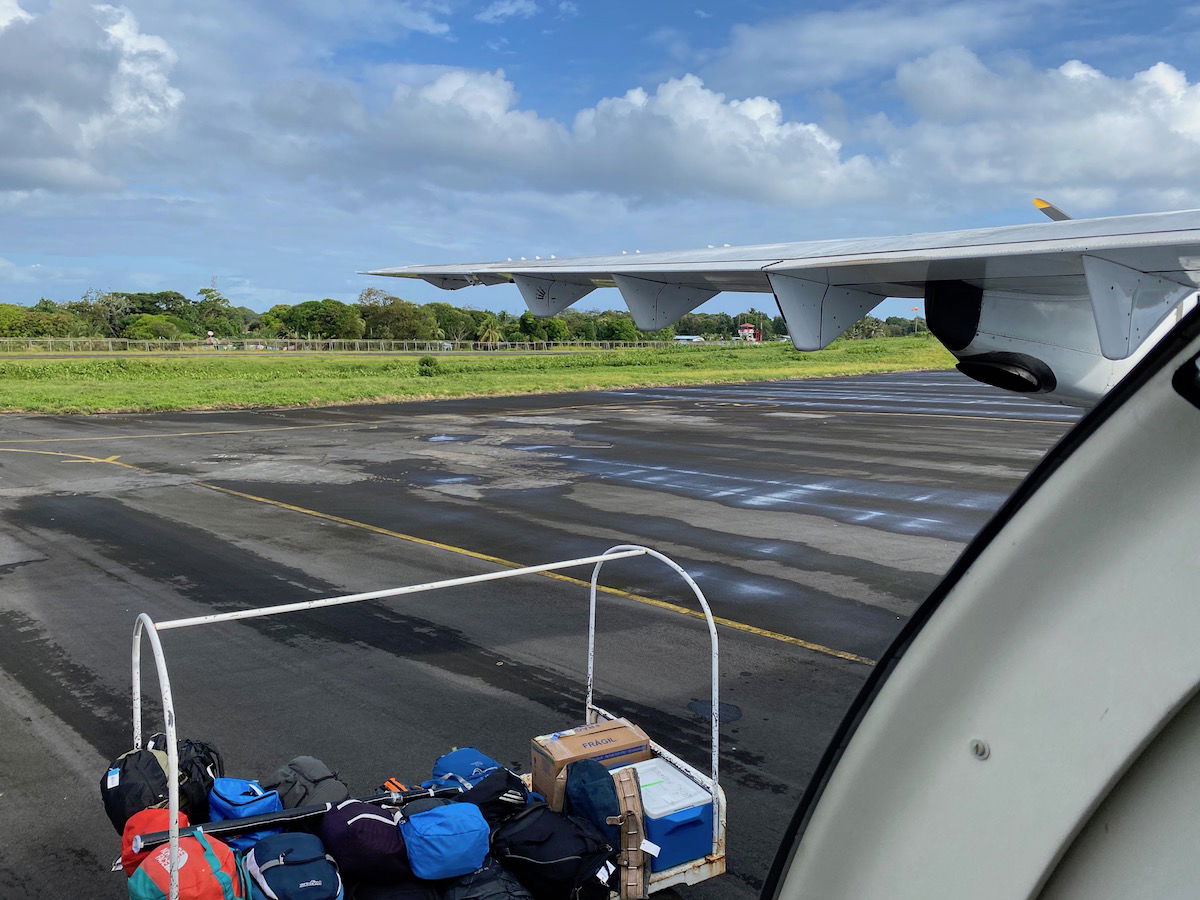 Corn Island Airport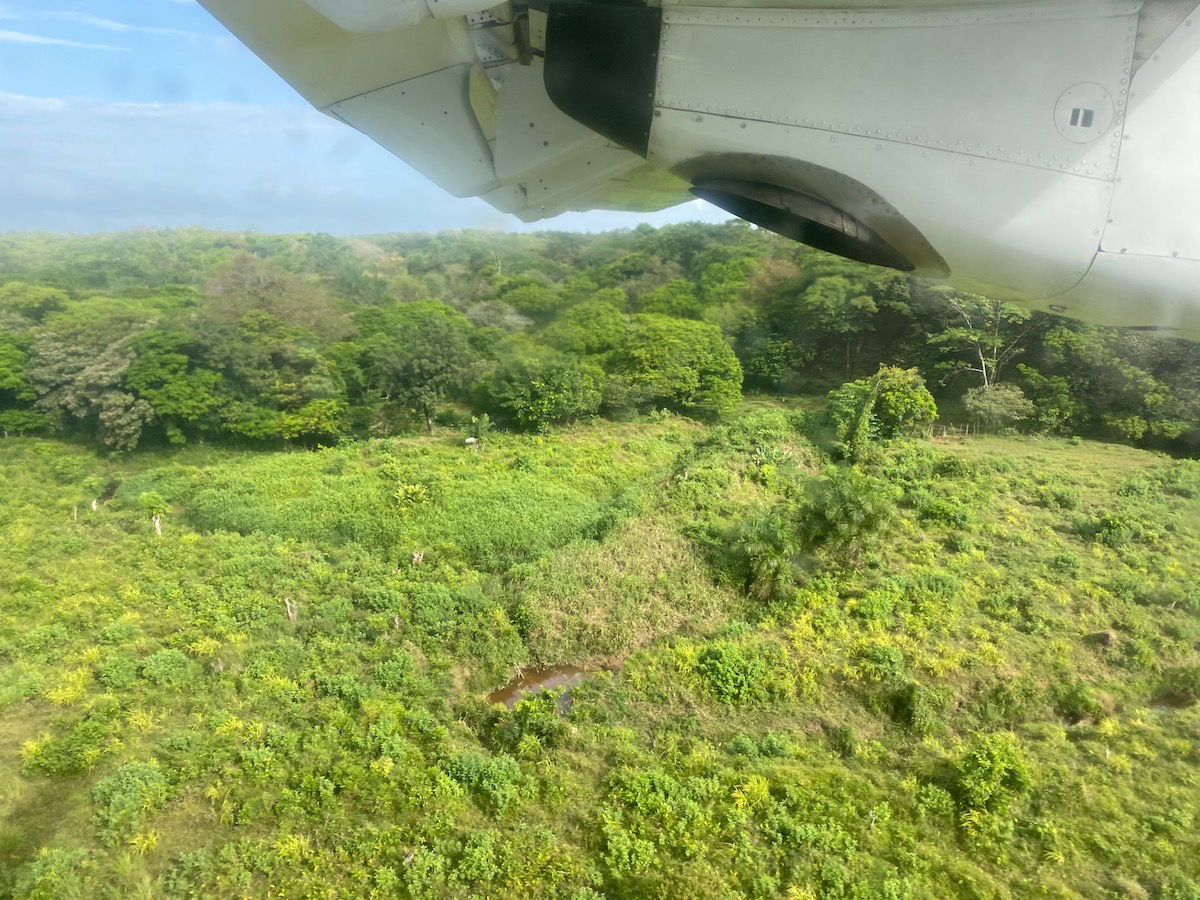 View after takeoff from Corn Island
That flight took only about 15 minutes, and by 8:15AM we landed in Bluefields.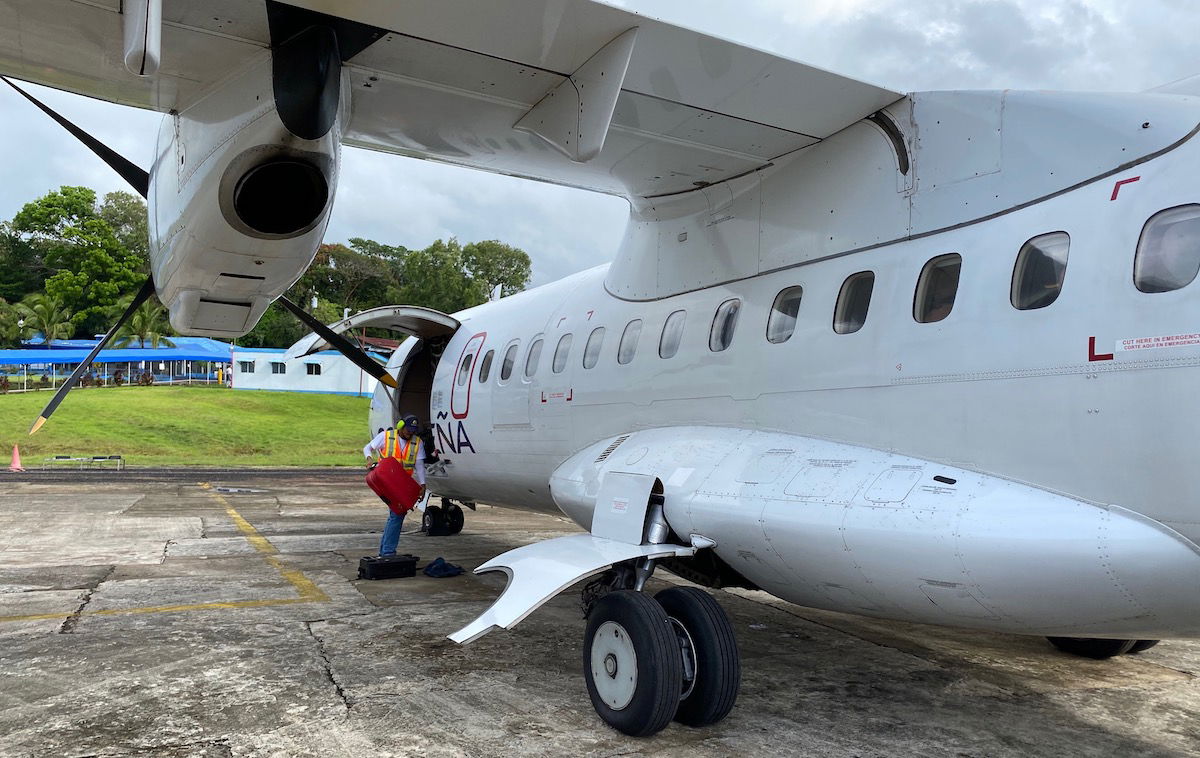 Bluefields Airport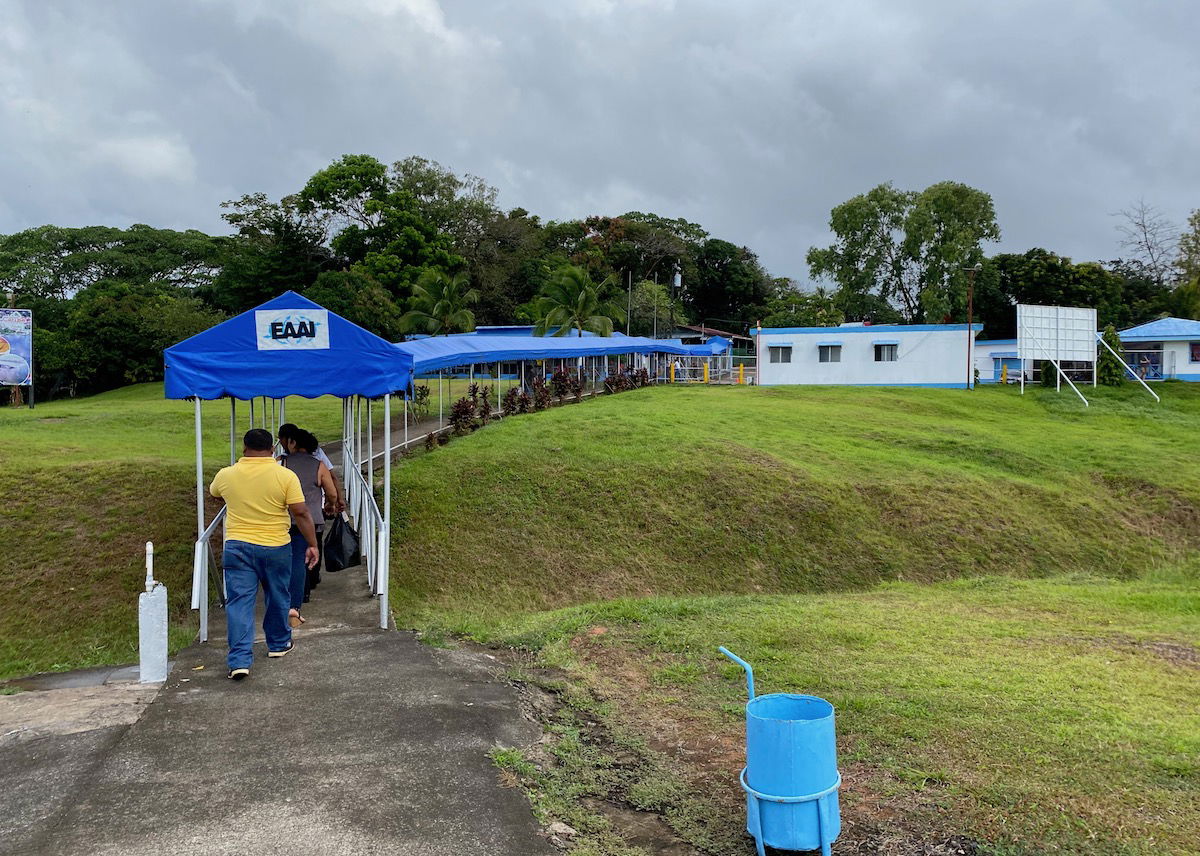 Bluefields Airport terminal
Interestingly there were some drug sniffing dogs on arrival, and also a temperature check. Yet somehow the bathroom didn't have any soap…
Here we met Shorvin from Calala Island, who would be accompanying us on the rest of the journey.
Taking A Car To The Port
Once we had our bags Shorvin brought us to a taxi that was waiting to take us to the port — the drive took about 10 minutes.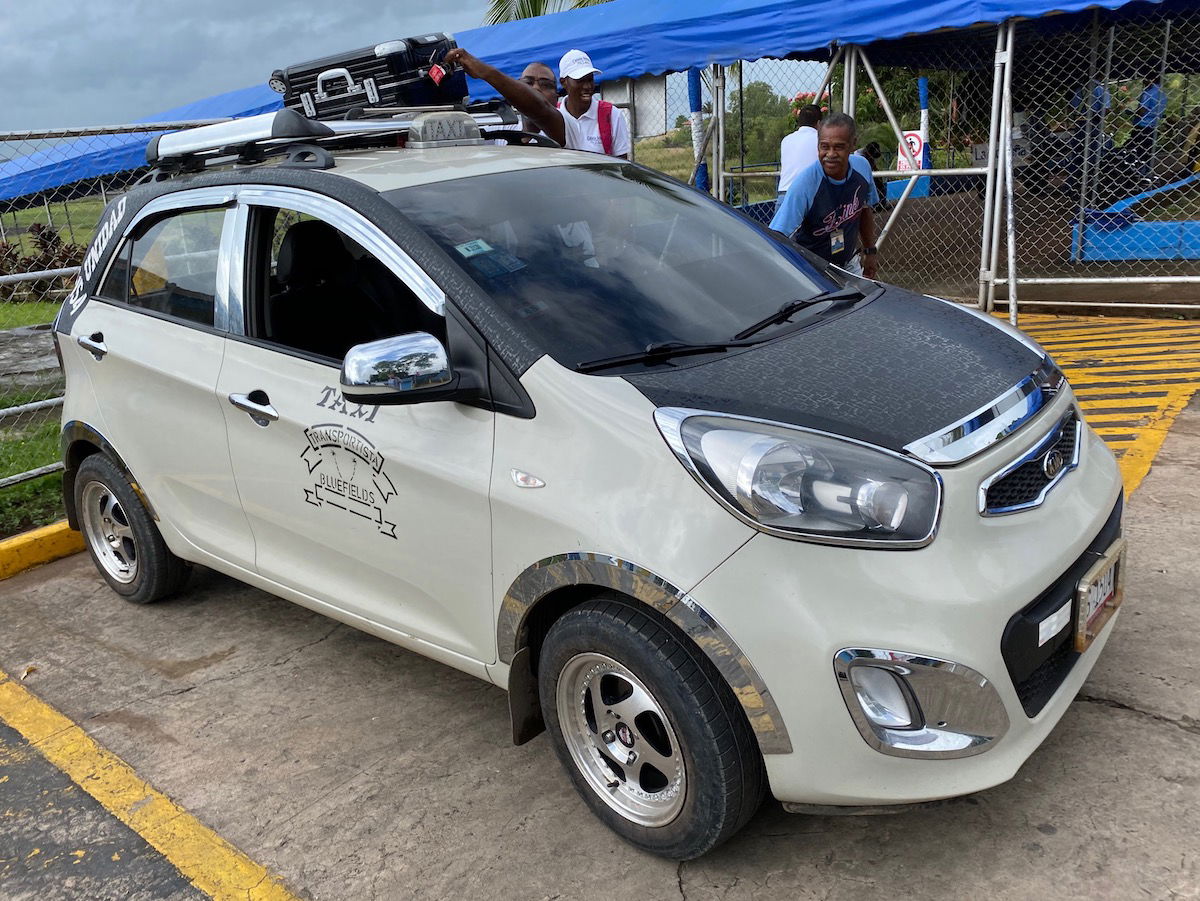 Taxi to port in Bluefields
Oh my gosh, getting to the port was a sensory overload, with the number of people, and how loud it was. There was also a Saturday market there at this point, with the freshest meat imaginable (which was kind of tough to see as a former vegetarian) — you could have a chicken killed right in front of you, and any part of a pig just cut off for you.
Even though the port was a bit crazy, I felt totally safe and comfortable.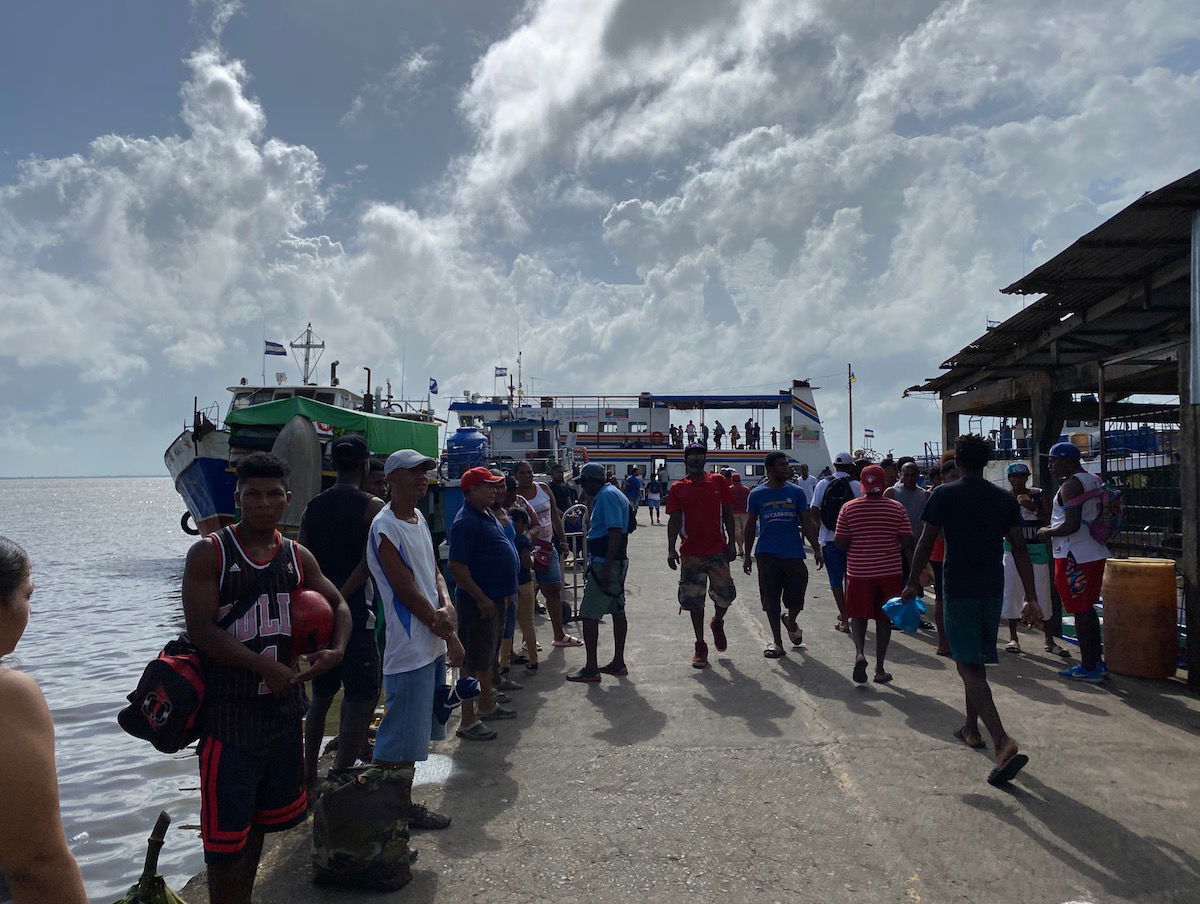 Bluefields port
When you think of your transfer to a $2,800 per night resort that includes going out into the open ocean, the below boat is probably not what you're expecting… but that's exactly what you get.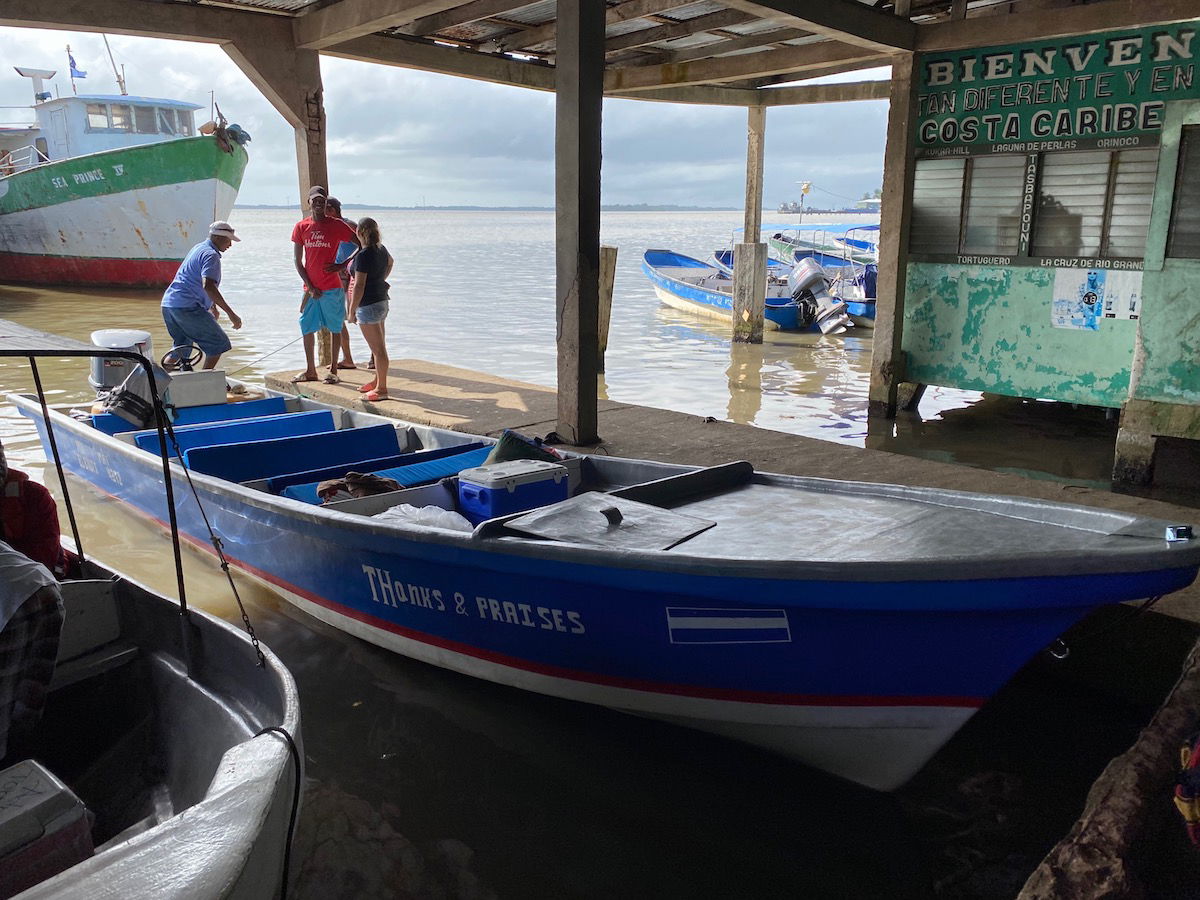 Calala Island boat
The Calala Island boat is parked right next to all the other local boats, which are a vital part of the transportation system in this part of Nicaragua, since it's the only way to access many towns.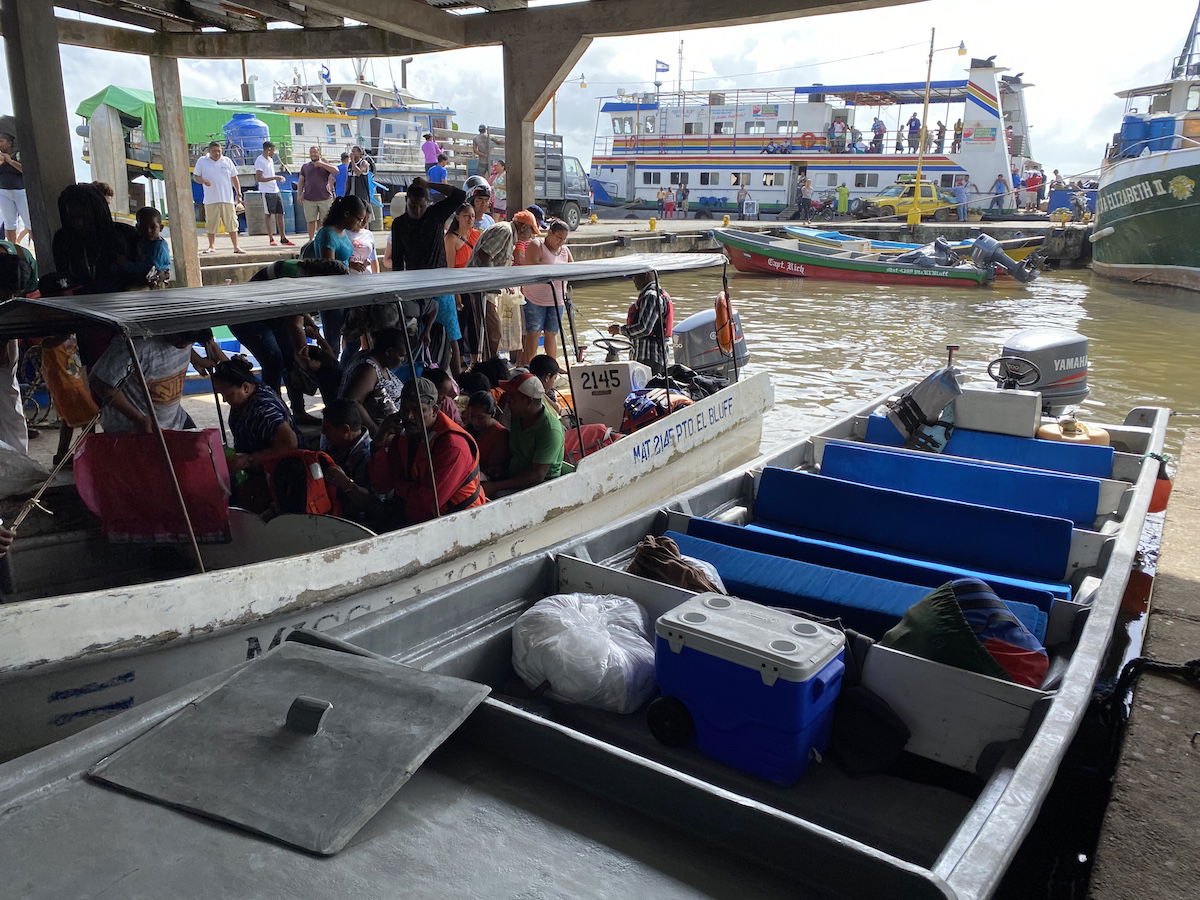 Bluefields port
A Boat Ride To Remember
There were no other hotel guests on the boat, so it was just Shorvin, one of his colleagues, and the boat captain. Here's how the transfer is described in the email to guests:
You will motor through the lagoons and mangroves on a traditional Nicaraguan open top speed boat, taking in an array of wildlife and then out to sea where the waters clear and you catch your first glimpse of your island home where ice cold cocktails will be awaiting your arrival.
We sat in the boat for a while while our passports were verified by local authorities, or something. After about 15 minutes we were on our way.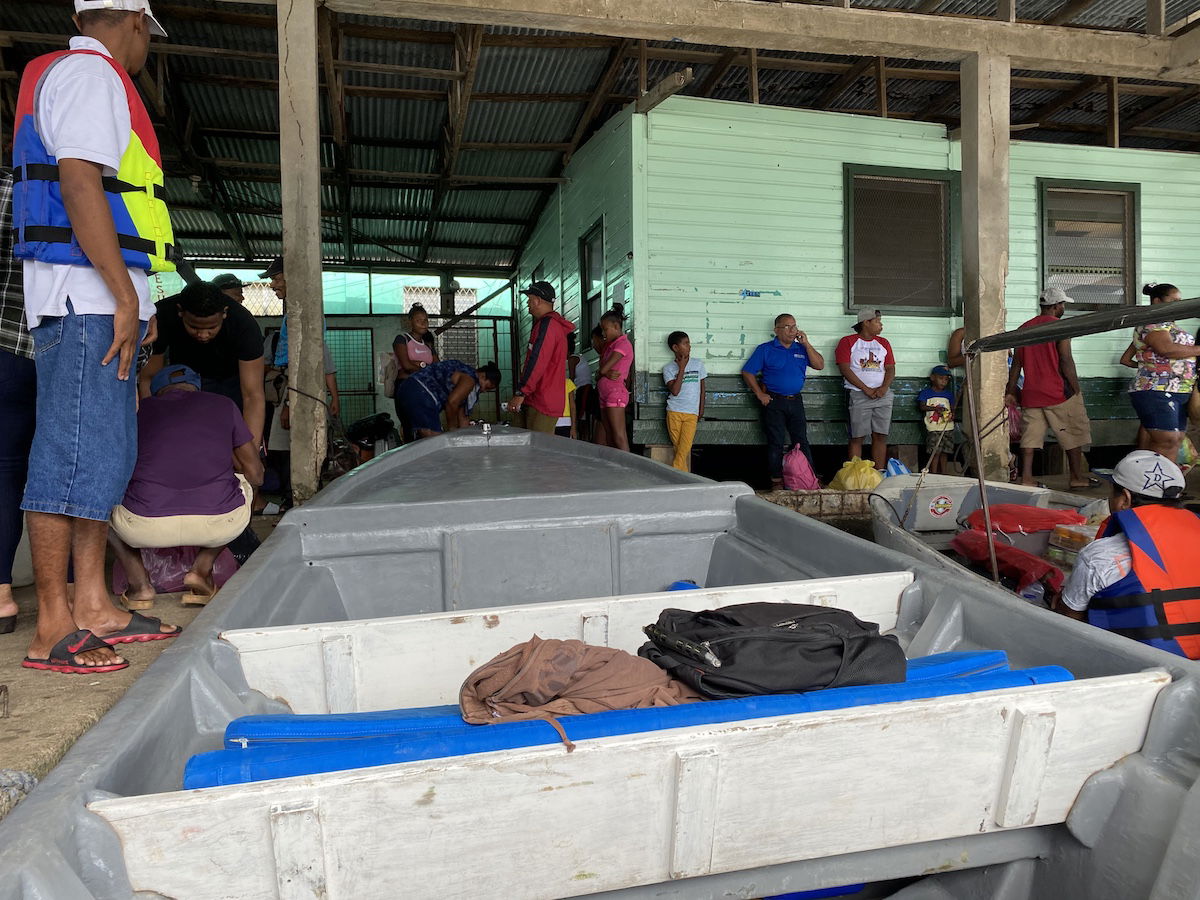 Calala Island boat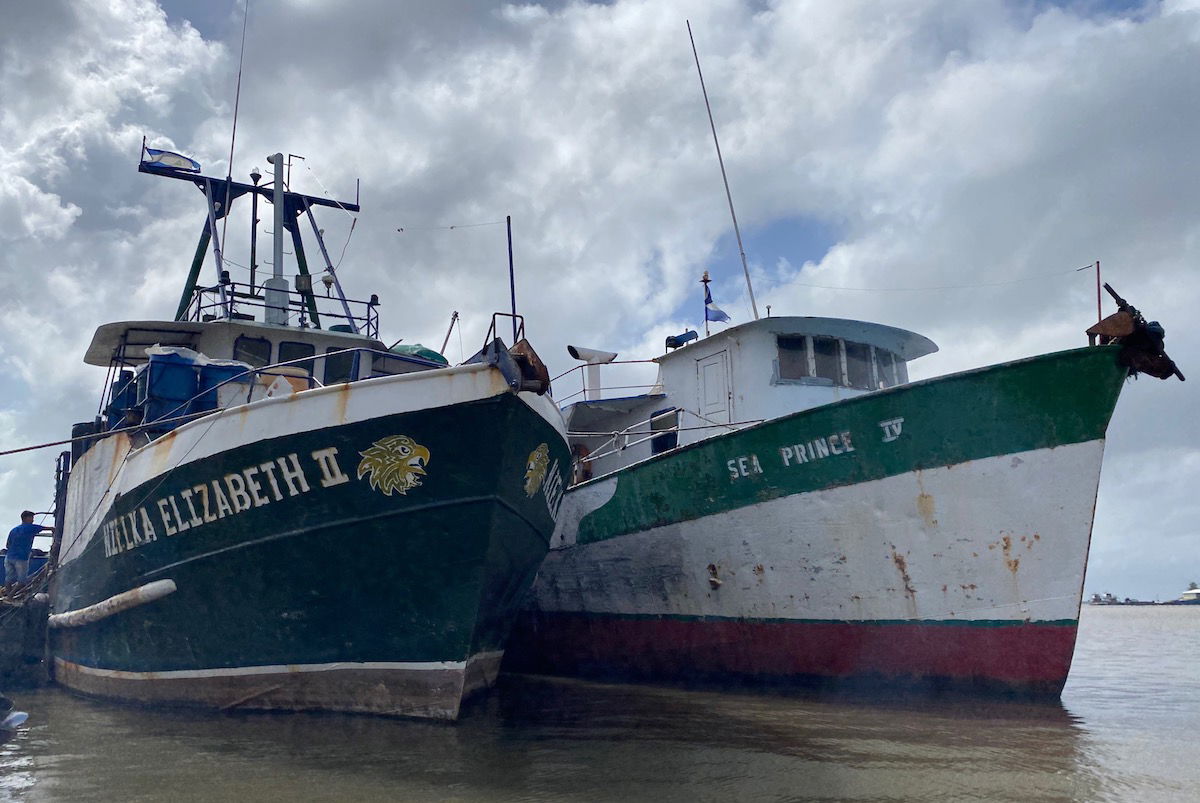 Bluefields port
The few people I had heard from who had been to Calala Island all mentioned that the boat ride was quite something, and I'm not sure that does justice to the experience. You spend the first hour going through mangroves and lagoons, which sounds nice, except:
You're going really fast, to the point that your eyes are watering and you can barely look outside, even with sunglasses; I spent most of the boat ride just looking down
The boat just constantly "hits" the water over and over and over; it's physically painful
Make sure you put on lots of sunscreen, since there's no shade
Similarly, if it rains you're exposed to all of the elements, and weather in this region changes very quickly; your bags are put into plastic bags and trash bags so that they don't get wet, and you're given a poncho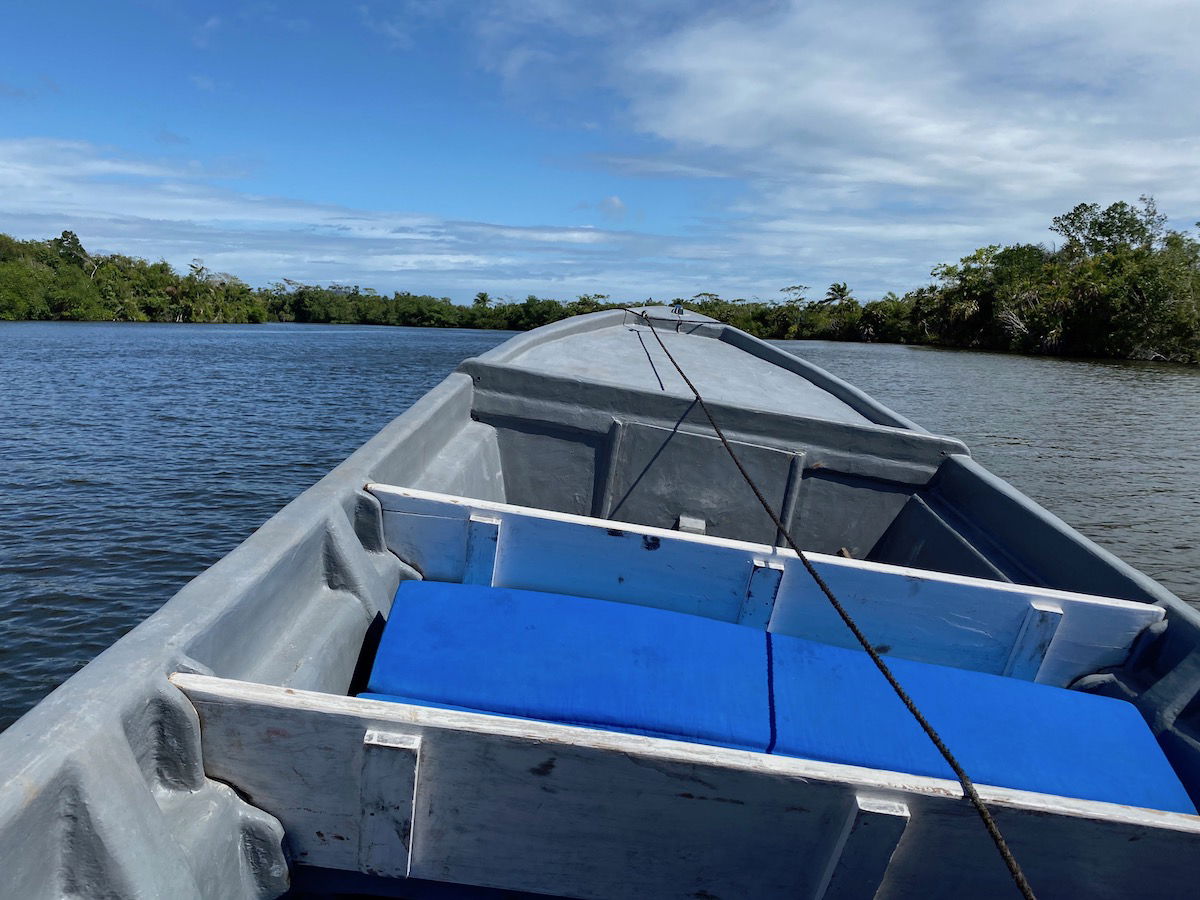 Mangroves enroute to Calala Island
When you get out of the mangroves area you arrive at a military checkpoint, where armed military officers check your boat very carefully to make sure you're not bringing anything you shouldn't be. I guess this is the coastal entry point to Nicaragua, which is why this is there. That took about 15 minutes.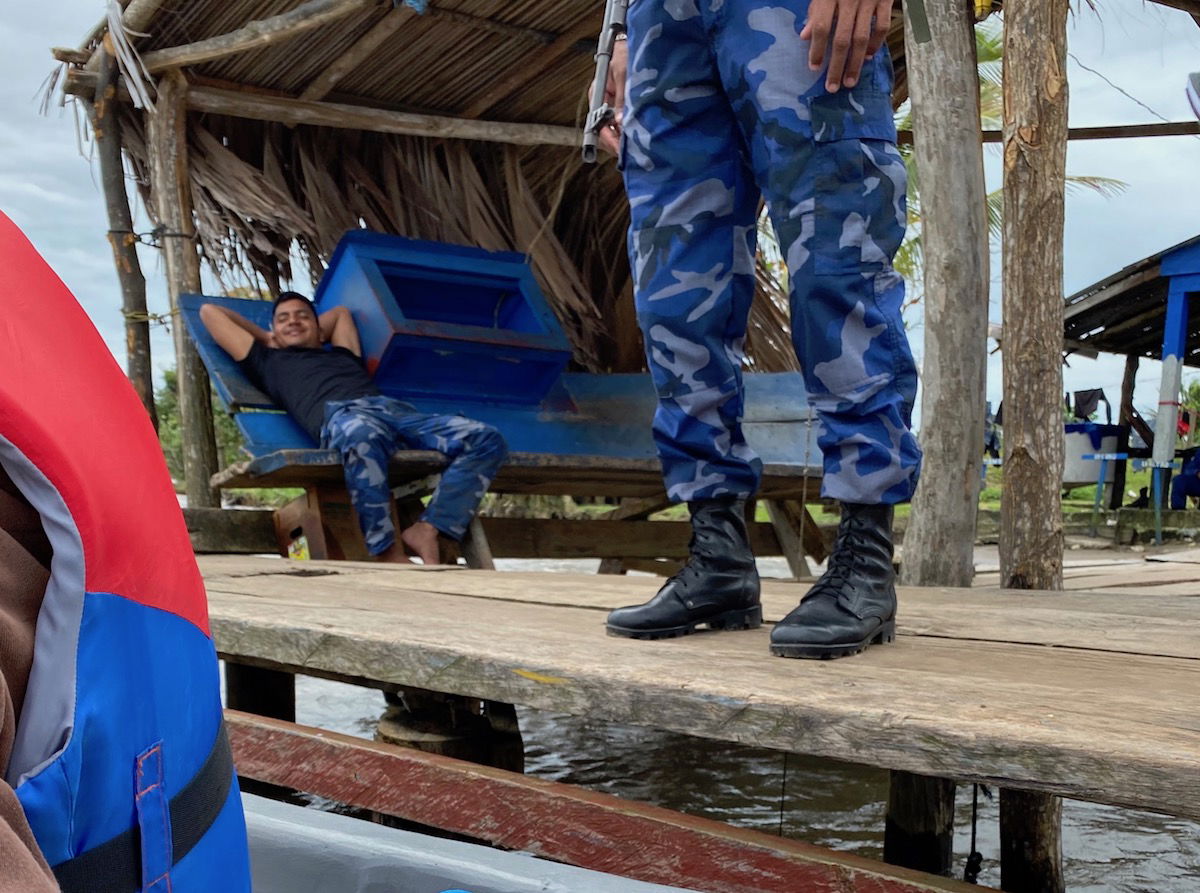 Military checkpoint enroute to Calala Island
And then you go into the open sea. OMFG.
Here's the thing — a rough boat ride is kind of fun… for like five minutes, or maybe ten minutes tops. But you spend the first 60 minutes of the ride with the boat constantly "hitting" the water every couple of seconds, and then the last 45 minutes or so is spent just rocking back and forth to the point that you wonder if you're going to make it.
To be perfectly clear, I felt totally safe, and didn't feel like it was dangerous at all. However, the reason I came to that conclusion is because I know they do this every single day, and I assume nothing usually happens, and not because I actually wasn't at least a little bit scared.
Pictures can't do justice to this, so you can see a video here (the first 30 seconds is in the mangrove area, while the last 60 seconds is from the open sea):
When we were on the open sea, Ford started asking me already about what the other options were for leaving Calala Island, as he was seasick, and had terrible back pain. We asked Shorvin if the roughness was normal, and he said it was, noting it was actually a fairly calm day.
After quite a long journey, beautiful Calala Island was finally in sight…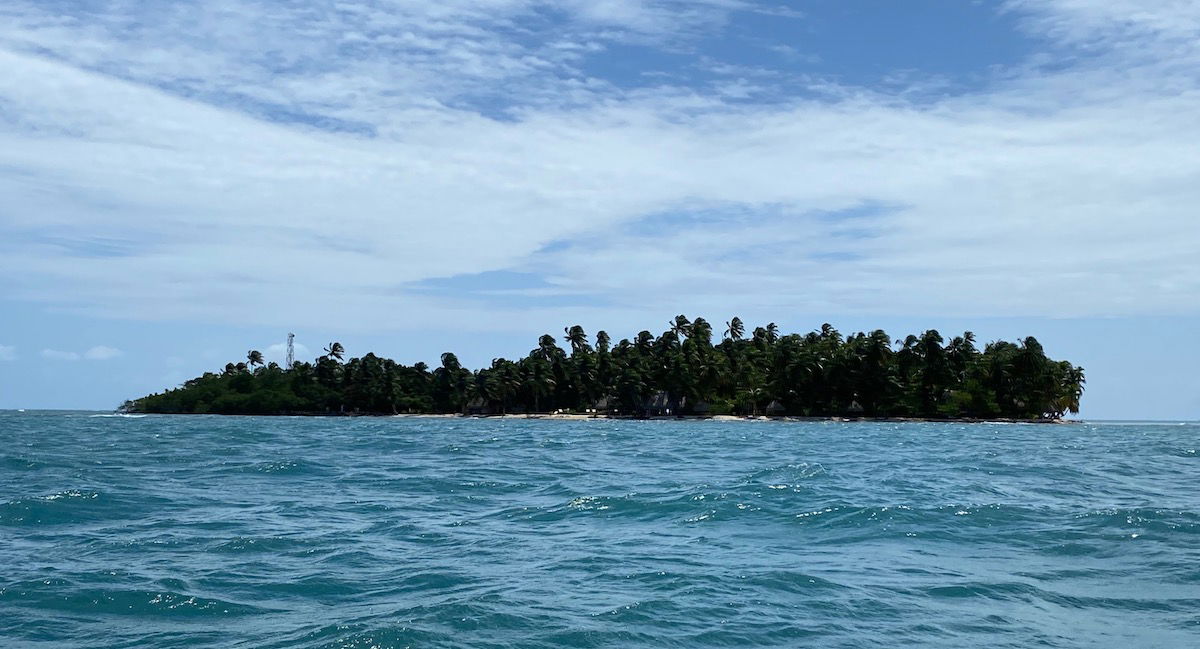 A view of Calala Island
Why Can't They Have A More Luxurious Transfer?
Chances are that at this point you're asking yourself "and why can't they have a nicer transfer option?" I asked myself these things as well, and here are some thoughts on that:
There is an option to pay to use a helicopter, though it's exorbitantly expensive, and personally I'm terrified of helicopters, so wouldn't consider it
While a nicer boat might sound nice, there's a practical reason for these boats, which is that they can go in really shallow water, and in some cases you're in water that's just a few feet deep
In some cases you go through some tight turns in the lagoons and mangroves, and a bigger boat just doesn't make sense
The boat goes really fast, so short of taking a huge speedboat, it's going to be rough
I'll say this about the resort in advance — I don't at all understand economics of Calala Island, and I imagine a more luxurious boat transfer would throw off the numbers even more
While the transfer is far from luxurious, I actually get it. Enduring this is the cost of admission to Calala Island, I guess.
Calala Island Transport Bottom Line
Getting to Calala Island is a trek, and involves planes, cars, and a very rough boat ride. While this isn't what you'd necessarily expect from a luxury resort:
It's nice that they at least fully include the transfer with the rate, even when paying with points
The whole transfer is well organized, if nothing else
Given the unique challenges the resort faces, this system is probably the only economically viable and practical way to get people to the resort
Still, the process of getting from Managua to Calala Island isn't easy. And if you're someone who gets seasick, and/or someone who has back pain, I wouldn't recommend it for you.
For everyone else, stay tuned for the review of the actual resort before deciding whether or not Calala Island is worth visiting, in spite of the transfer…