As many of you know, I've been traveling quite a bit with Ben this past year, which has been unforgettable and dreamy, but I've slowed down in recent months and started work in the travel industry, a space I was familiar with before meeting Ben and now have a vast exposure and understanding of since meeting him.
I previously managed an Italian eyewear startup based in Brooklyn and worked as a tech headhunter, but in both cases I didn't feel passionate about what I did on a daily basis. Travel, on the other hand, is something I am passionate about.
I've always been a Type-A planner and enjoyed making travel arrangements for family, friends, and myself, so it seemed natural to become a Travel Advisor, which is really a modern term for Travel Agent. I prefer "Advisor" because I can add more value than a traditional travel agent and don't currently wear a phone headset… who knows though, I may cave!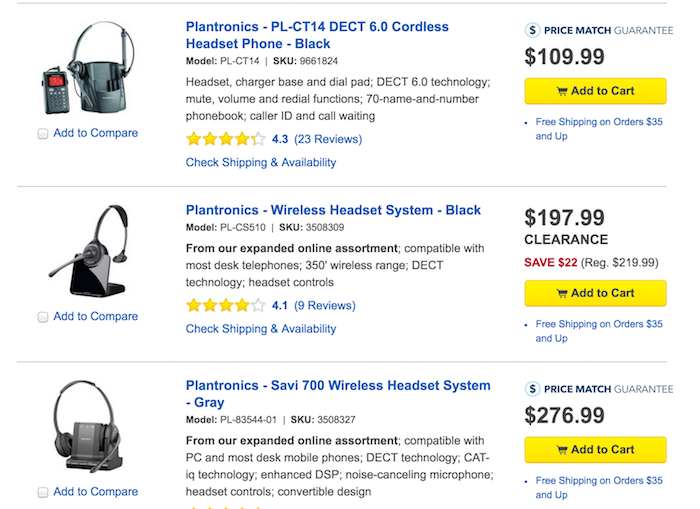 Thoughts on the best deal?
While I'm looking forward to taking advantage of some of the great travel industry rates that are available to me, my primary goal is to help you guys take advantage of great deals and perks that are just a few clicks away!
Therefore, I'm focusing primarily on hotel and resort bookings, where I can add the most value through my affiliation via The Travel Society with Virtuoso, an invitation-only travel alliance of nearly 1,000 luxury hotels and resorts in 80 countries. Many of you are probably familiar with (and may book travel with) American Express Fine Hotels and Resorts, which I also book clients through in the event that their benefits are better than those offered by Virtuoso.
By booking with me through either of these programs, the standard benefits often include:
Daily breakfast for two

$100 resort, spa, or food and beverage credits (which are especially valuable for short stays at hotels and resorts)

Confirmed early check-in and/or late checkout

Room upgrades when available

Free Wi-Fi
In the event the AmEx FHR benefits are better than those offered by Virtuoso, you may still enjoy booking with me (just shoot me a quick email!) rather than picking up the phone, dialing AmEx, waiting in a queue, and then spending 10+ minutes verifying your information, confirming rates, and booking your hotel through an agent. Perhaps I'm introverted, but I'd certainly rather send an email.
Booking with me through these programs won't cost you any extra, as I earn a commission from the hotels and resorts. Even better, the room rates for these programs are typically the same as the best available rate, which makes booking through Virtuoso and AmEx a great value. Many properties also have special promotions throughout the year like 3rd or 4th nights free, or further add-ons like resort credits, guaranteed upgrades, etc.
In addition to having access to the benefits offered by Virtuoso and Fine Hotels and Resorts, the Travel Society is also connected with an array of hospitality brands that offer their own exclusive programs with benefits that are equally as good: Starwood Luxury Privileges, Rosewood Elite, Four Seasons Preferred Partners, Peninsula PenClub, and the Belmond (formerly Orient Express) Bellini Club to name a few.
A few titillating offers below… show, don't tell – right?!
Starwood's Tambo del Inka near Machu Picchu in Urubamba, Peru currently has a promotion offering a 3rd night free through Virtuoso, in addition to the standard Virtuoso benefits.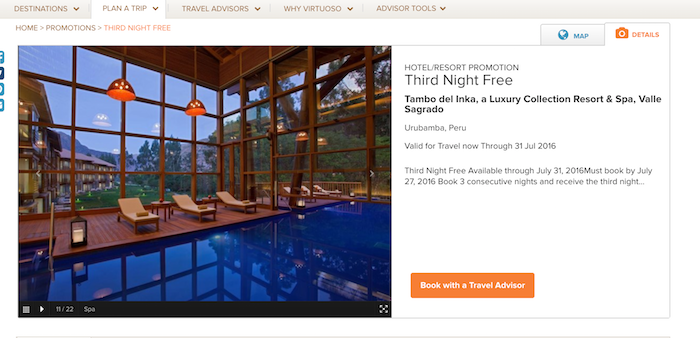 The W Bangkok, which isn't a part of American Express FHR or Virtuoso, has some great benefits available through the Starwood Luxury Privileges program. The benefits include daily breakfast for two, a spa credit equivalent to $85 USD (goes a long way in Thailand, even at an American-branded hotel), and a room upgrade and flexible check-in and check-out times subject to availability.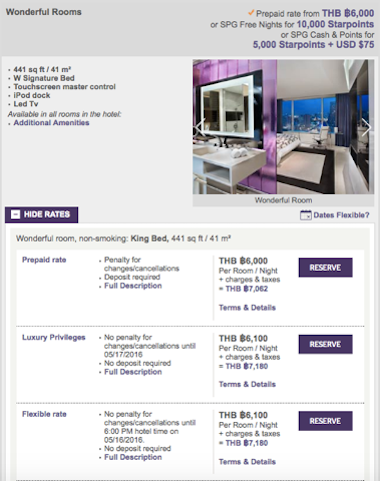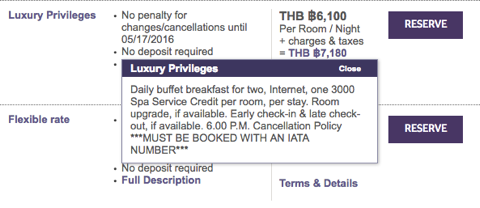 These deals aren't exclusive to uber-expensive hotels and/or leisure travelers, either. Business travelers going to Beijing, for example, can get a 3rd night free at the Rosewood Beijing through American Express FHR. The ordianry rate is ~$290 per night, so for a three night stay you'll end up paying under $200 per night, and you'll receive a room upgrade, breakfast, guaranteed late check-out, a $100 food & beverage credit, and more.

The Four Seasons Preferred Partner program has more specials offers than I could possibly keep track of. The program currently offers confirmed upgrades at the time of booking at their hotels/resorts in Singapore, Shanghai, Nevis, New York, Chicago, Costa Rica, and Chiang Mai. 3rd night free offers are available at their hotels/resorts in the Golden Triangle (Thailand), Bogota, Chiang Mai, Prague, Baku, and Lisbon.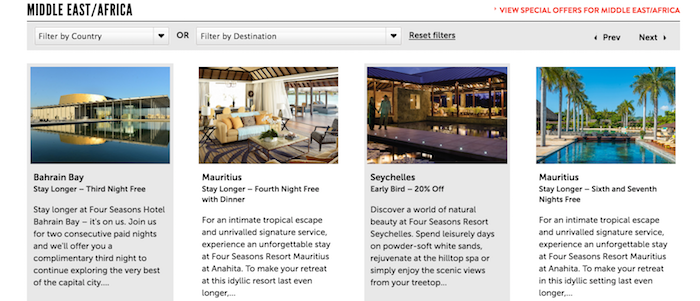 Current offers at resorts in Bahrain, Mauritius, and the Seychelles
As you can see, the perks and promotions vary widely and run the gamut of hotels and resorts around the world. If you're planning on traveling, it's always worth checking whether or not these benefits are available through Virtuoso, which I'm happy to assist with. It's a no-brainer!
As I said, I've had some experience planning more elaborate itineraries, which Virutoso makes a breeze with a network of onsite contacts. Want a private tour of the Sistine Chapel or dinner for two on the Great Wall of China? Both can be arranged through yours truly.
While Ben keeps me busy working on his round-the-world jaunts, I'd certainly love to hear from all of you, too!
You can reach me via email at [email protected]. Feel free to spread the word and pass along my contact info to friends, family, and colleagues too!
Thanks for your support!
Cheers,
Ford