Alaska Mileage Plan has a great loyalty program, and some very valuable award redemption possibilities. For the most part their awards are easy to book, and while they don't allow holds, most agents are generally competent.
There have been, however, issues over the years with Alaska not offering full access to partner award inventory. The latest instance of this is with Cathay Pacific, and Alaska is not giving Mileage Plan members the ability to book awards even when Cathay Pacific is making the space available.
This is different than the situation with Fiji Airways, for example, where Alaska only ever has access to two fewer seats than Fiji Airways offers to American. Cathay Pacific seems to be making this inventory available to all their partners (even non-oneworld partners), and it seems to only be Alaska that has problems accessing it.
The throttling of Cathay Pacific award space is new (or newish — Ben wrote about some of the availability discrepancies for first class back in July), and it's very problematic.
As an example, we've been working on a trip to Asia for a client, and there are four of them traveling using Alaska miles. Cathay Pacific is the obvious choice, as they have phenomenal business class availability when booking in advance, and we found a date where all four could travel together:
This should have been an easy thing to secure. Yes, you have to encourage the agents to search segment-by-segment, but there are four seats, the miles are in place — should have been simple.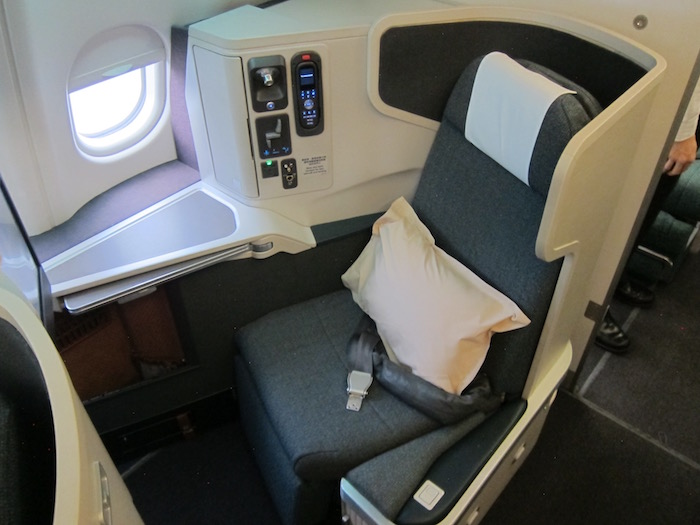 Cathay Pacific business class
But no matter how many times we tried, and even when we tried different dates, Alaska agents couldn't see more than one business class award seat.
A partial workaround
Back in the day, Thai Airways used to only release two seats at a time to partner airlines. They might have actually been willing to offer award space on the entire business class cabin, but their systems would show two seats, replenish those seats, show two more, etc.
It seemed like a long shot, but given that Alaska could see one seat, we figured we might as well try this method. So we booked the first seat.
And then Alaska could still see one seat, and we booked the second.
With two down and two to go, Alaska could still see a single seat, and we booked that too.
But when it came time for the fourth seat, and even though inventory was still available, Alaska couldn't see any business class award space on that flight.
This seems relatively consistent across dates, and for the most part it seems Mileage Plan can see one fewer seat than Cathay Pacific is actually making available to partners.
What about the "old system"?
When Alaska was having issues booking Emirates awards last year, the solution was to find an agent who could go into the previous booking system and manually enter the data. This is a reasonable thing for agents to do during a software transition, and most were happy to.
Nowadays, it seems that there is only one system for booking Cathay Pacific. I haven't been able to get a clear answer from an Alaska rep as to how they're trying to book this (and between my colleague Jordan and I we've spoken to 30+ agents), but the consensus seems to be that there is only one way to book Cathay Pacific awards.
If there is another system for Cathay Pacific, either agents don't know about it, or have been told it can't be used. My suspicion is that the "old system" is the default for Cathay awards (which can't be booked online using the "new system").
I would further speculate that the data link between Alaska and Cathay has been corrupted somehow, which is what is leading to the discrepancy.
"Never attribute to malice that which is adequately explained by stupidity."
I mention the data link because that seems the simplest and most likely explanation. Cathay Pacific is making this space available to all their partners (even tiny Bangkok Airways!), and Alaska is the only one not able to see the full inventory.
I presume that Alaska isn't intending to only make one Cathay seat available per flight, or to not show space at all when only one is available. And given the debacle when they launched their new website, I think it's safe to say Mileage Plan doesn't have the best computer and software engineers in Seattle at their disposal.
So rather than a vision of cackling executives trying to find ways to screw their frequent flyers, I think this is probably just negligence. Annoying negligence, certainly, and something that seems like it should be fixable if Mileage Plan were to make doing so a priority.
I'm not sure if that's better or worse, but it does give me some hope that his could be fixed (Alaska, I've done half your bug report for you now, should make fixing this easier!).
Bottom line
This stuff is just annoying. There's little reason for it, and having frustrated members degrades loyalty programs.
Alaska management: Fix your systems, or train your agents. You're already on trust probation.
Everyone else: Be wary when planning Cathay Pacific awards on Alaska for now. The program still has great values, and I'd feel comfortable buying miles if I had a flexible schedule, or were planning for a couple. If you want to travel as a family, however, right now you'll need to find dates with one more seat available than you actually need, which could be a bit tricky.
Have you dealt with this? Anyone have a workaround that I'm missing?