Last week I wrote about the SPG "Paradise Just Got Closer" promotion, whereby select Starwood resorts can be booked for 35% fewer Starpoints. The promotion is valid for stays through March 8, 2016, and seems to be an annual promotion offered by Starwood.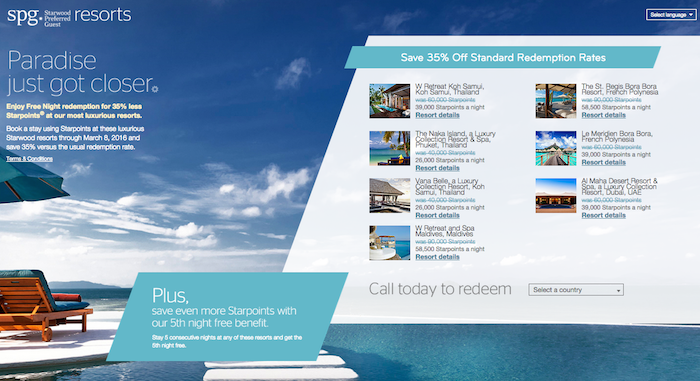 This 35% off promotion is valid at the following seven properties:
These resorts are much more expensive than the "standard" redemption rates at SPG properties, which is because they're all "specialty" properties. See my previous post for more details on why that is.
Why the Al Maha Resort is a great value
I'm a big fan of the UAE, and have spent a lot of time there over the years. I've long been intrigued by the Al Maha Desert Resort, which is a Luxury Collection property located in the desert, just ~45 minutes from Dubai.
If you've never been to a desert resort before, it's an experience I highly recommend, as it's completely different than a beach or city vacation.
Al Maha usually costs 60,000 Starpoints per night for a free night redemption, though through this promotion you can get it for just 39,000 Starpoints per night. That's still a lot, given how valuable Starpoints are. What makes this such a good value?
The standard room at this hotel is the Bedouin Suite, which is 807 square feet and has a plunge pool
The resort is all inclusive; even when redeeming Starpoints, breakfast, lunch, dinner, and two activities are included per night (and this resort is all about activities, from camel rides to falconry to four wheeling)
For reference, paid rates here are insane. The cheapest nightly rate I see is 5200AED plus taxes and service charges, for a total of 6240AED (~$1,700USD).
For what it's worth, having stayed in a different desert resort in the UAE before, I'd recommend maybe planning on staying here for two nights. Anything less will be rushed, and much longer than that will be boring.
My experience booking Al Maha
The 35% off promotion has to be booked by phone, as the hotel isn't even bookable online when redeeming points. Most agents don't seem to be familiar with the promotion, so giving them the URL of the promotion page — http://www.spgresortredemption.com/ — is your best bet. If they're not familiar with the promotion they'll place you on hold. Then it'll likely take a few minutes for them to confirm the pricing/details, as presumably agents don't book that many "specialty" resorts on points.
As long as a Bedouin Suite is available for sale, you should be able to redeem Starpoints for it at the rate of 39,000 points per night.
And for anyone doubting all the things included with points, the following appeared in the rate details in the confirmation email:
Suite Award
Incl Breakfast,Lunch and Dinner in Restaurant,2 desert activities per night. Drinks are not included.These awards are for upgraded room accommodations. Additional Starpoints on top of the standard SPG Award need to be redeemed to upgrade to a Specialty Room, Specialty Select or Suite.
Bottom line
I'll be staying here in a couple of weeks, and will report back with my experience. While 39,000 Starpoints per night sounds like a lot, when you factor in that it includes breakfast, lunch, dinner, and activities, I actually think it's a great deal. Those things wouldn't be cheap otherwise!
Anyone else planning on taking advantage of this promotion, be it at Al Maha or elsewhere?