---
Air Italy flies out of Terminal 1 at JFK, and I arrived at check-in at around 4:30PM, about four hours before departure (this is because I was coming off a connecting flight).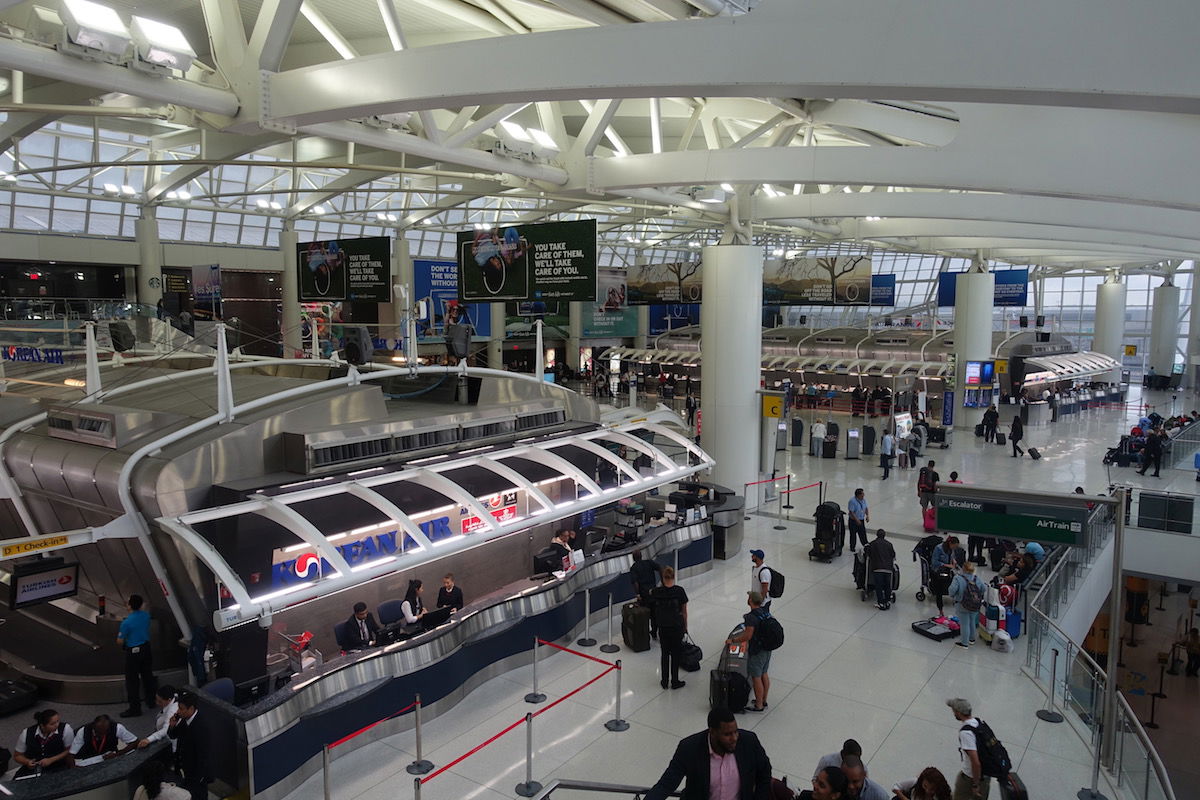 JFK Airport Terminal 1
When facing the security checkpoint, Air Italy's check-in counter was at the far right of the terminal, next to Air France's first class check-in. To my surprise not only was check-in already open, but there were quite some queues.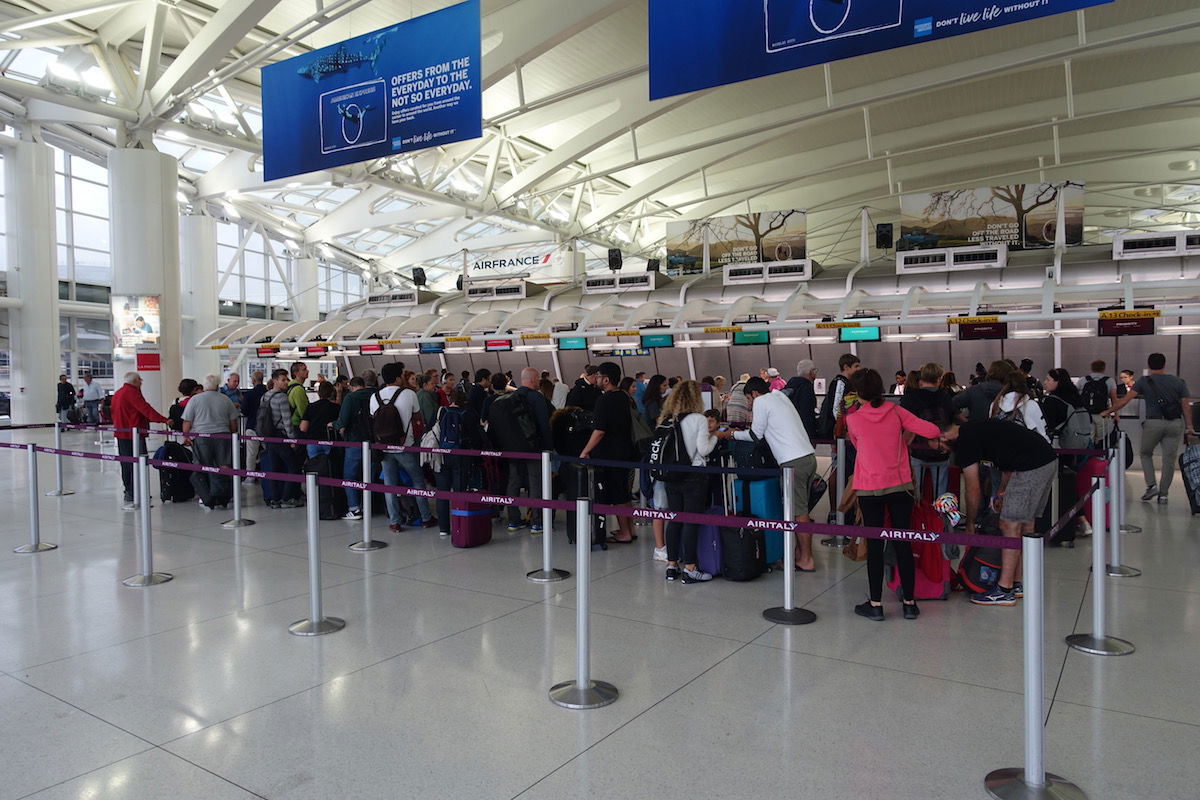 Air Italy check-in JFK
There was no one in the business class line, though, so I was issued a boarding pass within a couple of minutes.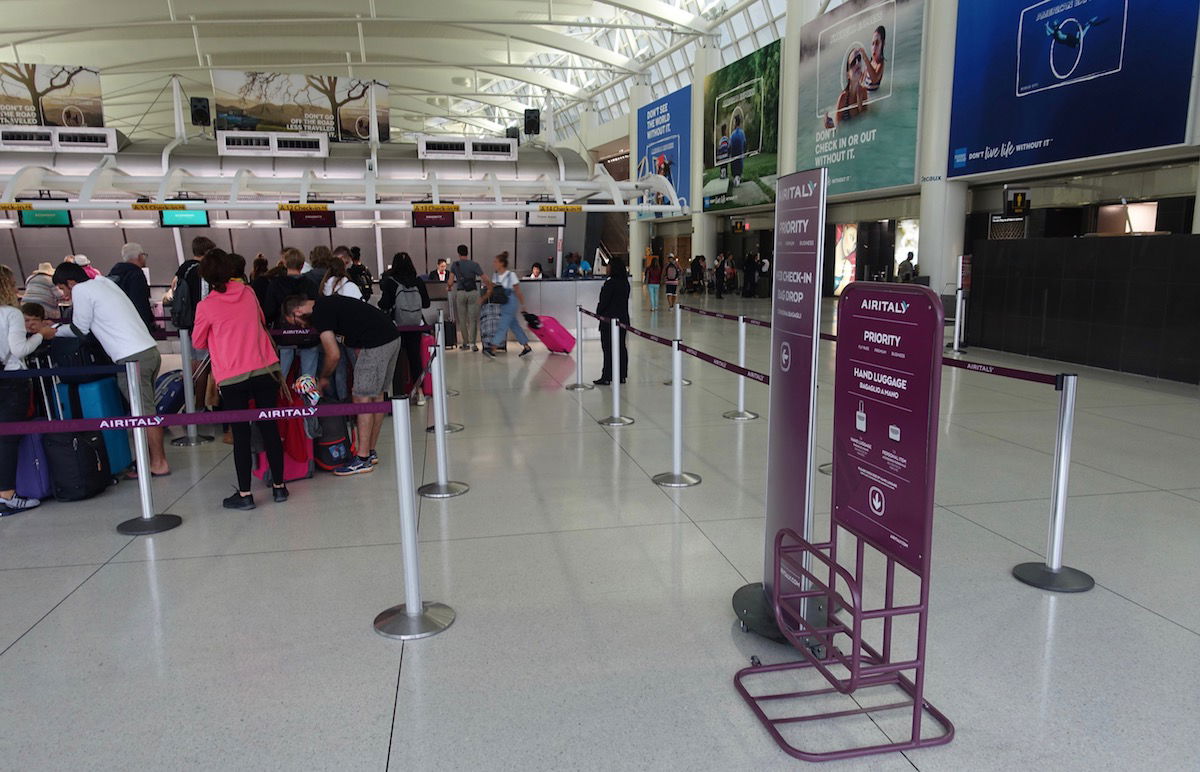 Air Italy business class check-in JFK
Terminal 1 is probably my least favorite terminal at JFK, and I find that security is one of the worst experiences here of any terminal in the country (that's both because how long the lines are, and how little patience the TSA staff have).
This time around the line wasn't too long, at least when you take into account the afternoon rush. I was through in about 20 minutes.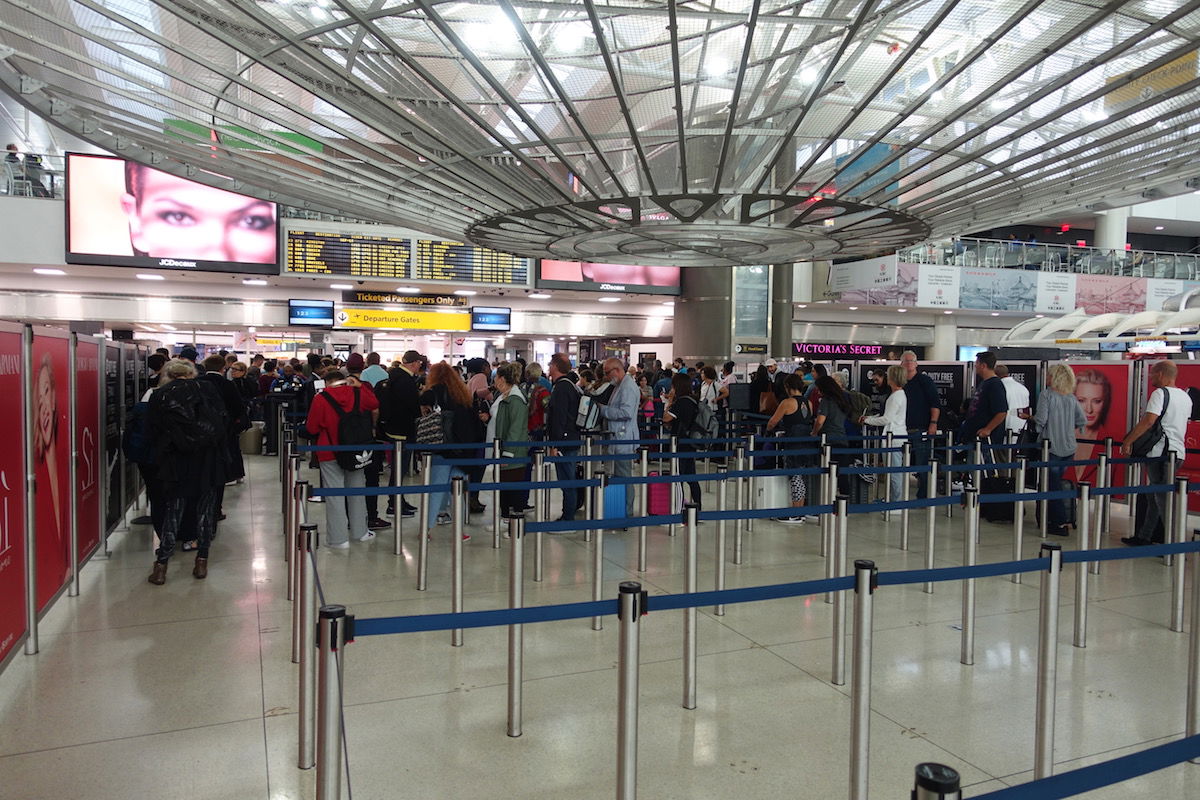 JFK Terminal 1 security lines
Air Italy uses the Air France Lounge JFK, which is also a Priority Pass lounge during certain hours. They use the first floor of the lounge, which is the more "basic" area, as the second floor has proper meals for Air France business class passengers in the evenings.
This lounge is the best case scenario, as this is significantly better than the Alitalia Lounge and Korean Air Lounge, both of which are awful. I've reviewed this lounge before so won't be doing so again in this post, but below are just a few pictures.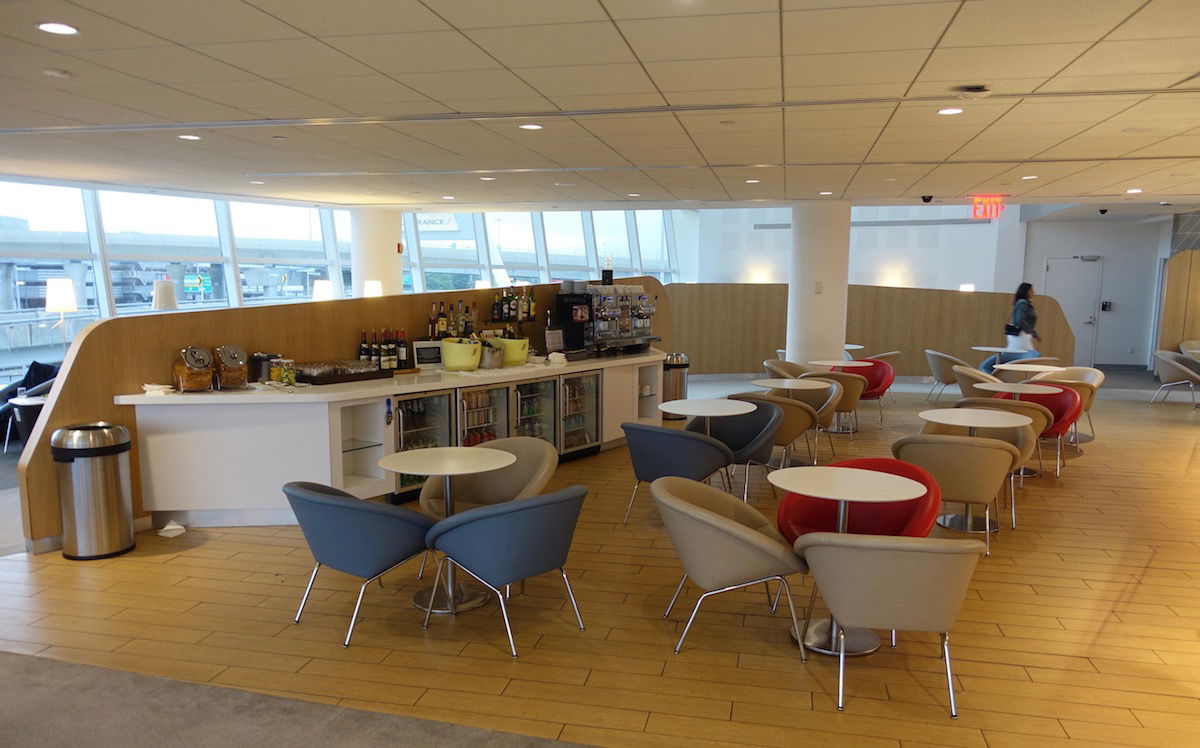 Air France Lounge JFK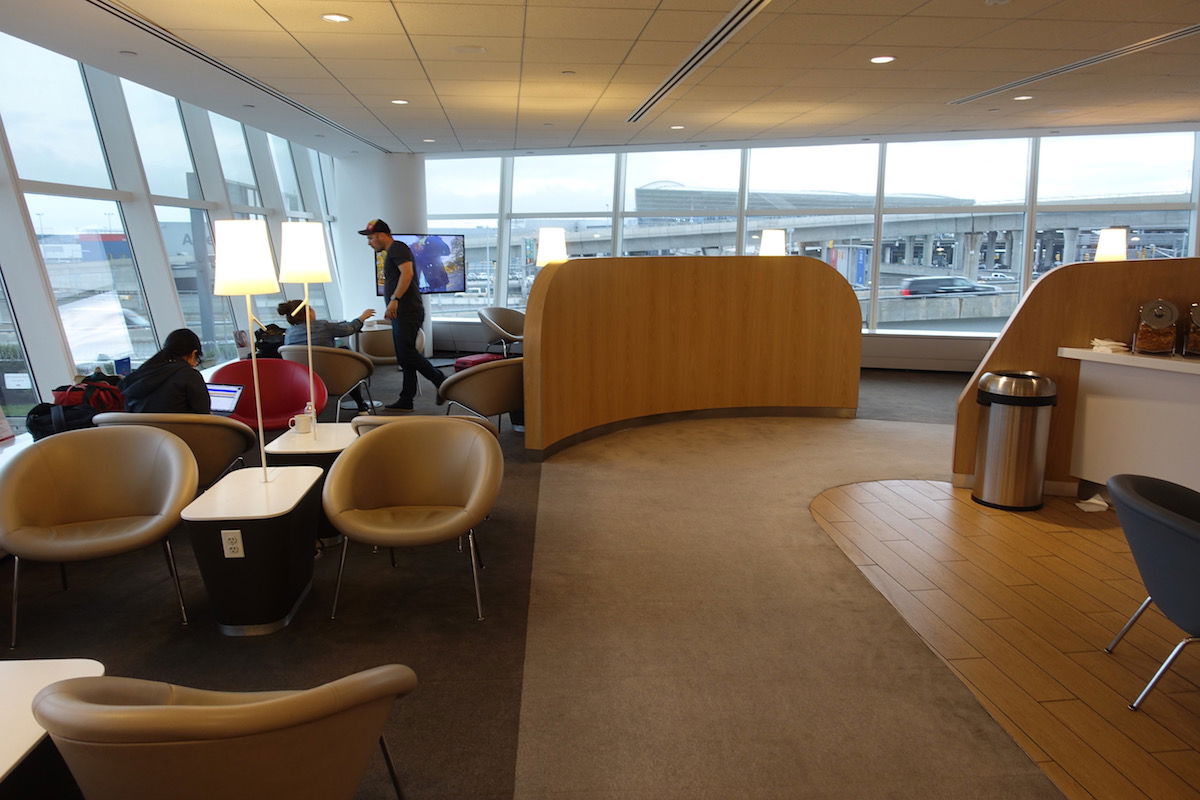 Air France Lounge JFK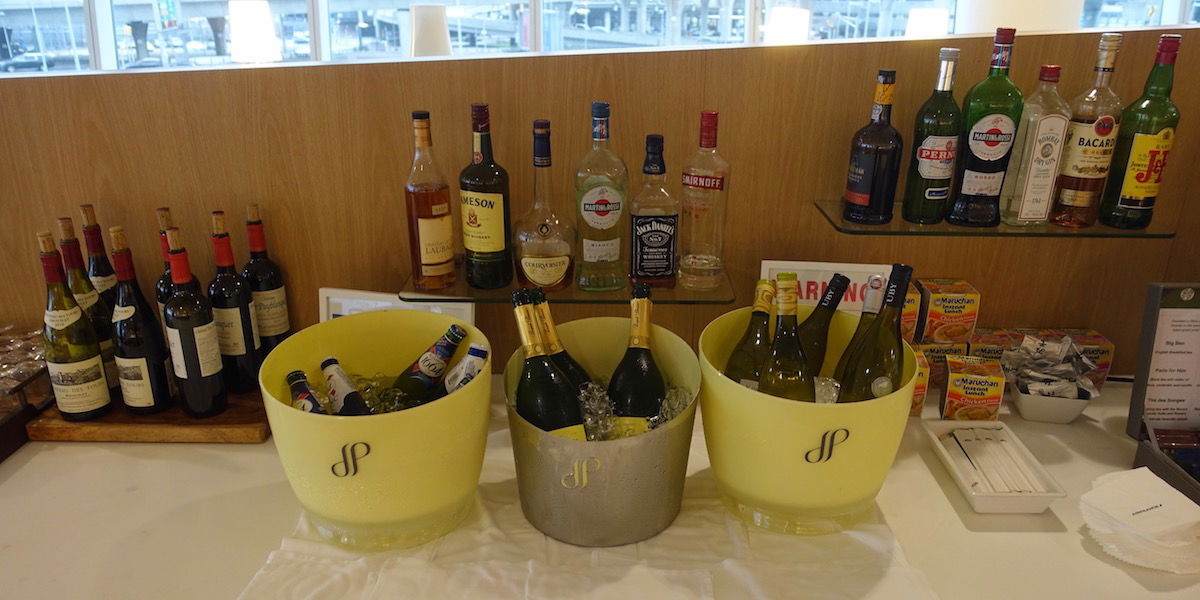 Air France Lounge JFK drinks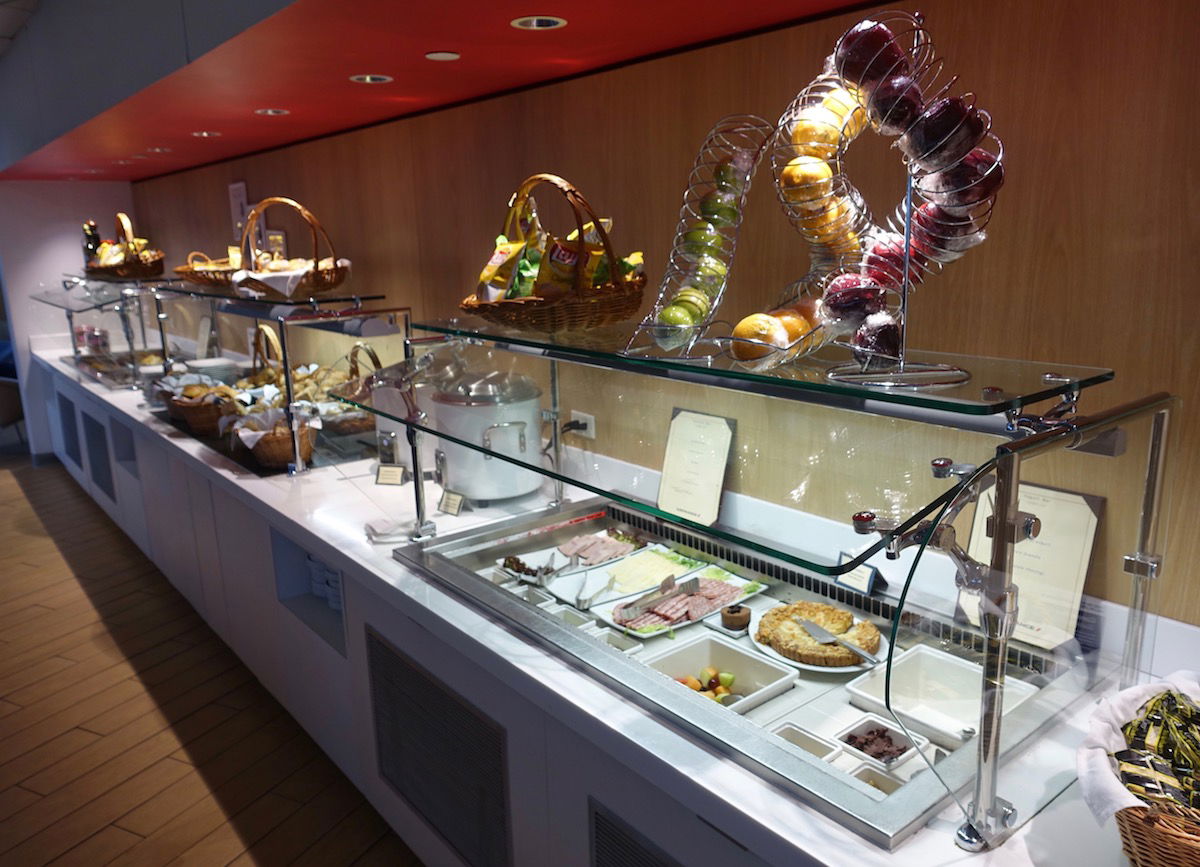 Air France Lounge JFK buffet
One thing to note is that the lounge offers complimentary 15 minute treatments in the Clarins Spa. I figured this was reserved for Air France passengers, but as it turns out, anyone can get them. Unfortunately they didn't have any availability, though.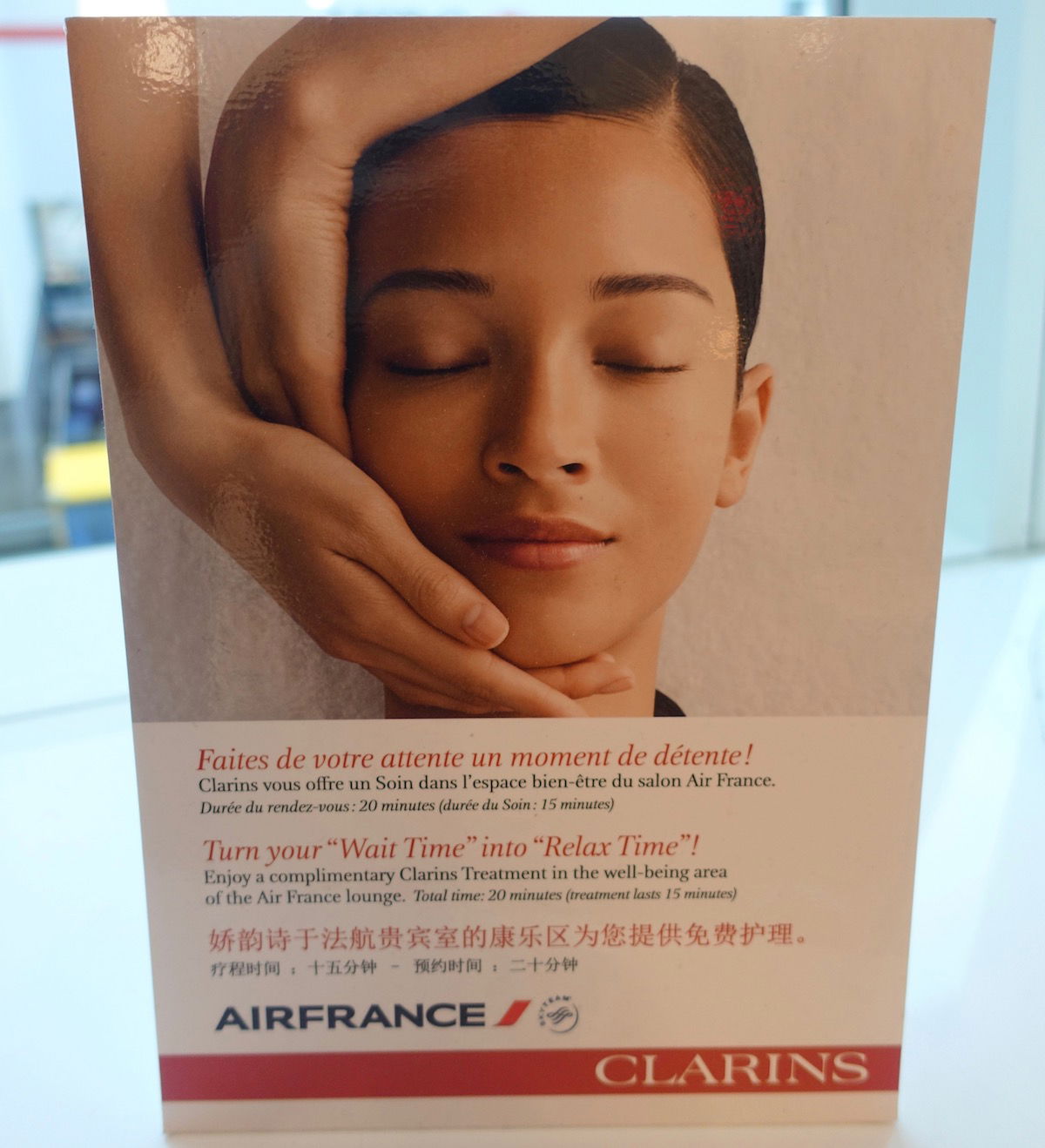 Air France Lounge JFK spa treatments
The entire ground experience managed by Air Italy was a disaster. The boarding pass indicated that boarding was supposed to start at 7:30PM at gate 2. Then at 7:30PM they changed that to gate 7. Then they were completely disorganized.
Everyone was trying to line up, and they changed the economy and business lanes four times before deciding on an order. Then they decided to board economy before business class. Then they changed their mind. Then they changed their mind again. And finally they again decided to board business class first.
The combination of the incompetent, bossy Air Italy manager with the contract workers on power trips (they kept "barking" at passengers), made for one of the least pleasant boarding experiences I've had in a while.
Boarding finally started at 8:10PM.
Air Italy 902
New York (JFK) – Milan (MXP)
Wednesday, September 12
Depart: 8:30PM
Arrive: 10:35AM (+1 day)
Duration: 8hr5min
Aircraft: Airbus A330
Seat: 3B (Business Class)
While the gate area was hectic, once onboard it was pure bliss, by comparison. Air Italy took over their A330 from Qatar Airways, so it has the same Qatar Airways seats with some minor branding adjustments.
Air Italy business class has a total of 24 seats, spread across four rows in a 2-2-2 configuration. The forward cabin has a total of three rows, and then there's a mini-cabin in the back with just one row, which is pretty cool and private. I'd almost rather sit there in the future, though on this flight I wanted to observe the service flow as much as possible, and you're pretty isolated back there.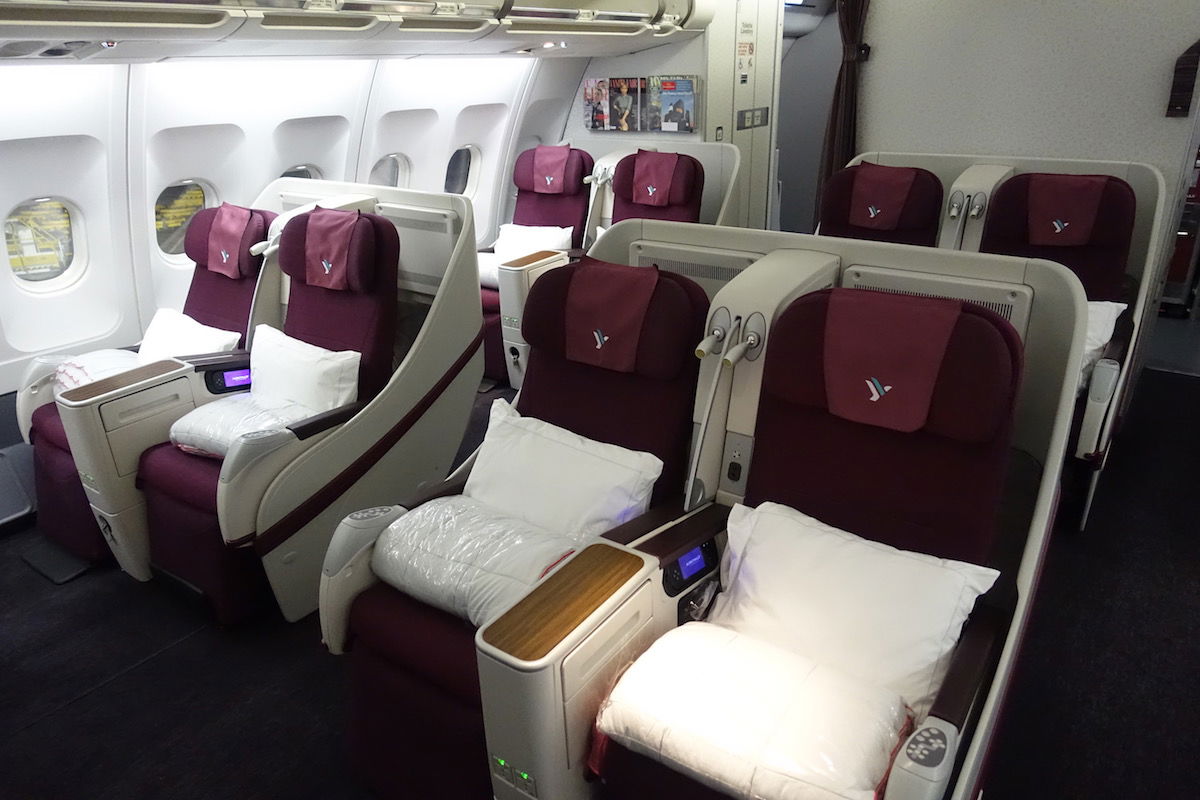 Air Italy A330 business class cabin
Legroom in business class was excellent.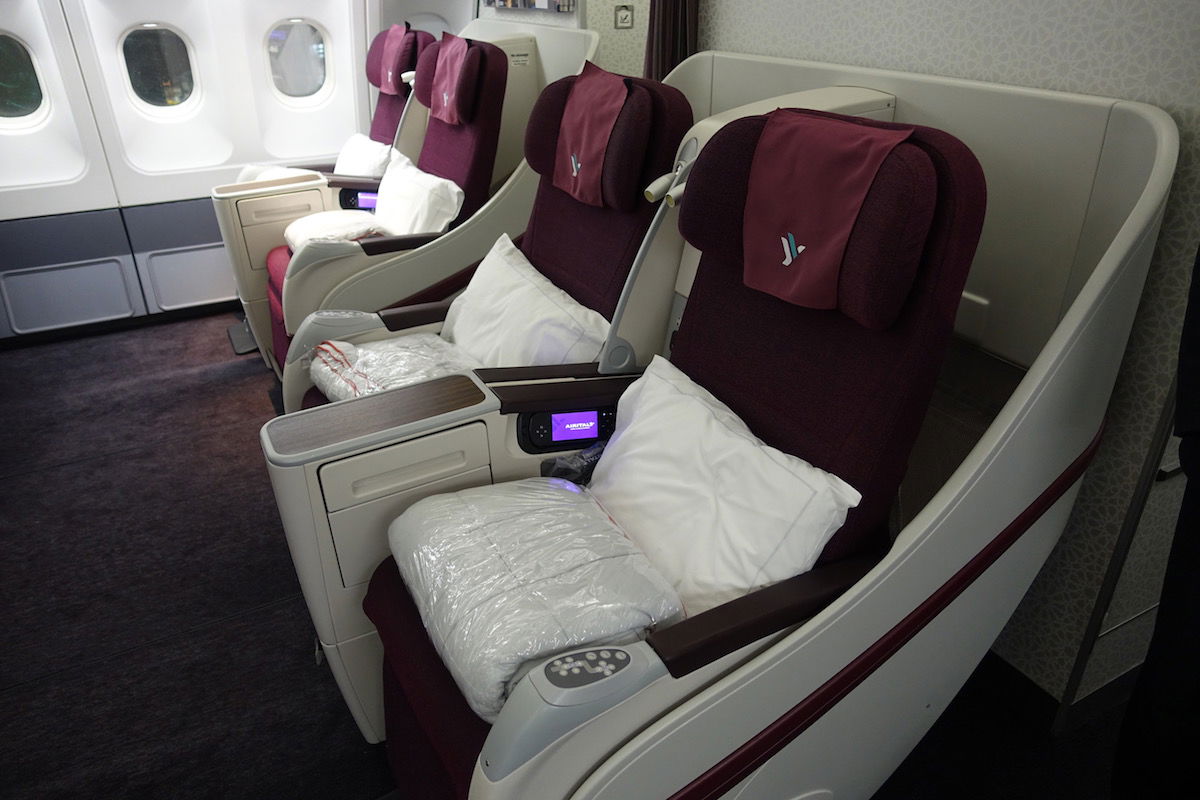 Air Italy business class cabin A330
We had assigned ourselves seats 3A & 3B, the window and aisle in the last row of the forward cabin.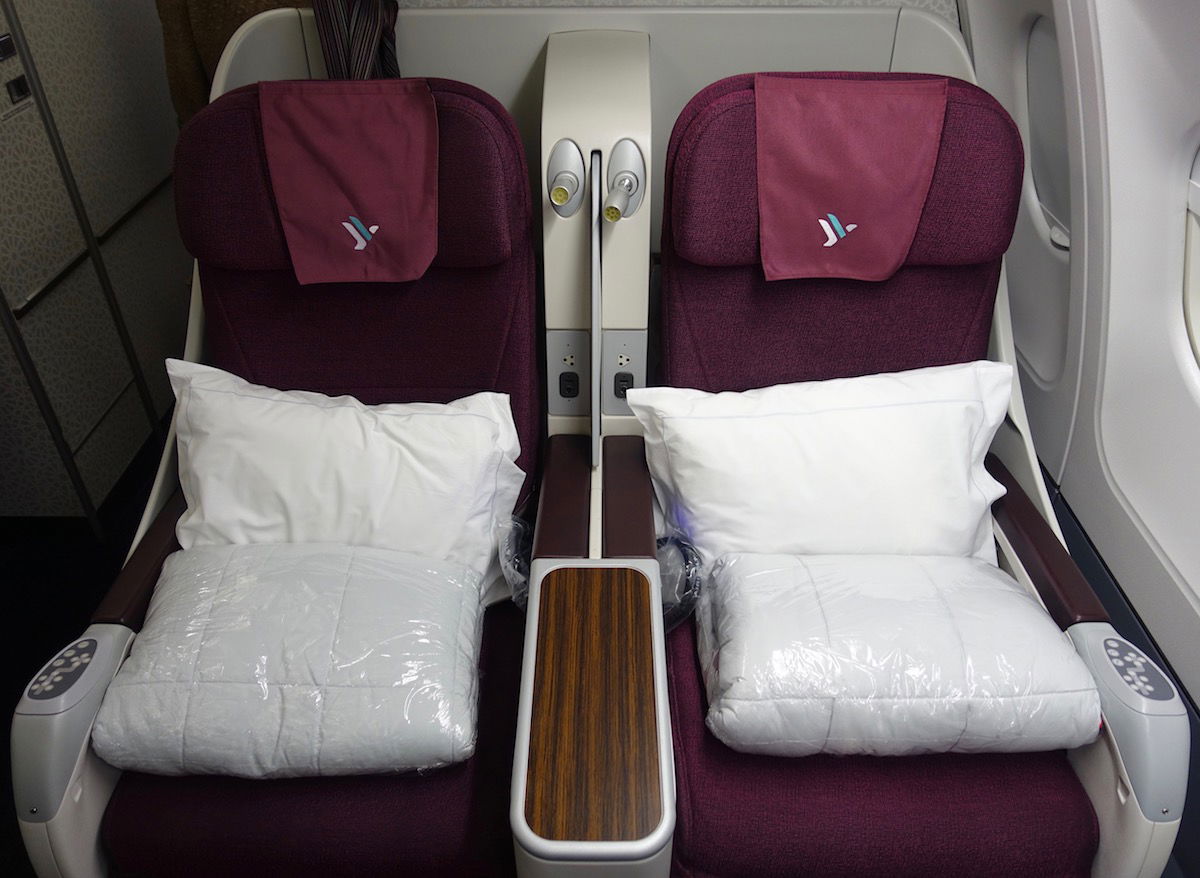 Air Italy business class seats
As you can see, on the seatback there was a good-size personal television and a literature pocket.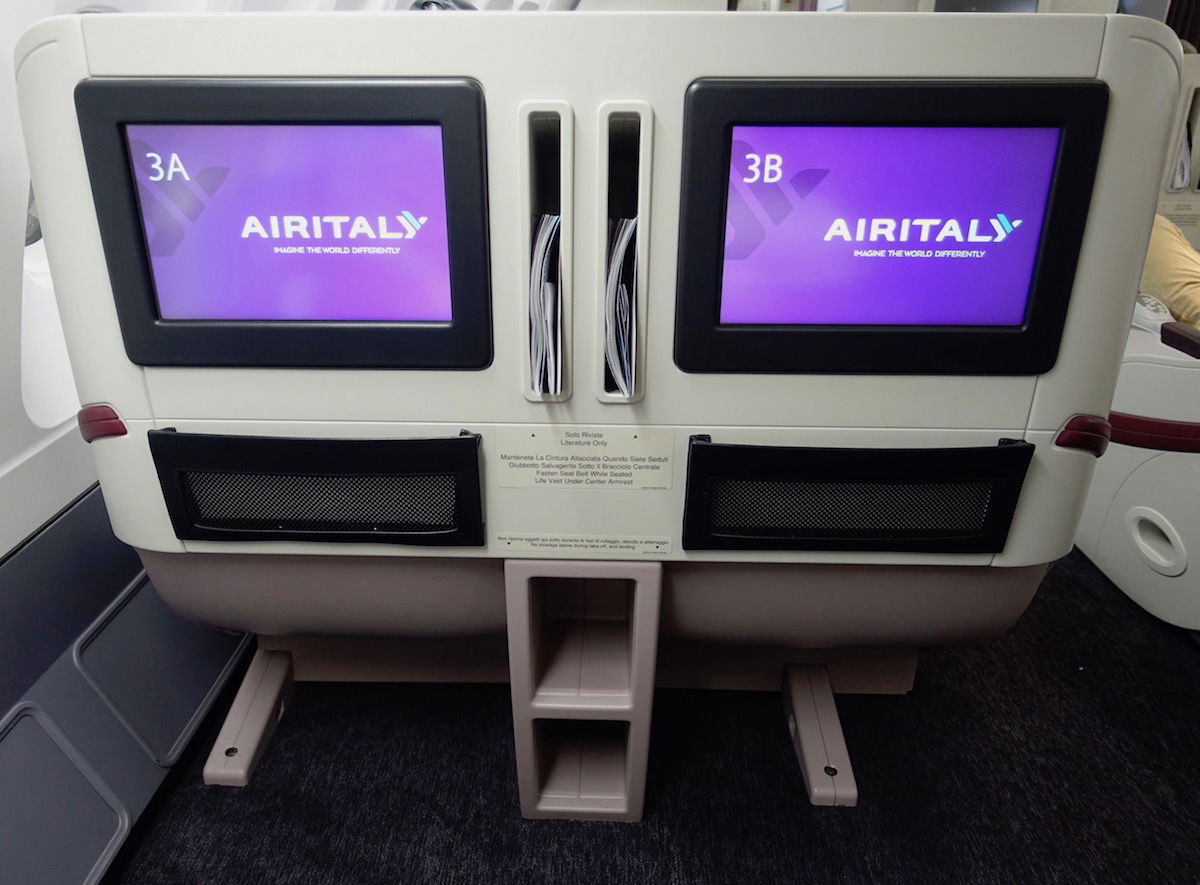 Air Italy business class seats
The tray table popped out from underneath the center armrest, and could be folded over in half.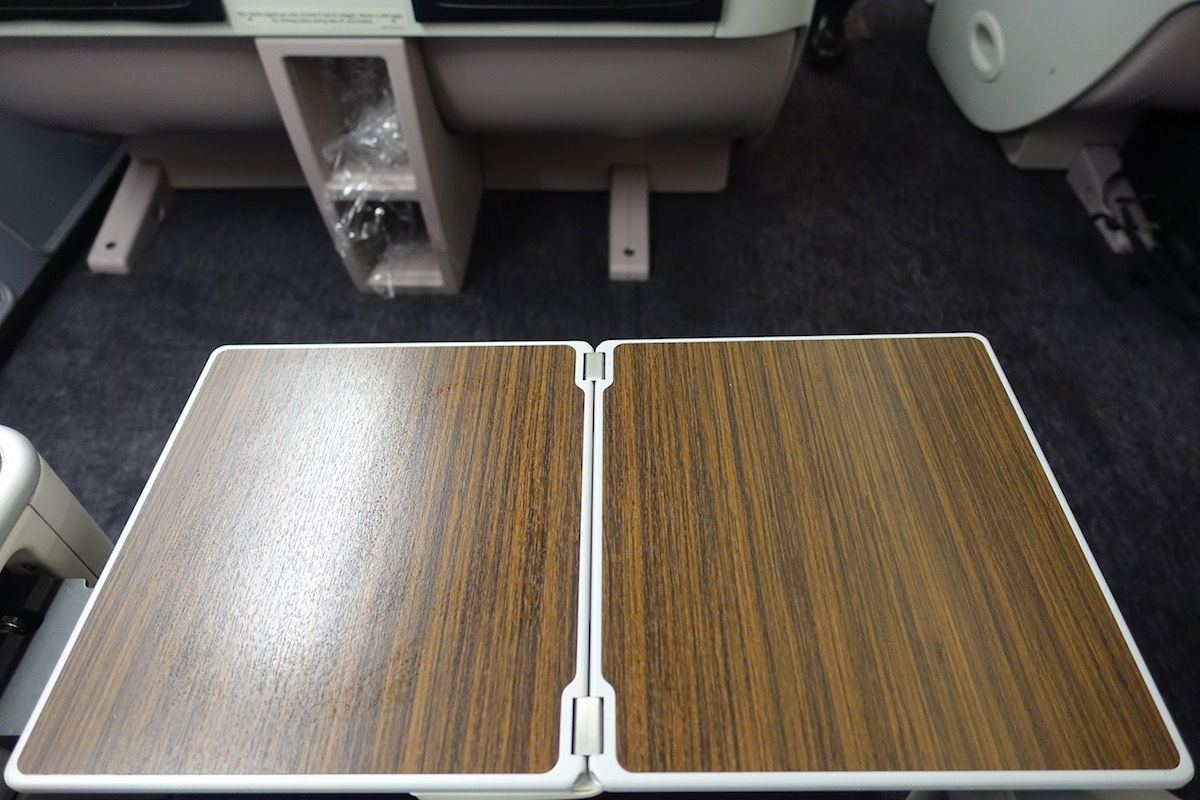 Air Italy business class tray table
The armrest there could be lifted so the entertainment controller could be removed.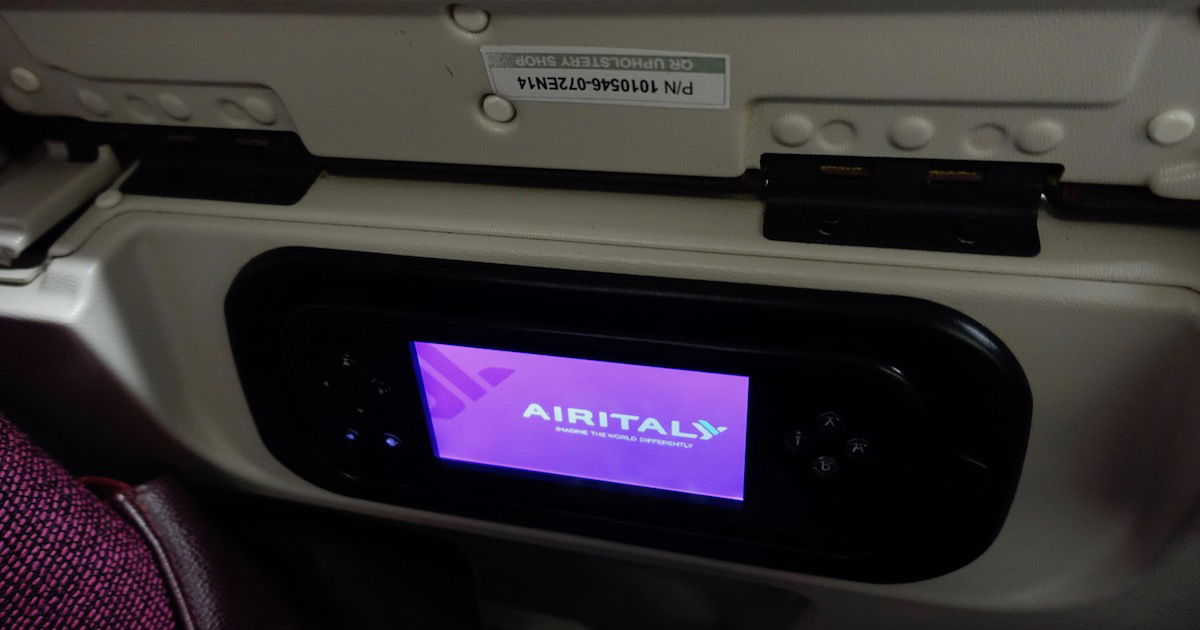 Air Italy business class entertainment controller
Power outlets were also underneath the center armrest.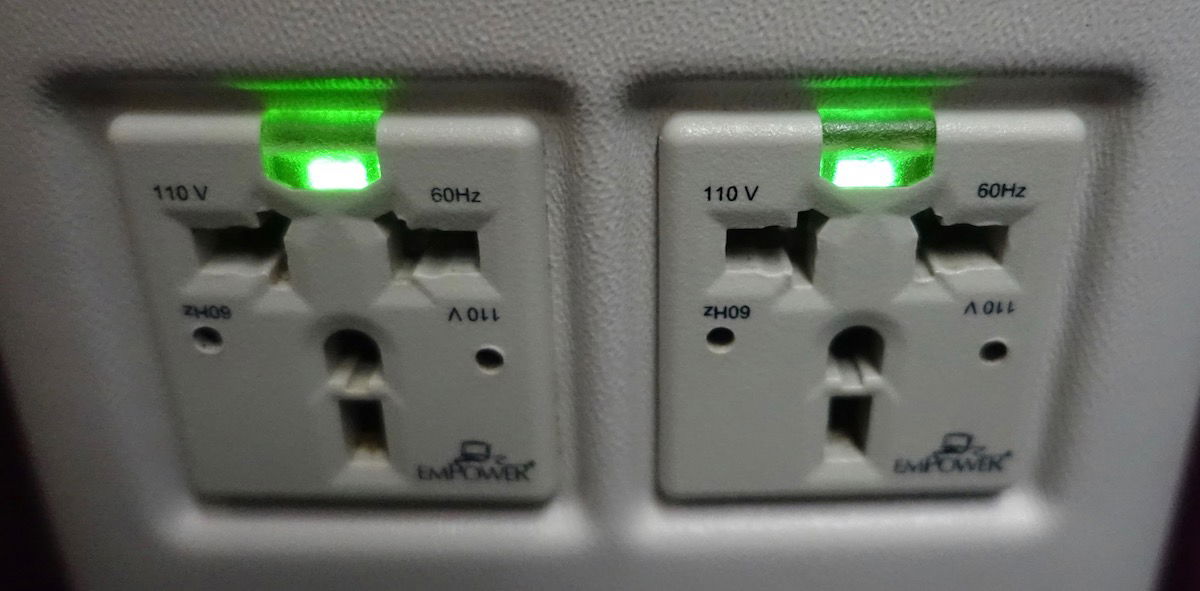 Air Italy business class power outlets
Above that and between seats were reading lights, headphone jacks, and USB outlets.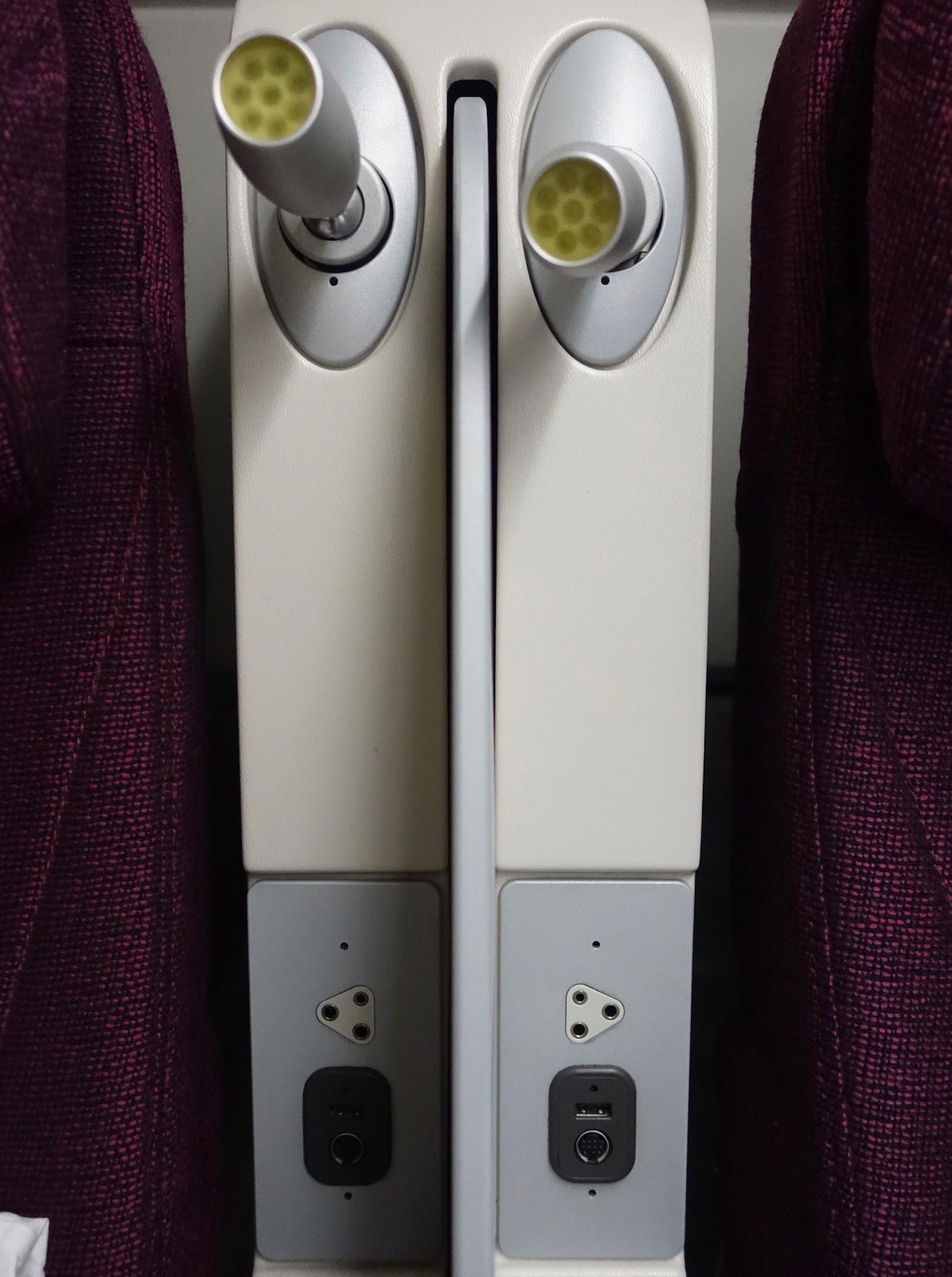 Air Italy business class reading lights & headphone jacks
There was also a privacy partition that could be extended, though below is as far out as it goes.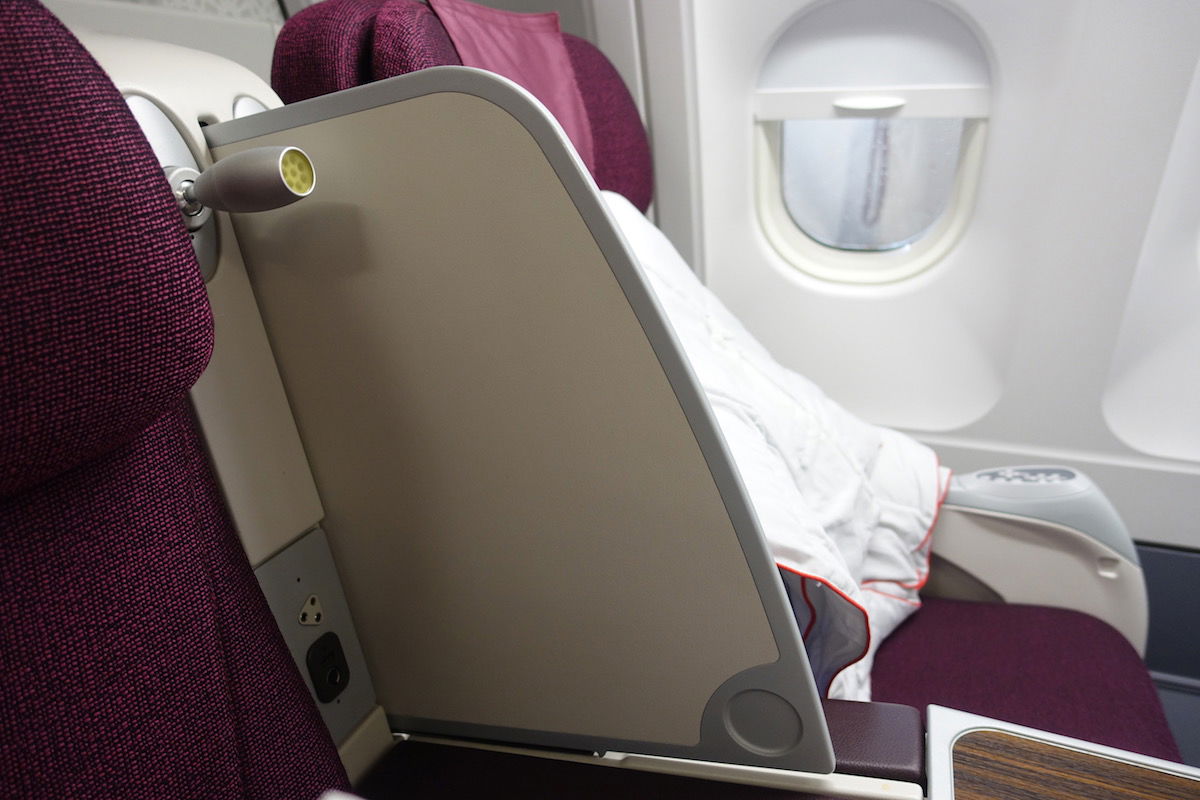 Air Italy business class privacy partition
Then on the far armrest were the seat controls.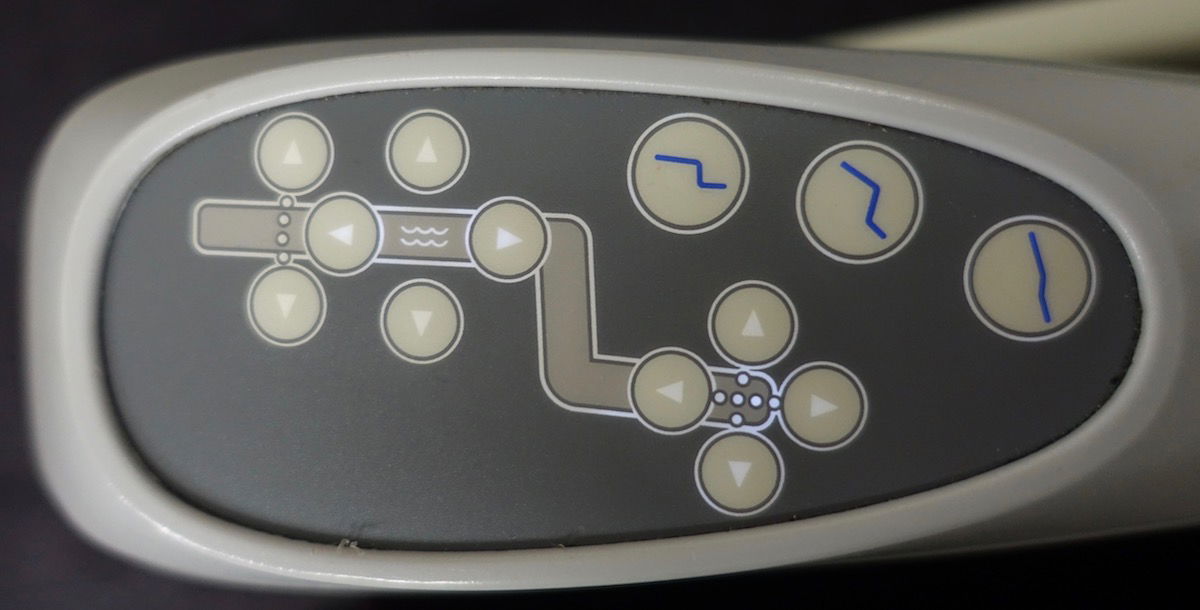 Air Italy business class seat controls
My only real frustration with the seats was that there were no individual air nozzles in the overhead console.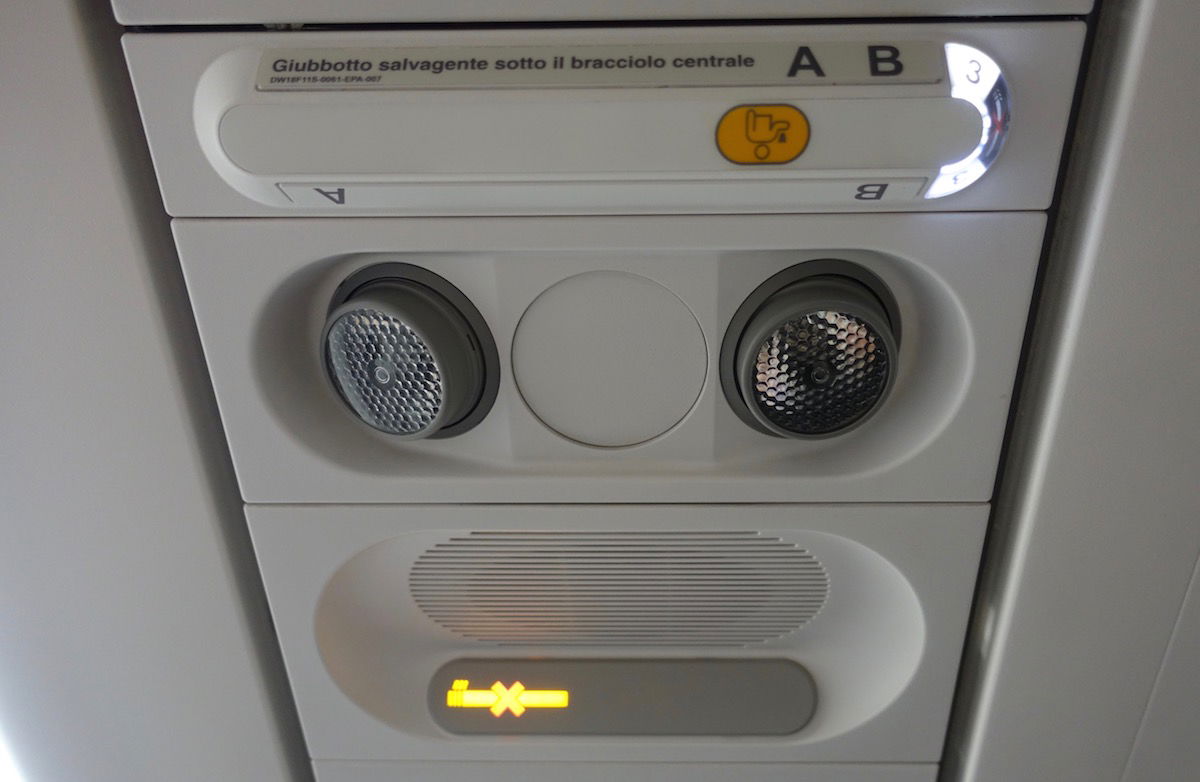 Air Italy business class no air nozzles
Waiting at our seat upon boarding were pillows and blankets. Air Italy has excellent bedding, with a duvet that's both plush and light, and a thick pillow.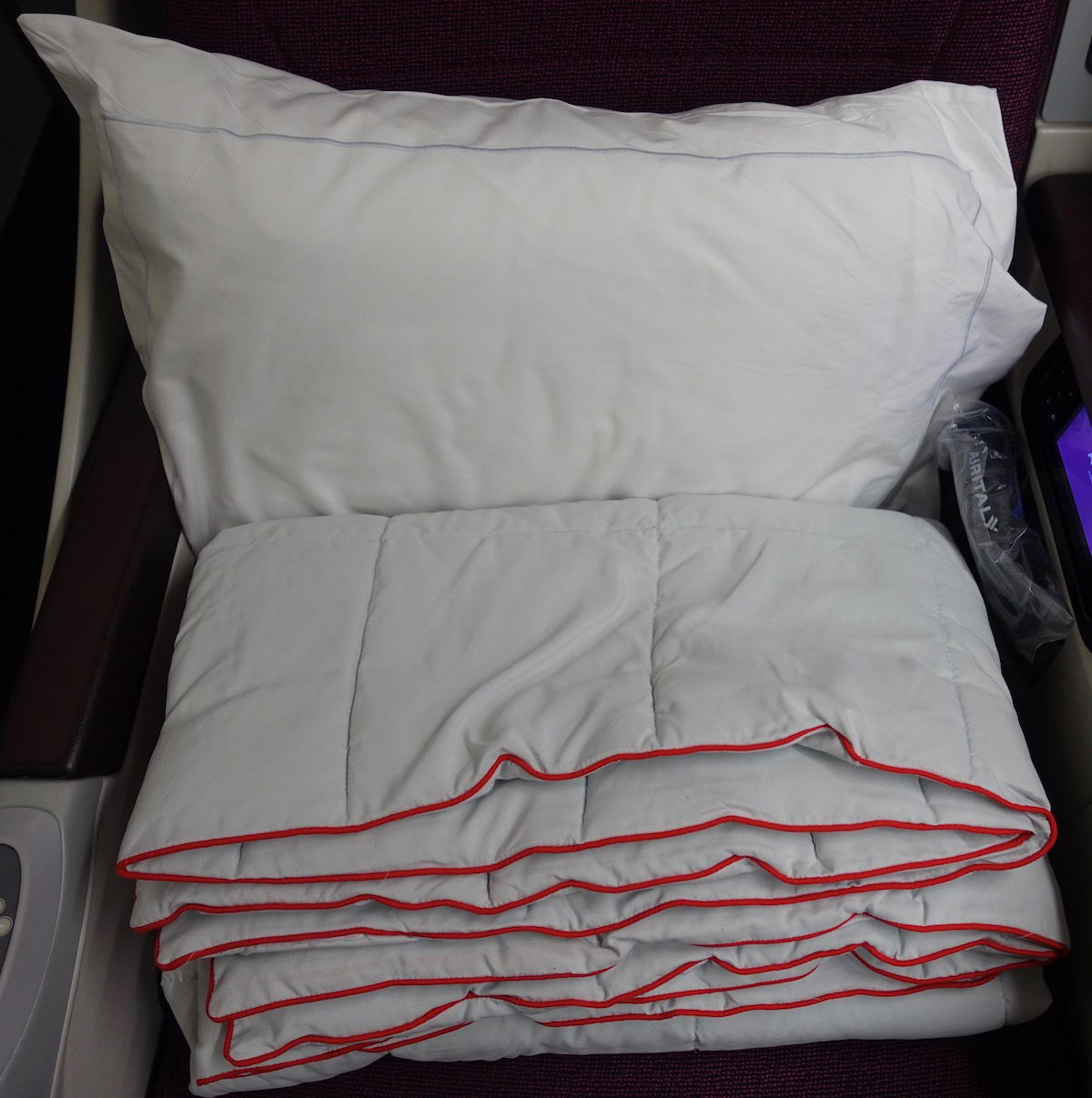 Air Italy business class pillow & blanket
Everyone boarded through the forward door, so the boarding process was hectic. That didn't stop the crew from providing a great service, even during boarding. The three guys working business class couldn't have been more charming or proud of their airline.
Also, while I'm sure Air Italy will eventually introduce new uniforms, I love the sort of retro pilot uniforms (minus the stripes) that the male flight attendants wear.
One major issue with the A330 is that the bins aren't very big. The center bins were especially small, and some bins were being used by the crew, so even some business class passengers had a tough time finding overhead bin space.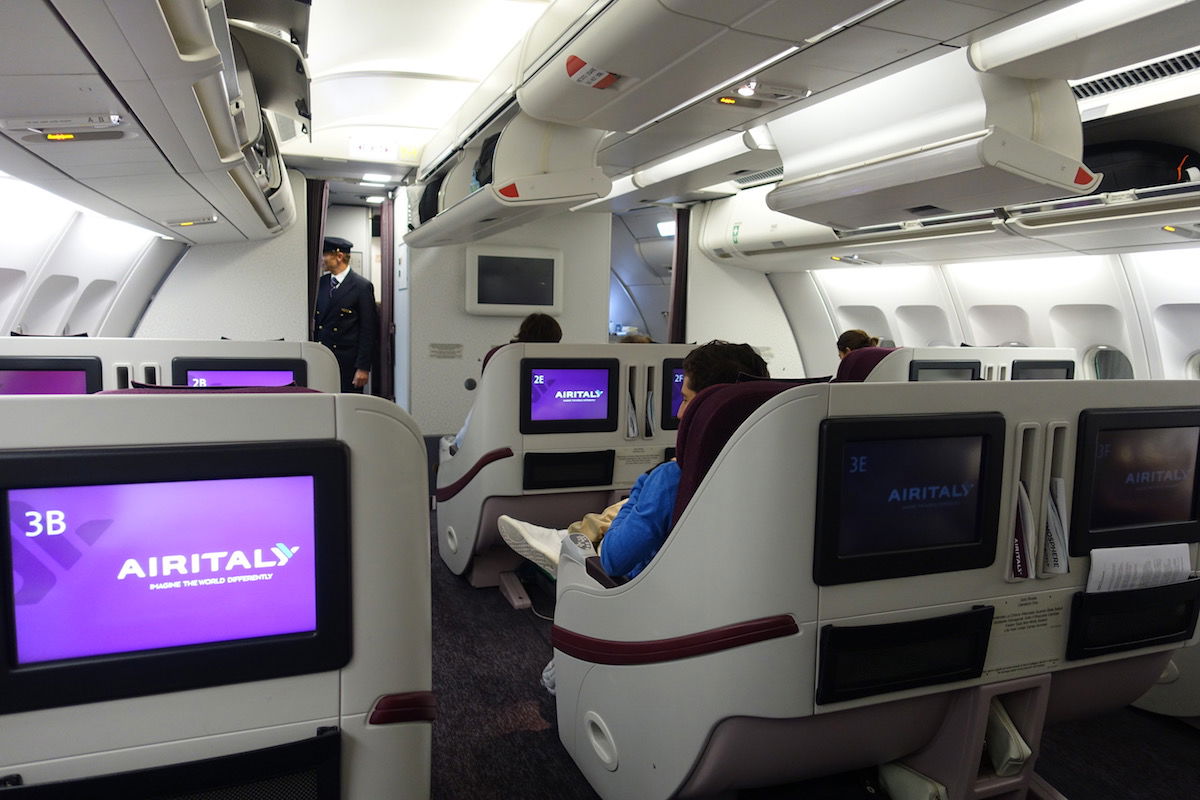 Air Italy A330 business class cabin
Within a few minutes of settling in, Stefan came by to welcome us aboard. He said he'd be taking care of us on this 7hr15min flight and to let him know if we need anything throughout the flight. He asked what we'd like to drink, with the choice between champagne or a signature mocktail, with ginger, lime, apple, and mint. I had the mocktail while Andrew had champagne.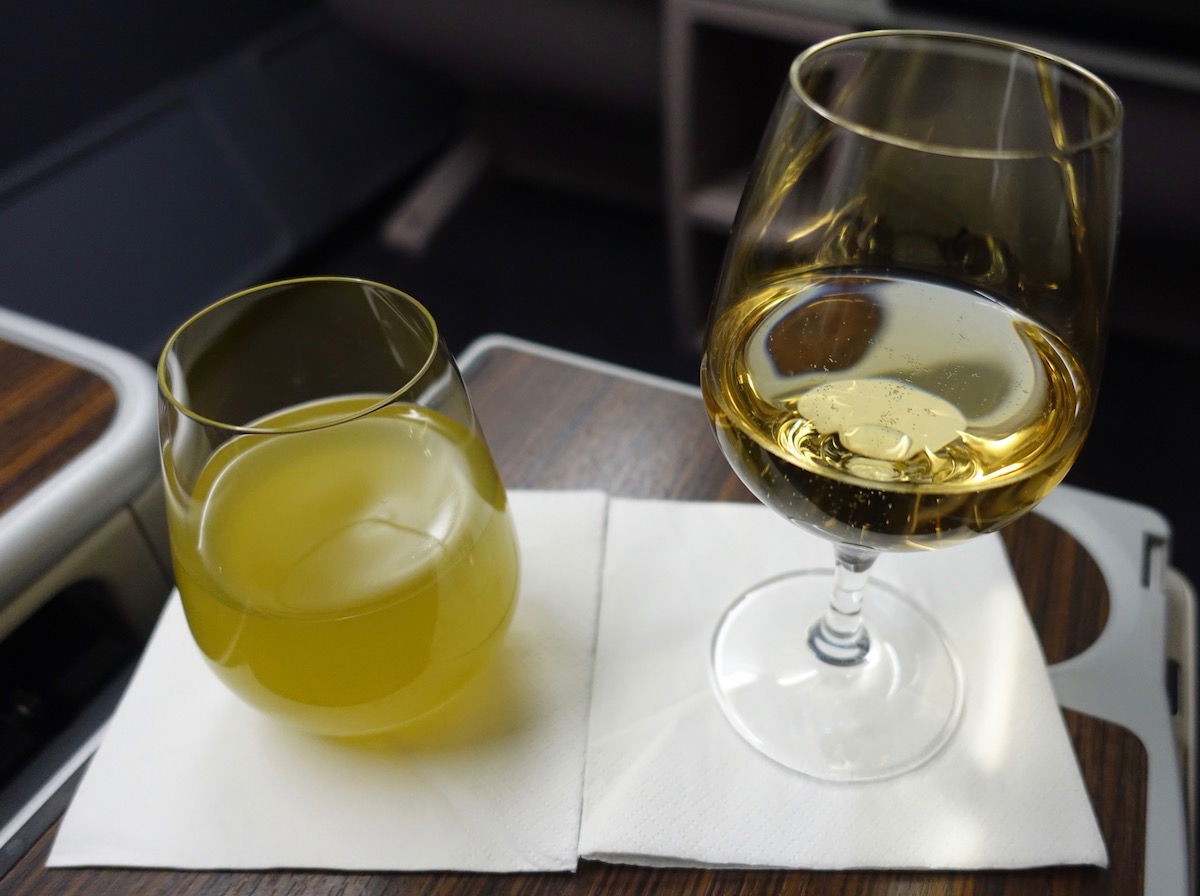 Air Italy business class pre-departure drinks
Once we finished our drinks we were even offered refills, though passed.
About 30 minutes after boarding we were presented with the menus for the flight.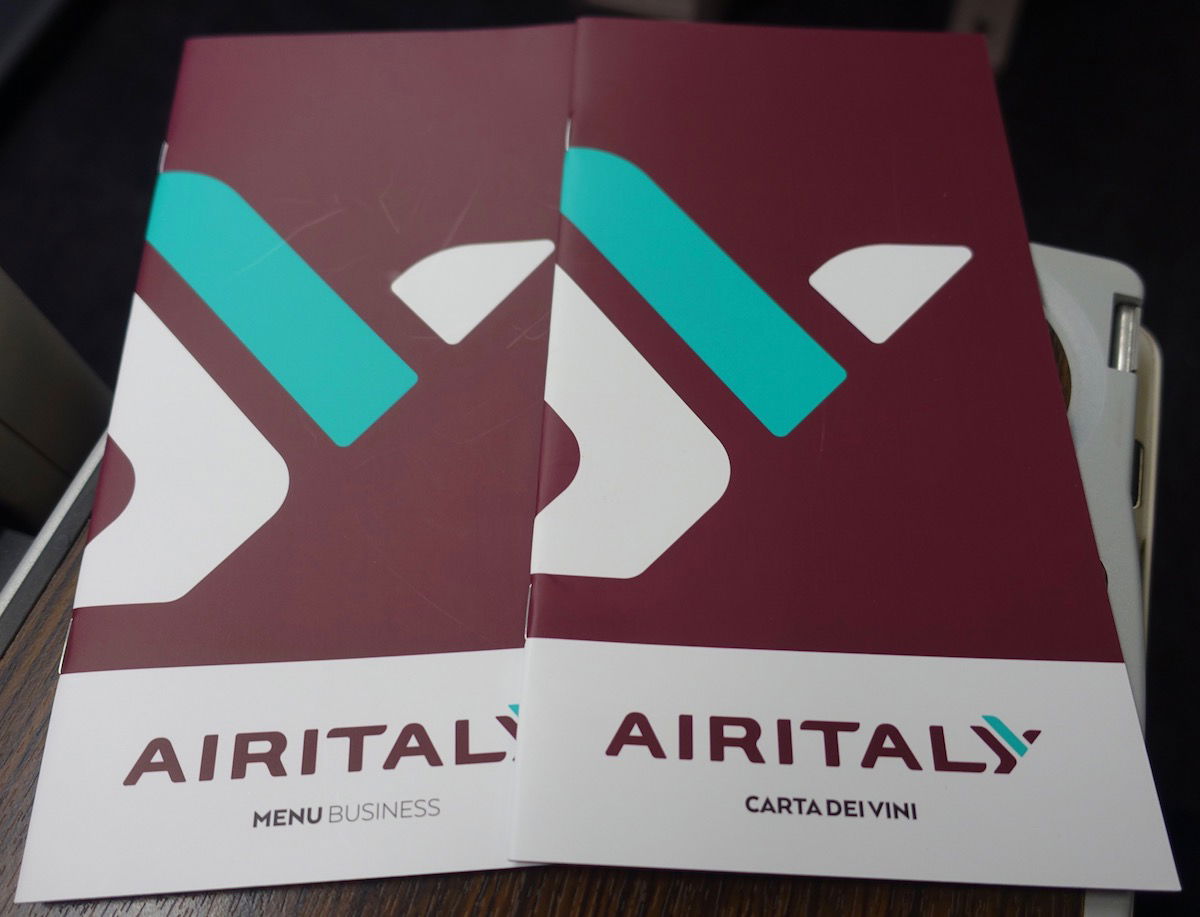 Air Italy business class menus
We were also given amenity kits, which had socks, eyeshades, earplugs, a toothbrush and toothpaste, and a couple of Acca Kappa products.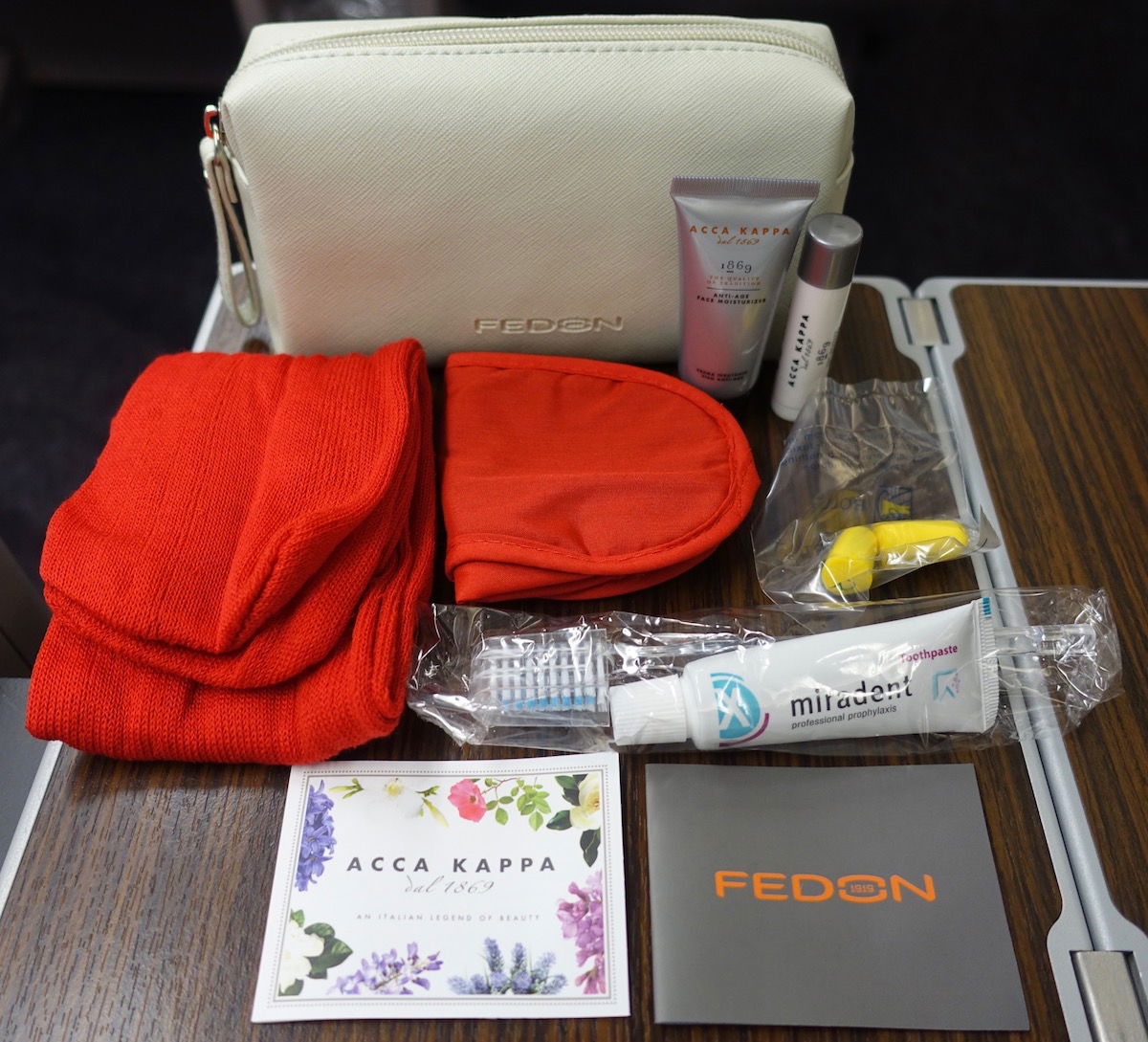 Air Italy business class amenity kit
We were then given headphones, which weren't great.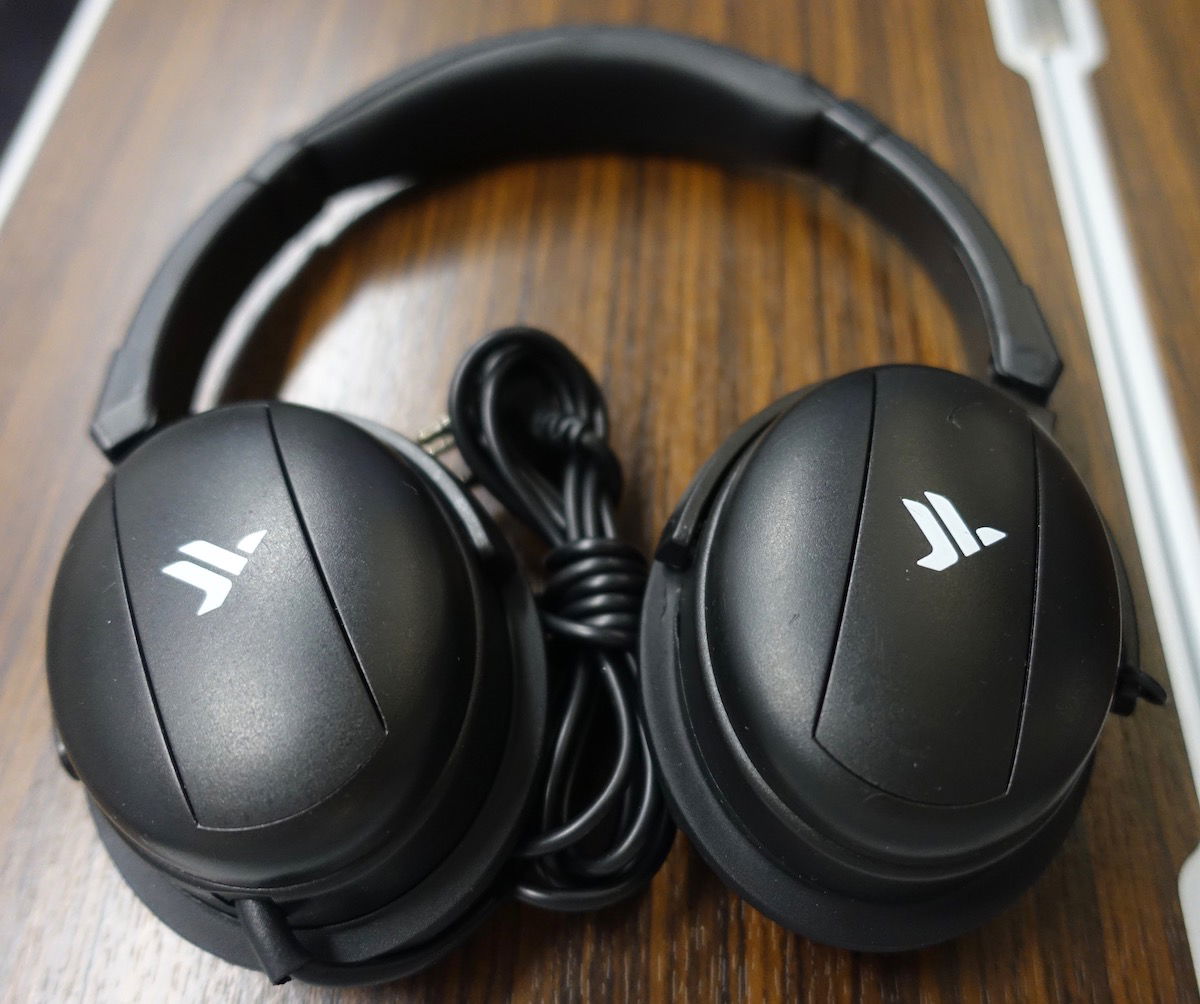 Air Italy business class headphones
Magazines and newspapers were also distributed.
By 8:45PM boarding was complete, and by 8:50PM the door closed. Just about every seat on the plane was taken. Business class was only about half full in advance, but I think there were operational upgrades.
At 8:55PM the crew began a manual safety demonstration (I'm guessing they're probably still working on an Air Italy branded safety video, given how recently the airline rebranded).
We started our taxi at around 9:15PM, and at this point Caglo, the purser, came around to each business class passenger to welcome them onboard, and offered a card for 60MB of free Wi-Fi. I never actually could get the Wi-Fi to work, but that wasn't a big deal on a quick overnight flight.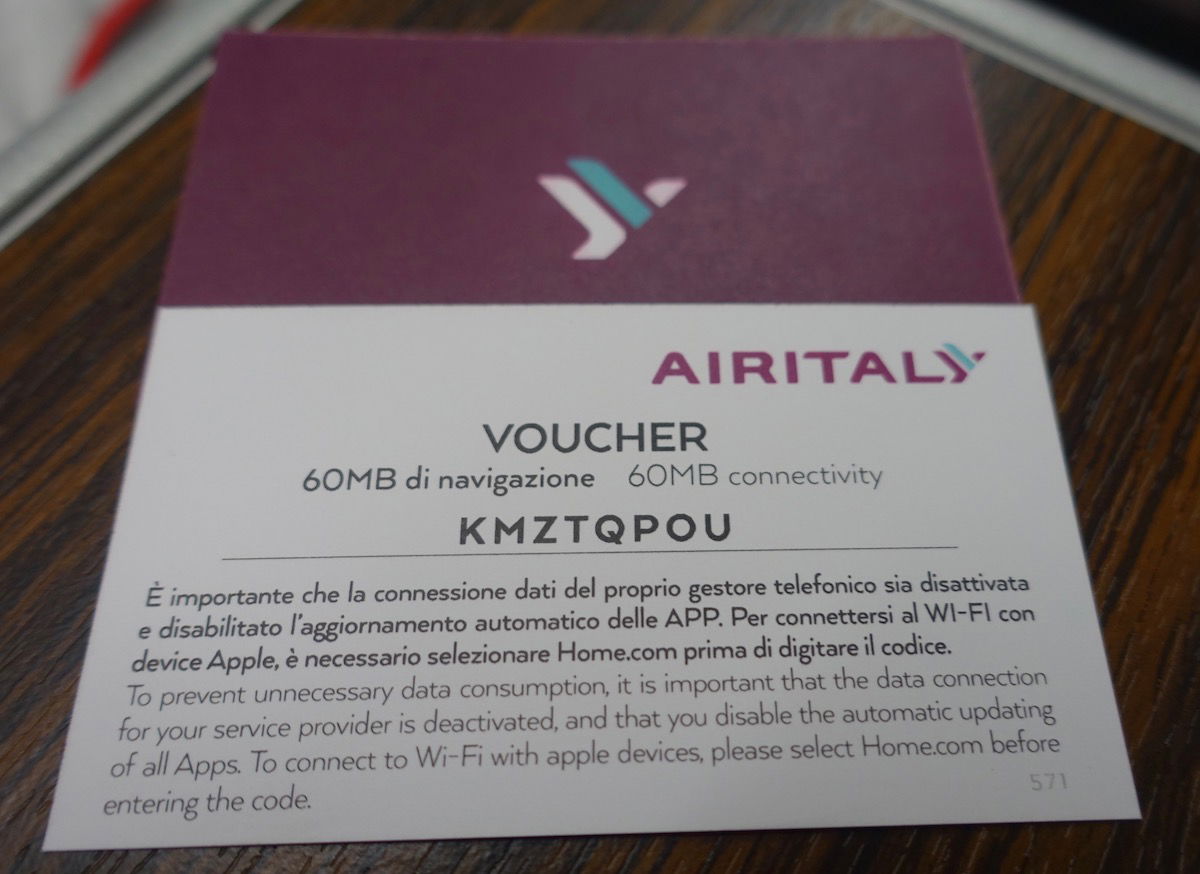 Air Italy business class free Wi-Fi code
While taxiing out another flight attendant asked us if we wanted sleepwear and turndown during the flight, and also asked what we wanted to drink after takeoff.
Our taxi was pretty quick by JFK standards, and by 9:40PM we were airborne from runway 22R.
As we climbed out I browsed the entertainment selection, which is probably the weak point of the Air Italy experience. First of all, you can't start the entertainment system on the ground, which I always find to be annoying, especially when departing JFK, where you're usually on the plane for over an hour before you take off.
Then the selection was also quite limited — there were only about 30 movies total, and very few sitcoms. I also couldn't get the airshow to work. That's definitely room for improvement on this front.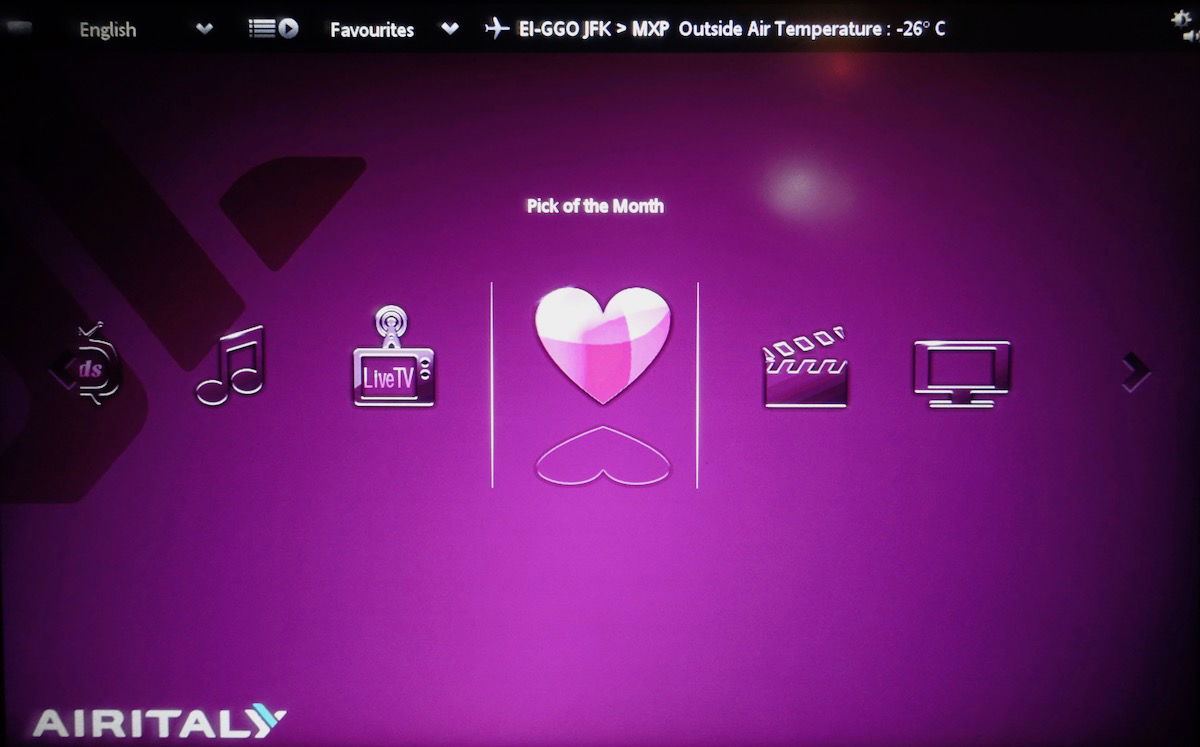 Air Italy business class entertainment system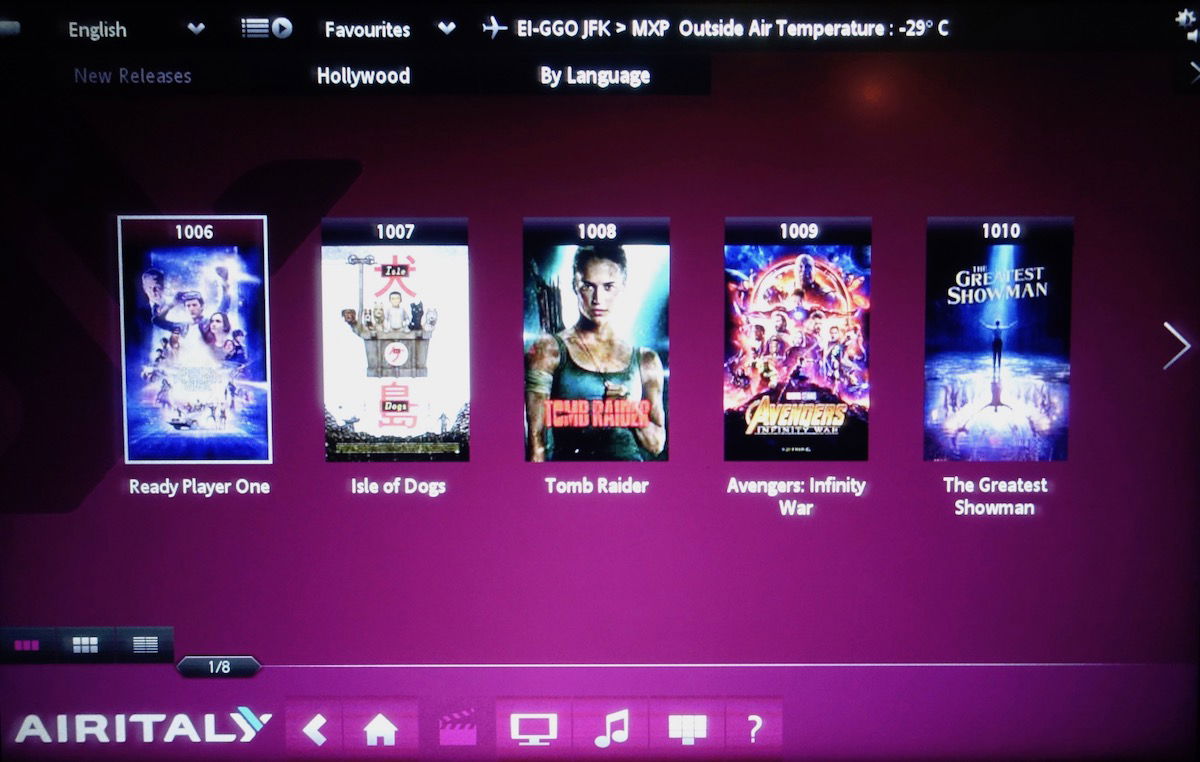 Air Italy business class entertainment system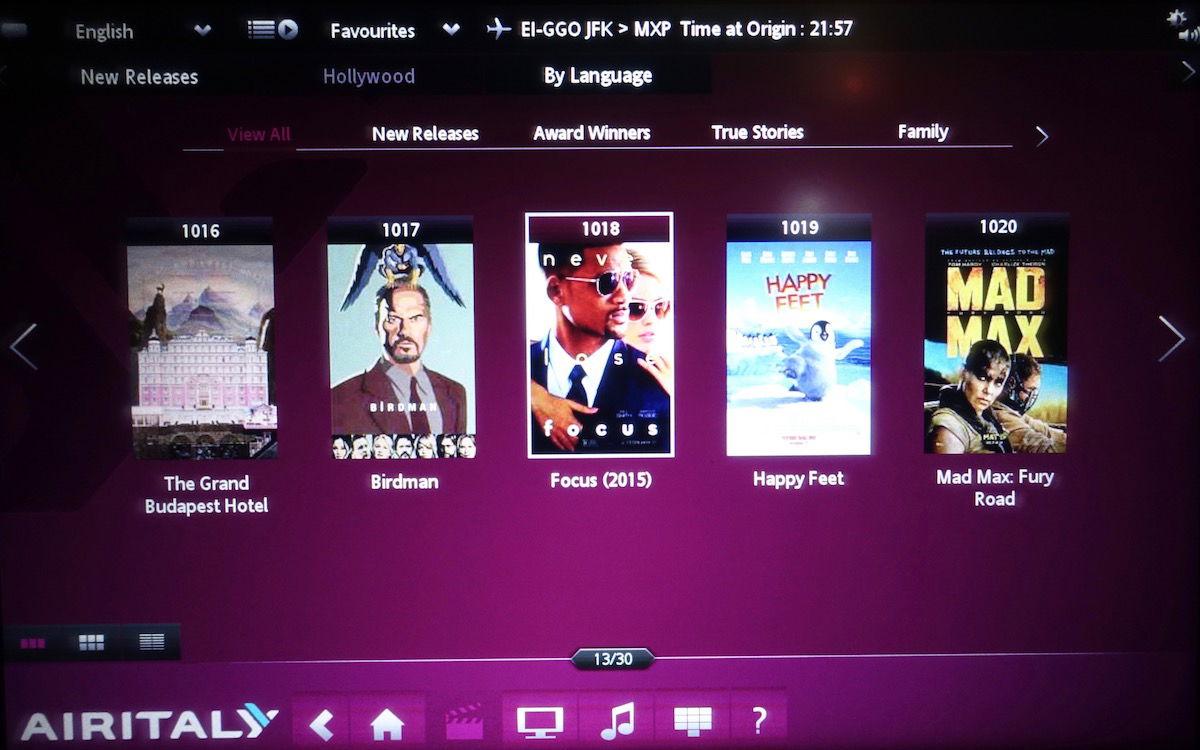 Air Italy business class entertainment system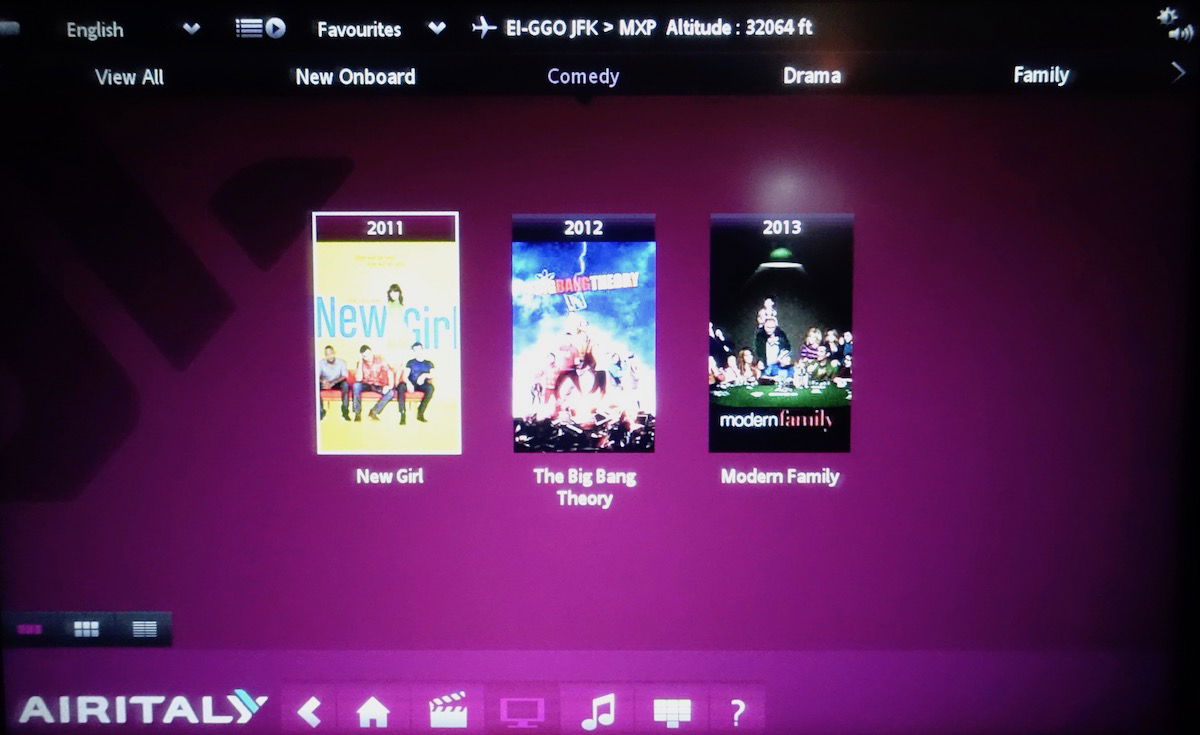 Air Italy business class entertainment system
About 20 minutes after takeoff we were presented with slippers and pajamas.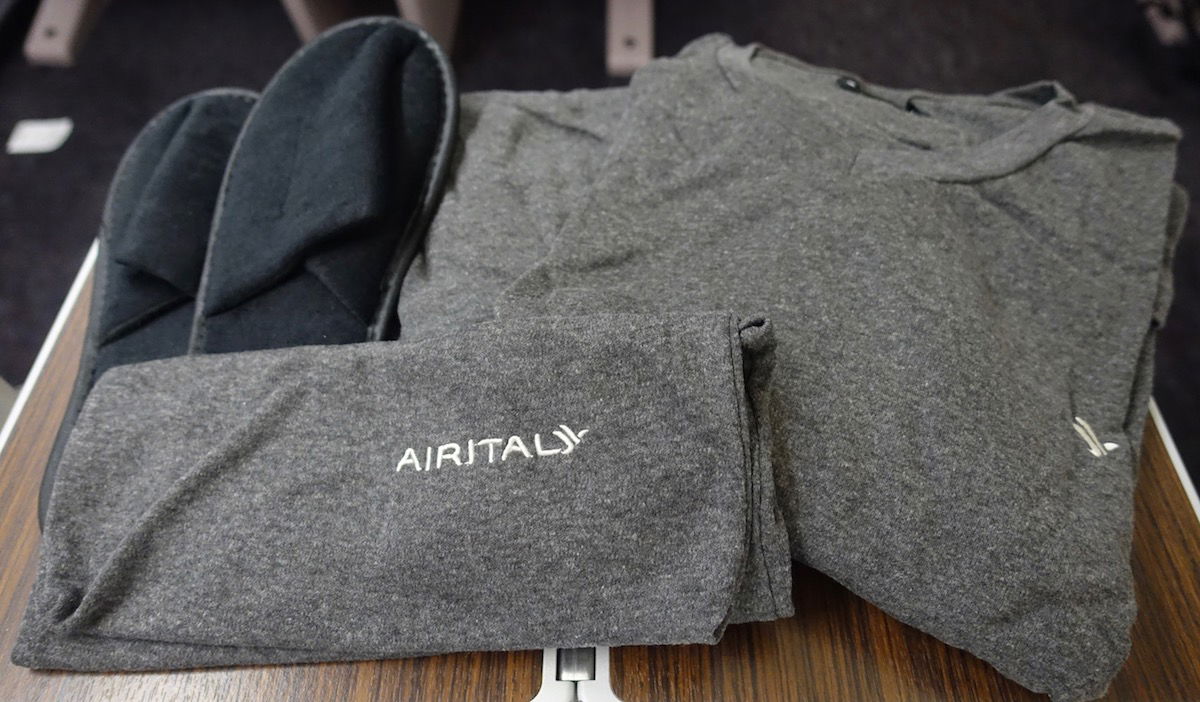 Air Italy business class pajamas & slippers
Then the food and drink service began about 40 minutes after takeoff. The menu for the US to Milan flight read as follows: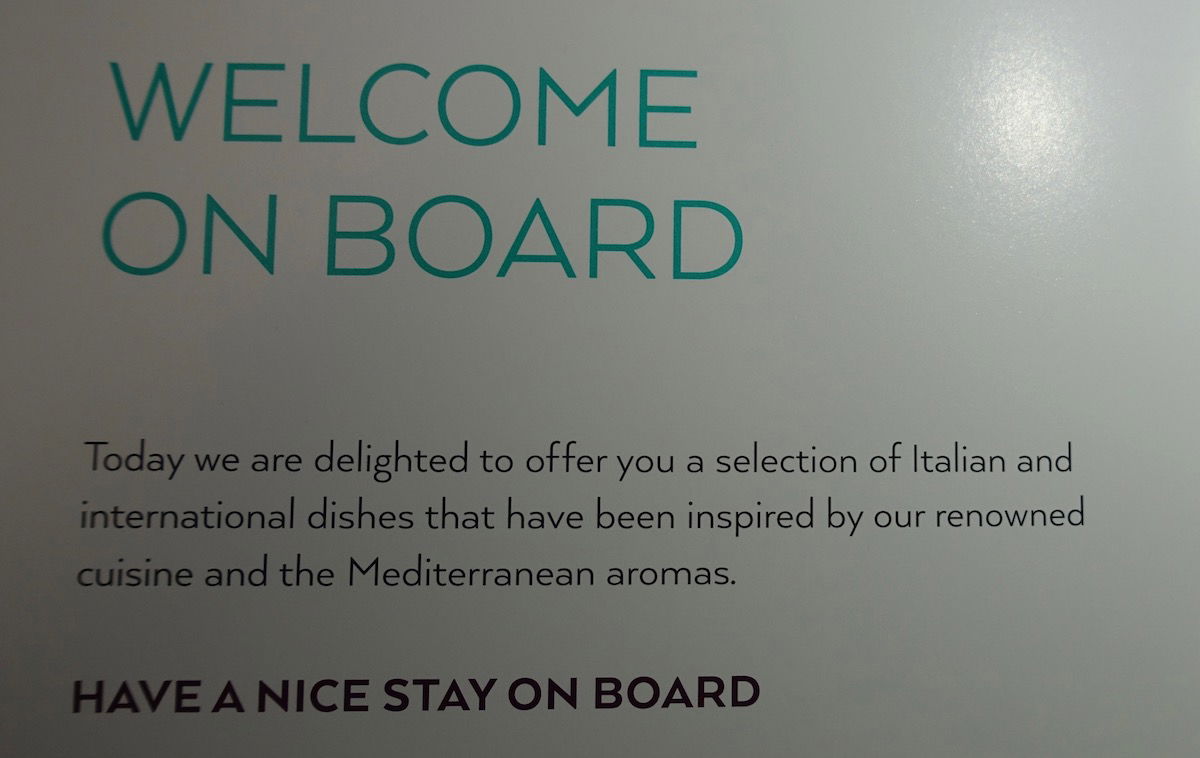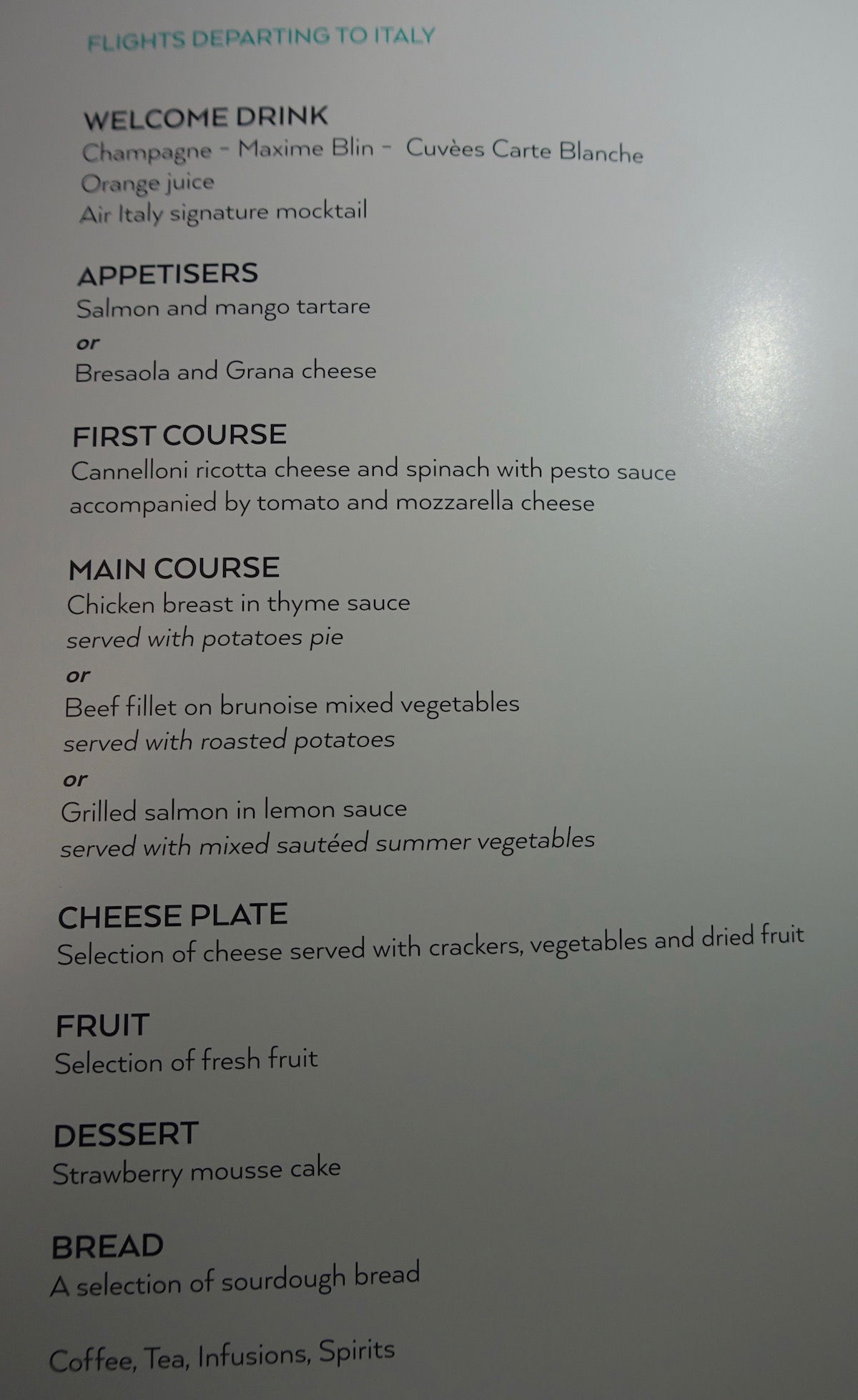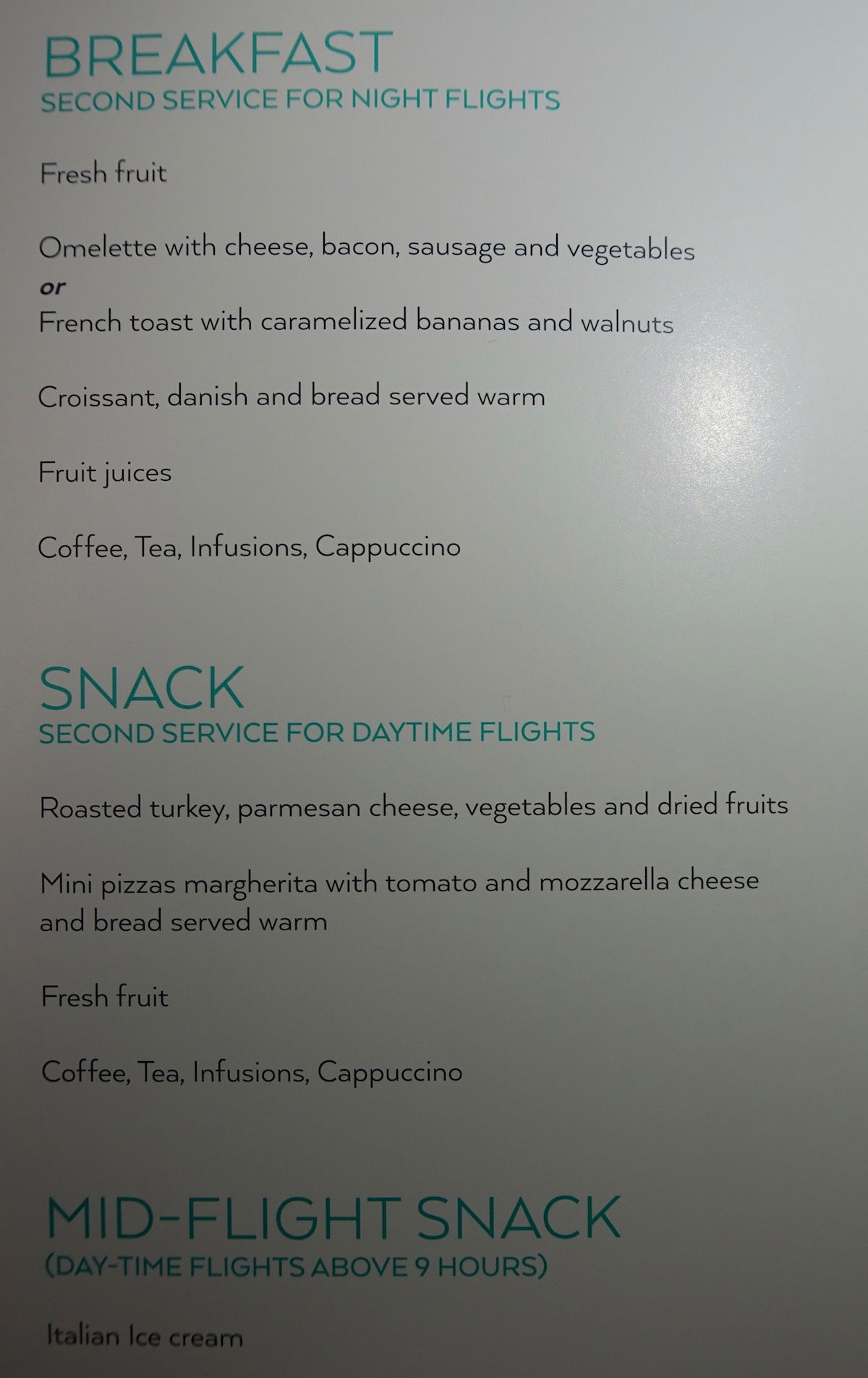 For anyone curious, here's the menu for the Italy to US flight (it's in the same pamphlet, so I figured I'd post it):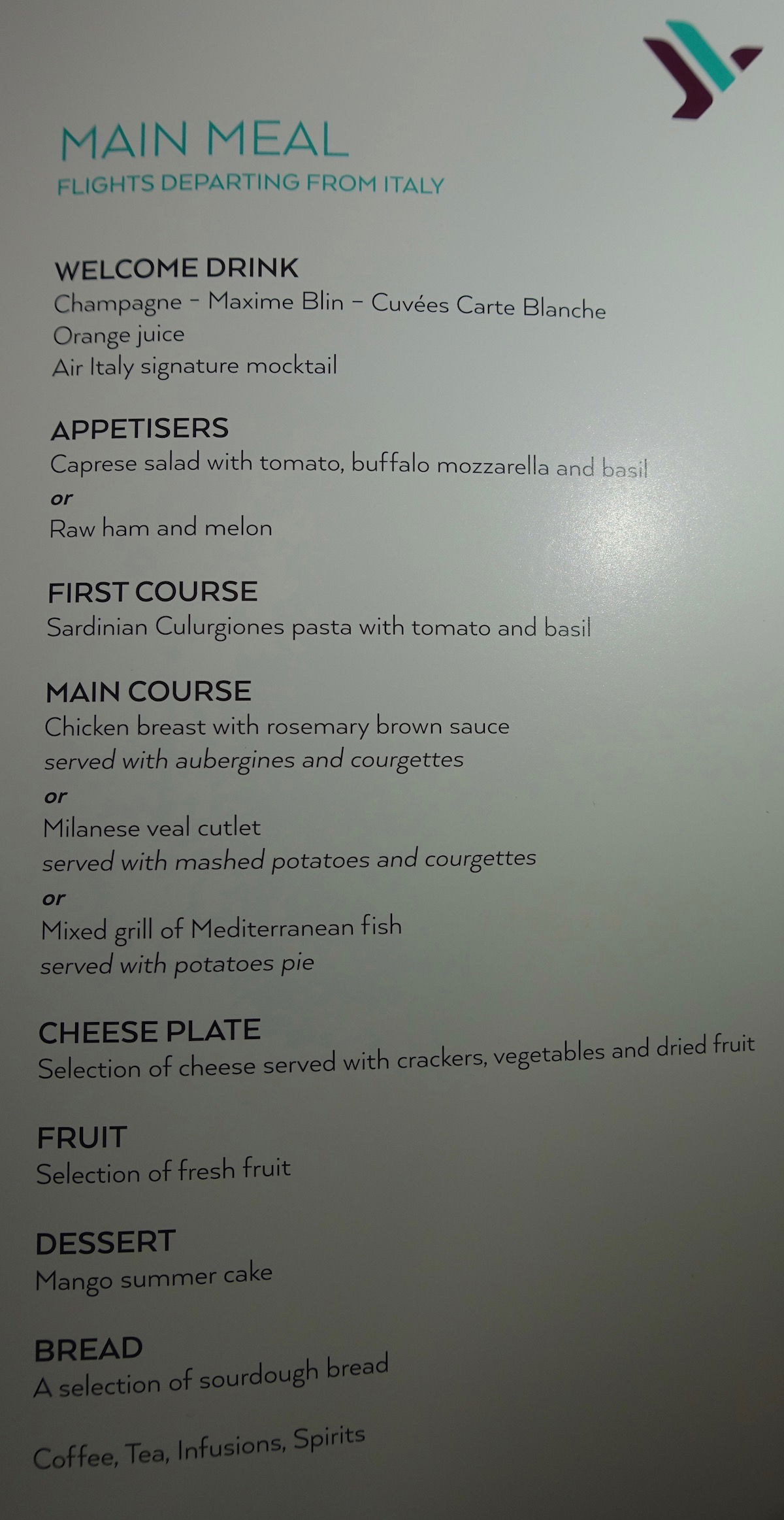 The drink list read as follows: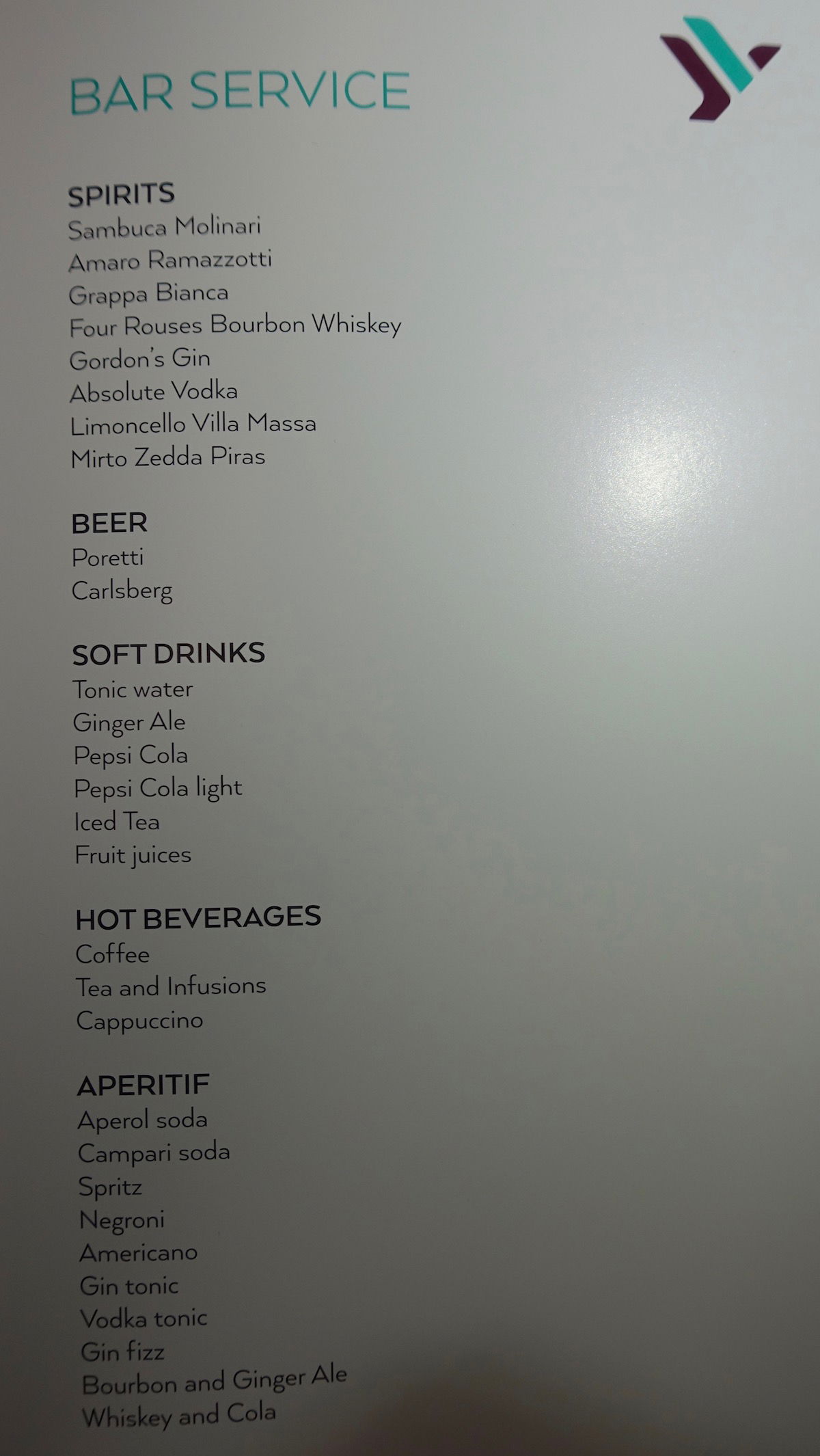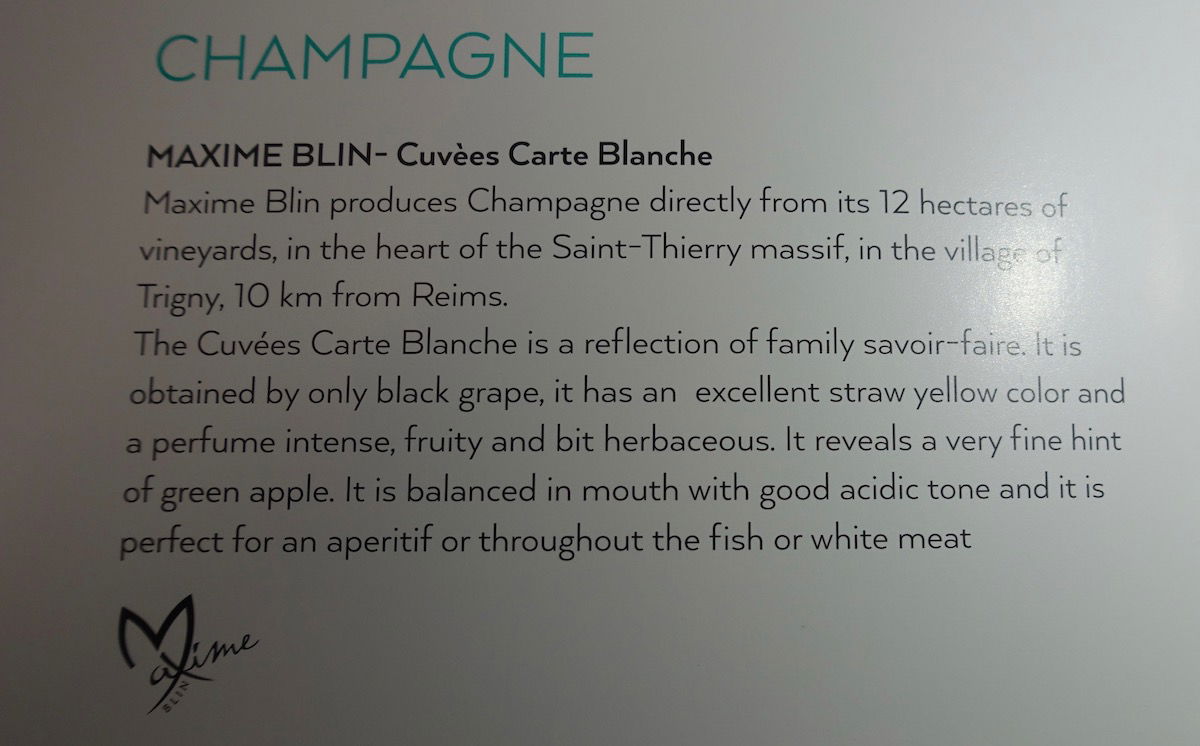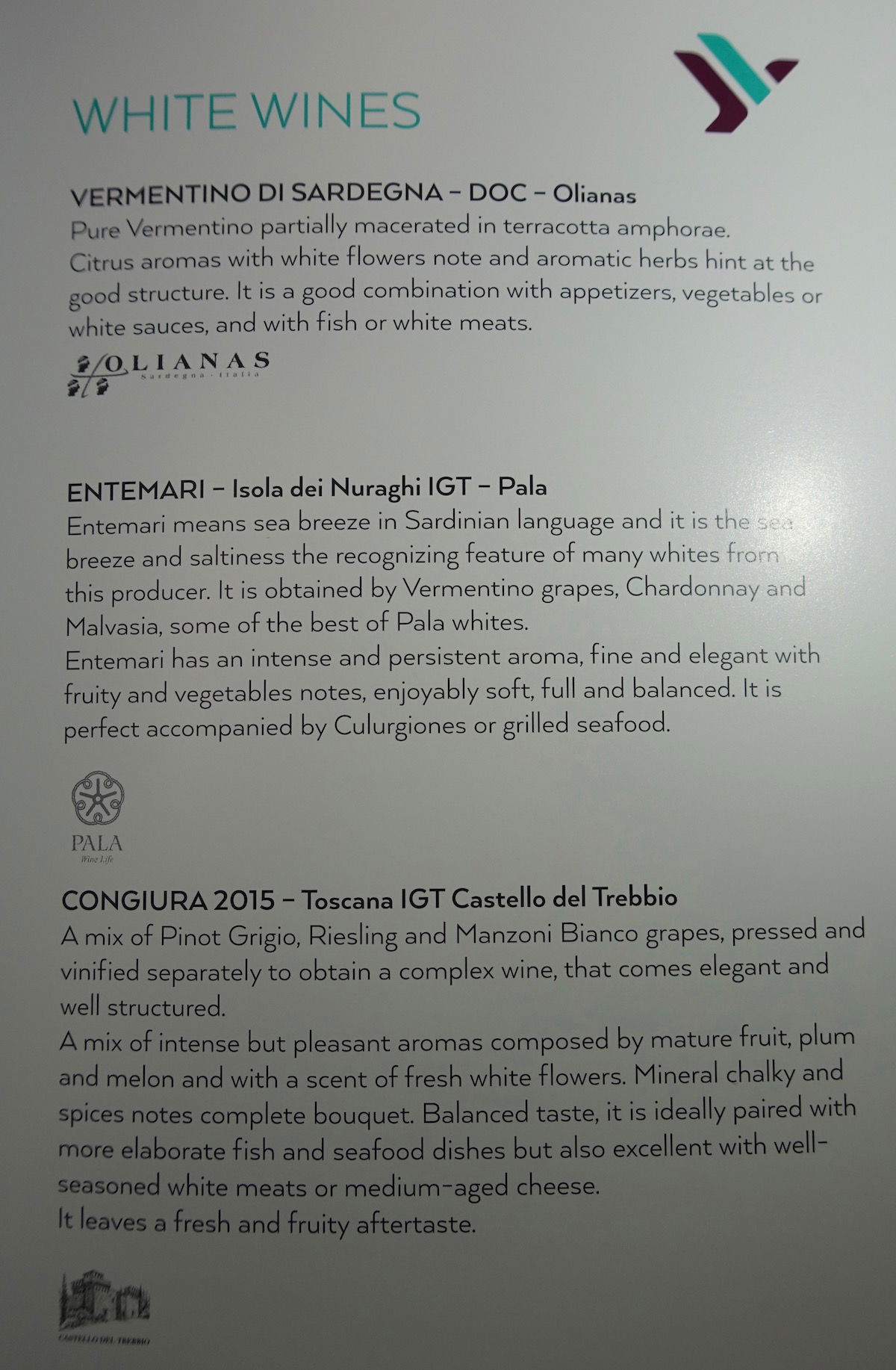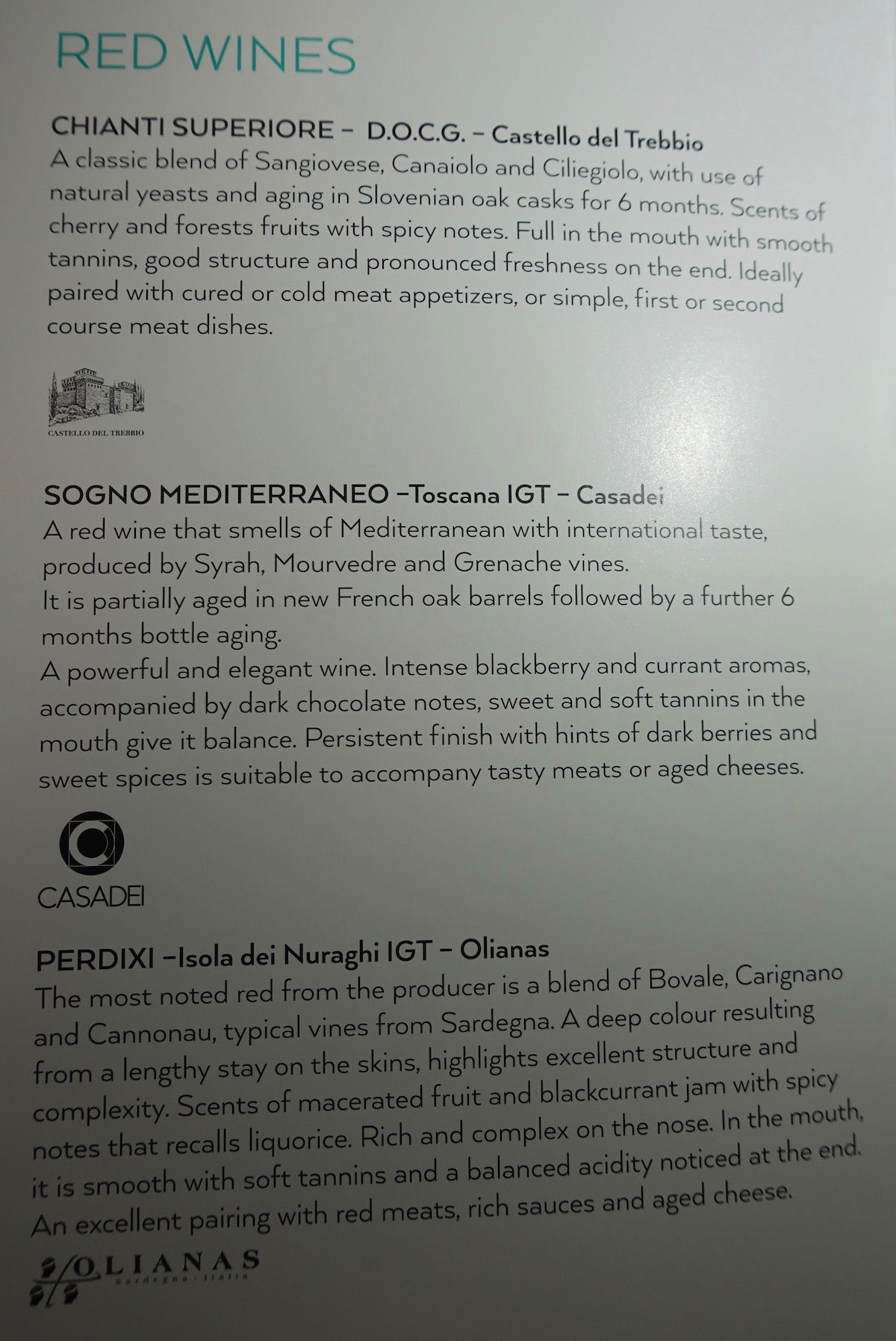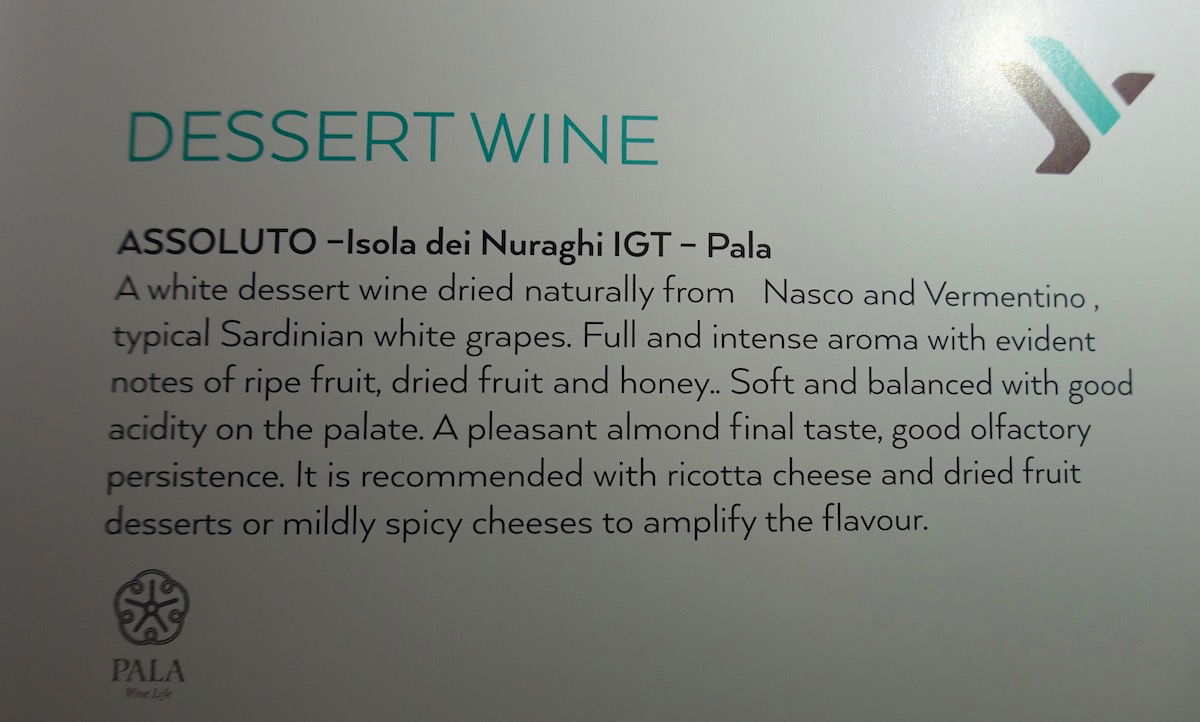 Service began with drinks. I had a glass of champagne, and Air Italy serves Maxime Blin. I was also offered a nut mix that I wasn't a huge fan of, and a warm towel. Air Italy very much has the Qatar Airways service style, as they bring out a glass, then bring out the bottle, and pour the drink at your seat.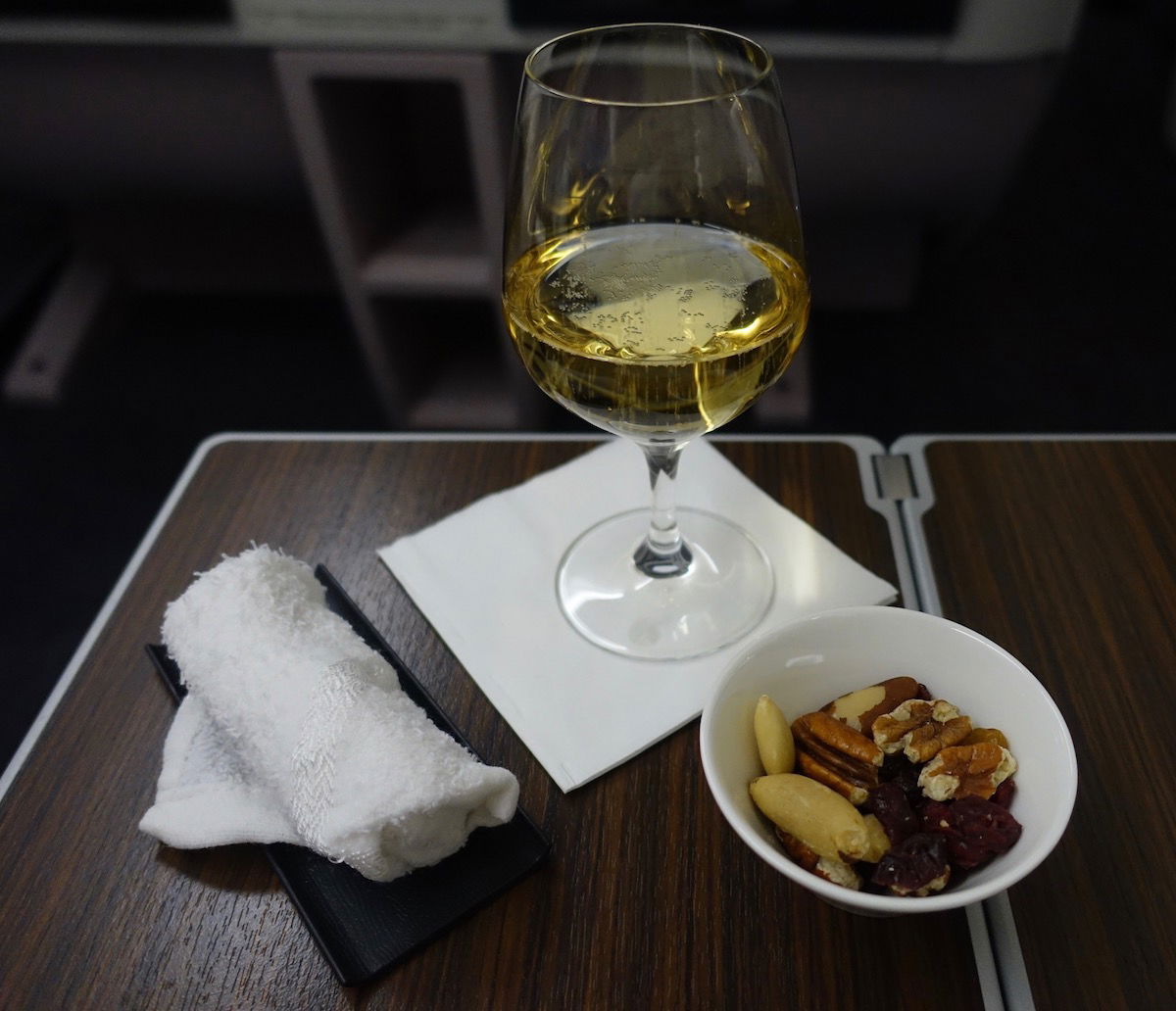 Air Italy business class dinner — champagne and nuts
They also have the Qatar service style in the sense that some of their glasses and cutlery are Qatar Airways branded. 😉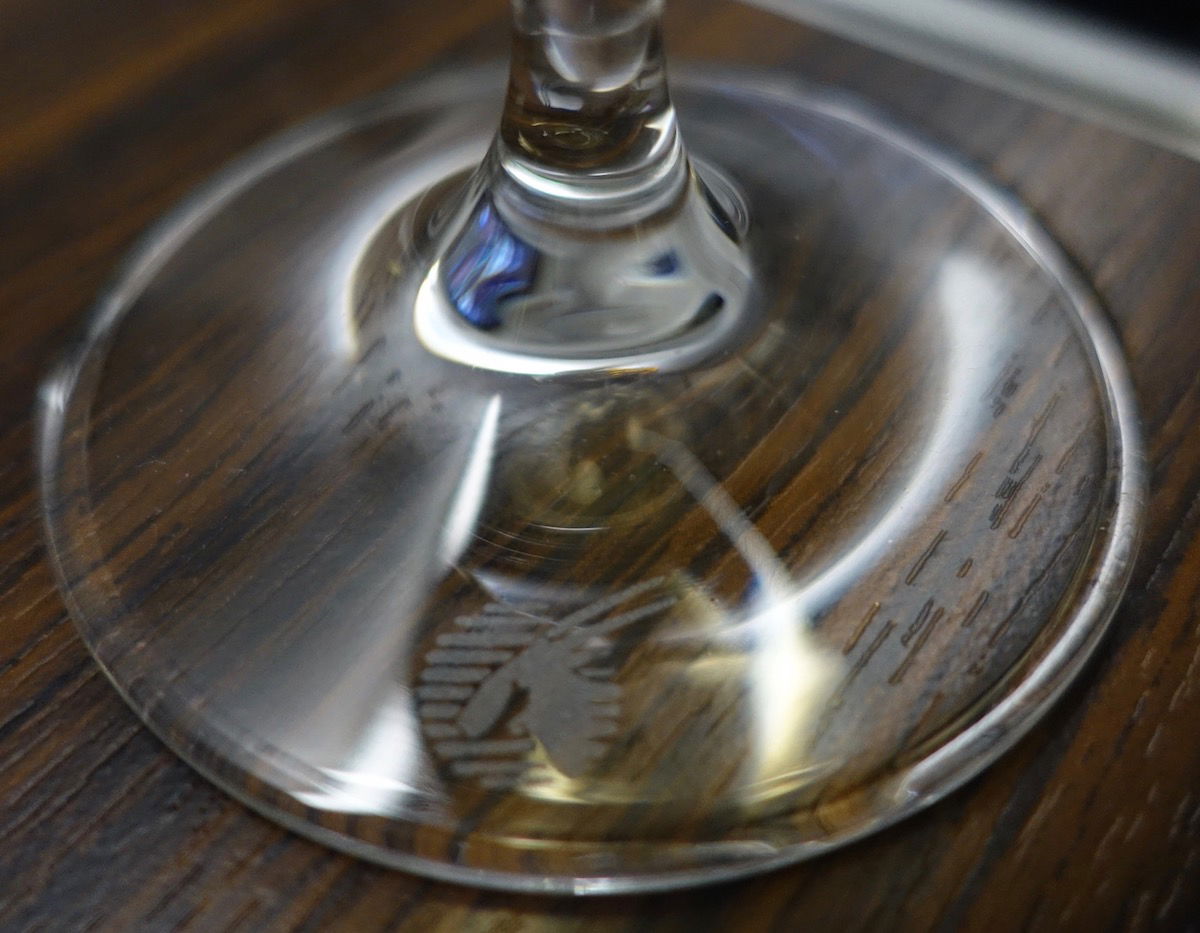 Qatar Airways glasses in Air Italy business class
About 75 minutes after takeoff a trolly was rolled down the aisle with the table settings. I wish this would have been done a bit quicker given how short the flight was, though the service flow was good once the meal service started. I'm very impressed that they serve everything directly on your tray table, and don't use trays.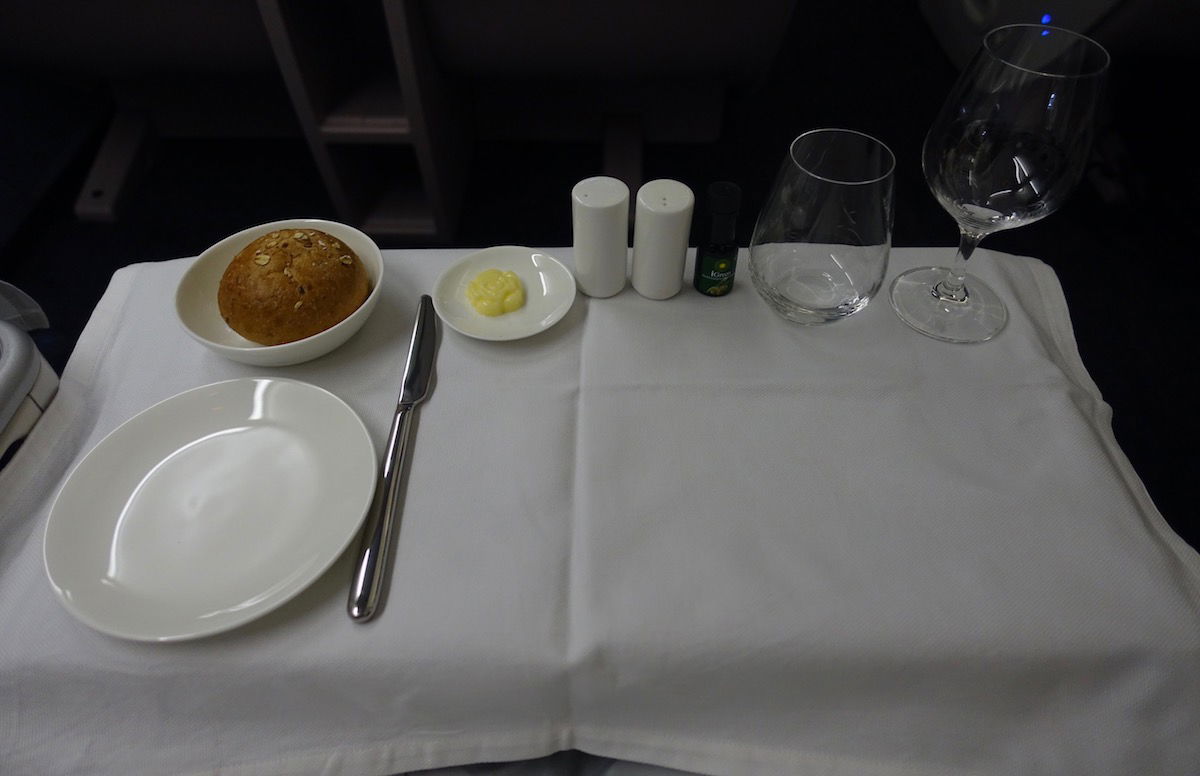 Air Italy business class table setting
For the starter I ordered the salmon and mango tartare, which was very good, and beautifully presented.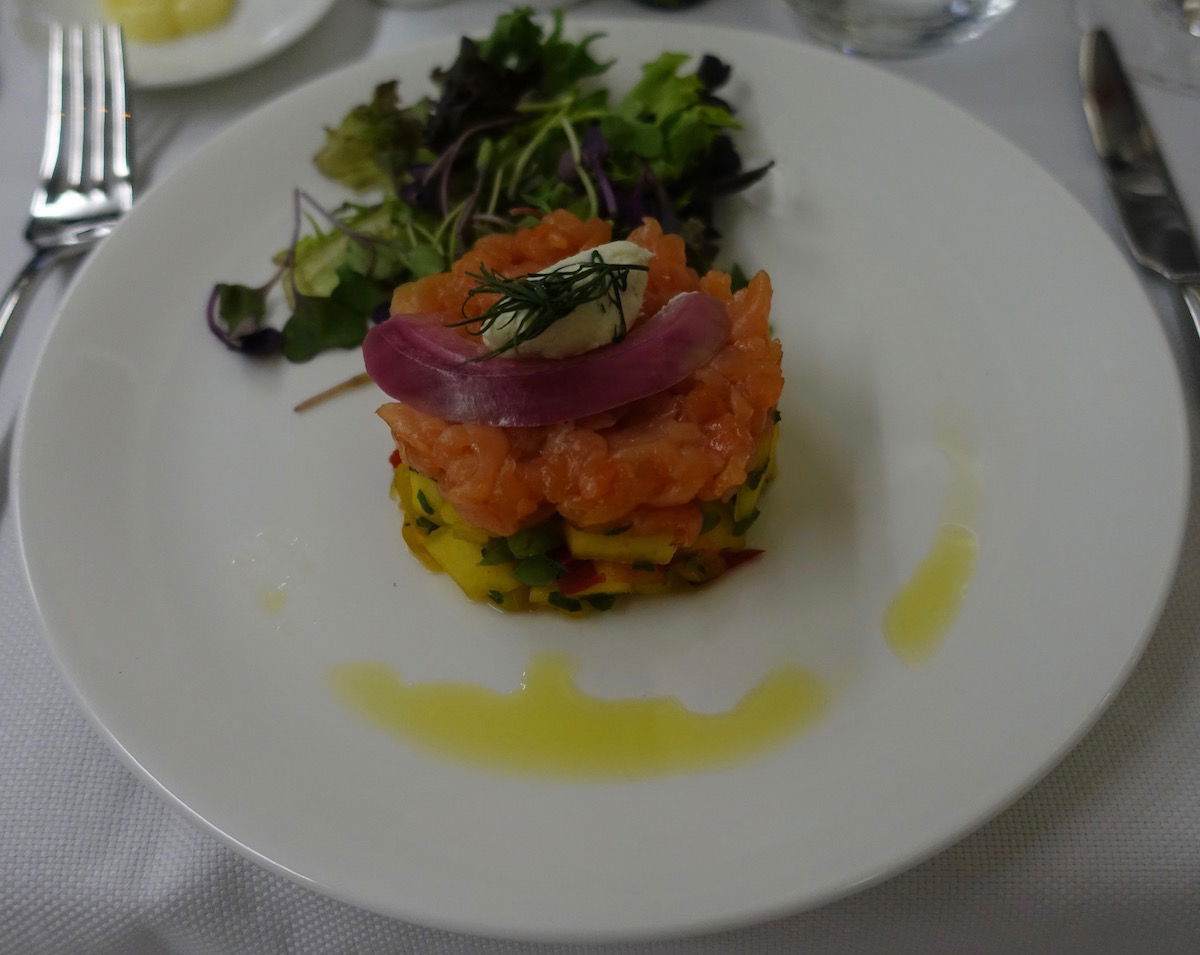 Air Italy business class dinner — appetizer
Andrew had the bresola and grana cheese appetizer.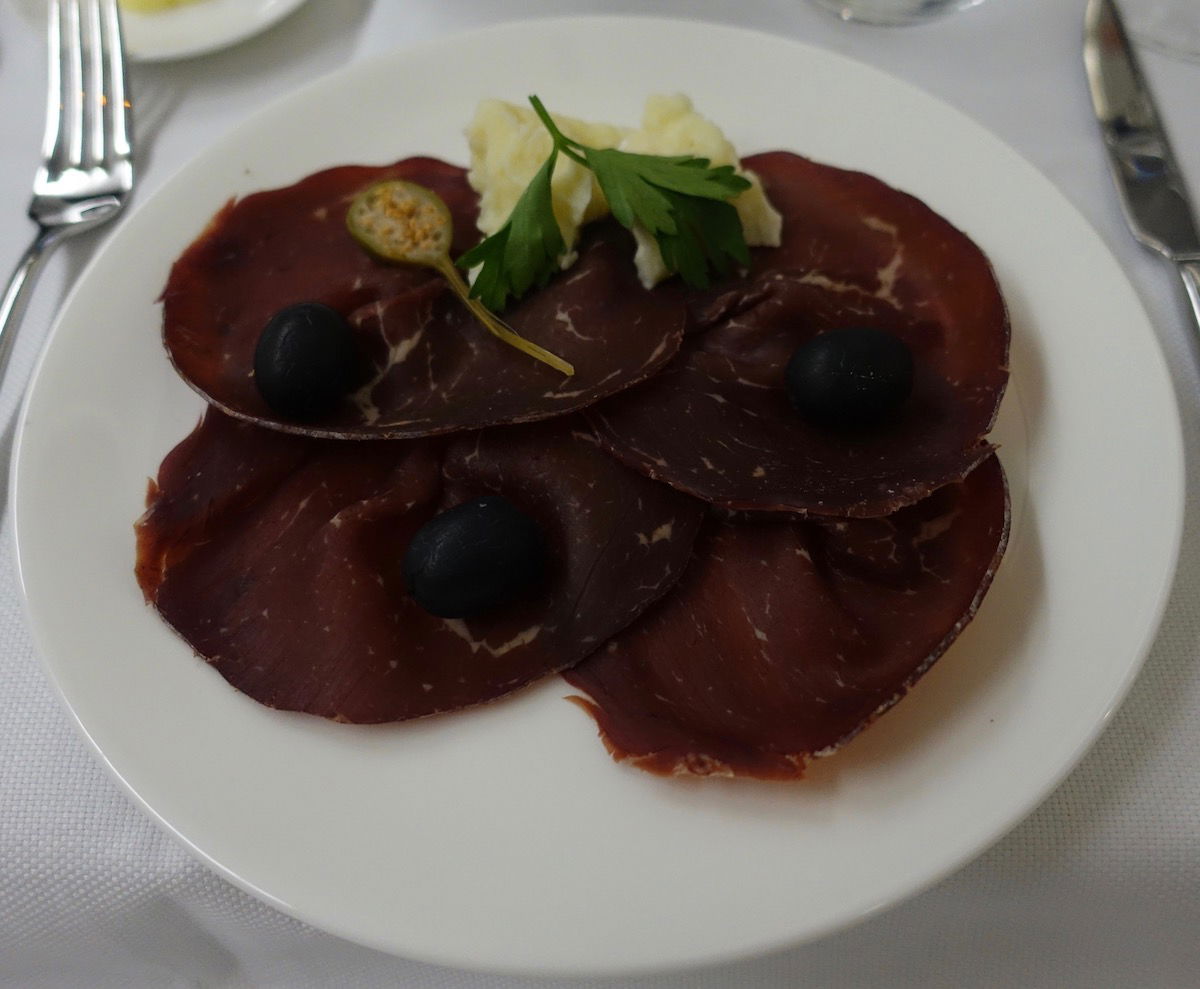 Air Italy business class dinner — appetizer
Next up was the pasta course, because Italy. This consisted of cannelloni ricotta cheese and spinach with pesto sauce accompanied by tomato and mozzarella cheese. It was so tasty.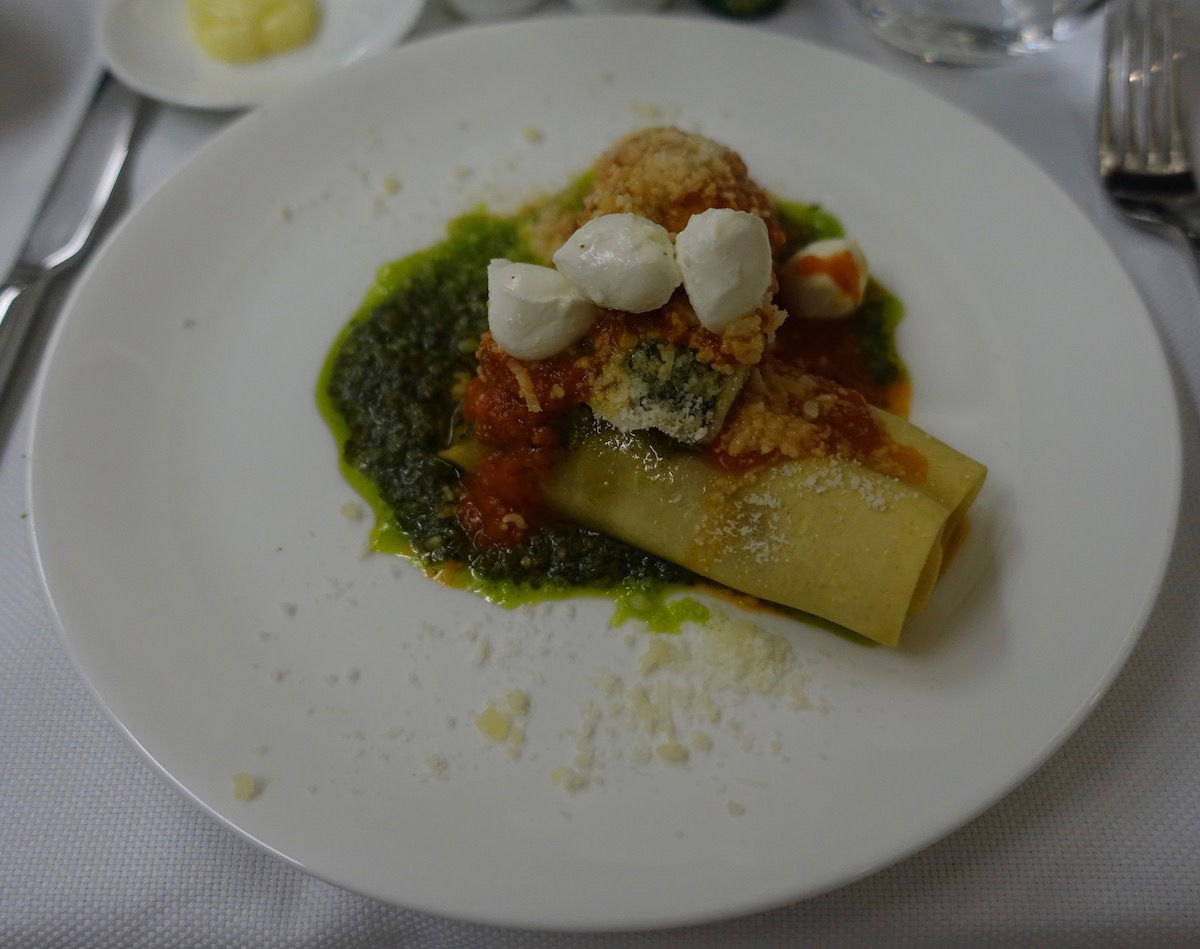 Air Italy business class dinner — pasta course
For the main course I had the grilled salmon in lemon sauce served with mixed sautéed summer vegetables.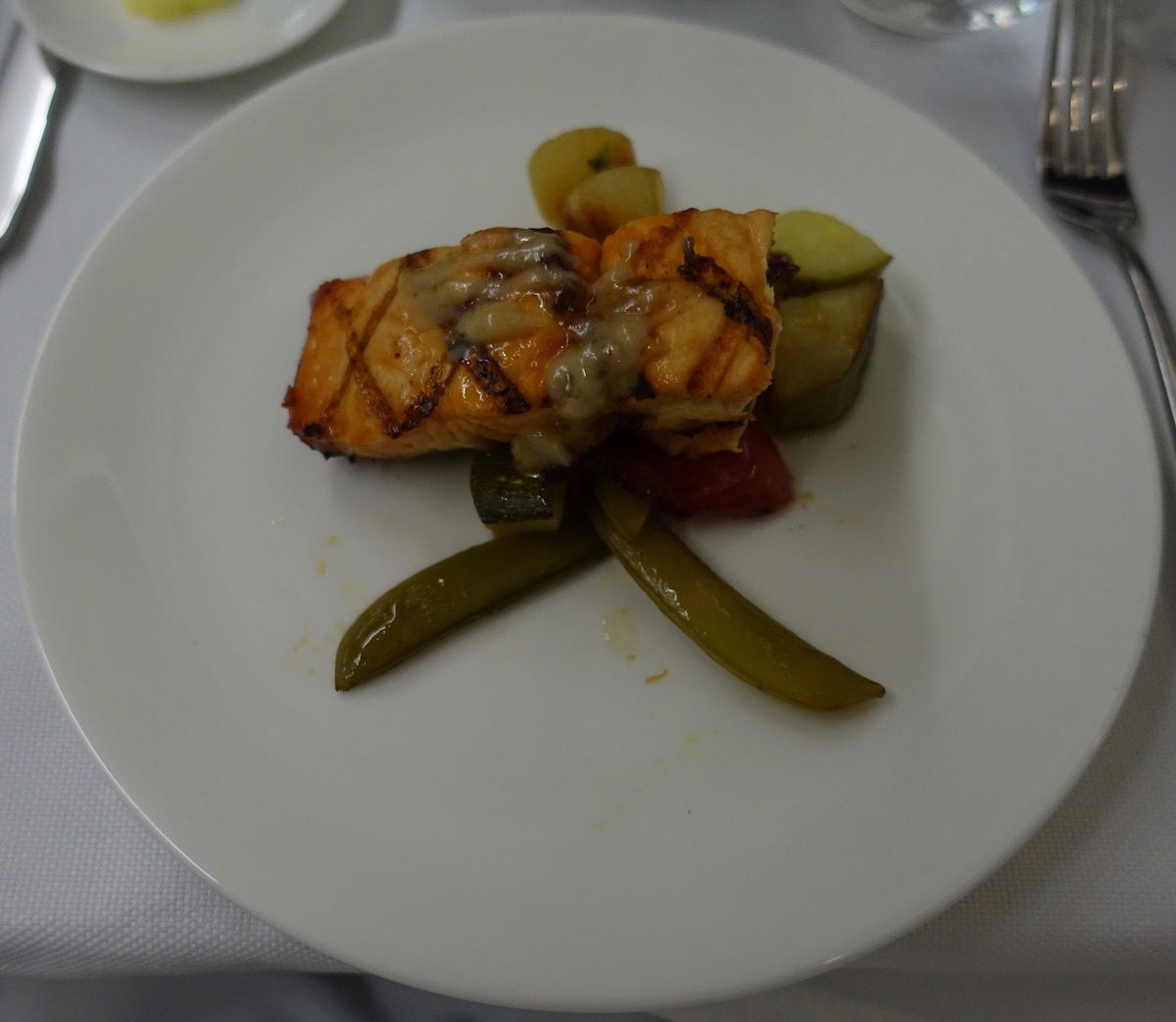 Air Italy business class dinner — main course
Andrew had the chicken breast in thyme sauce served with potato pie.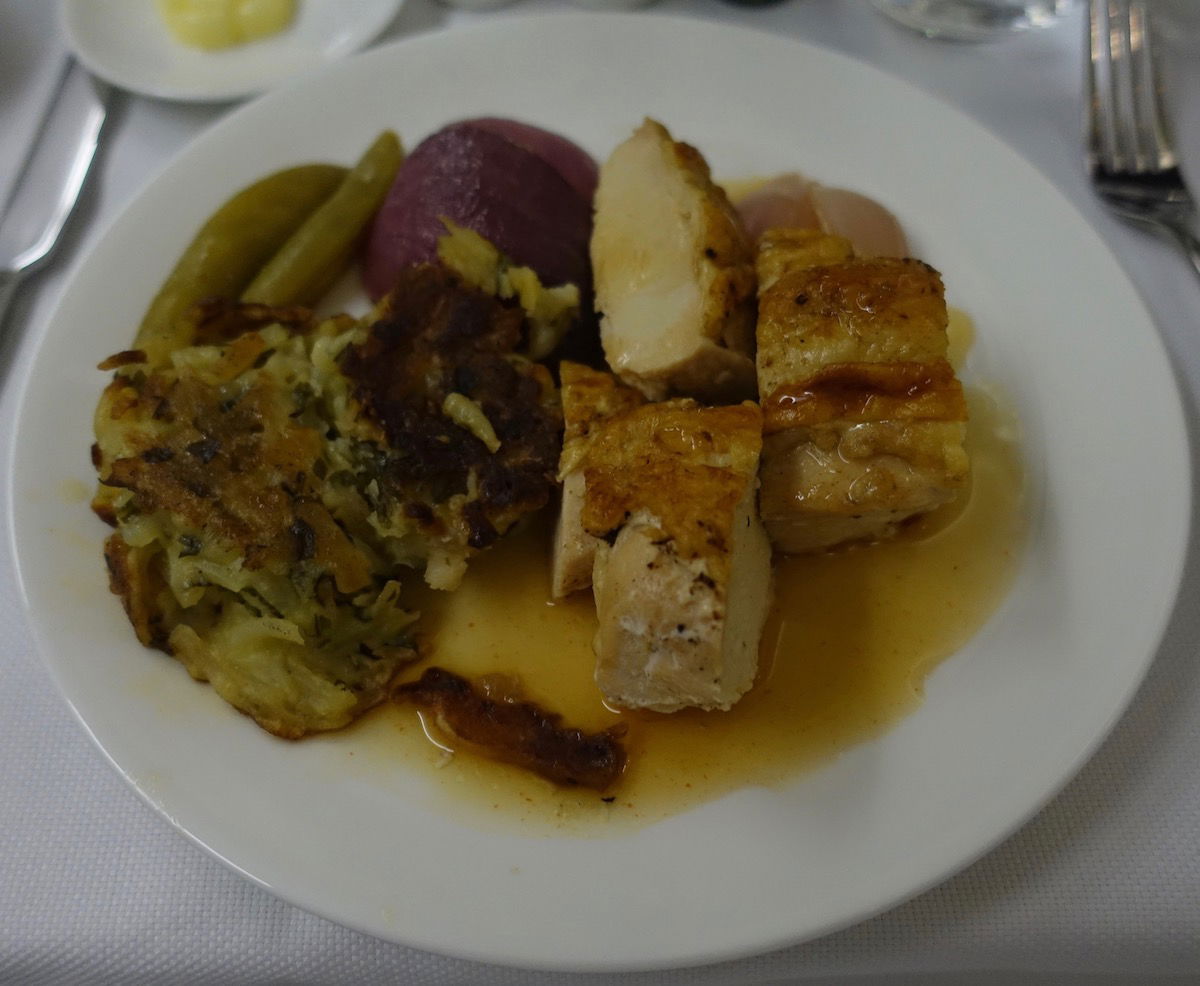 Air Italy business class dinner — main course
Lastly I had a cheese plate to finish off the meal.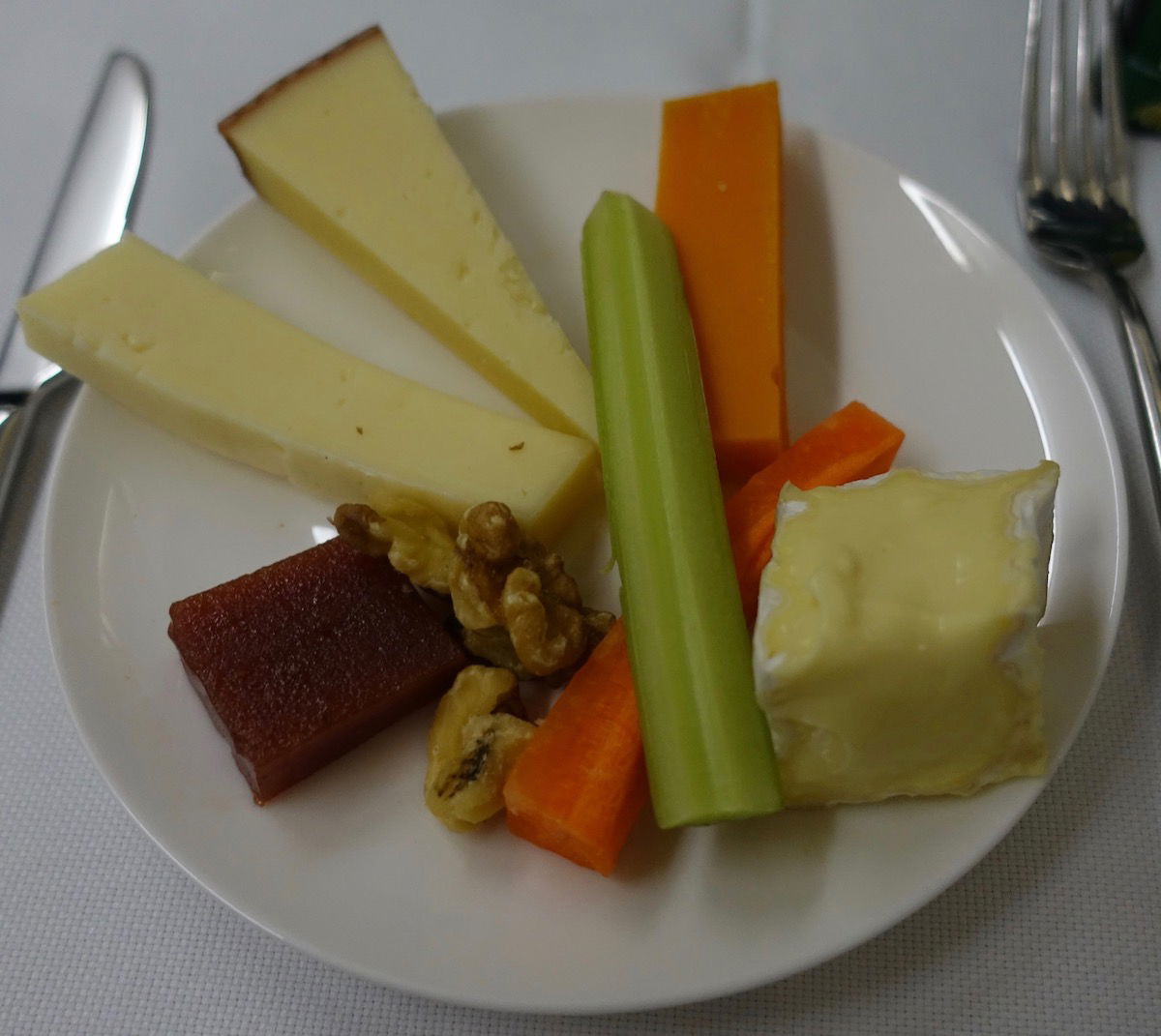 Air Italy business class dinner — cheese plate
Andrew had the strawberry mousse cake.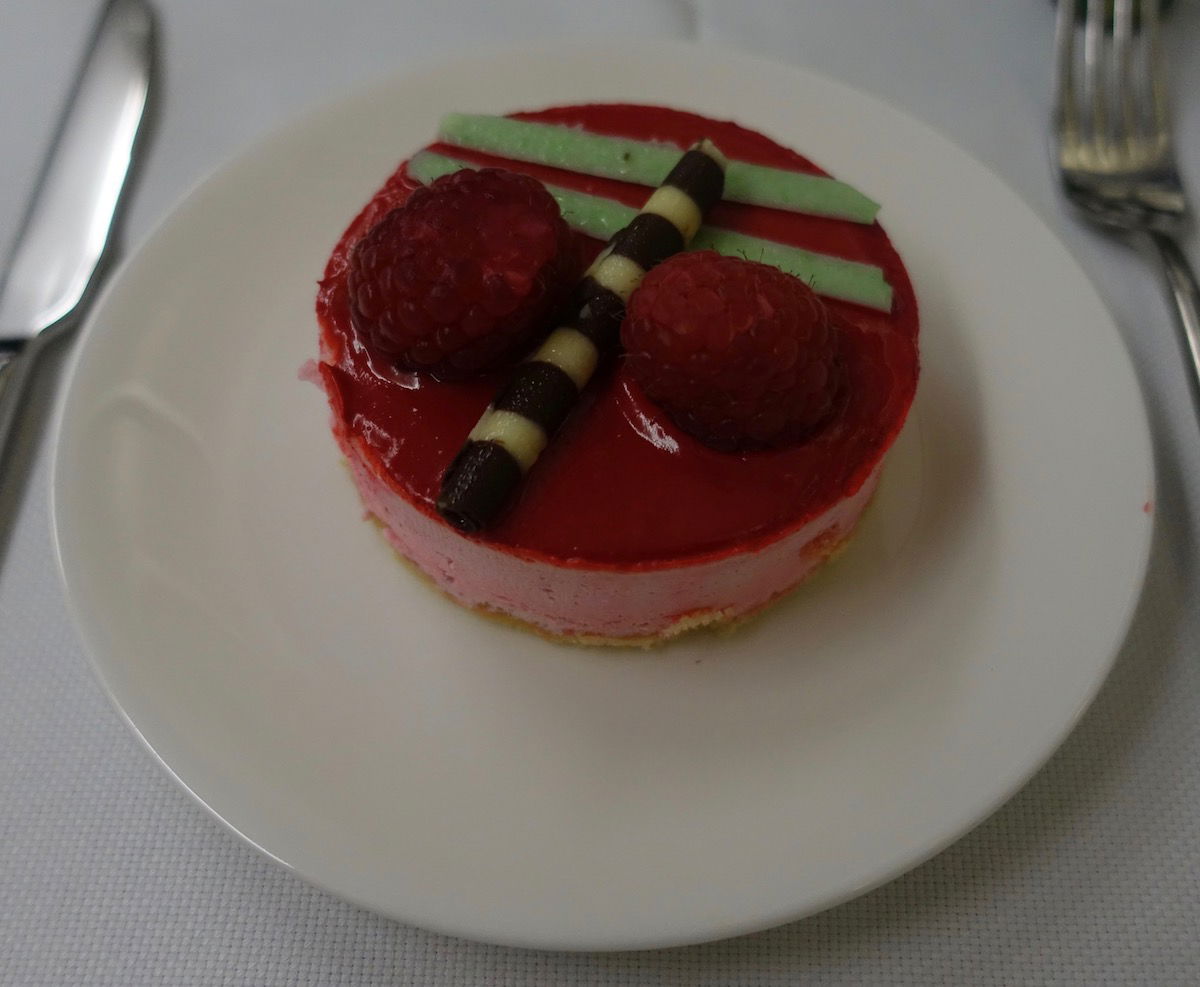 Air Italy business class dinner — dessert
Upon the conclusion of the meal we were presented with warm towels and bottled water.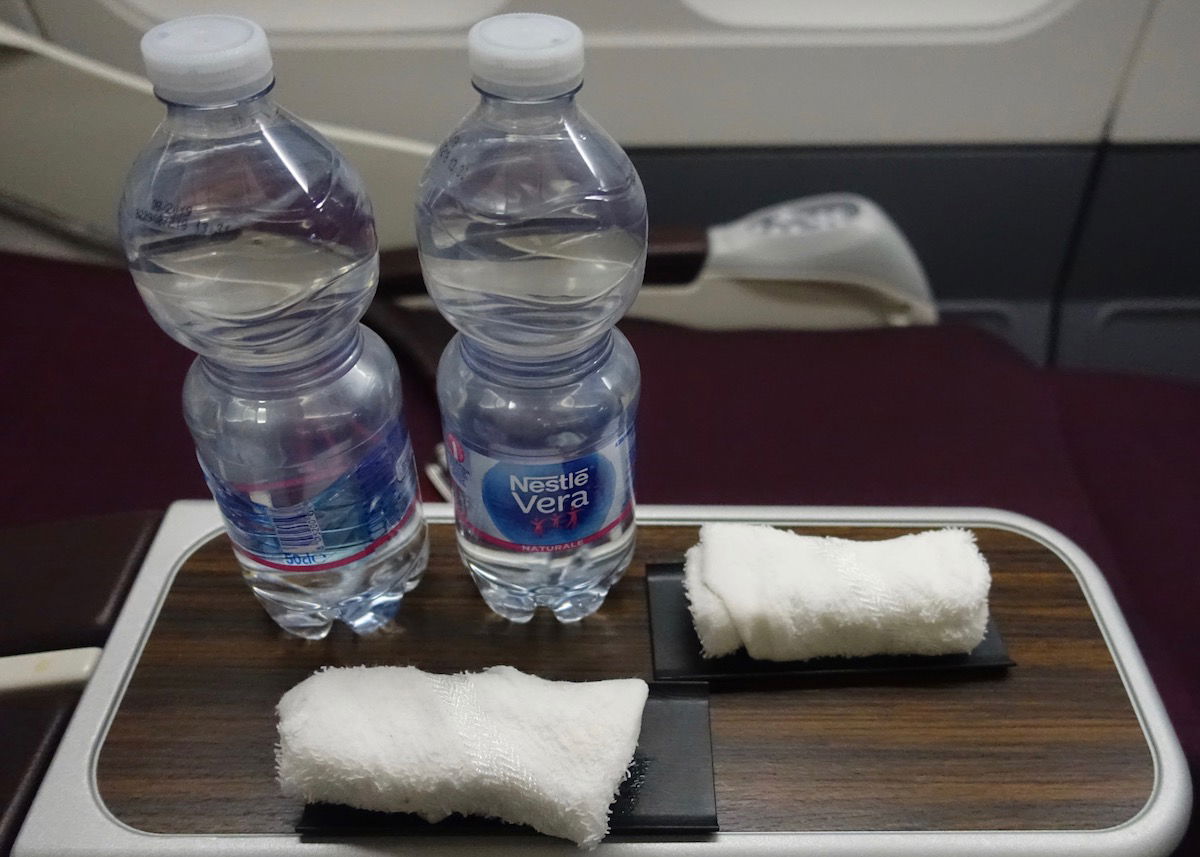 Air Italy business class bottled water & towels
The entire meal service was done 2hr30min into the flight. I can't emphasize enough how friendly the service was, as the guys working the cabin couldn't have been more pleasant. It was clear they loved their jobs, and they weren't just friendly, but very polished.
My one thought is that I wish they'd speed up the service procedure a bit for a quick redeye. I get it's tough to provide a great service and also do so quickly, but on a redeye of just over seven hours, 2hr30min is a long time to take for the meal service.
After the meal we were asked if we wanted turndown service, which we agreed to.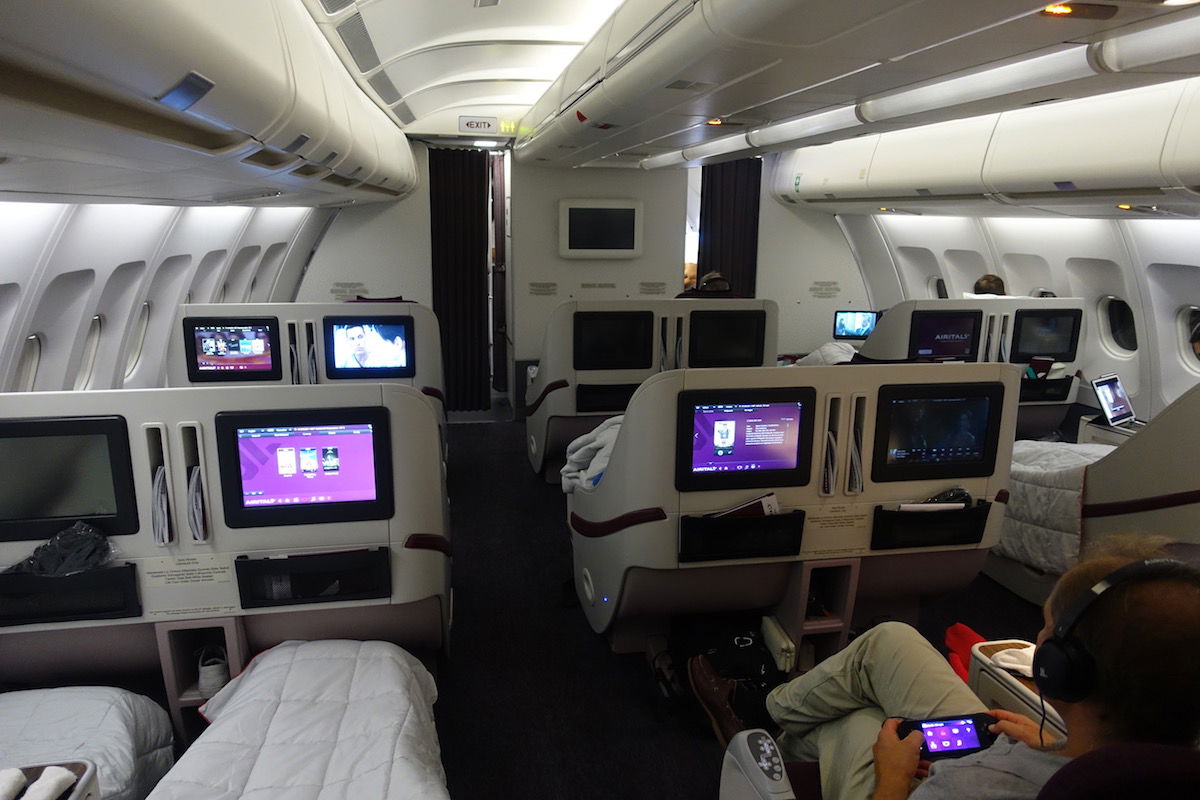 Air Italy A330 business class cabin
In the meantime I headed to the lavatory, two of which were located between the two business class cabins.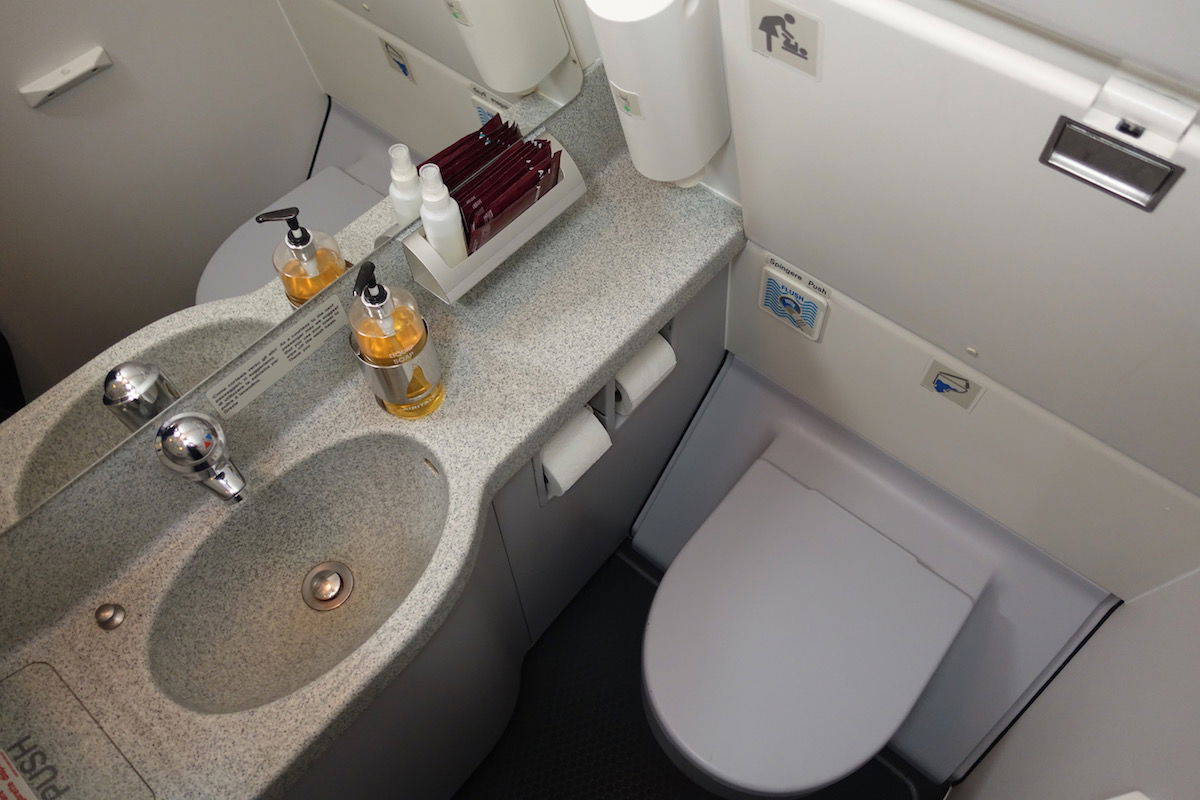 Air Italy business class lavatory
I knew that Air Italy had angled seats in business class, so I was a bit worried about that, since I'm someone who struggles to sleep without ideal conditions. Fortunately I was pleasantly surprised to find that the seat angle wasn't bad at all, and almost unnoticeable (like what you'd find on Emirates, EgyptAir, and Korean Air, for example). Just to give you a sense, here's a picture of the seat reclined without any bedding.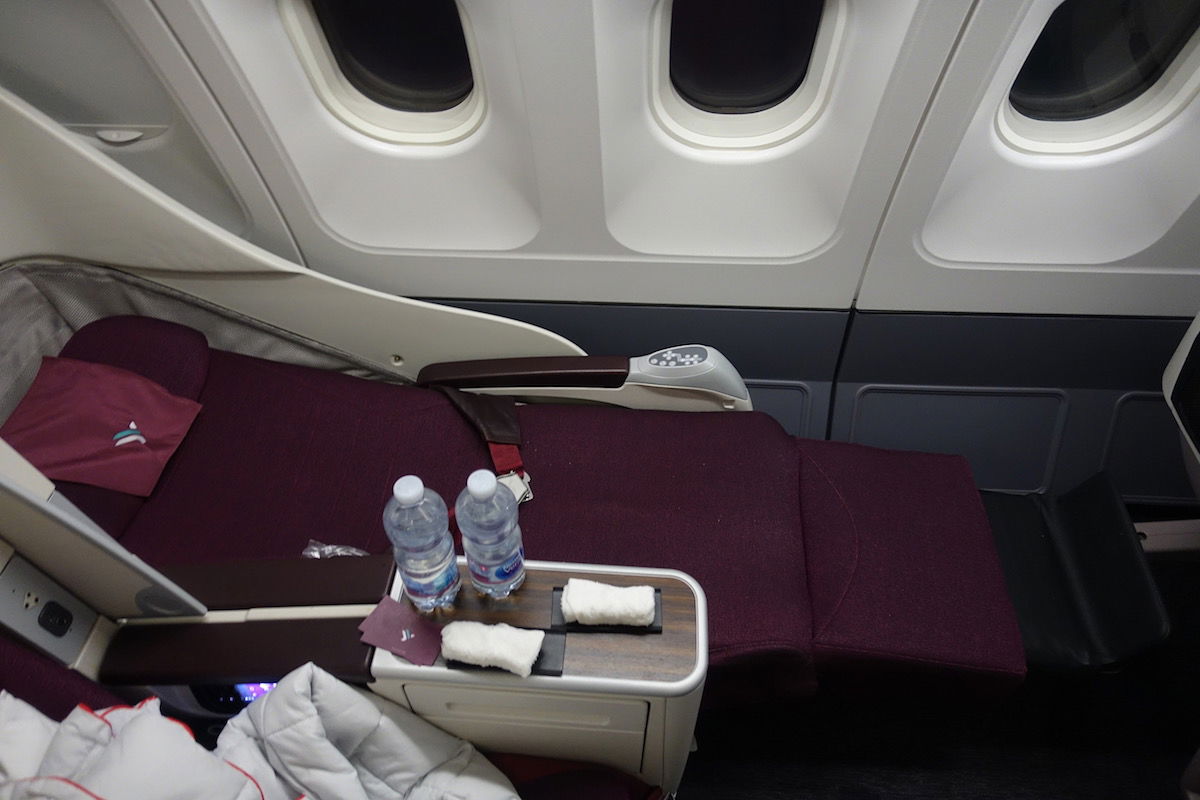 Air Italy business class bed
The turndown service was also well done.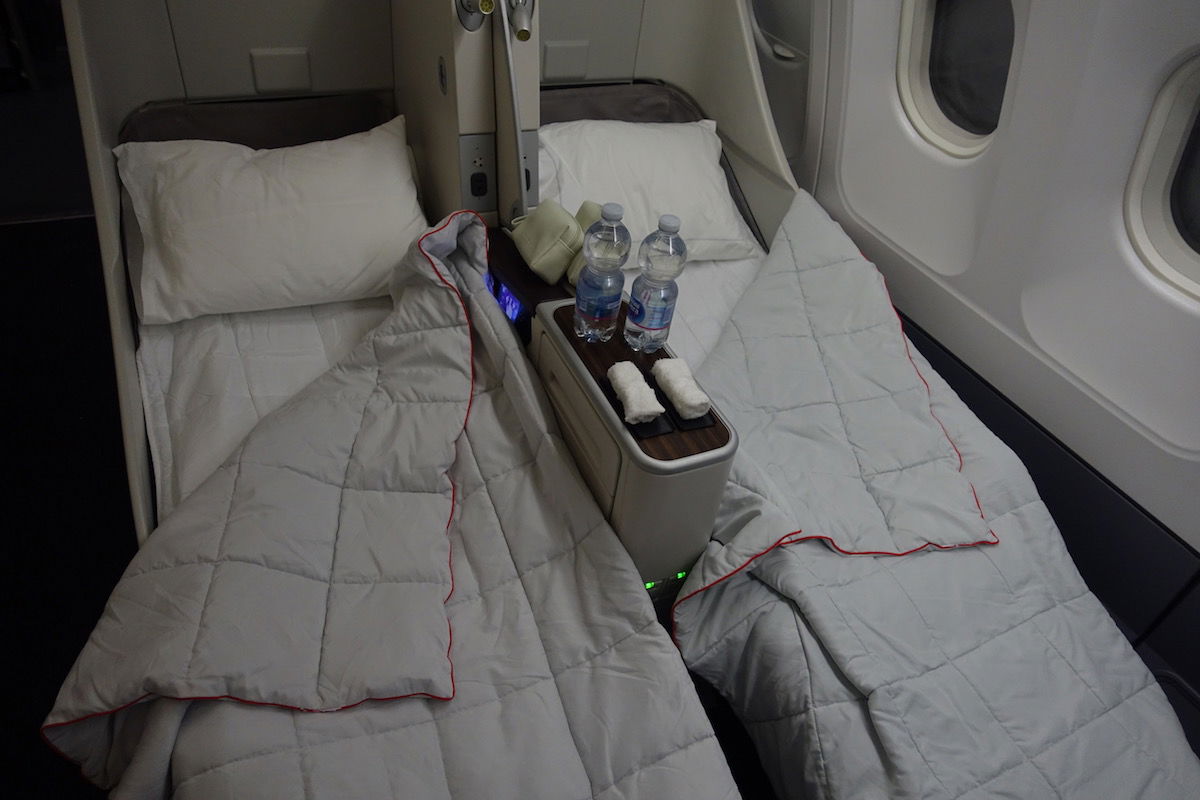 Air Italy business class bed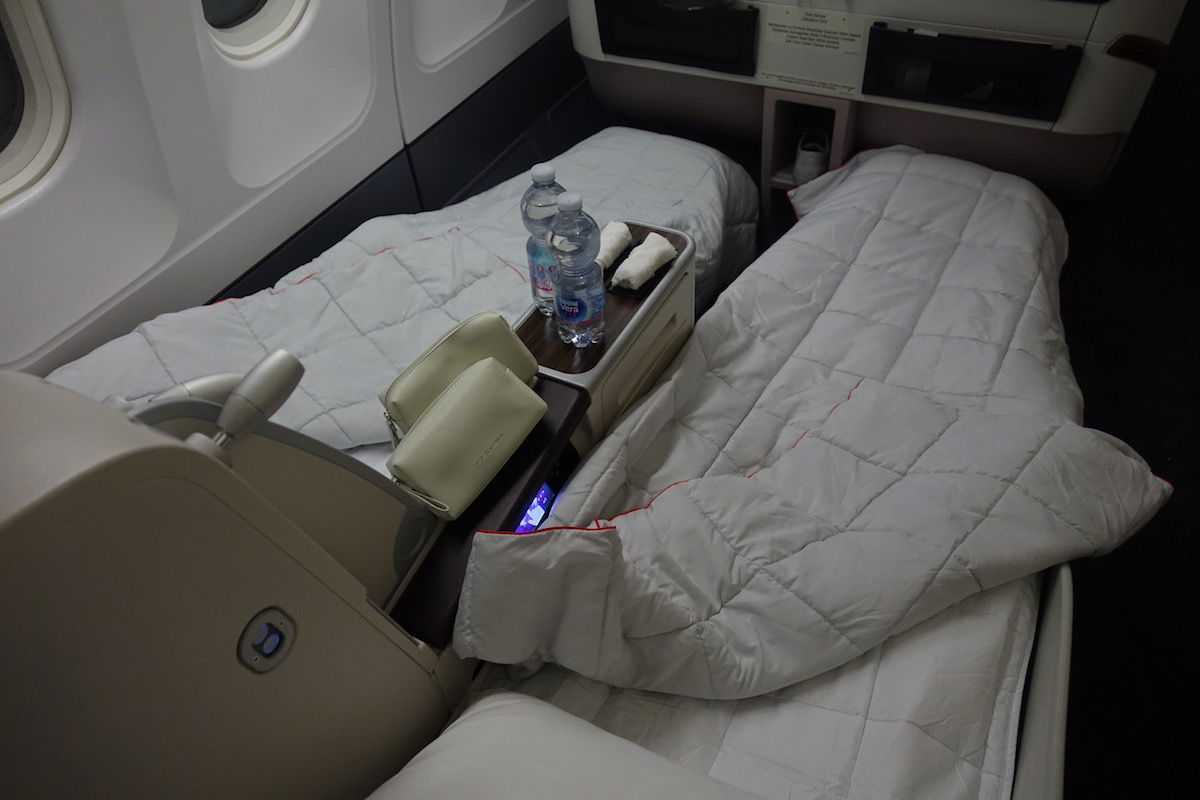 Air Italy business class bed
We were asked if we wanted to be woken up for breakfast, which we agreed to (not because we'd be hungry, but for review purposes, of course). 😉
We went to bed at 12:15AM ET, and were woken up at 3:45AM, which was 80 minutes before landing. I appreciated that the crew didn't turn on the lights and wake everyone up, but rather they kept the cabin dark and didn't disturb anyone.
Service began with drinks and warm towels.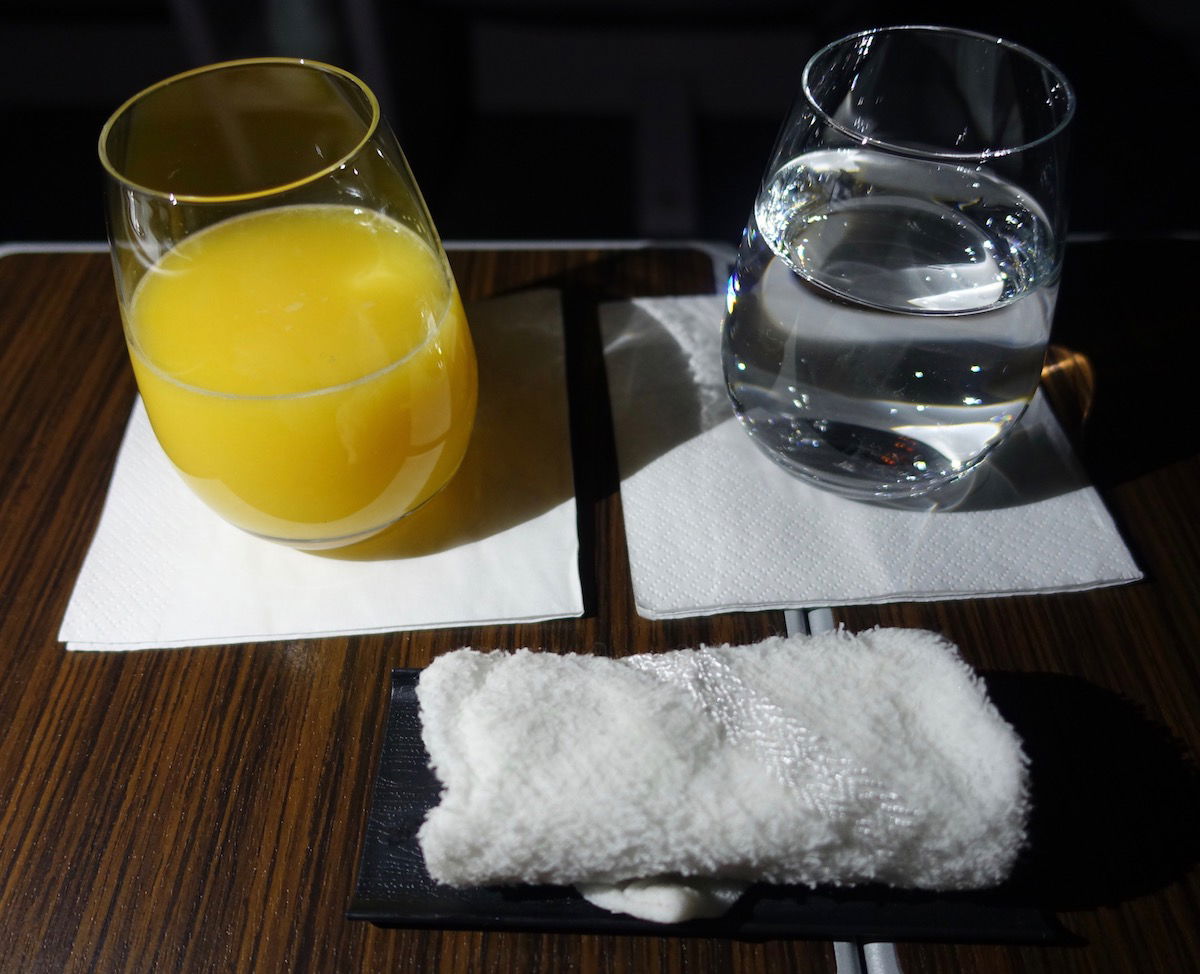 Air Italy business class breakfast — juice and warm towel
For breakfast I chose the omelet with cheese, bacon, sausage, and vegetables. This was served with a breadbasket as well as a side of fruit.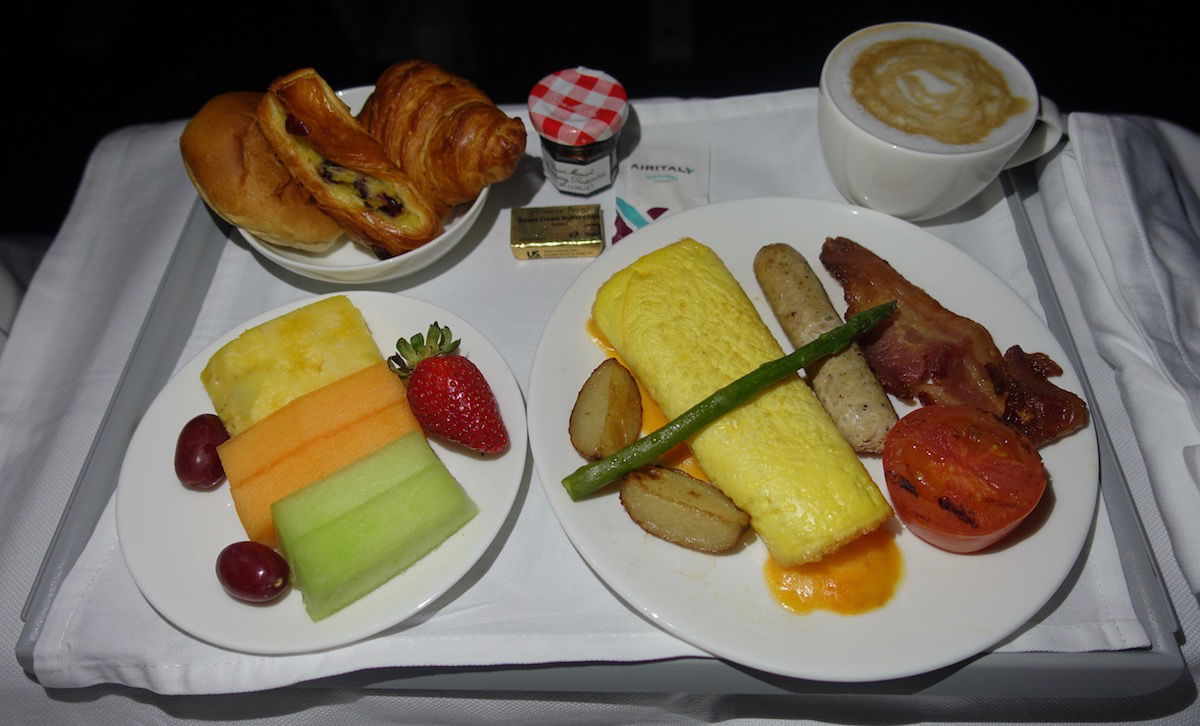 Air Italy business class breakfast
To drink I had a cappuccino, which was exceptional.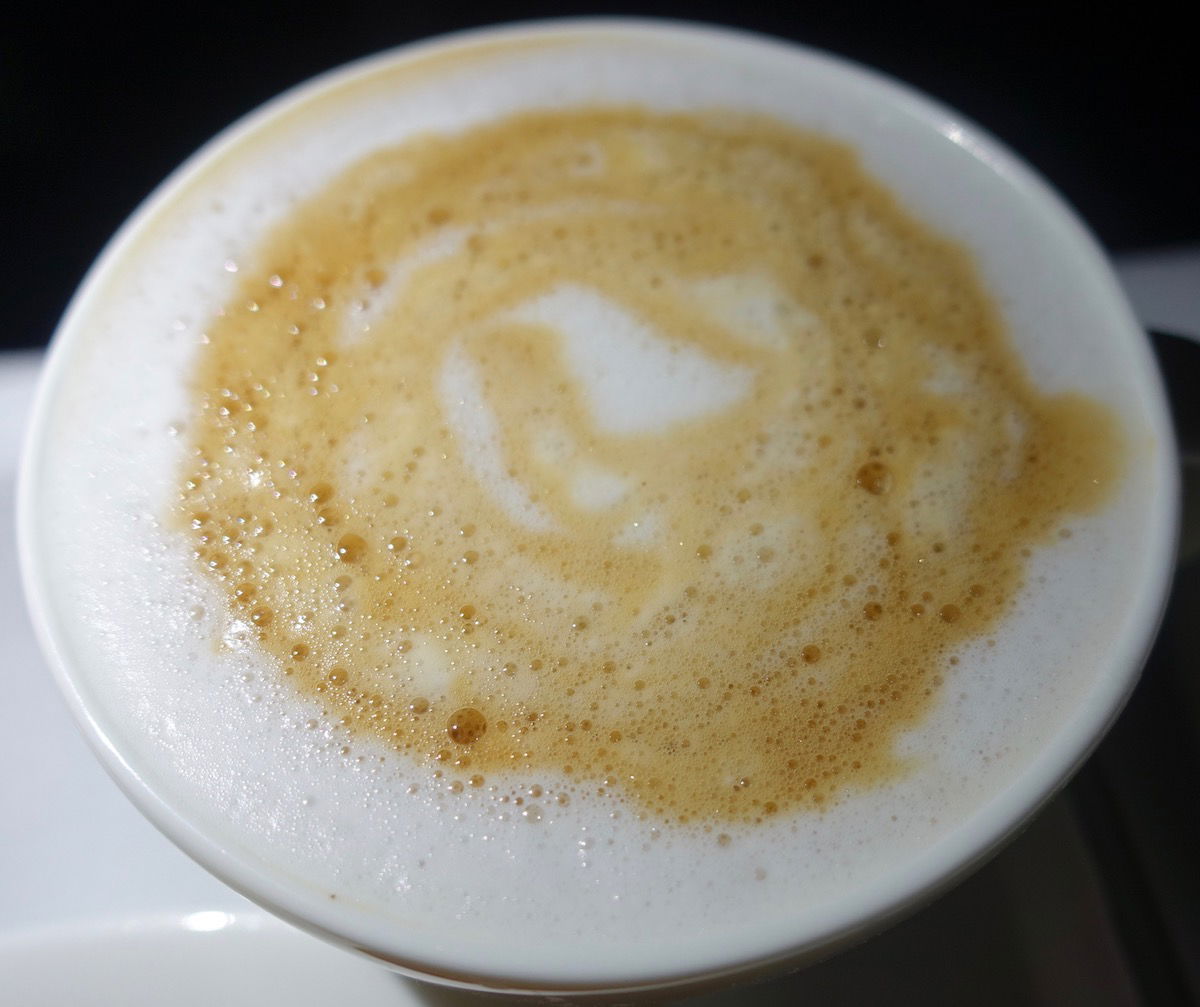 Air Italy business class breakfast — cappuccino
Andrew had the french toast with caramelized bananas and walnuts.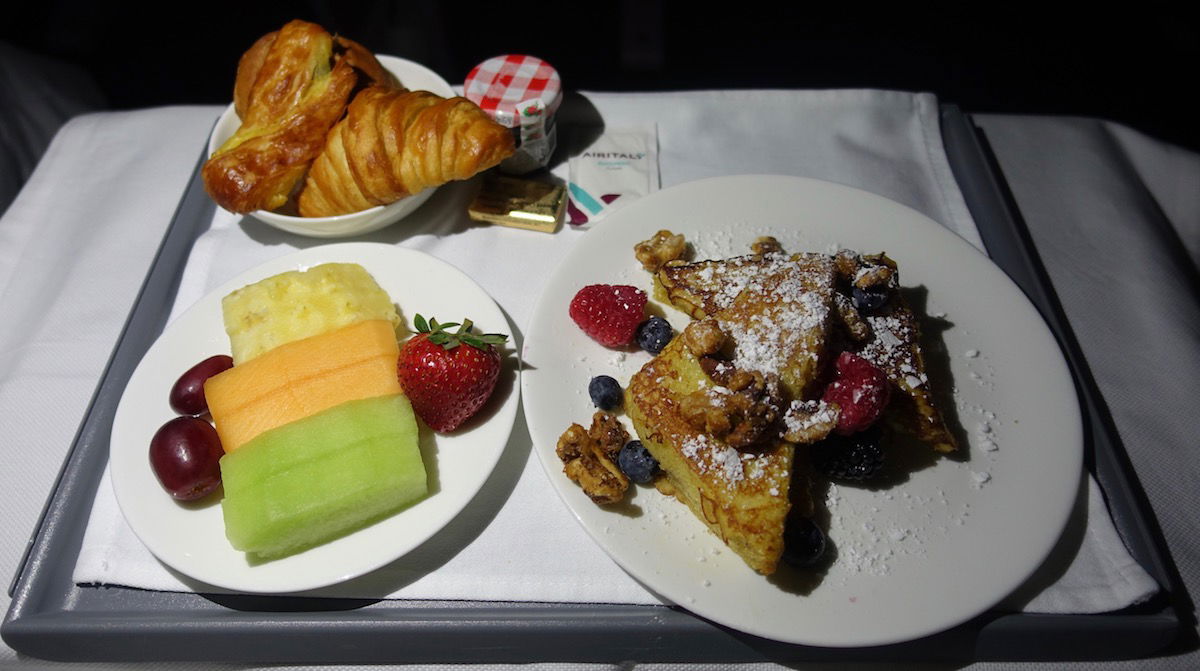 Air Italy business class breakfast
As people woke up, the crew still offered them breakfast, even if they woke up at the top of descent, which I thought was impressive.
At 10:30AM Milan time we began our descent.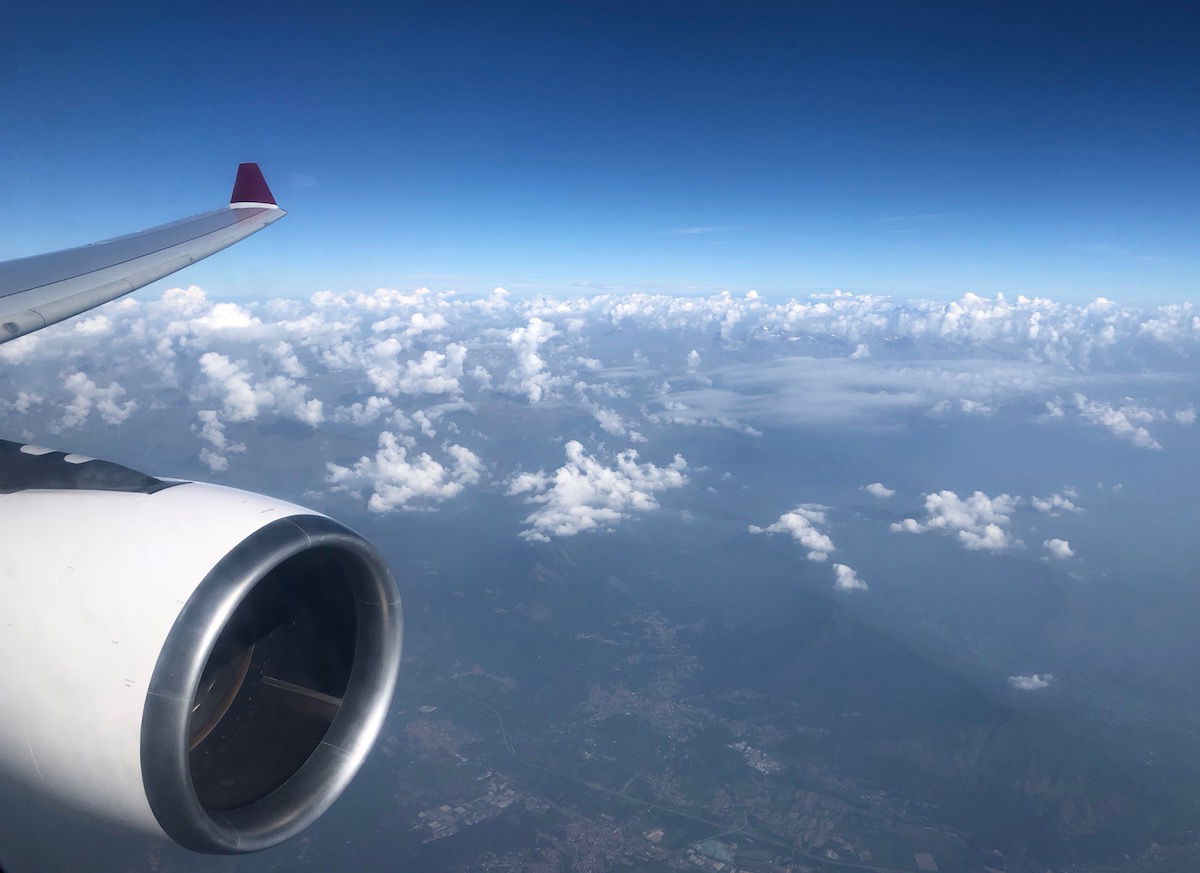 View approaching Milan
The seatbelt sign ended up being turned on about 10 minutes before landing. On the final descent the purser came around to each business class passenger to thank them for flying with Air Italy and ask them how the flight was.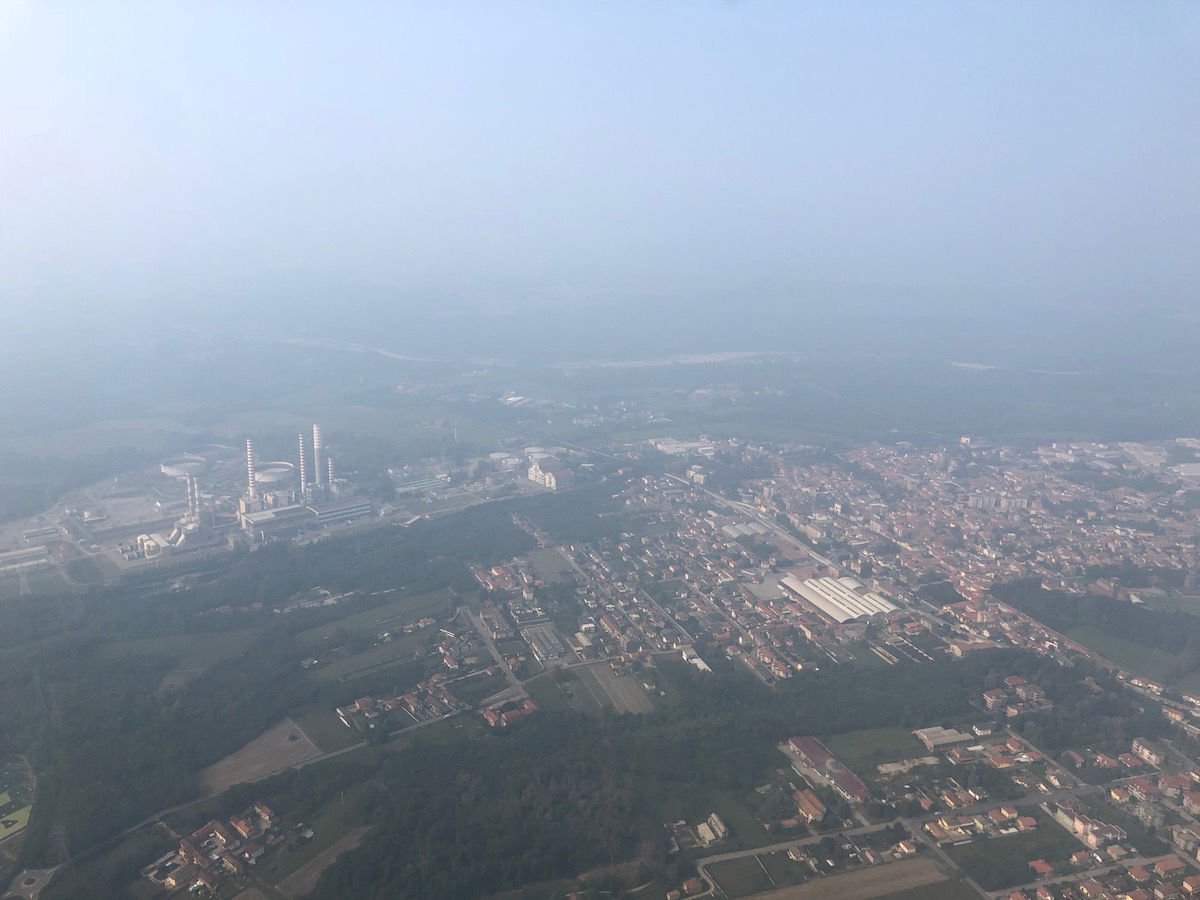 View approaching Milan
We landed on runway 35R at Malpensa at 11:05AM.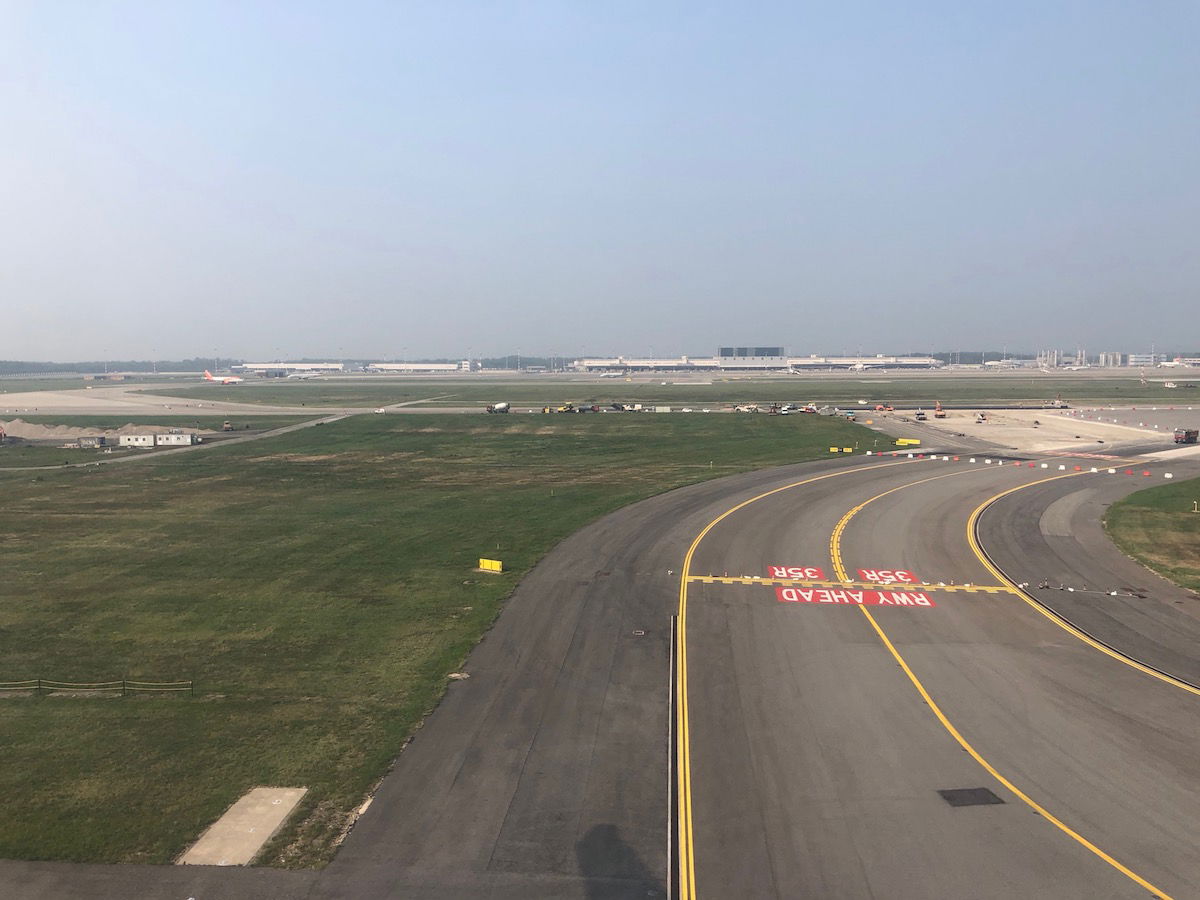 Final approach to Milan
From there we had a 10 minute taxi to our arrival stand.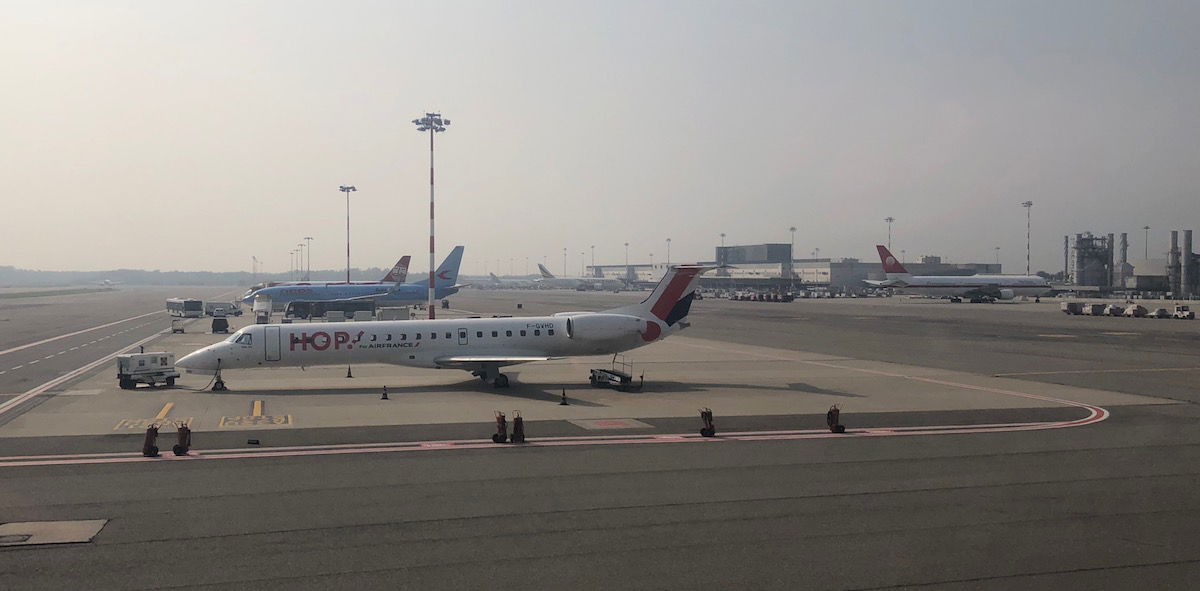 Taxiing Milan Airport
We arrived at a remote stand, which was both a blessing and a curse. It was a curse because remote stands aren't fun, especially after an overnight flight. At the same time, it presented a great opportunity to get a picture of the outside of the plane, so I did appreciate that.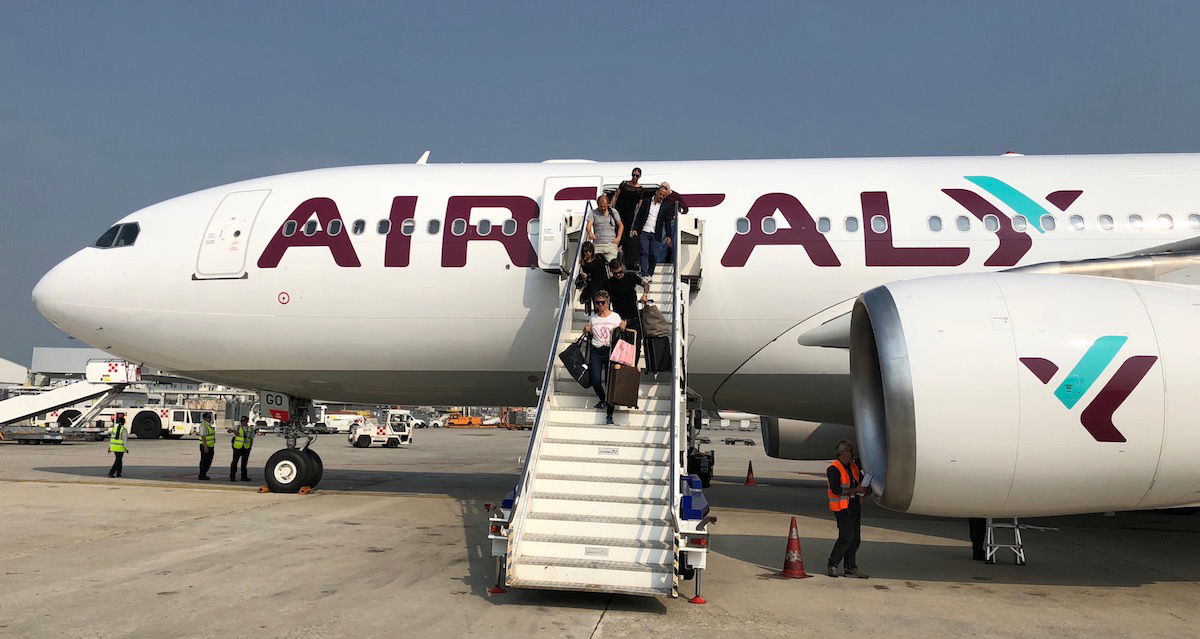 Air Italy A330 Milan Airport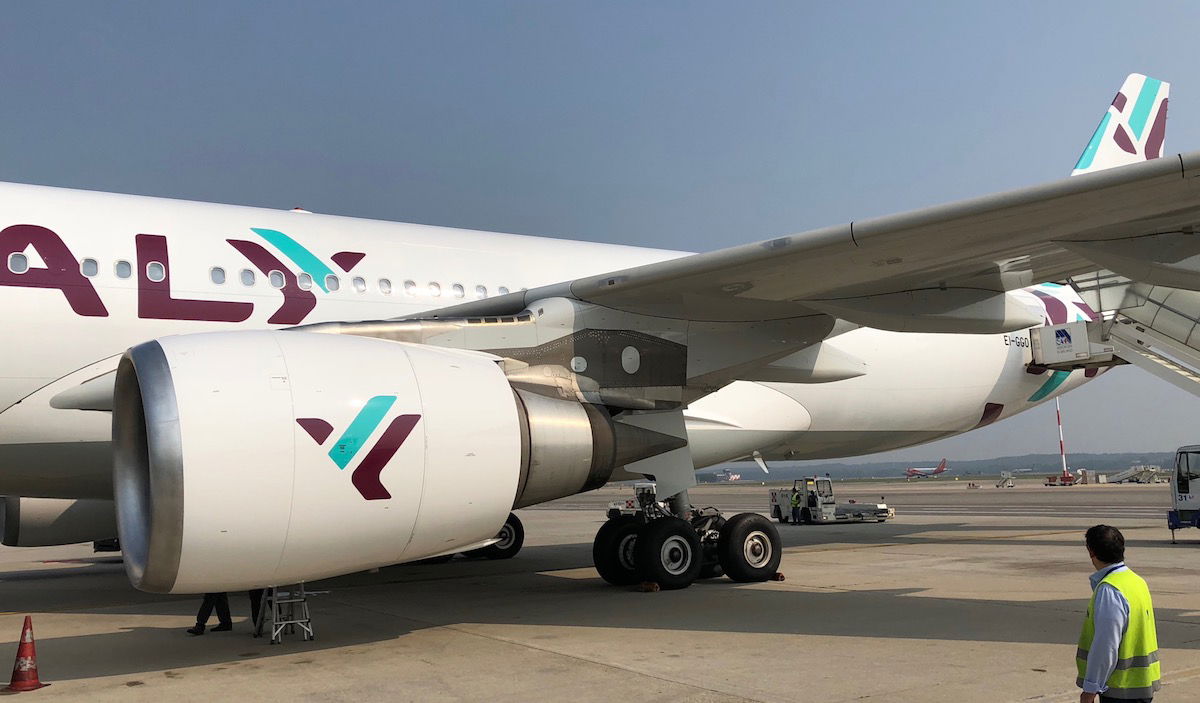 Air Italy A330 Milan Airport
They didn't have a separate business class bus, but rather filled it to the brim. Furthermore, they waited for both buses to fill up before either bus left, which I can't really make sense of, though it meant we had to wait there for 15 minutes in a crowded bus before it even left.
From there we headed to transit security (which had very long lines), and ended up making it to our Belavia gate for our flight to Minsk just in time for boarding.
Air Italy business class bottom line
Air Italy has an exceptional business class soft product. The crew couldn't have been friendlier, the food was excellent, the bedding was great, and the amenities (including pajamas) were awesome. In many ways this felt like flying with Qatar Airways with an Italian charm to it.
The one concrete area for improvement is with the entertainment, in my opinion. The Wi-Fi wasn't working, there was no airshow, and the movie and TV show selection was limited. That's not a huge deal for me personally, though it does seem like an oversight.
Let's keep in mind that this airline used to be known as Meridiana, and flew super outdated 767s (which I reviewed as recently as last year). They've come a long way — very, very well done, Air Italy!