---
It's not often I review economy flights, though this will be an exception. While we could have flown Air Canada between Whitehorse and Vancouver, we went out of our way to fly Air North, which bills itself as Yukon's airline.
We arrived at Whitehorse Airport at around 6:20AM for our 7:30AM flight To Vancouver. The airport was still quiet at this point (heck, I'm guessing it's almost always quiet).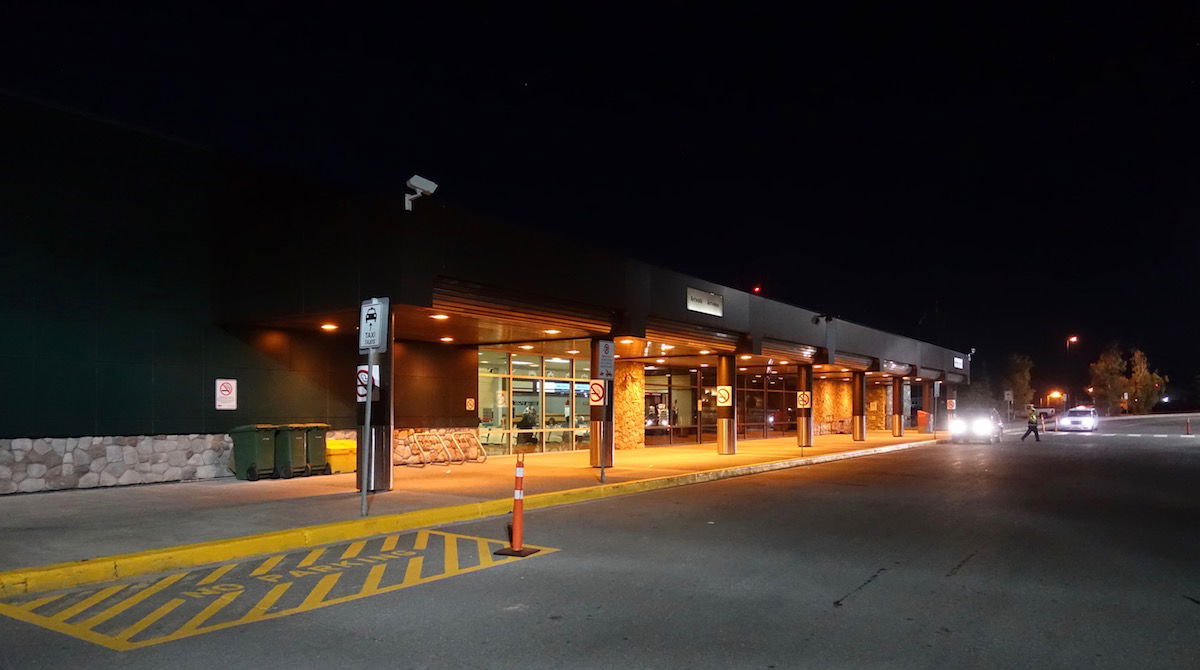 Whitehorse Airport exterior
The Air Canada and WestJet check-in desks were empty, while the Air North desk had quite some activity.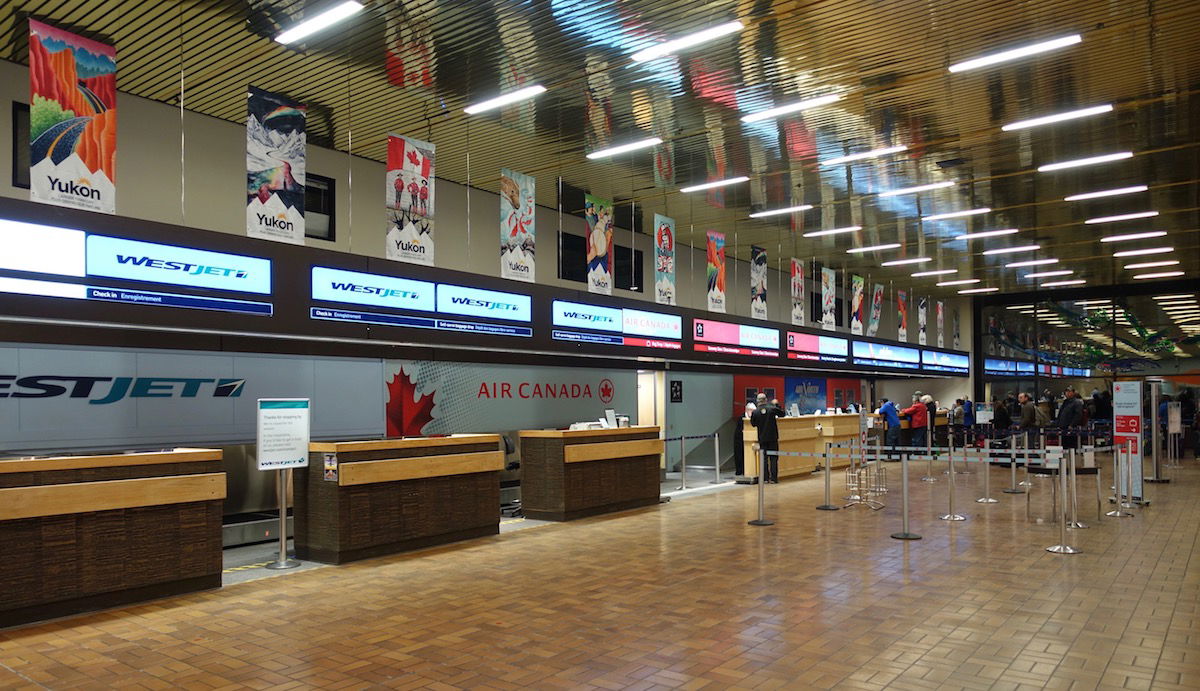 Whitehorse Airport check-in hall
The wait wasn't long, though, and within a few minutes we were issued boarding passes. Andrew was forced to check his bag as they were weighing them, but at least they were friendly about it, and they also don't charge for checked bags. This also very much felt like a "mom-and-pop" airline, as the check-in agents knew several of the passengers and hugged them.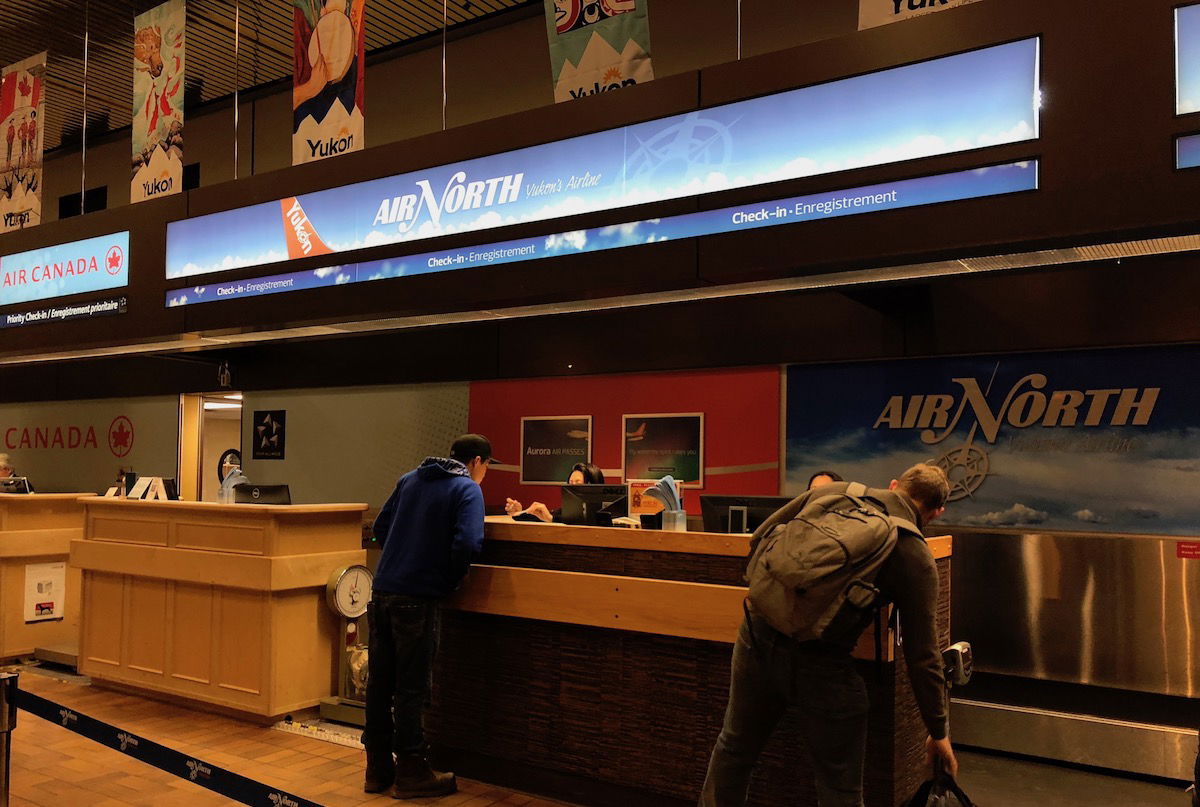 Air North check-in Whitehorse Airport
The security checkpoint was just a short walk from check-in, and the security process was friendly and efficient. I generally haven't found security personnel at US and Canadian airports to be particularly friendly (to put it mildly), but these folks were nice.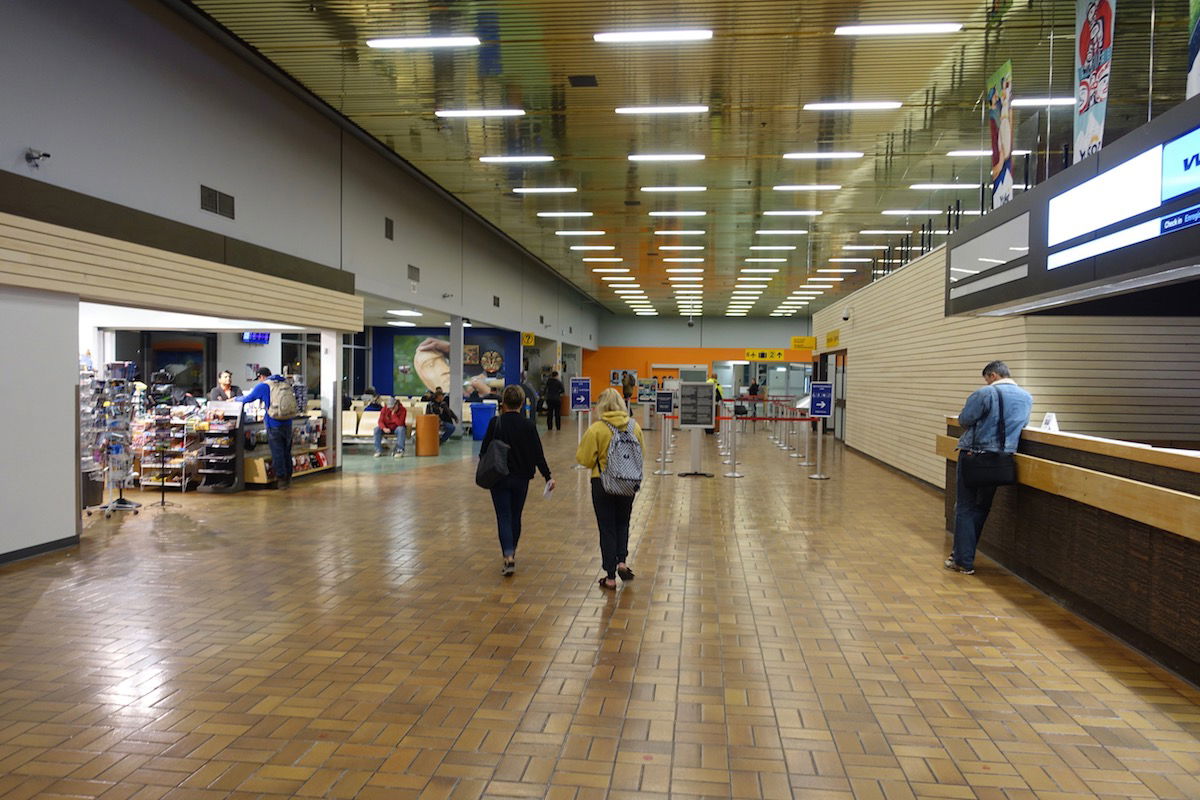 Whitehorse Airport check-in hall
The airport's airside area is quite small, though feels modern and well maintained.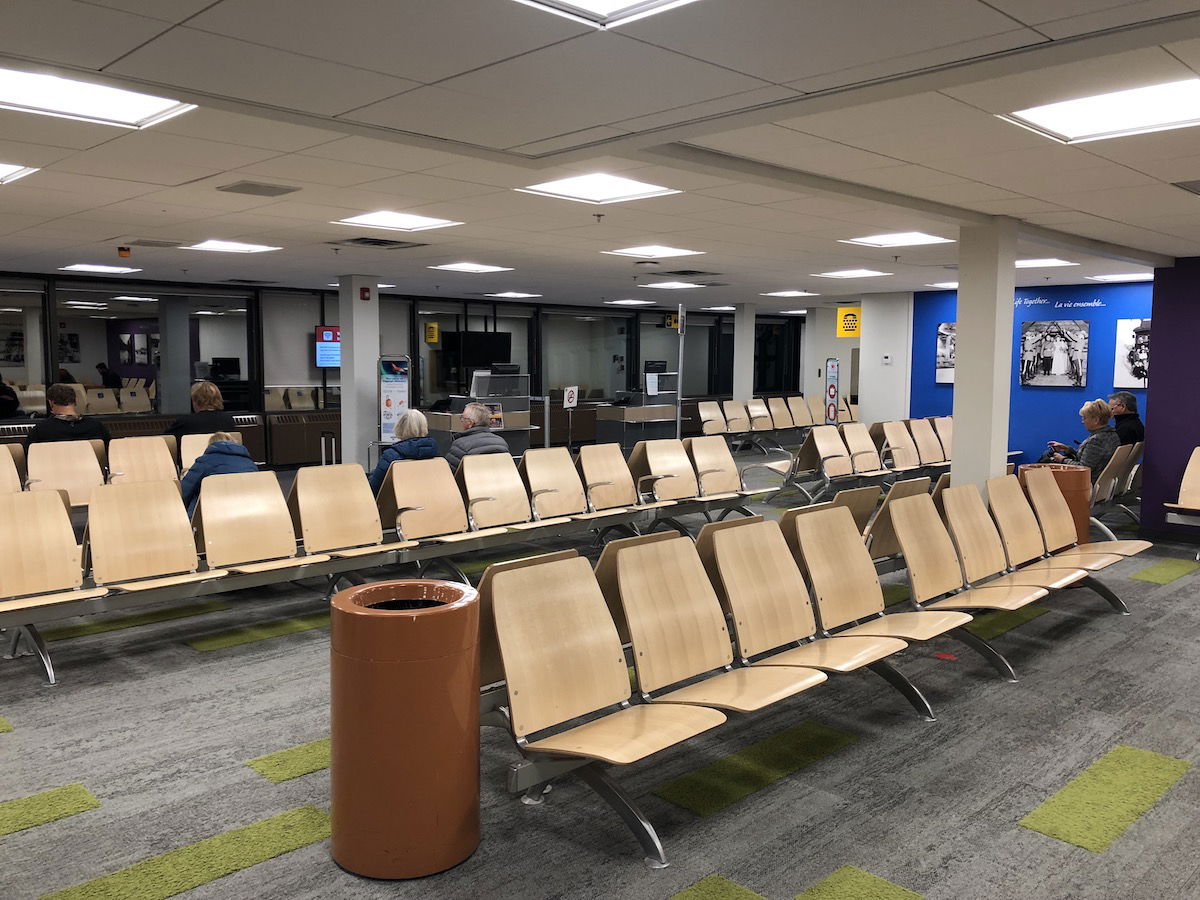 Whitehorse Airport departure gate
Our flight to Vancouver was the only one departing around this time.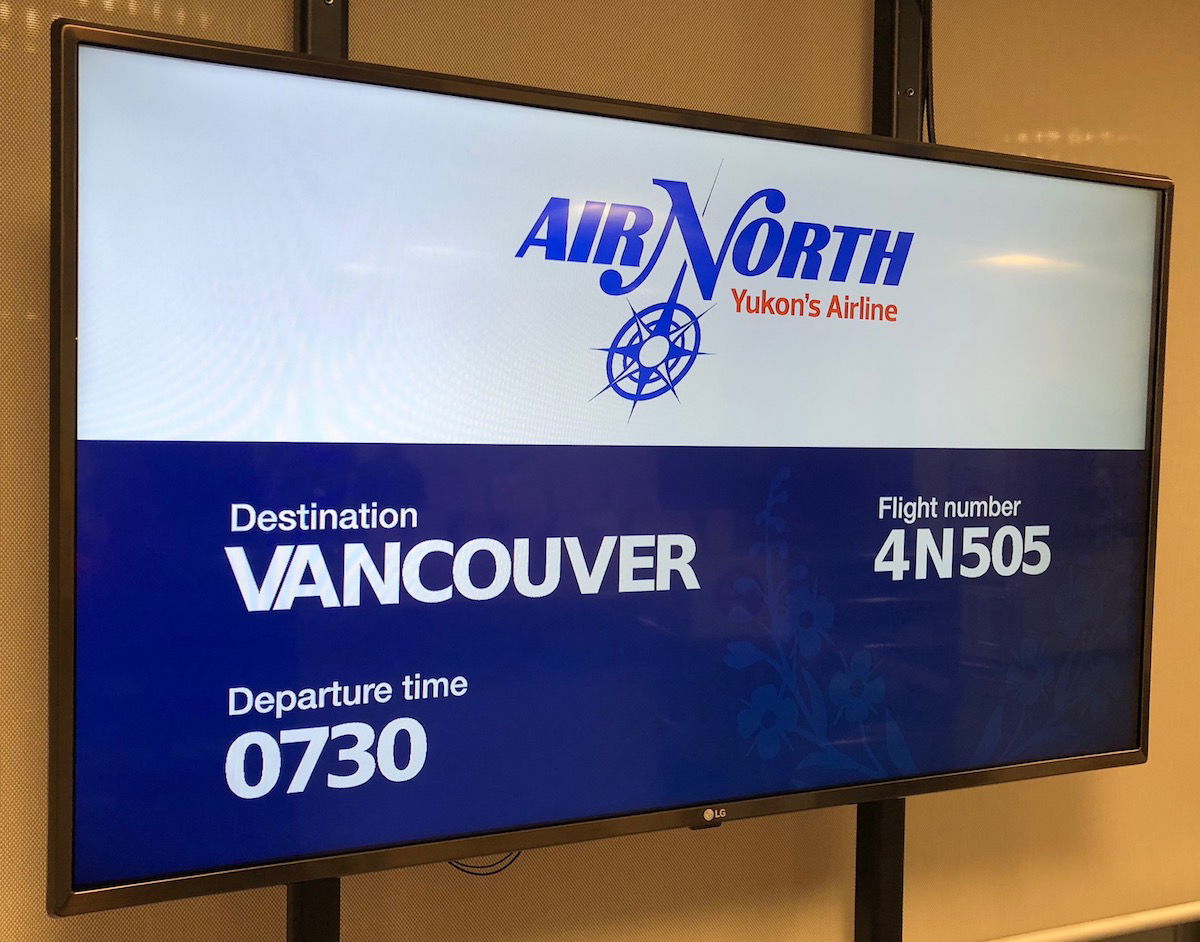 Air North check-in Whitehorse Airport
At around 6:45AM the friendly gate agent introduced herself and encouraged passengers to help themselves to some complimentary juice, coffee, and cookies. Seriously, what kind of North American airline offers this level of service?!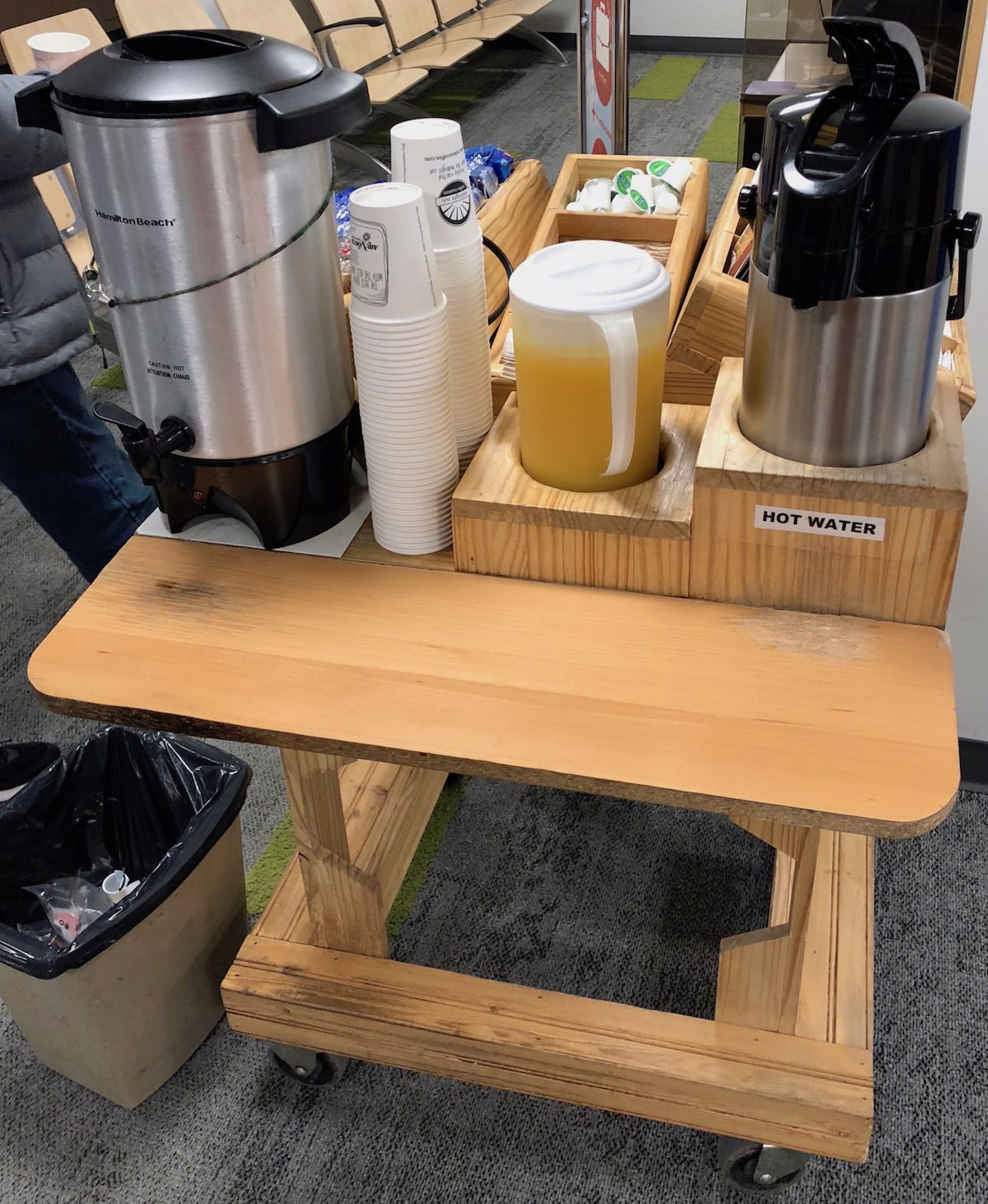 Air North complimentary drinks & snacks at gate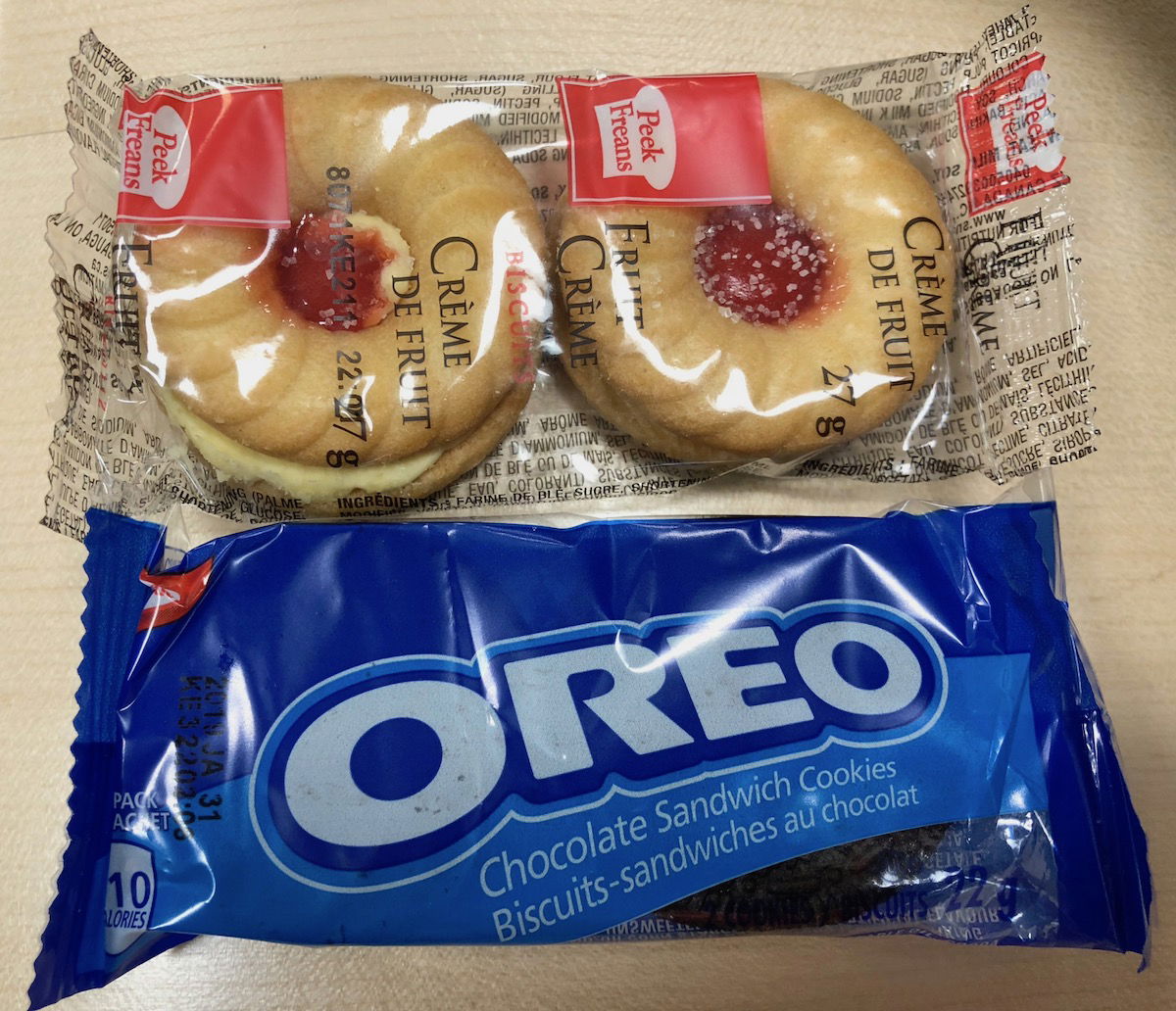 Air North complimentary cookies
The flight seemed to have an equipment swap from a 737-300 to a 737-500, so the plane had fewer rows than expected. As a result they were calling up a few people to switch their seats around.
At 7:05AM boarding started — they first boarded those seated in rows 11 and up, and then boarded all other passengers. As my boarding pass was scanned the gate agent asked me how my morning was and wished me a pleasant flight.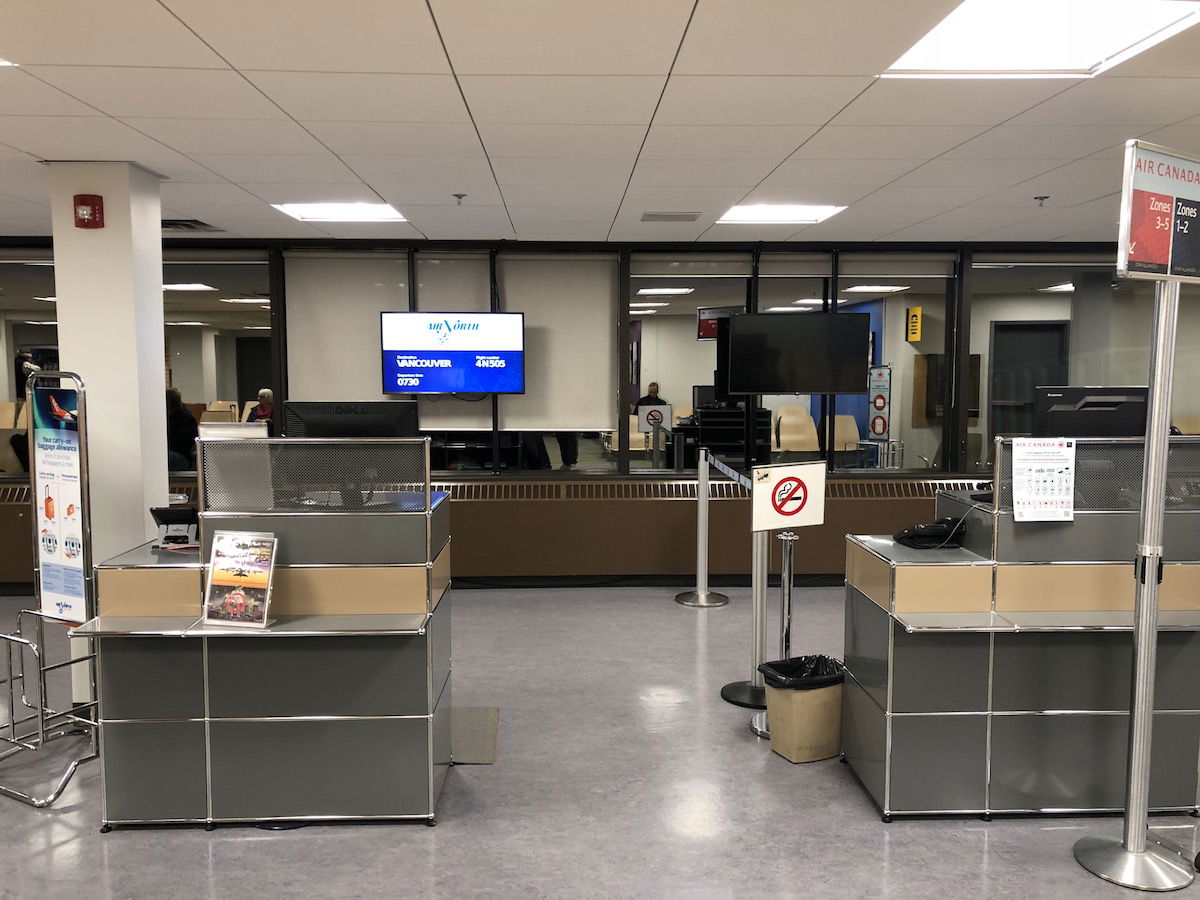 Whitehorse Airport departure gate
The gates at Whitehorse Airport are designed so that they can really only board one flight at a time.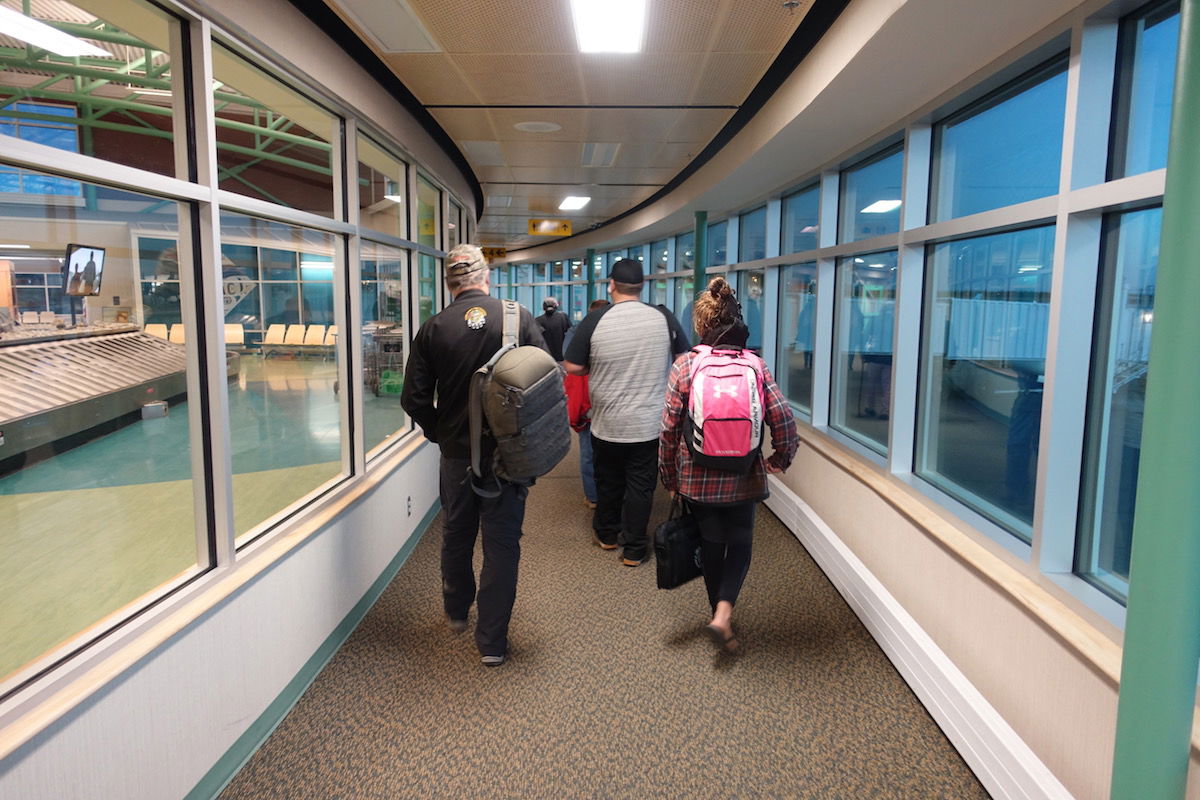 Boarding at Whitehorse Airport
There was some signage for the Condor flight, which at this point was done for the season, since we had taken the last flight of the year from Frankfurt to Whitehorse. Hopefully it returns next year!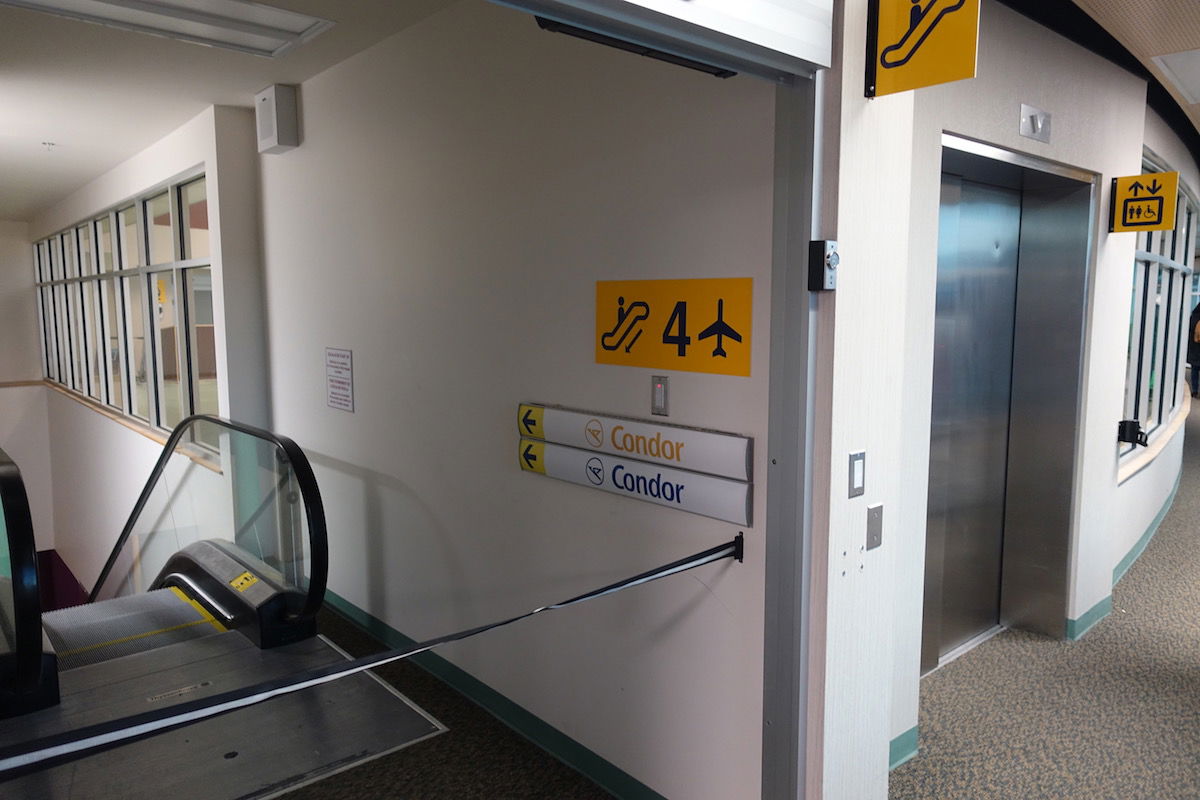 Boarding at Whitehorse Airport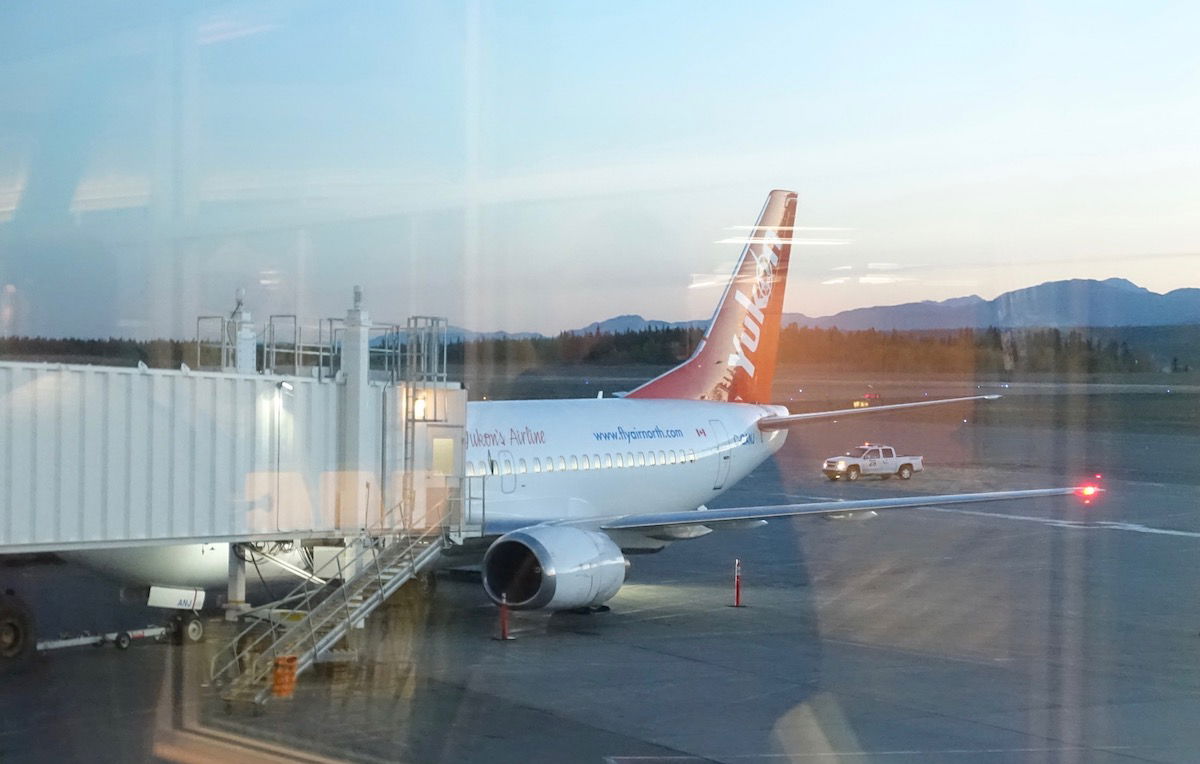 Boarding at Whitehorse Airport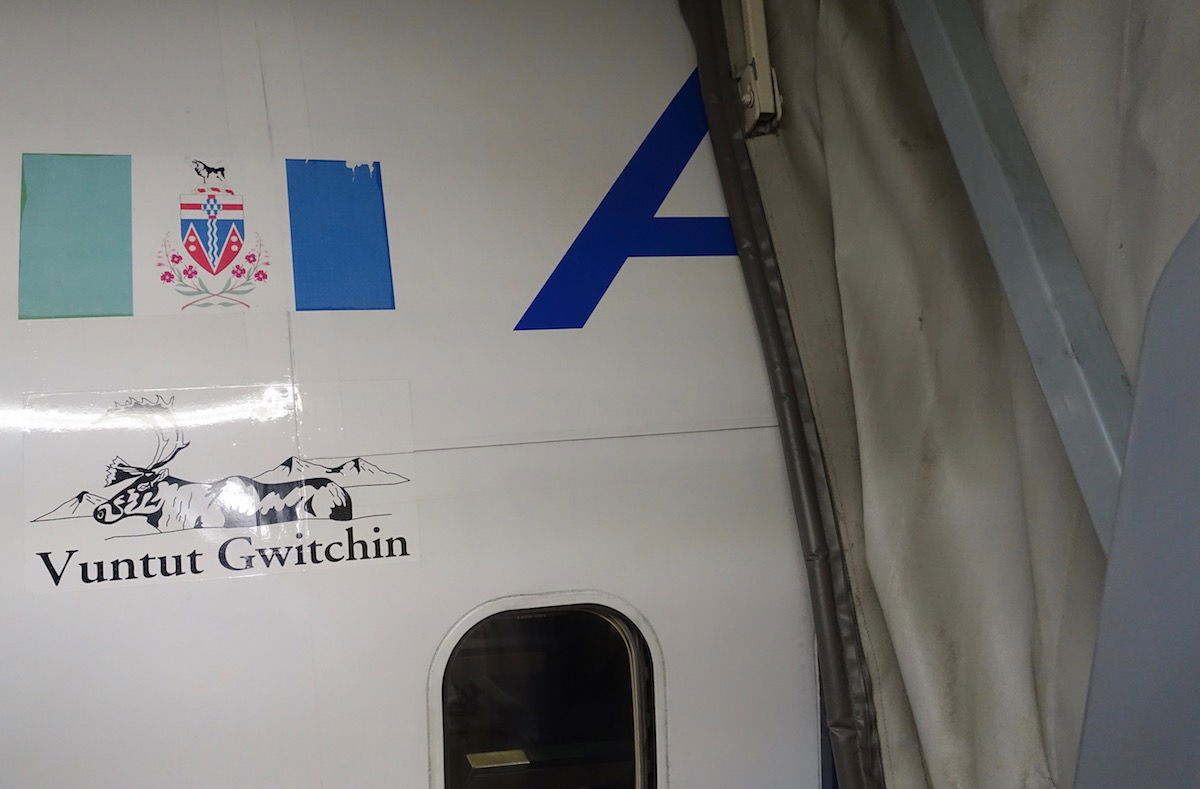 Air North 737
Air North 505
Whitehorse (YXY) – Vancouver (YVR)
Tuesday, September 18
Depart: 7:30AM
Arrive: 9:45AM
Duration: 2hr15min
Aircraft: Boeing 737-500
Seat: 18A (Economy Class)
At the door we were greeted by a flight attendant. The guy boarding in front of us said "so you're not just in the magazine!" I'm not sure if she's the "face" of Air North or what, but despite reading the inflight magazine cover to cover, I didn't see her in there.
Our Air North plane was a blast from the past, and that's a good thing. The seats were old, comfortable, and spacious, unlike the slimline seats that so many airlines are installing nowadays.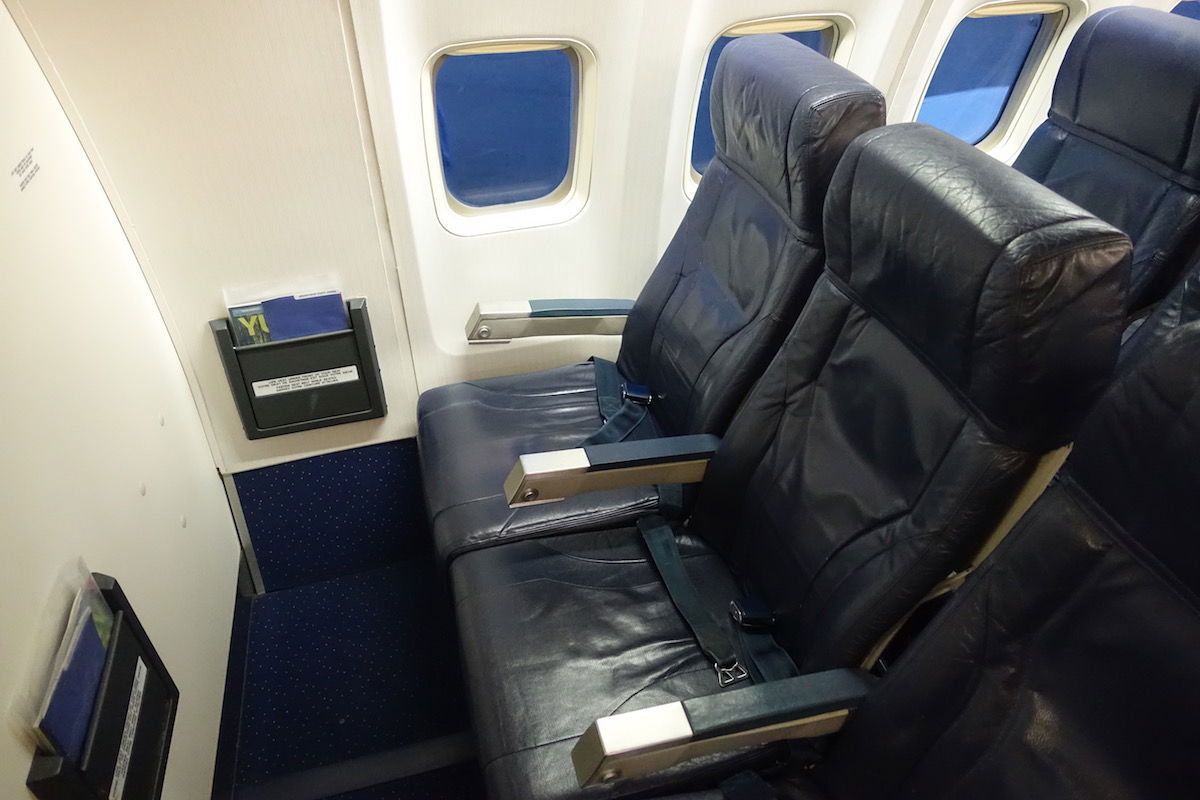 Air North 737 bulkhead row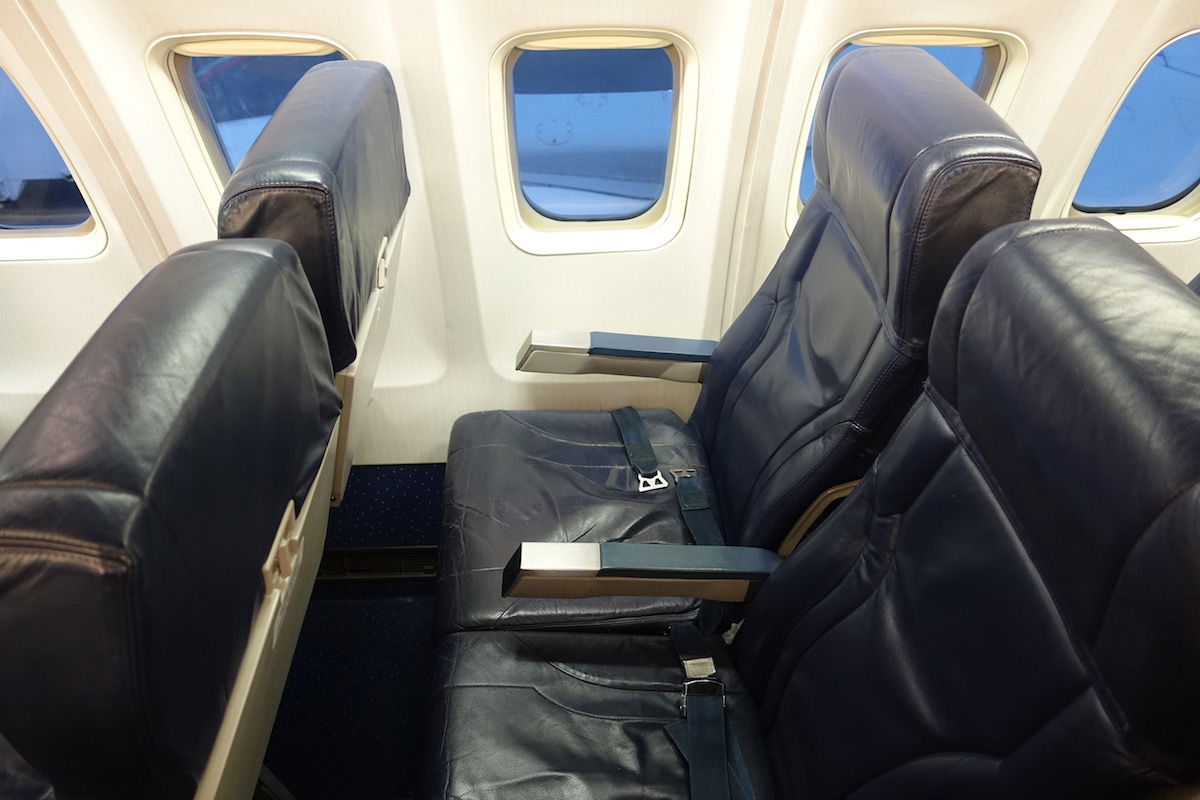 Air North 737 legroom
We were seated towards the back of the plane, in row 18 (there's something I like about sitting behind the wing, and I also figured it maximized our odds of getting an empty middle seat).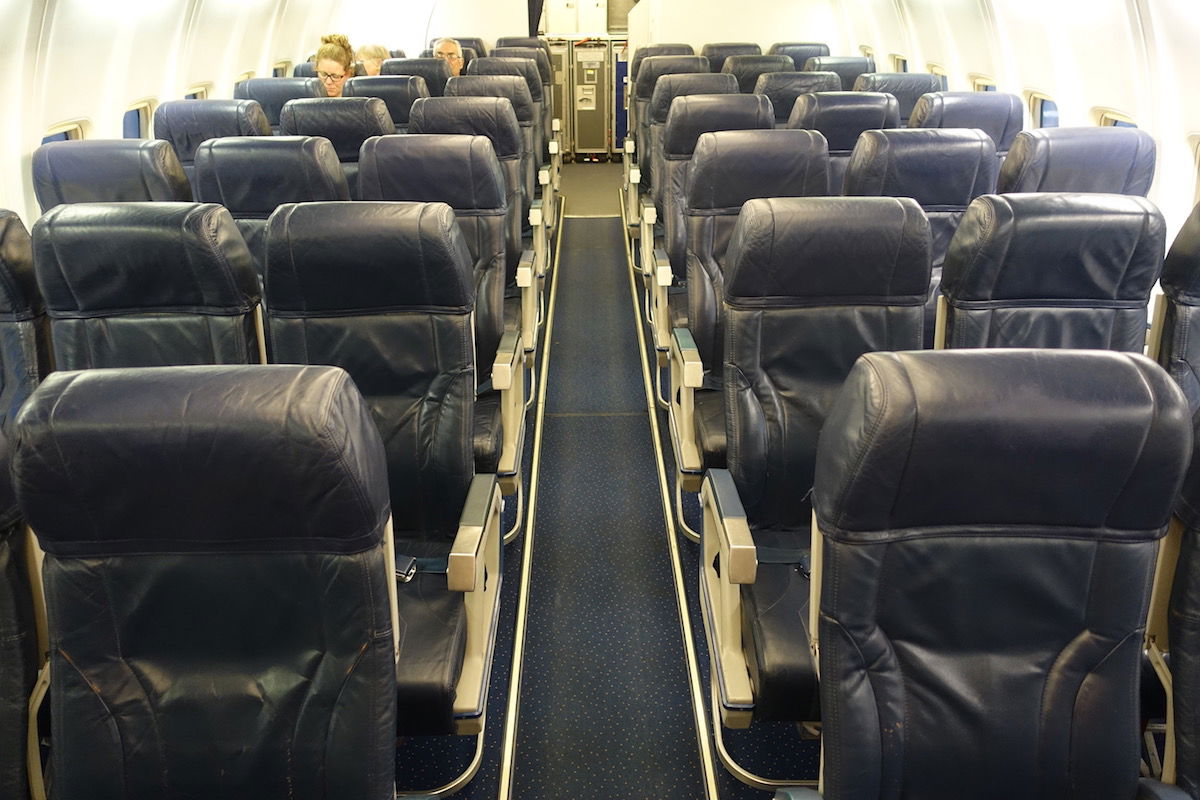 Air North 737 cabin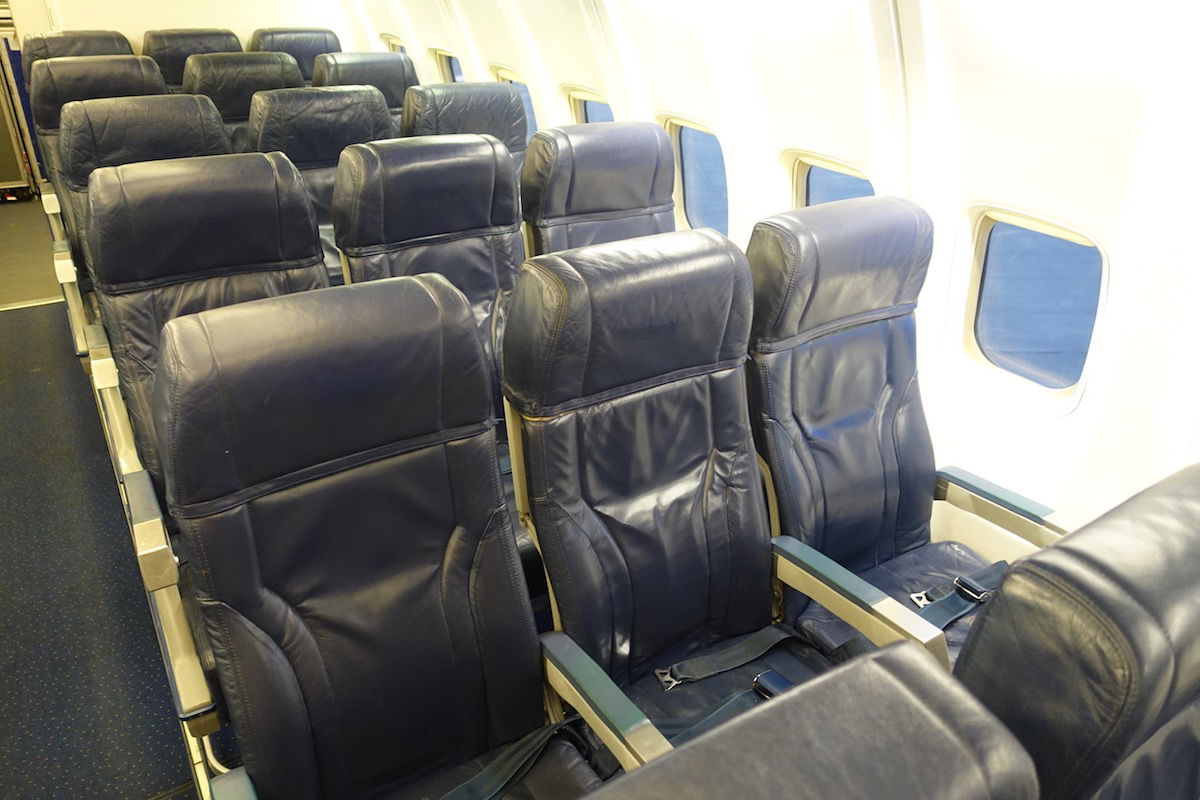 Air North 737 cabin
The legroom was excellent and the seat padding was phenomenal.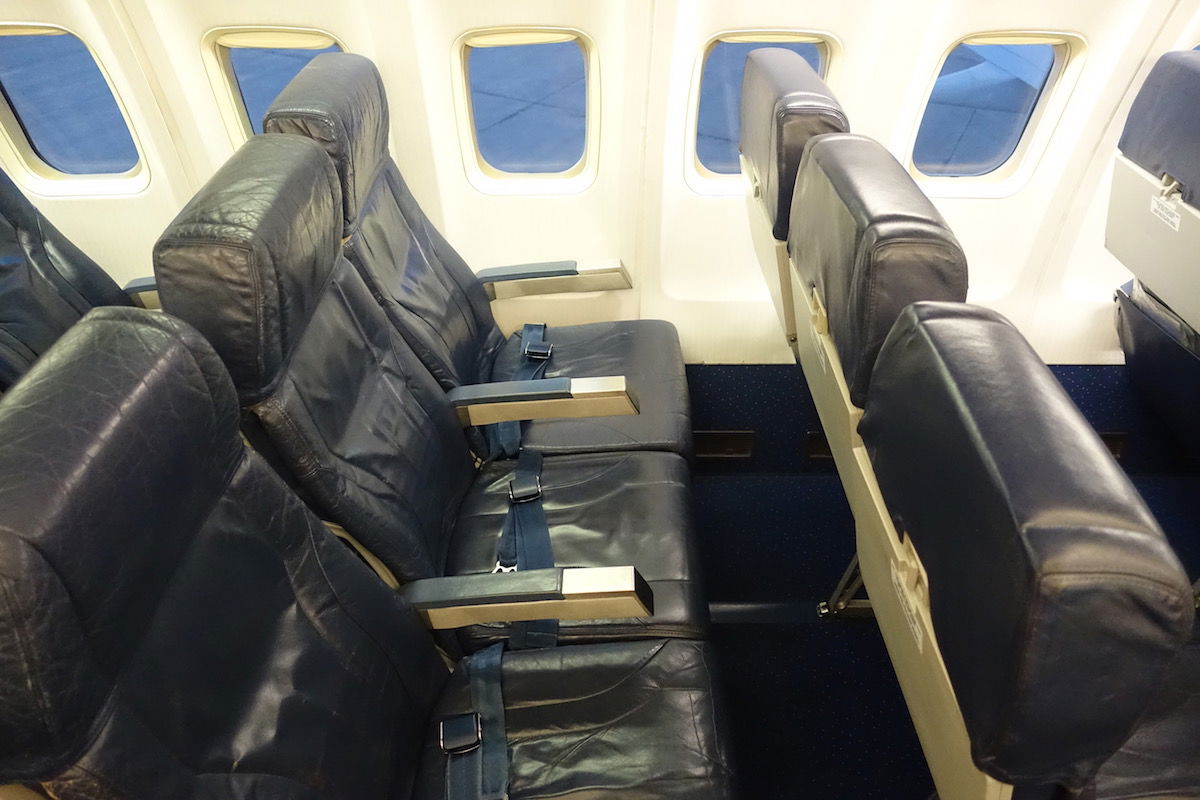 Air North 737 cabin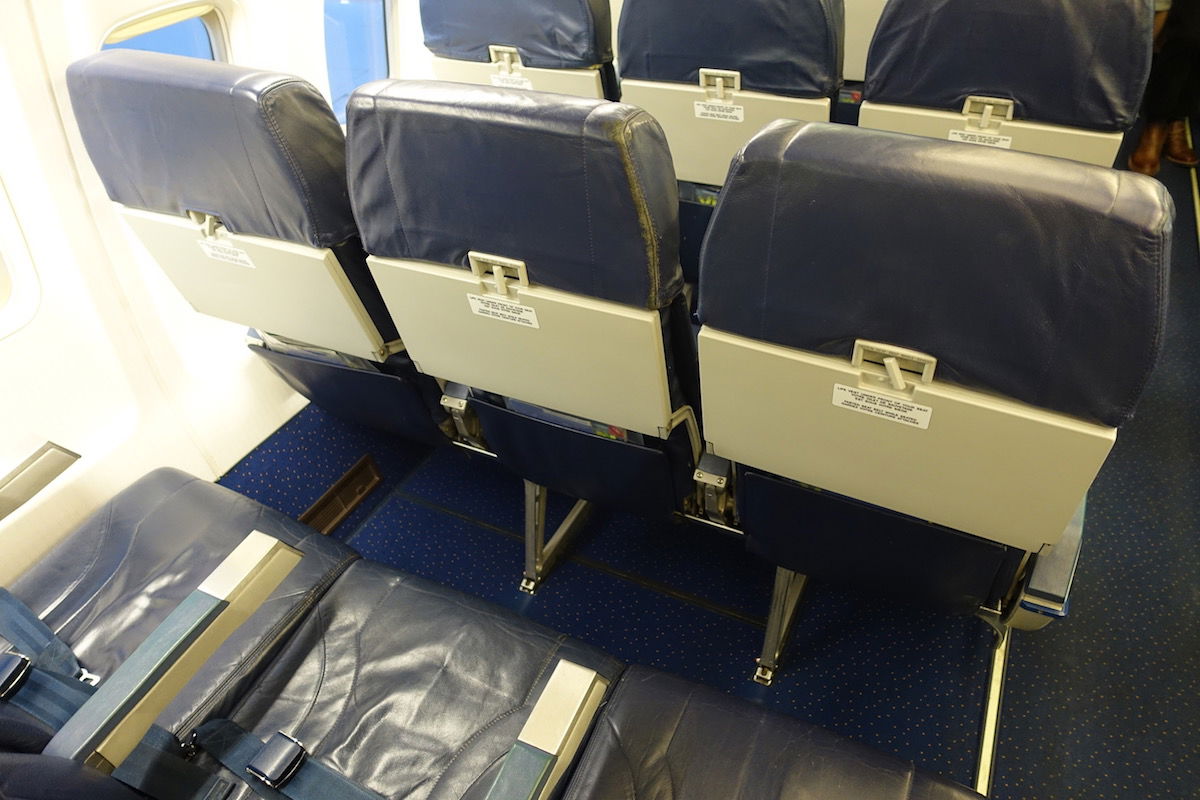 Air North 737 cabin
The old overhead console had individual air nozzles, a feature I always appreciate.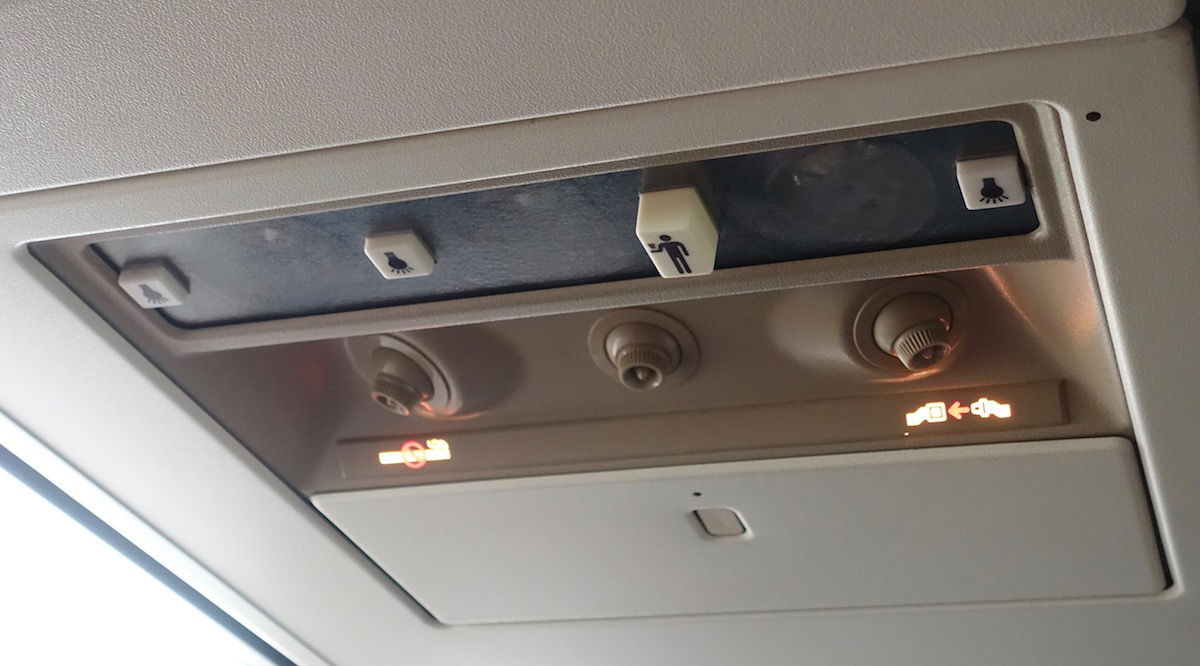 Air North 737 cabin
The boarding process was efficient, and passengers seemed to be a good mix of German tourists (presumably some people toured Yukon before heading to Vancouver) and also locals. The older lady seated across from us mentioned to the flight attendant that it was her first ever flight. How cool!
The boarding process was efficient, and by 7:25AM the main cabin door was closed. The plane was about 90% full, but we managed to score an empty middle seat.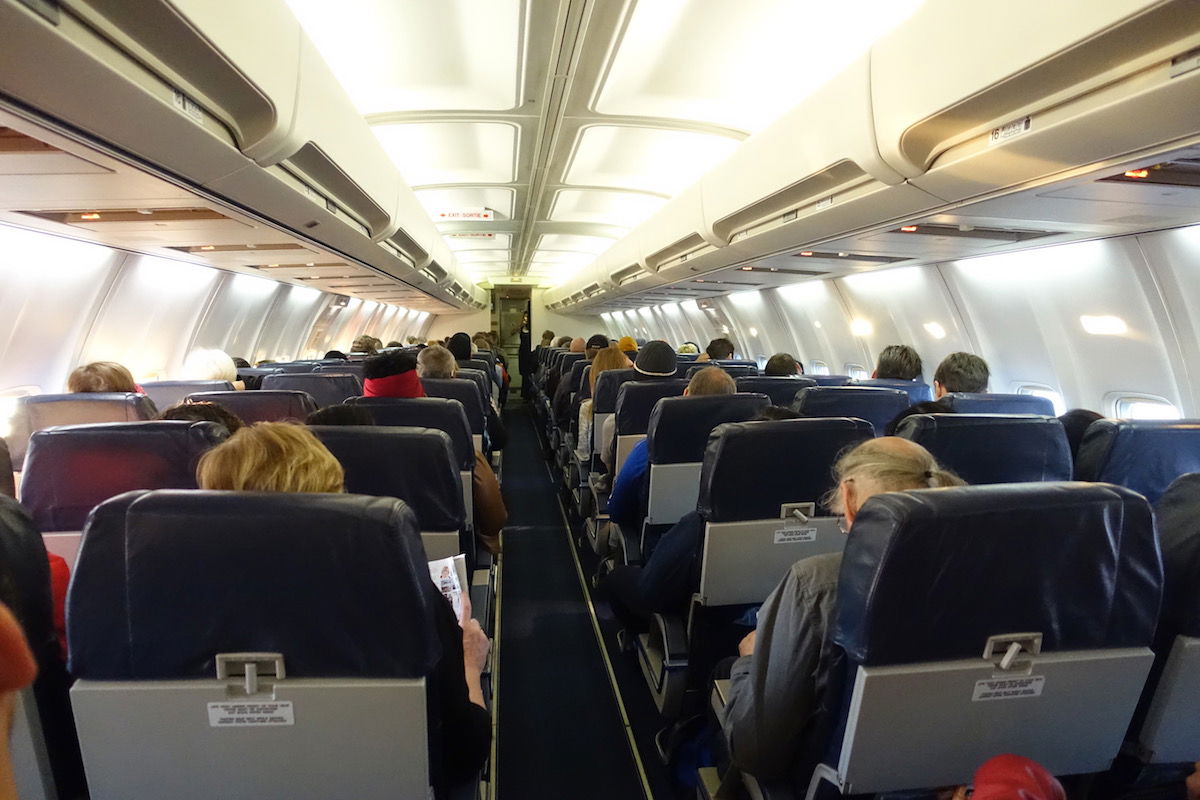 Air North 737 cabin
One rather annoying thing is that Air North requires you to turn off your electronics completely during taxi, takeoff, and landing, unlike most other airlines, as this is no longer required by Canadian regulations.
The sunrise was just so beautiful that I couldn't help myself, though.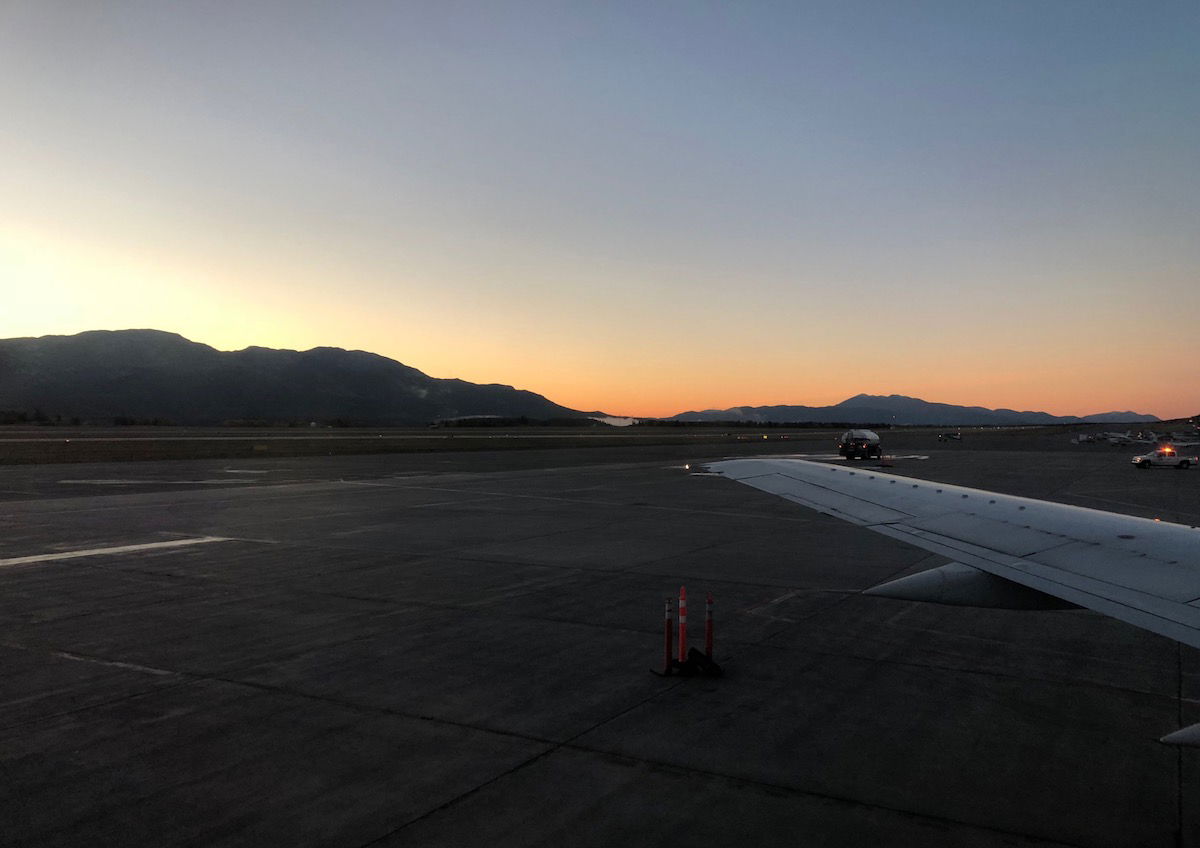 Pushing back Whitehorse Airport
At 7:30AM we began our pushback, at which point the crew performed their manual safety demonstration.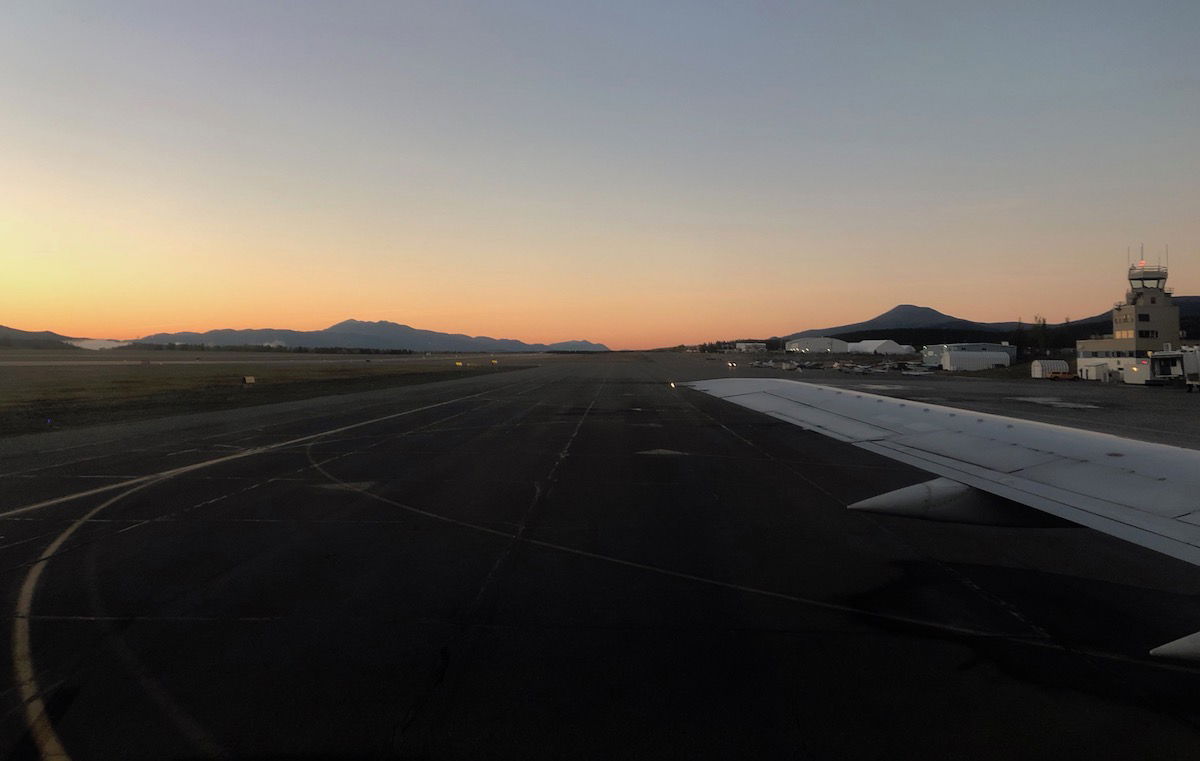 Pushing back Whitehorse Airport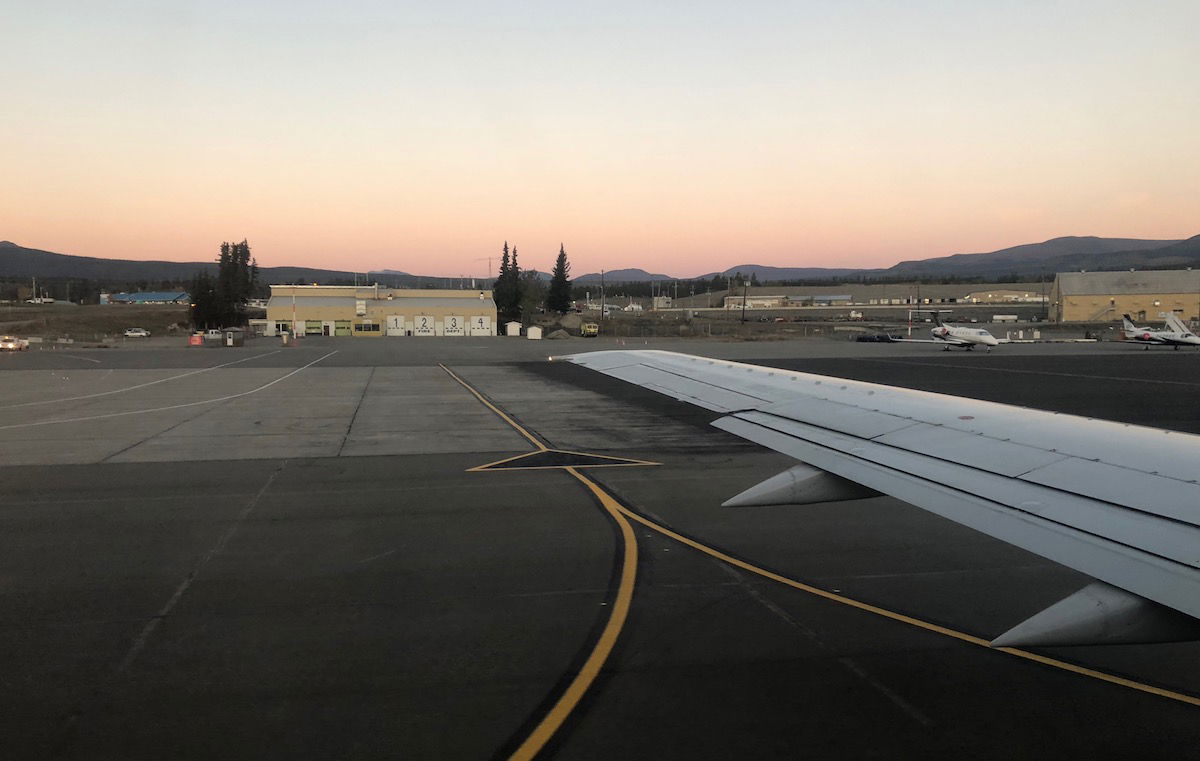 Taxiing Whitehorse Airport
Our taxi was really quick, and by 7:35AM we were cleared for takeoff. I'll let the views on the climb out speak for themselves!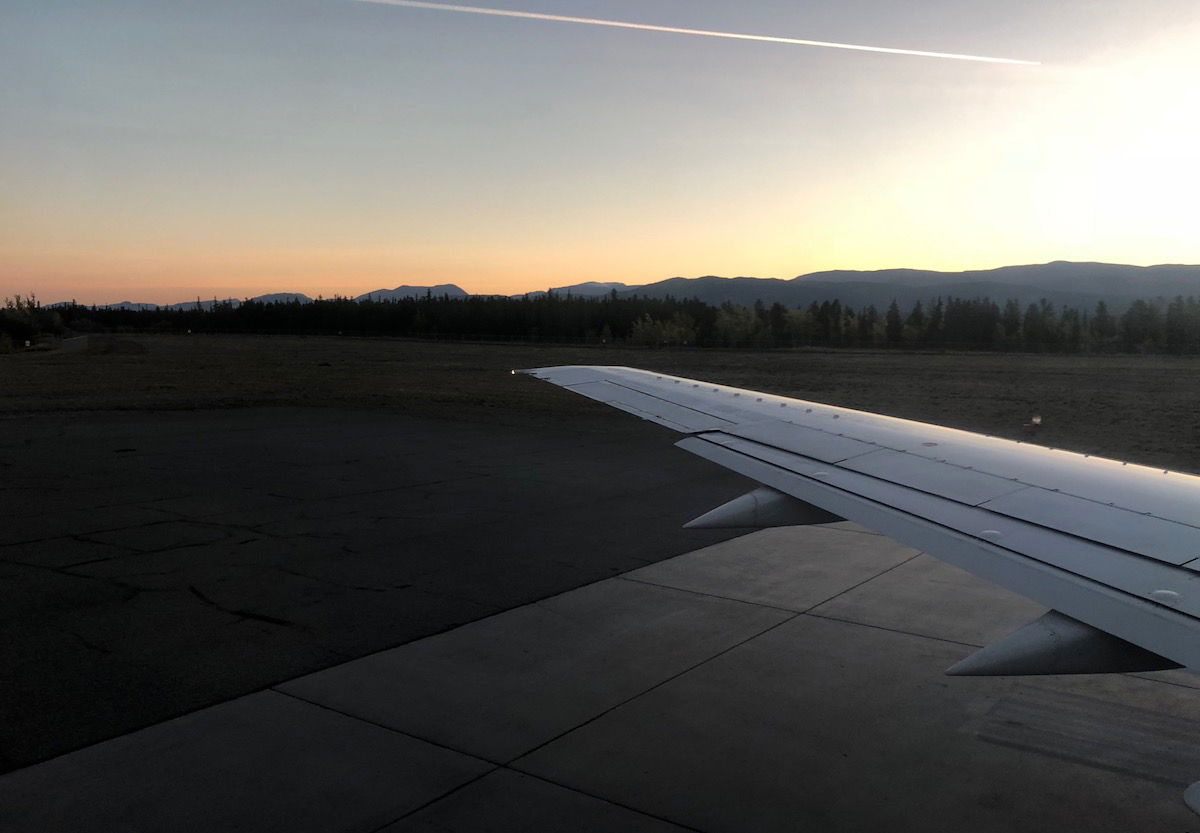 Taxiing Whitehorse Airport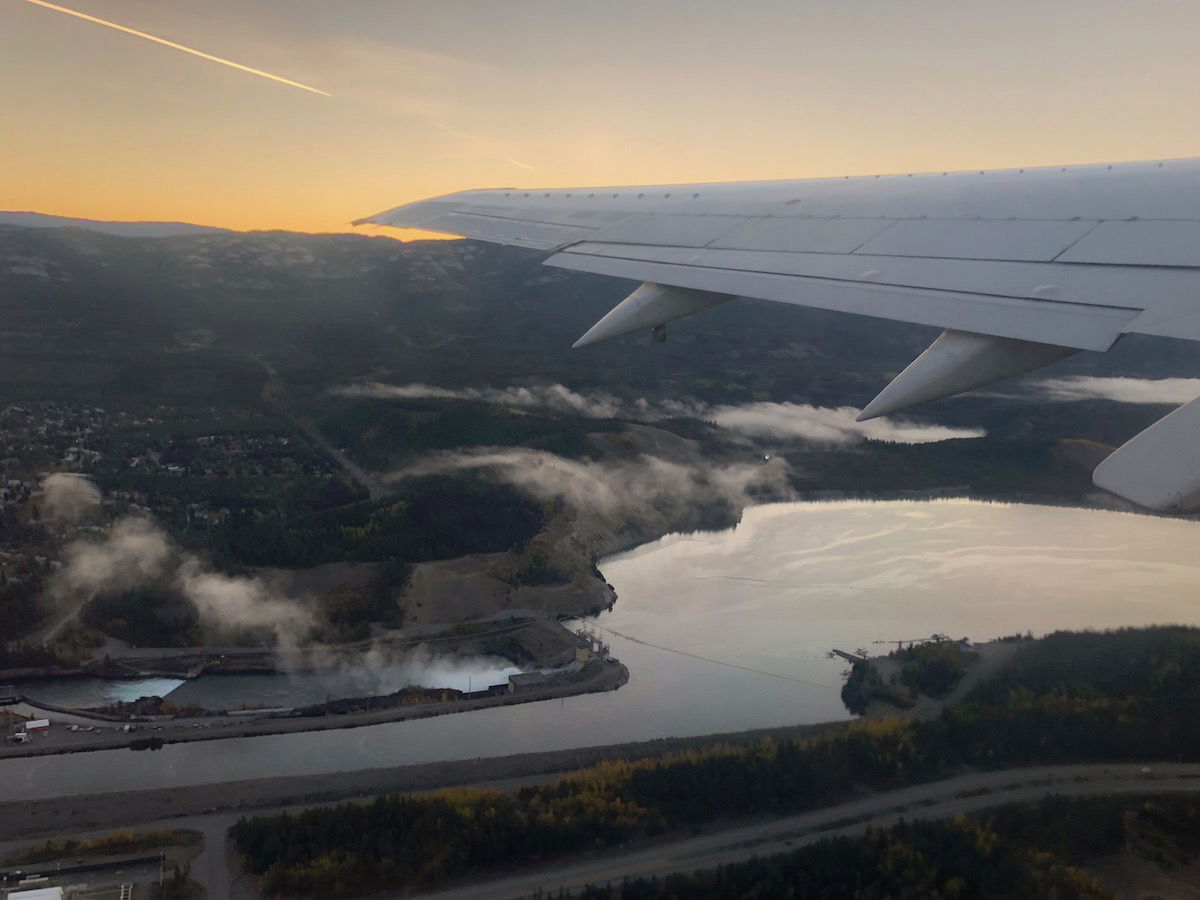 View after takeoff from Whitehorse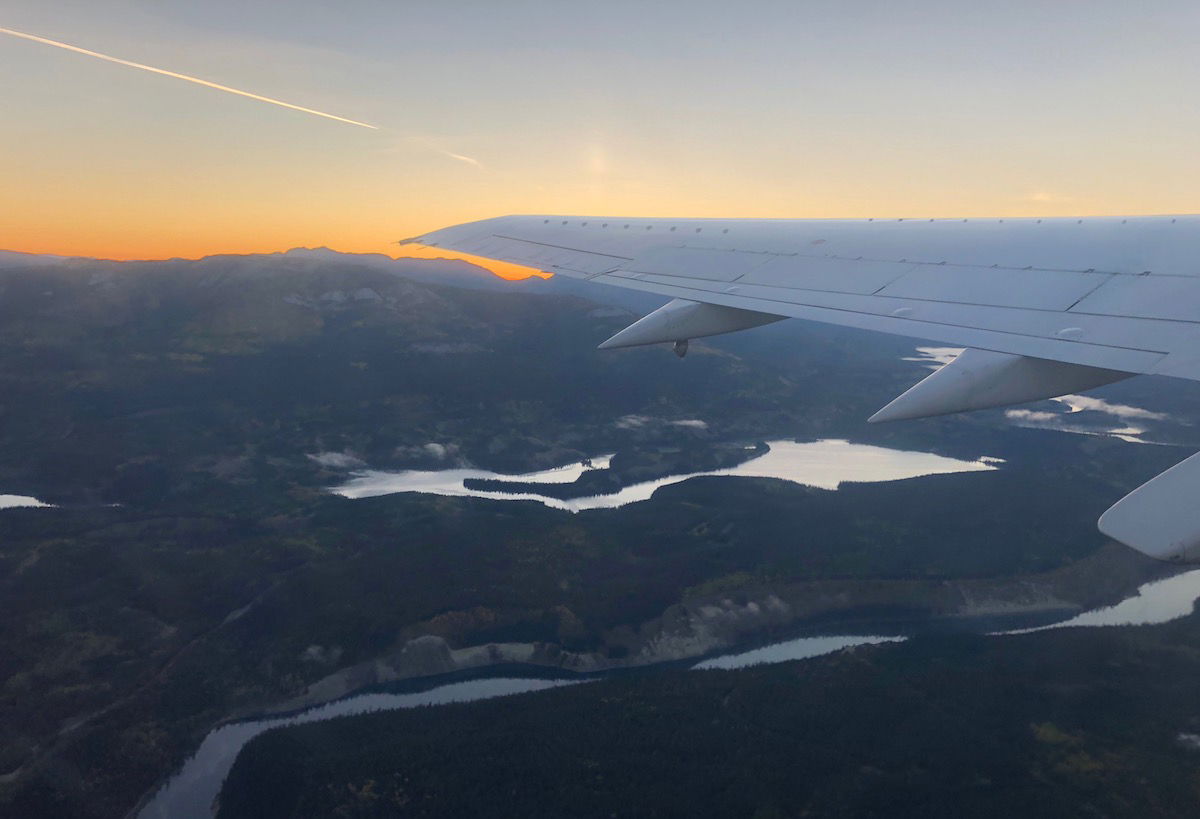 View after takeoff from Whitehorse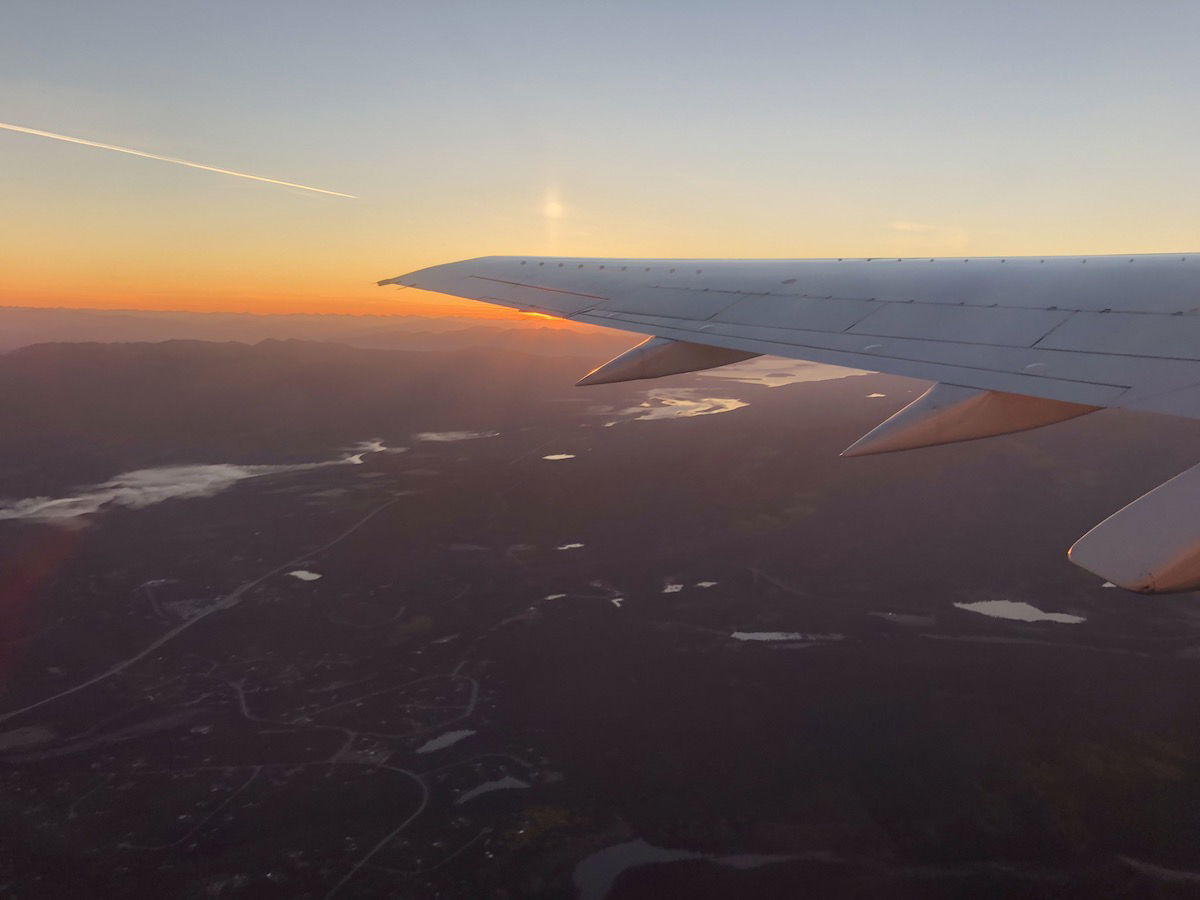 View after takeoff from Whitehorse
The seatbelt sign was turned off just 10 minutes after takeoff. A few minutes later the captain made his welcome aboard announcement, informing us of our flight time of 2hr6min and our cruising altitude of 33,000 feet.
As we continued climbing out I browsed the inflight magazine, which was so cute, like Air North's 2018 flight attendant class, consisting of just 14 people.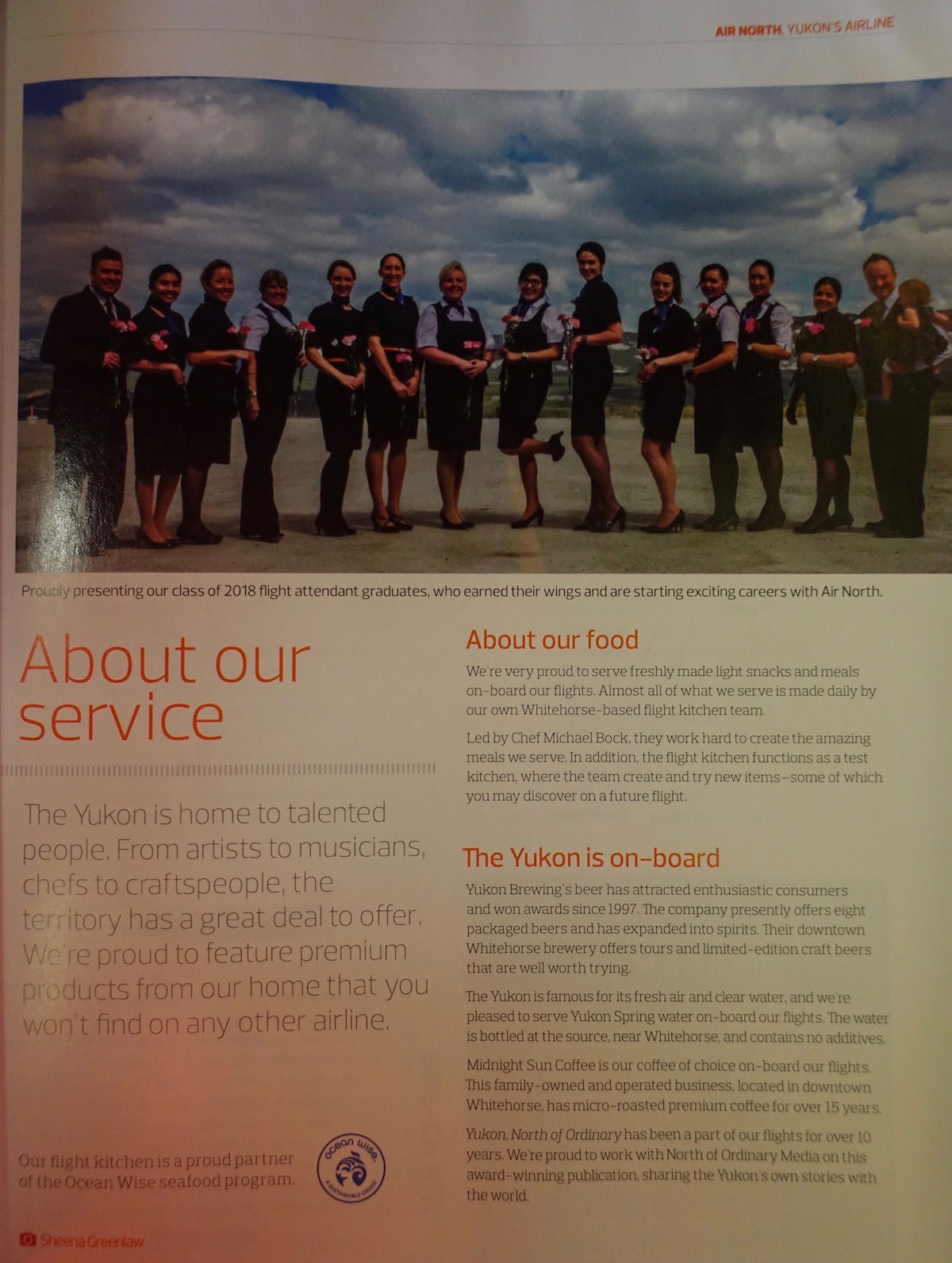 Their route network is cool as well — I'm sad we couldn't make it to Old Crow or Dawson City.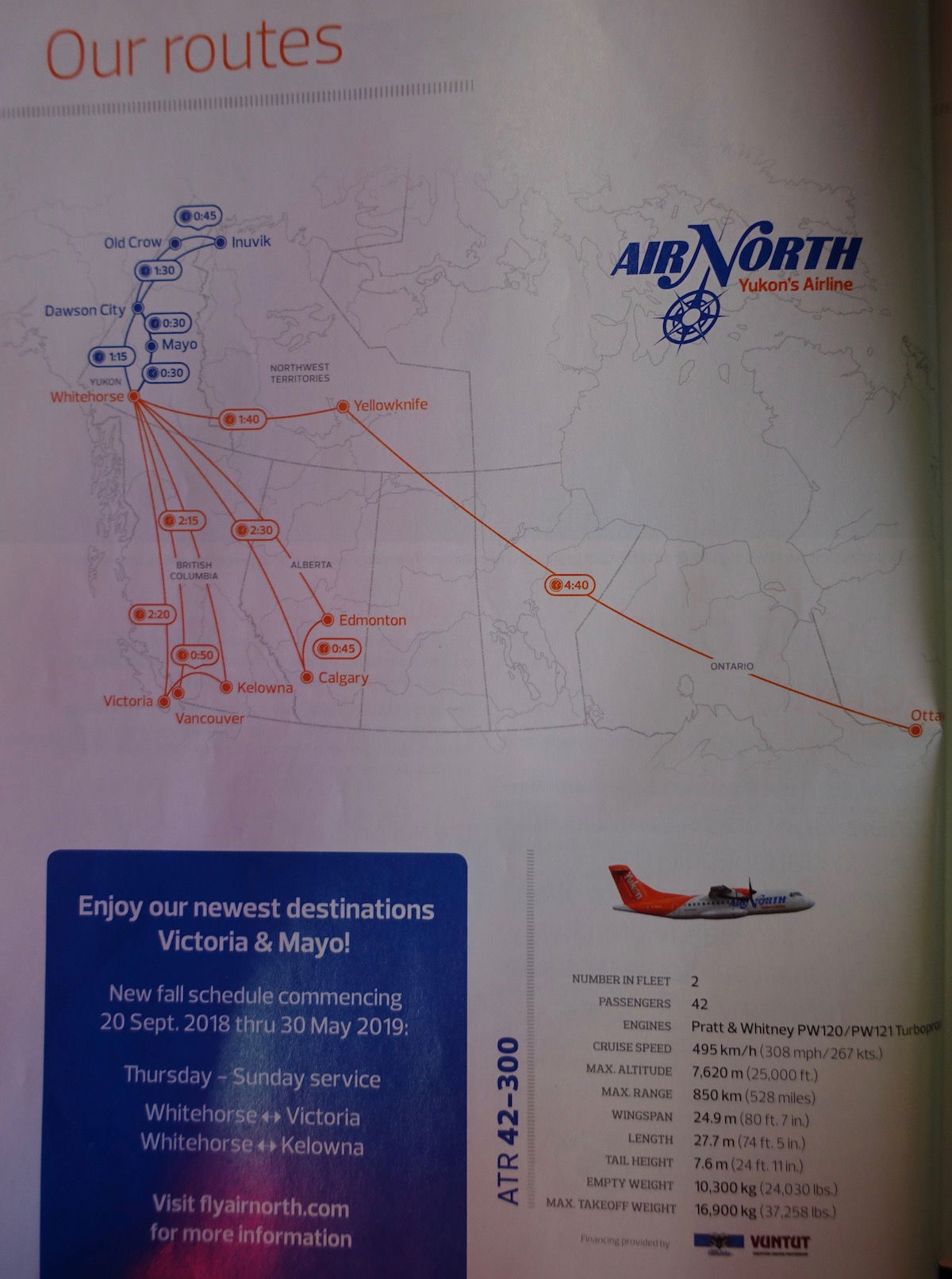 Also check our their fleet, though sadly they don't seem to regularly operate the Hawker Siddeley 748 anymore.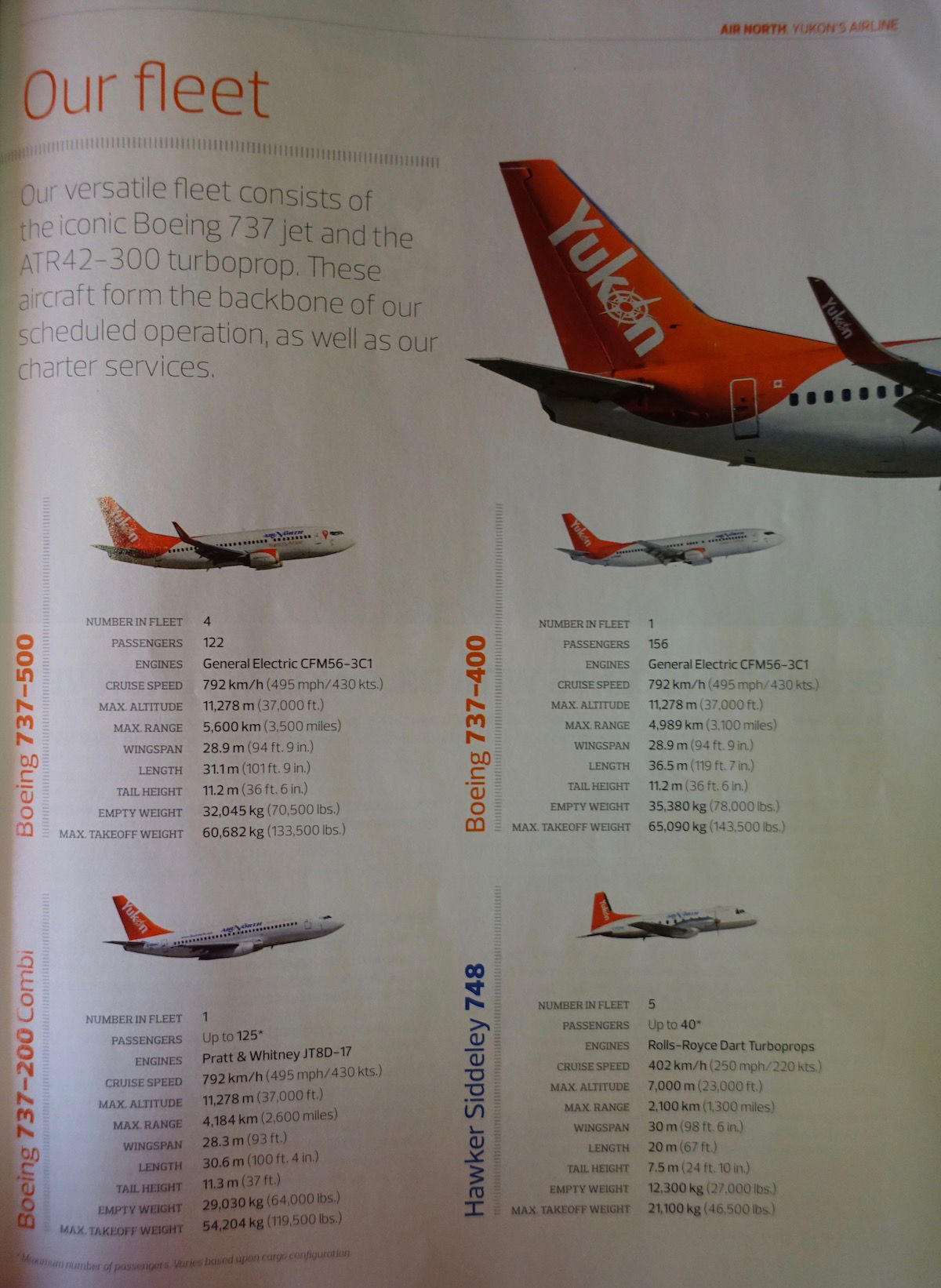 I also loved the interview they had that talked about how the airline only got their operating certificate hours before starting operations.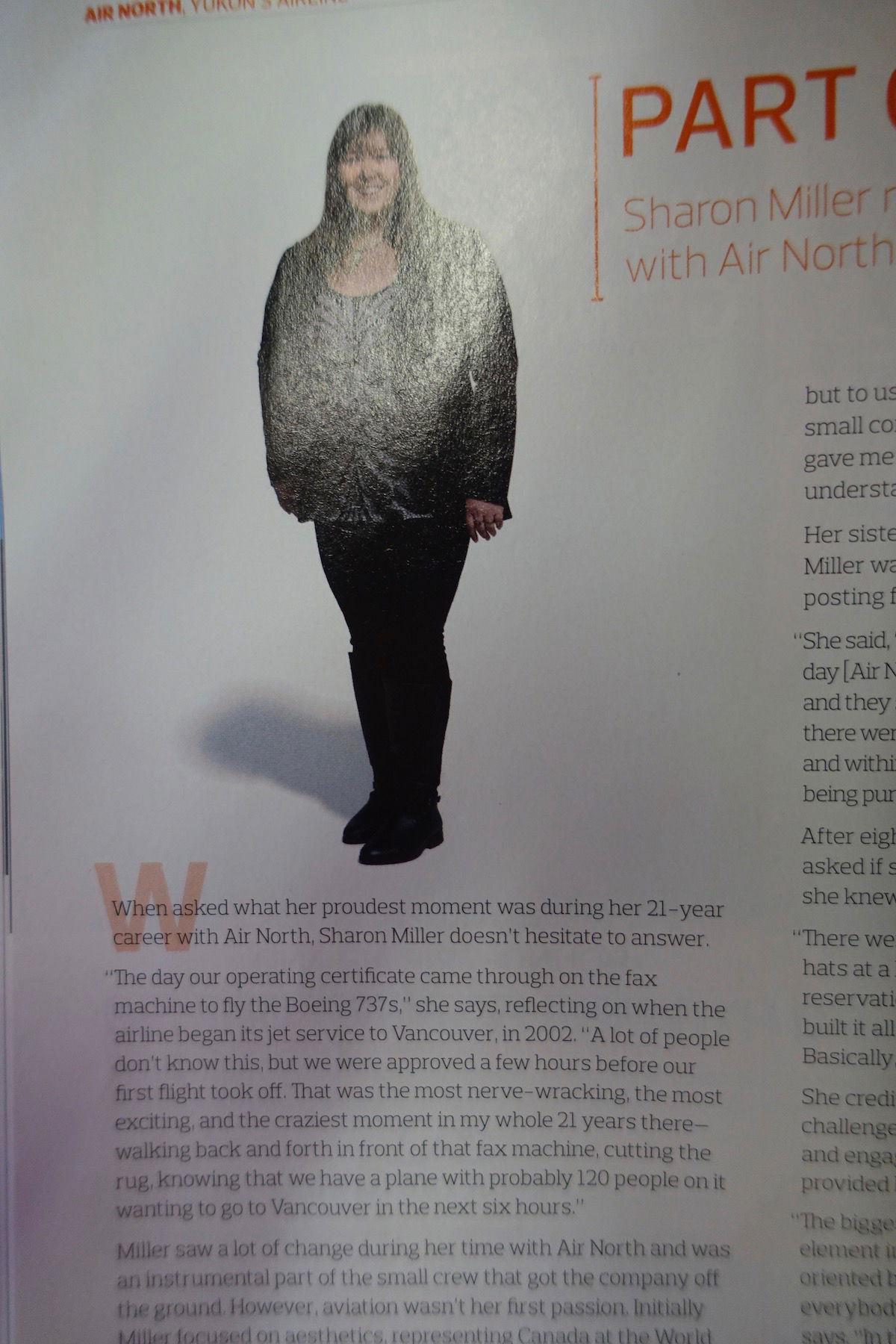 As we leveled off the flight attendant introduced the three flight attendants over the PA — Roxanne, Nicole, and Avey — and informed us of the service on this flight. She explained there would be a snack service, a beverage service, and then another beverage service.
She also explained that the three snack options were a fruit and fiber muffin, a yogurt parfait, or a slice of triple berry loaf.
Andrew had the loaf while I had the yogurt. Not only was the food good, but it was presented as if it was prepared in someone's kitchen. SO CUTE.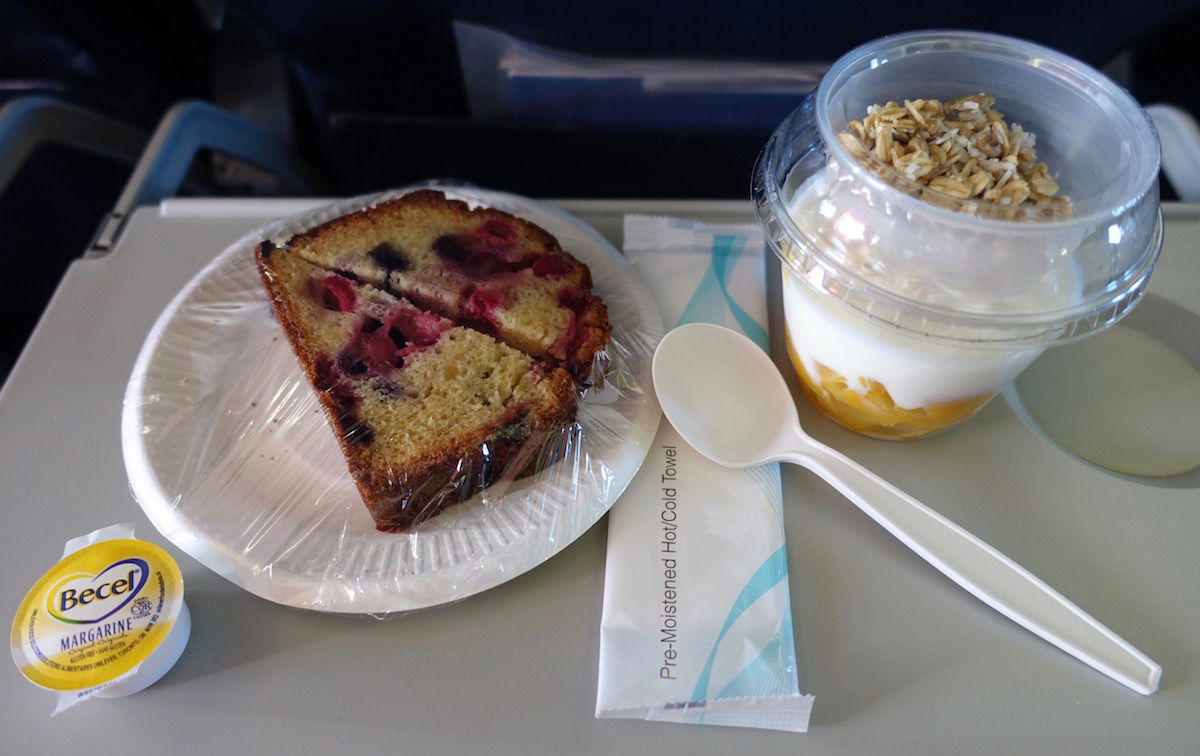 Air North inflight snack service
To drink I ordered coffee. Air North serves coffee from Midnight Sun Coffee Roasters, and the coffee was very good.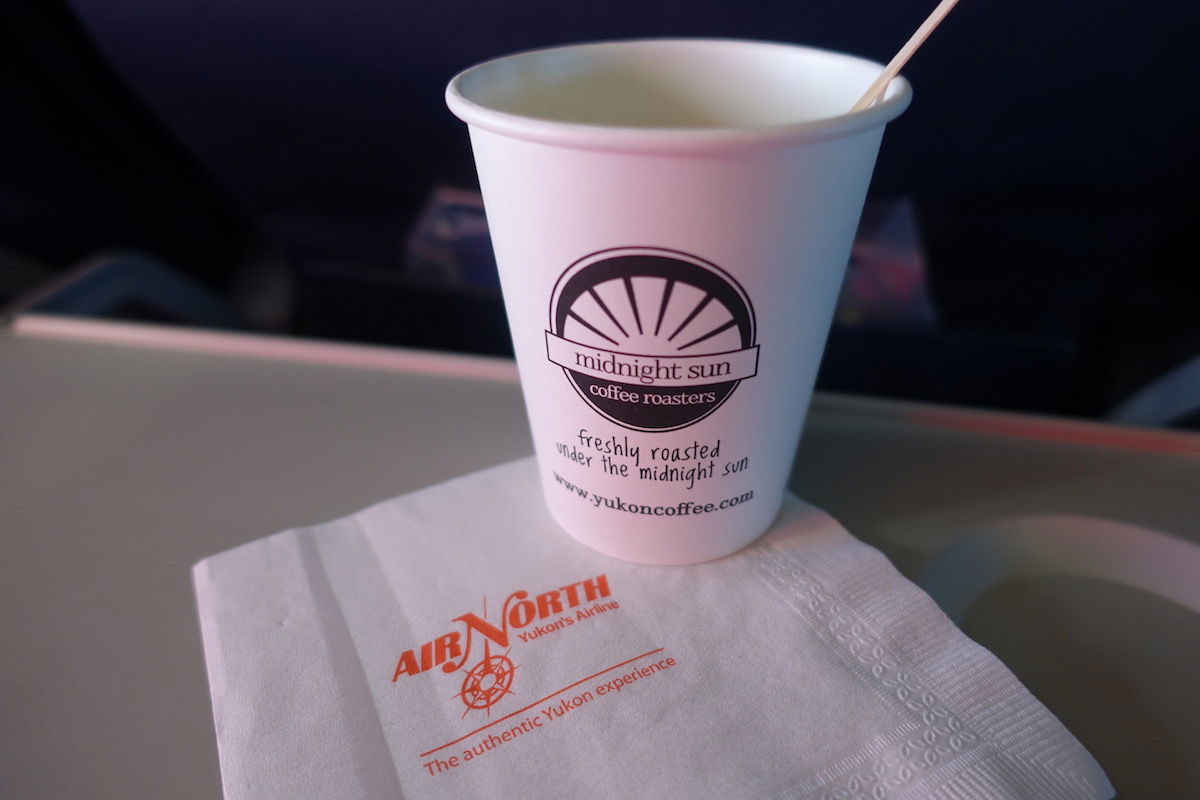 Air North inflight coffee
While Air North doesn't have any inflight entertainment (there are no TVs, Wi-Fi, power outlets, etc.), what more could you really want than views like this?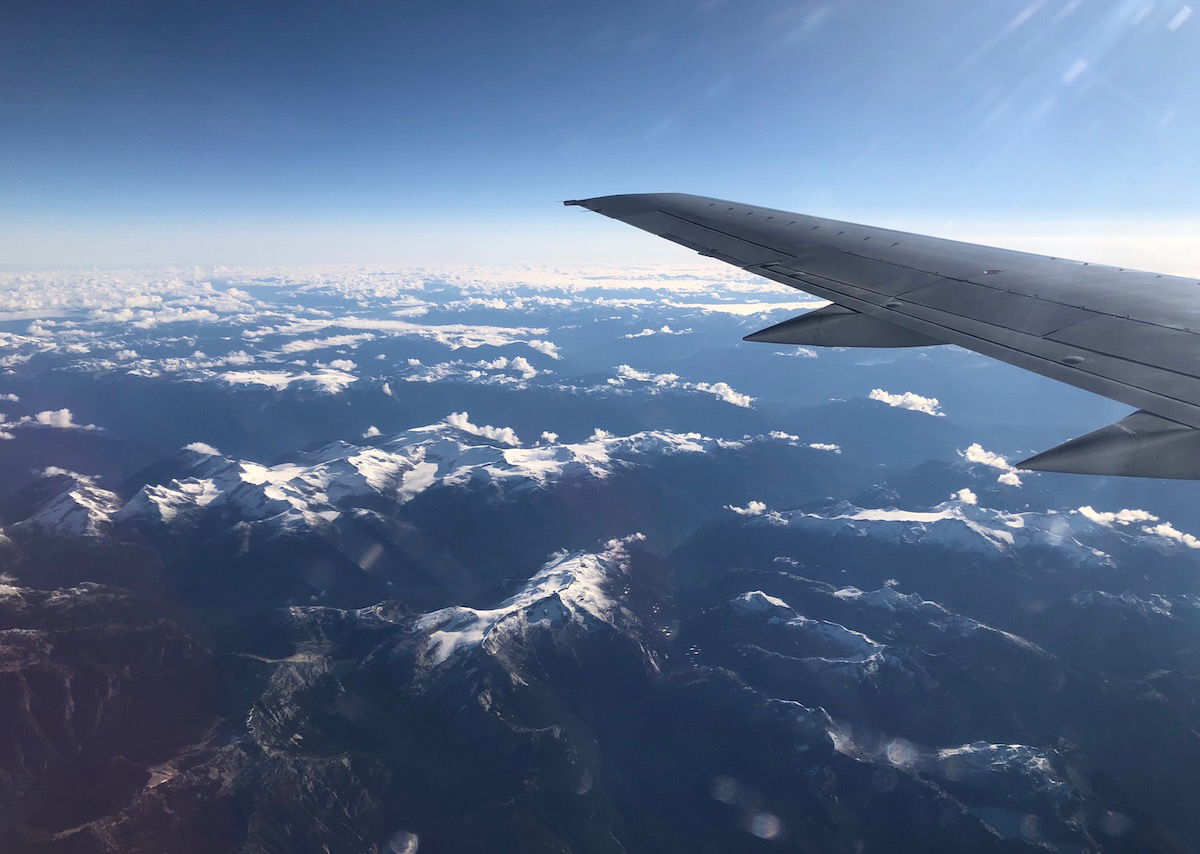 View enroute to Vancouver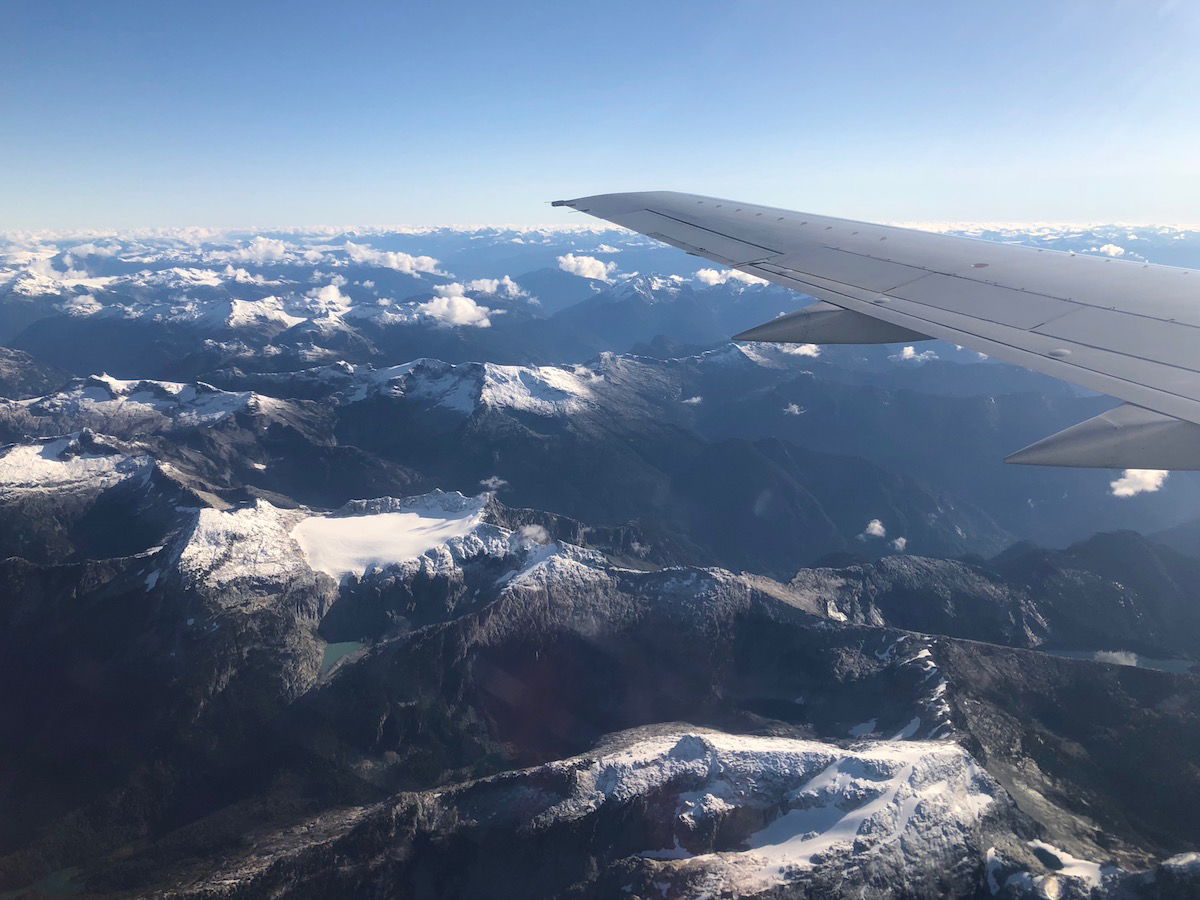 View enroute to Vancouver
About halfway through the flight I visited the lavatory in the back of the cabin, which was well maintained but retro.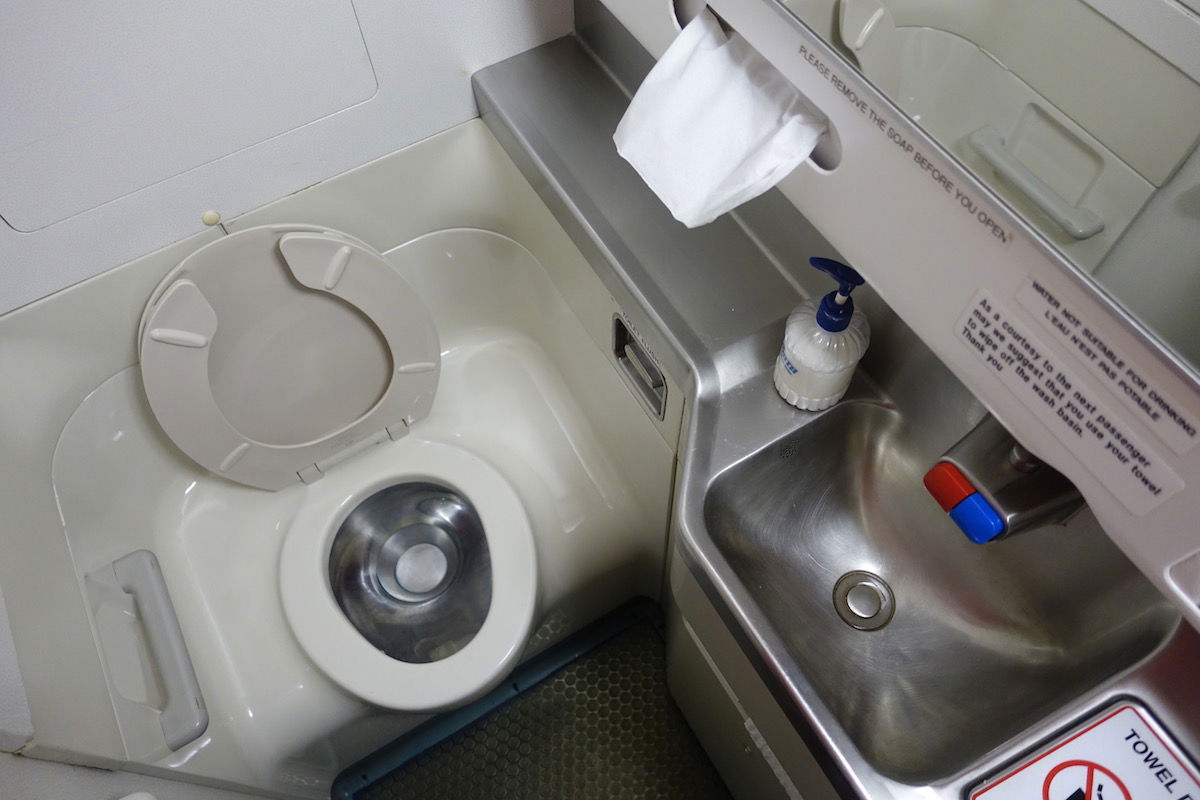 Air North 737 lavatory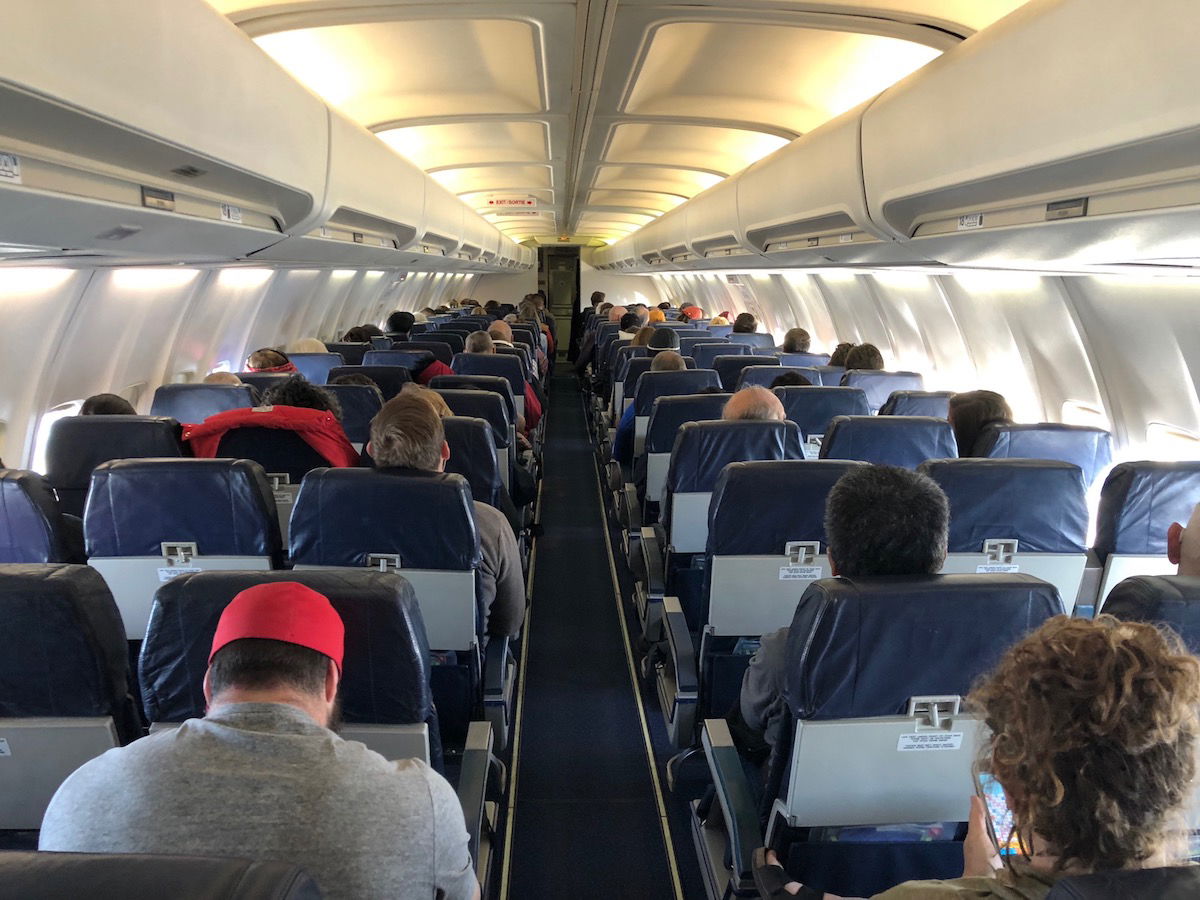 Air North 737 cabin
Just minutes after completely finishing the first service, the crew came through with yet another beverage service. This time I just had a cup of water.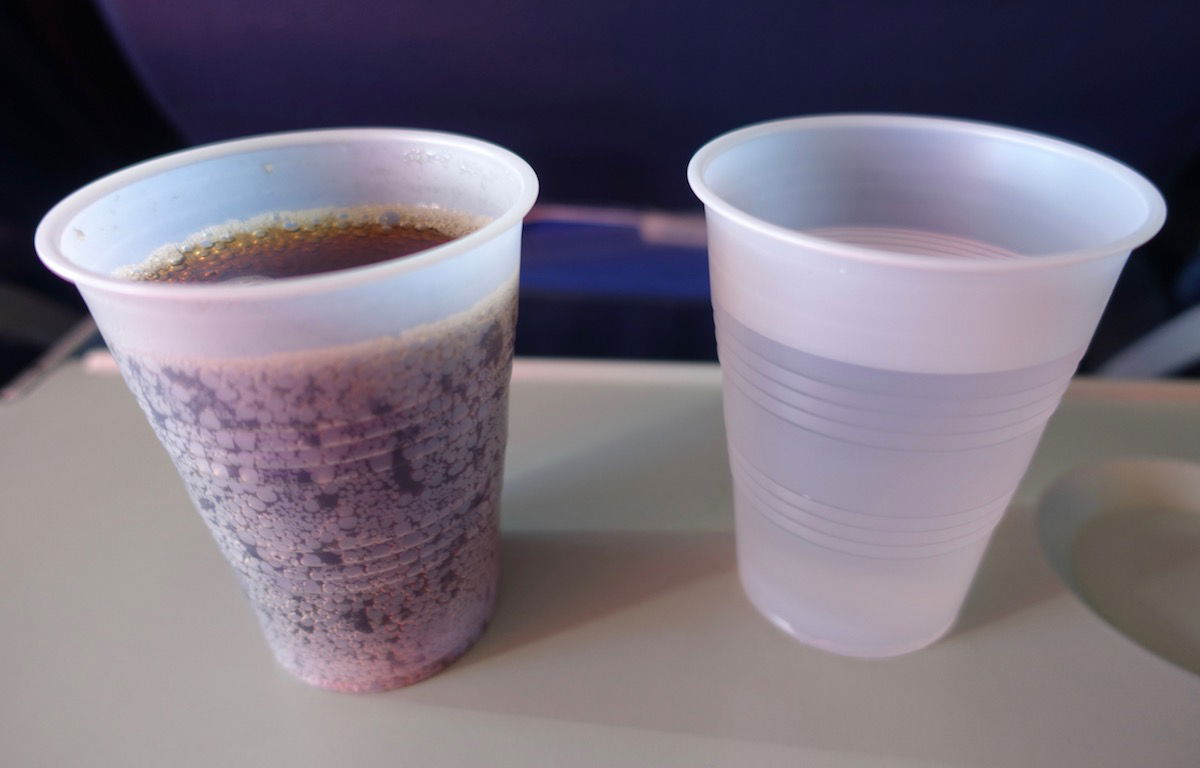 Second Air North beverage service
At 9:20AM the captain announced that we'd be descending soon, but that due to fog we'd be holding for 15-20 minutes, and he expected we'd be at the gate at 9:55AM.
Sure enough we started our descent pretty soon, though best I could tell we didn't actually have to hold for very long. The views on approach were (still) beautiful.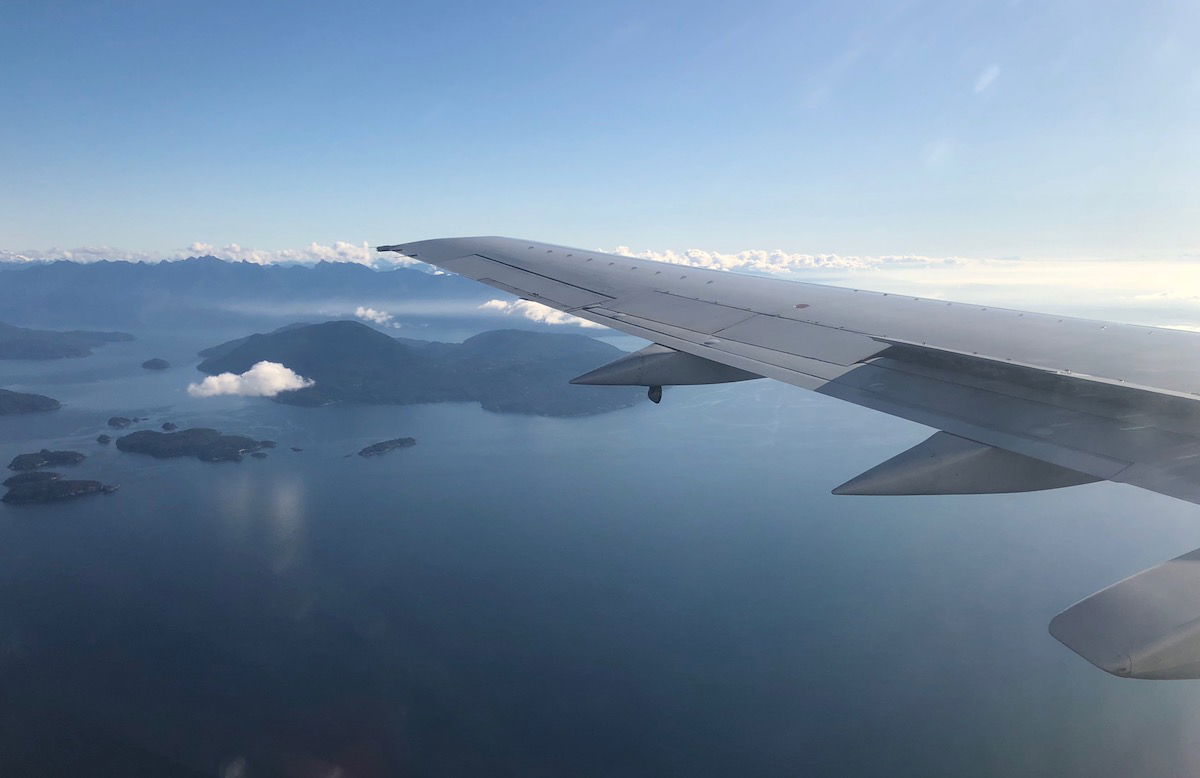 View approaching Vancouver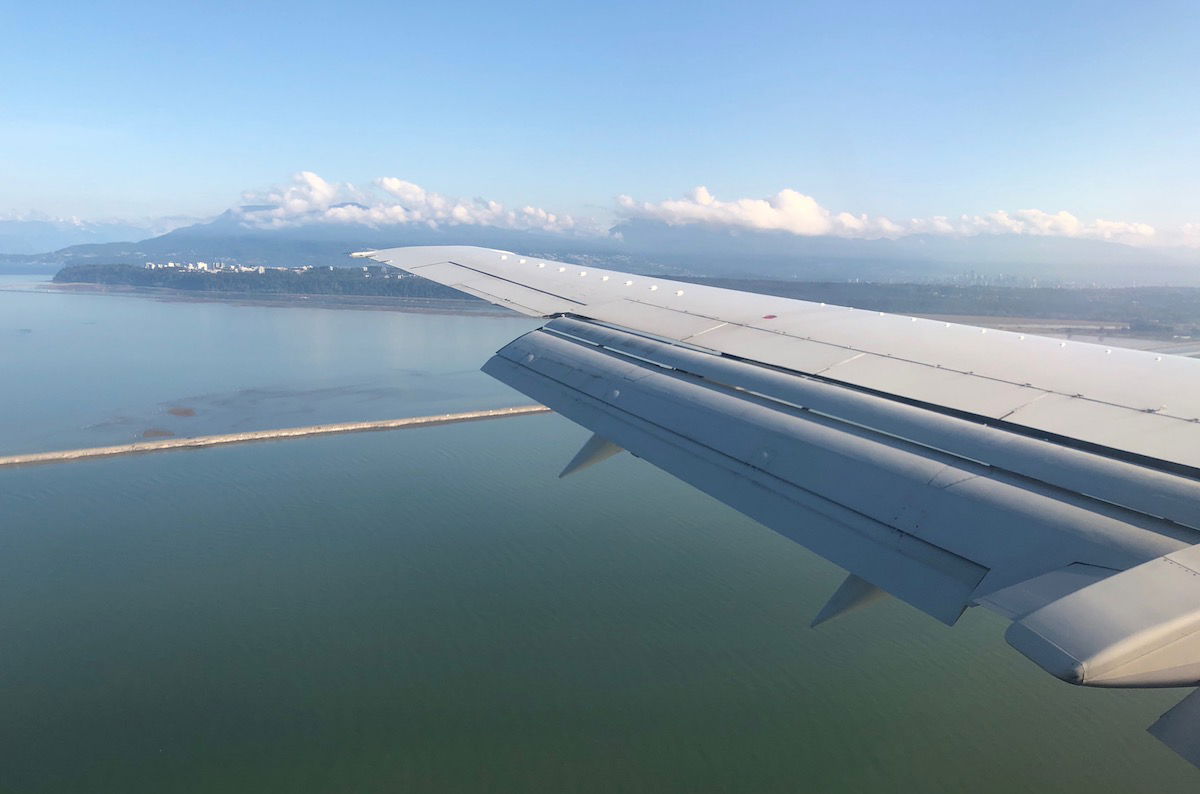 View approaching Vancouver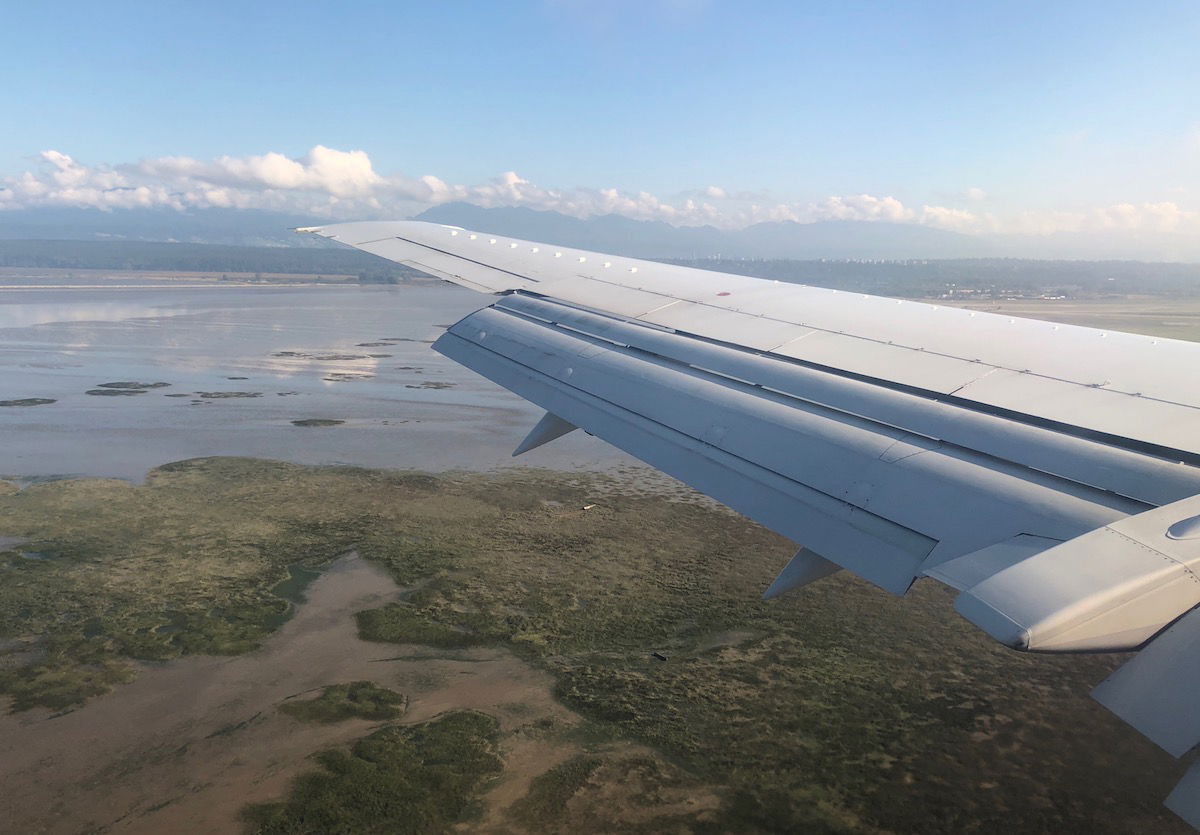 View approaching Vancouver
We touched down at 9:55AM.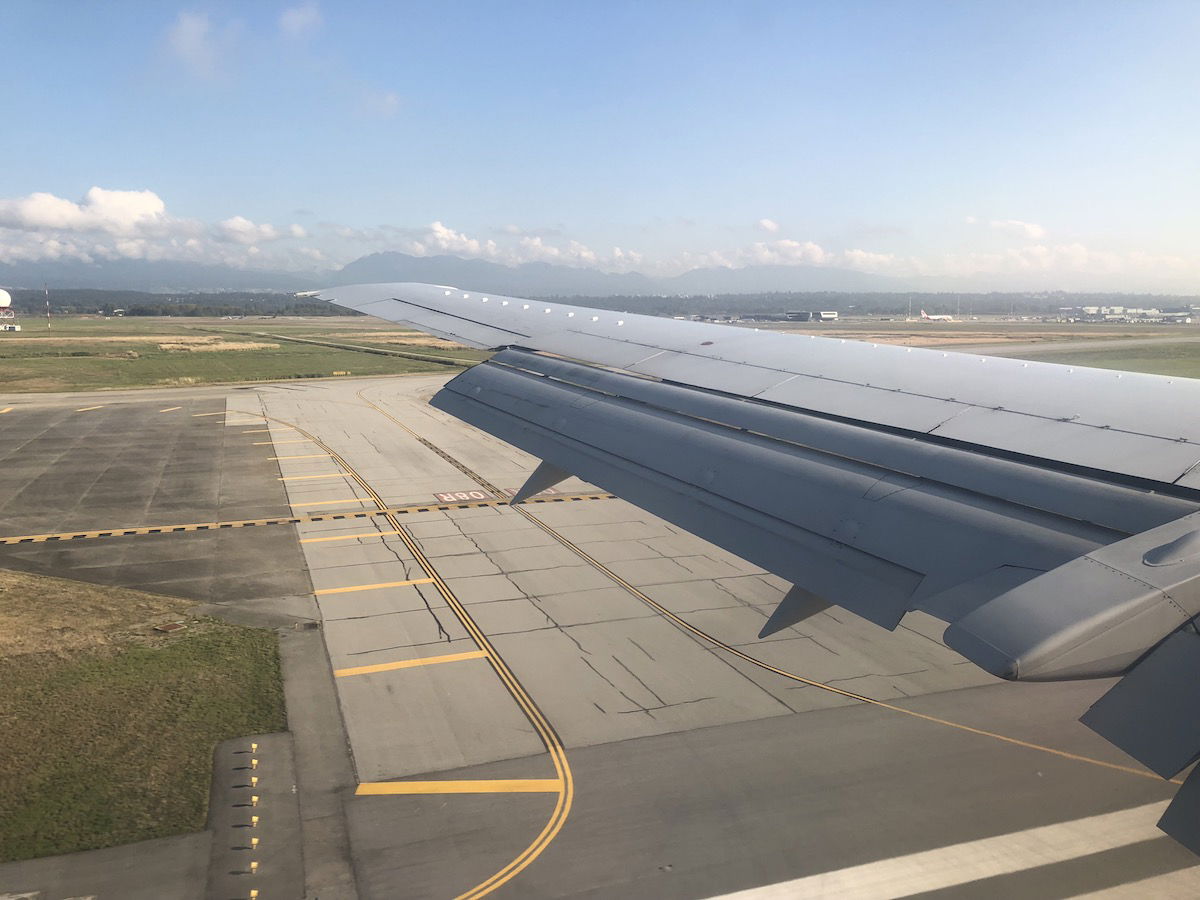 Touching down in Vancouver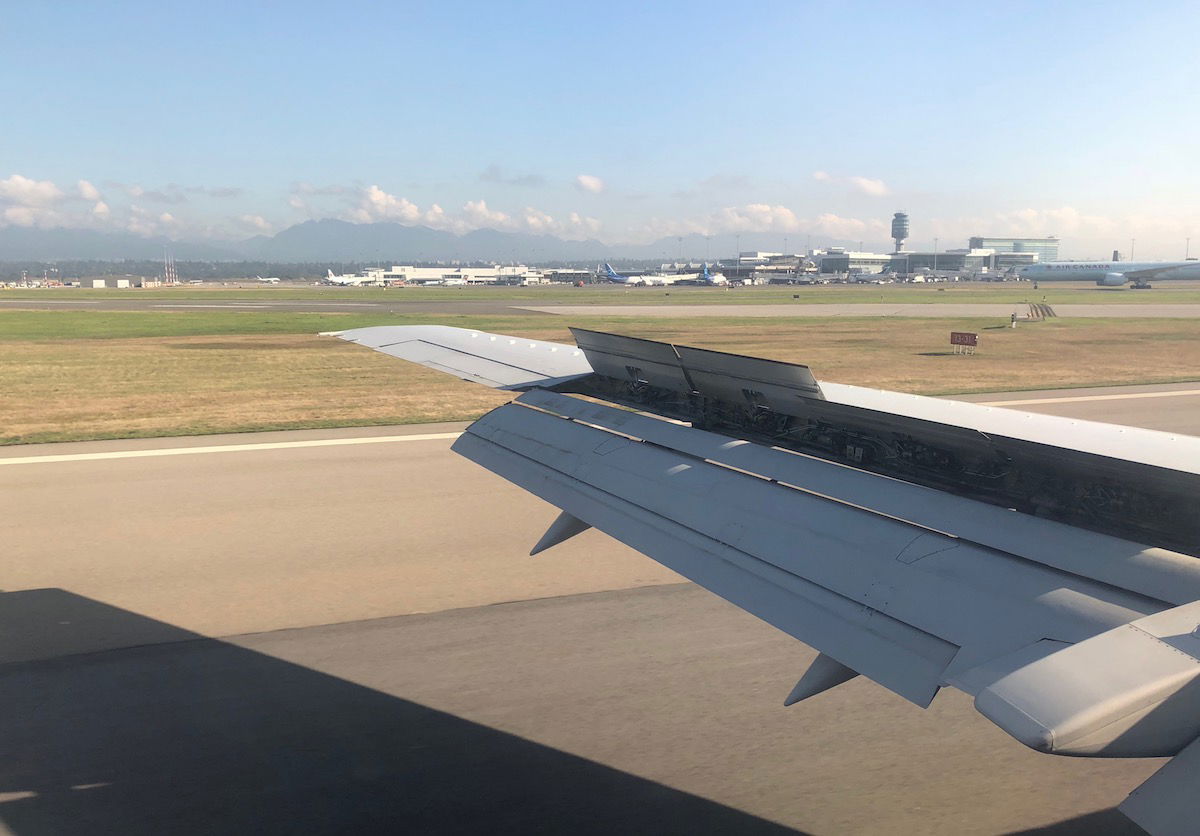 Touchdown Vancouver
From there we had just a two minute taxi to our arrival gate, where we parked next to a WestJet 737.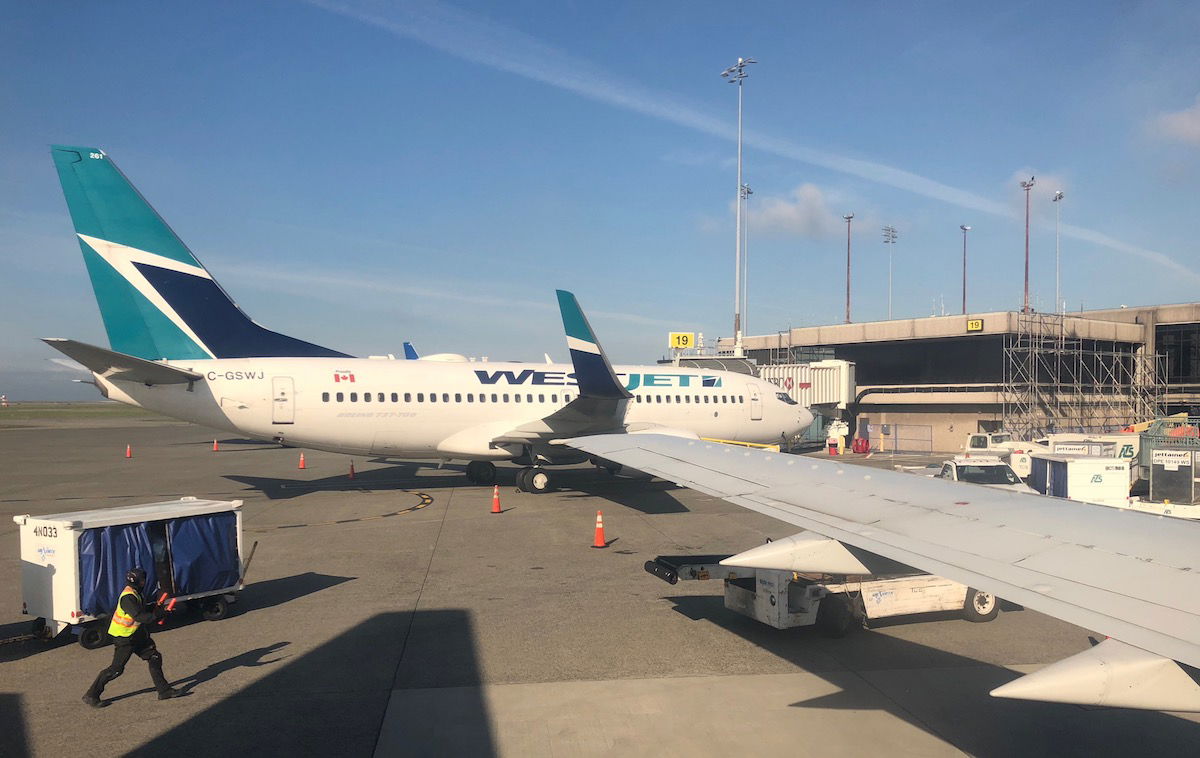 Arrival gate Vancouver
We bid farewell to the crew and headed into the terminal after what was my most enjoyable economy flight in a long time.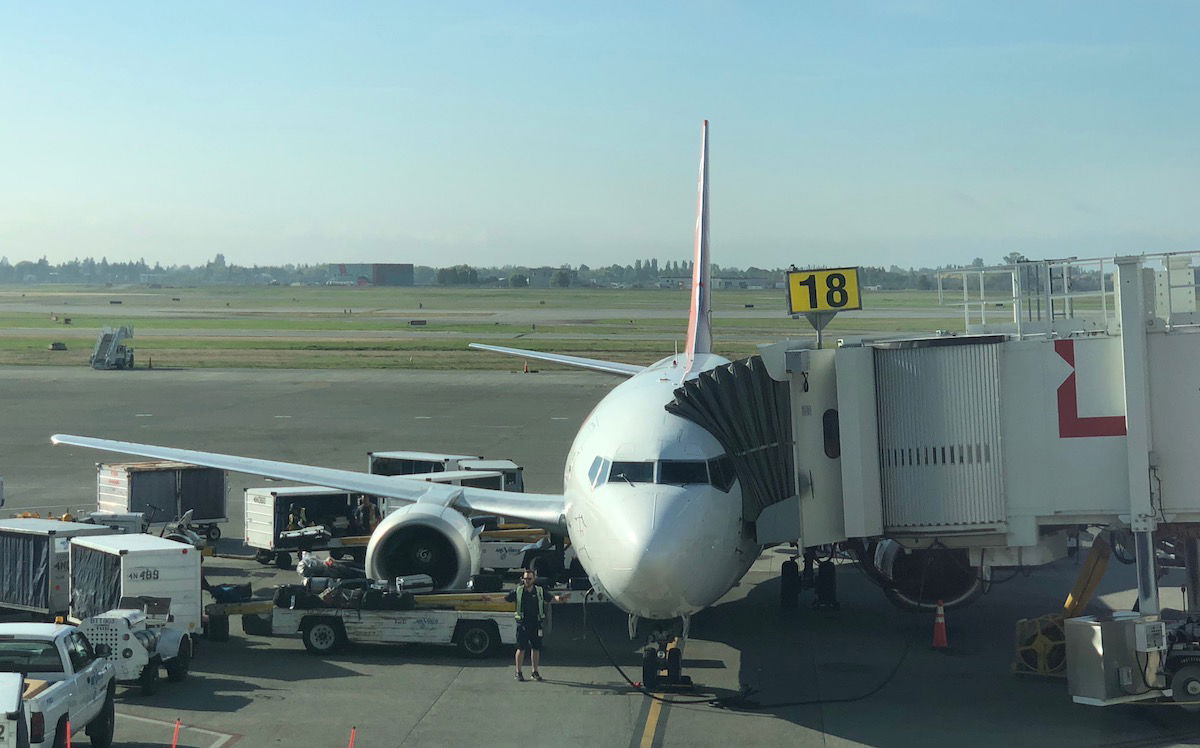 View upon arrival in Vancouver
Air North 737 bottom line
Flying Air North was an absolute pleasure. We live in a time where airlines are so focused on squeezing more seats onto planes and cutting corners with service, so it's nice to see an airline that's still doing things like the "good old days." And beyond that, I especially loved that this airline had such a small-town feel.
I can't recommend flying with Air North enough, and if anything I'm even more excited to fly with some of the other unique Canadian airlines.