Earlier today we learned the details of Emirates' new first class suite, which will debut on their 777-300ER this December. The product looks incredible, though I also think it's important to highlight one aspect of Emirates' experience that's less-than-impressive, which they're also quite disingenuously hyping.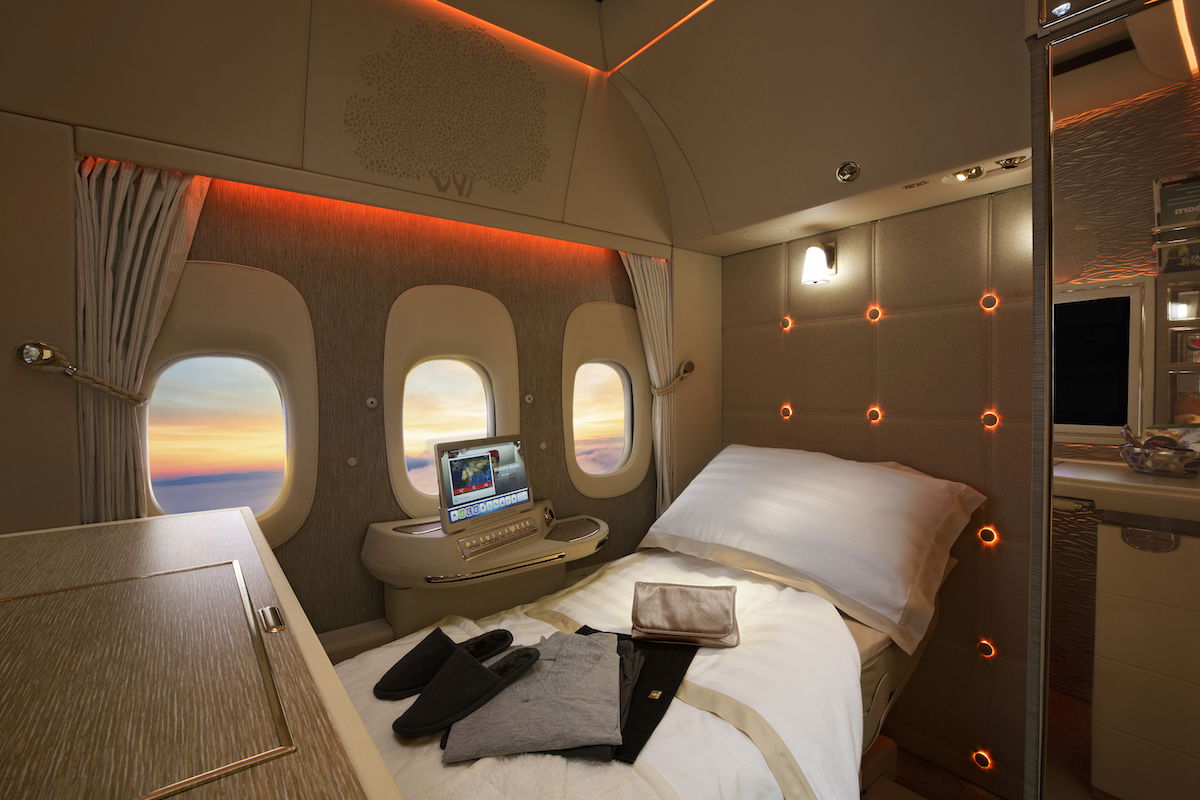 The past several years we've seen quantum leaps in terms of the quality of business class. Many business class products nowadays look better than many first class products did a few years ago. For example, look at Qatar's incredible new Qsuites.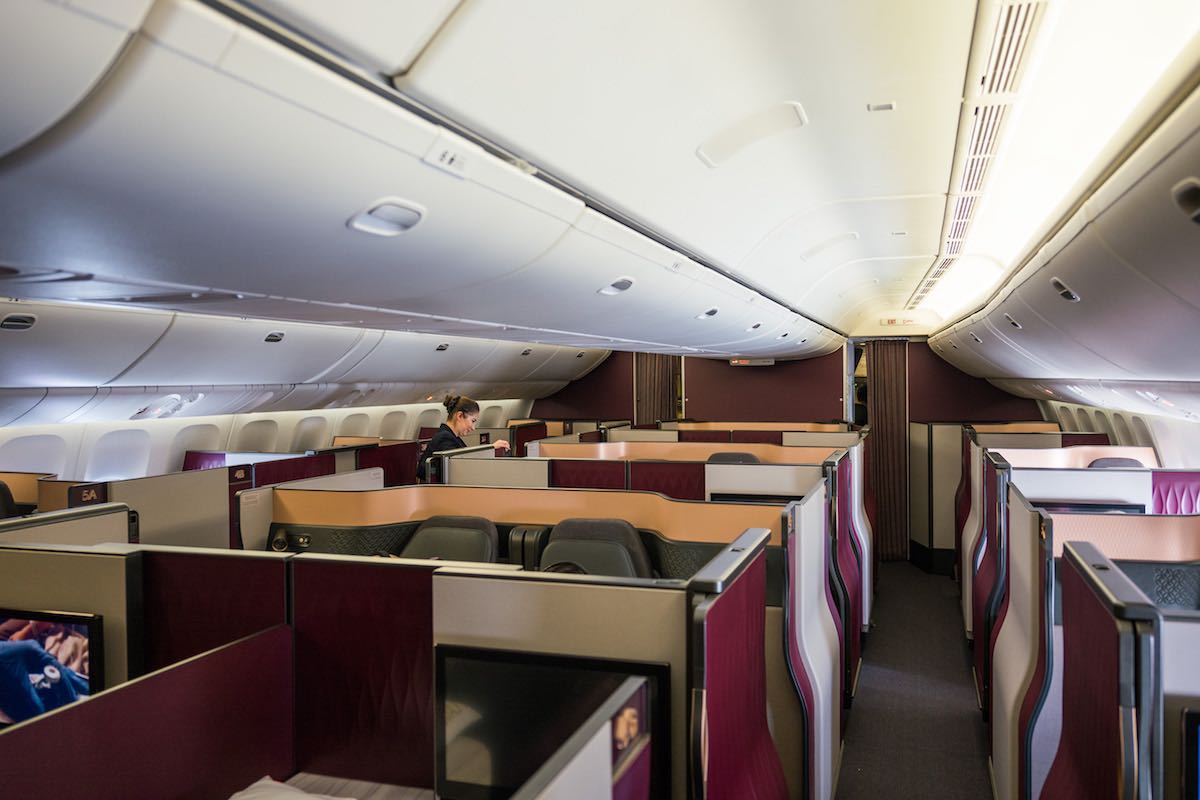 Arguably they look better than their A380 first class seats.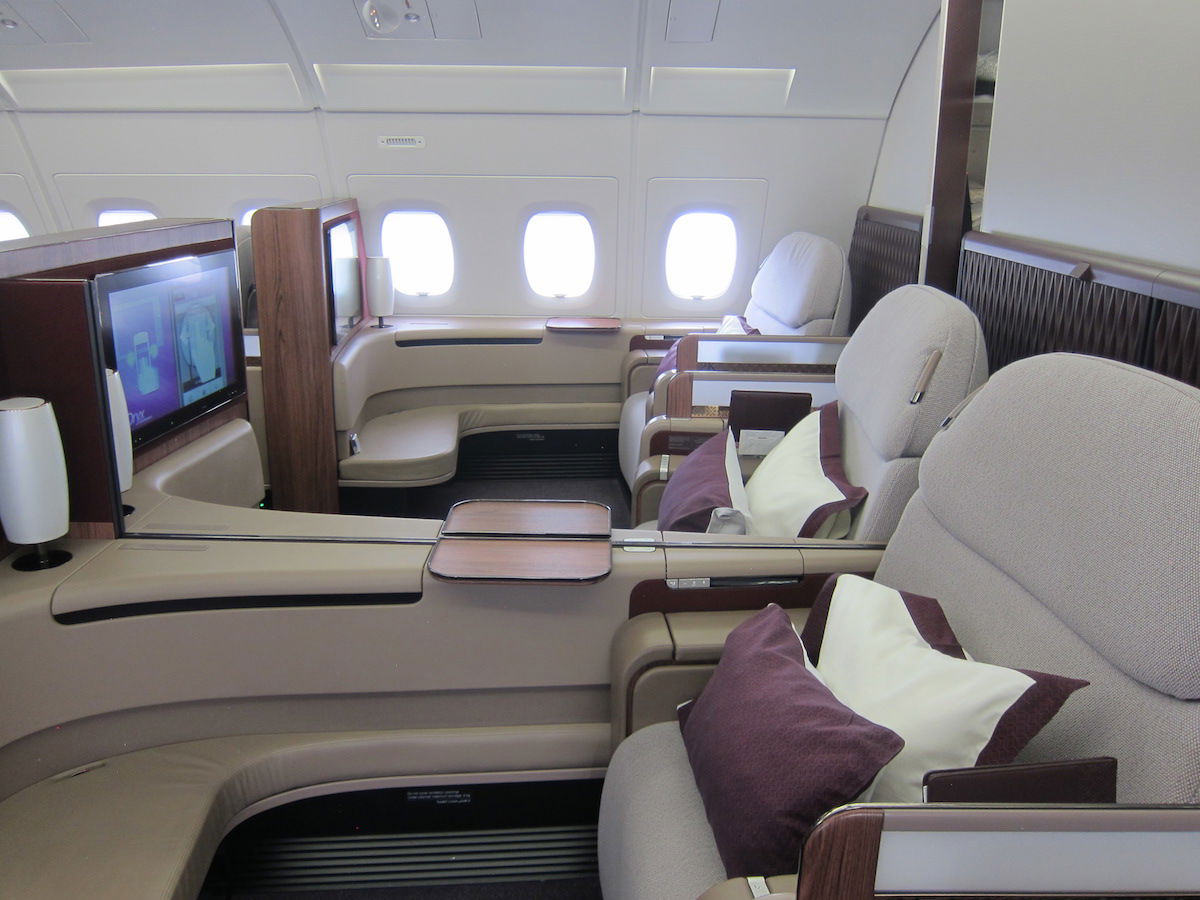 Well, if there's one airline that's not at risk of cannibalizing their first class demand with business class, it's Emirates. While they've introduced stunning new first class suites, they've also announced updates to their business class product… which continues to feature seven seats per row.
Essentially they're keeping the same seats, but are changing the finishes a bit, to feel more like a "modern sports car." Here's how Emirates describes the seats:
The design and shape of Emirates' Business Class seat onboard the new 777 was also inspired by the interior of a modern sports car, with a diamond stitch pattern on the full leather cover, ergonomically designed headrest, and a sleek overall look and feel.

The seat has a pitch of 72 inches and moves into a fully-flat sleeping position. It also has touchscreen controls for the seat and inflight entertainment system, several personal lighting options, privacy panels between seats, a shoe stowage area, footrest, and a personal mini-bar.
And here are pictures: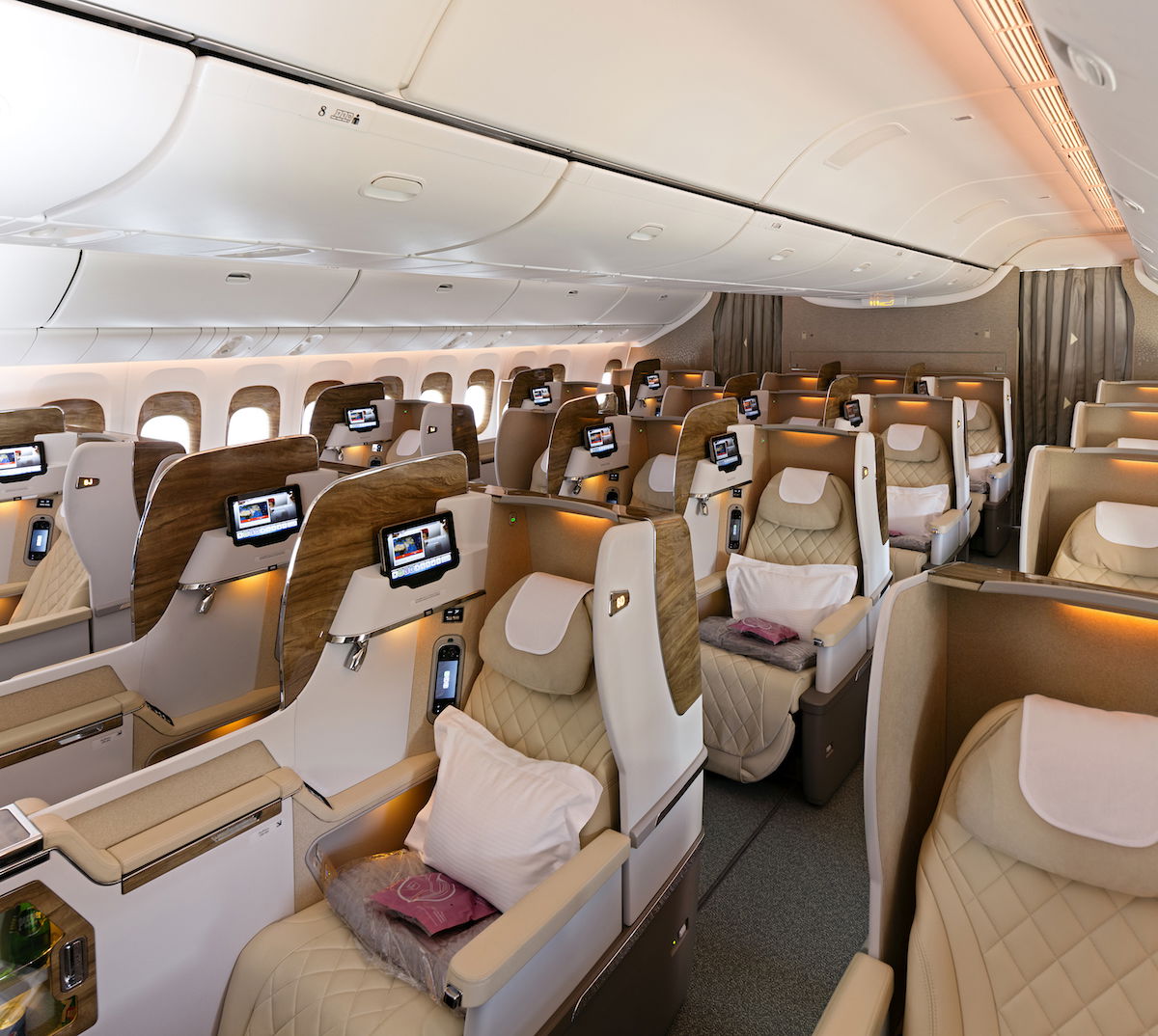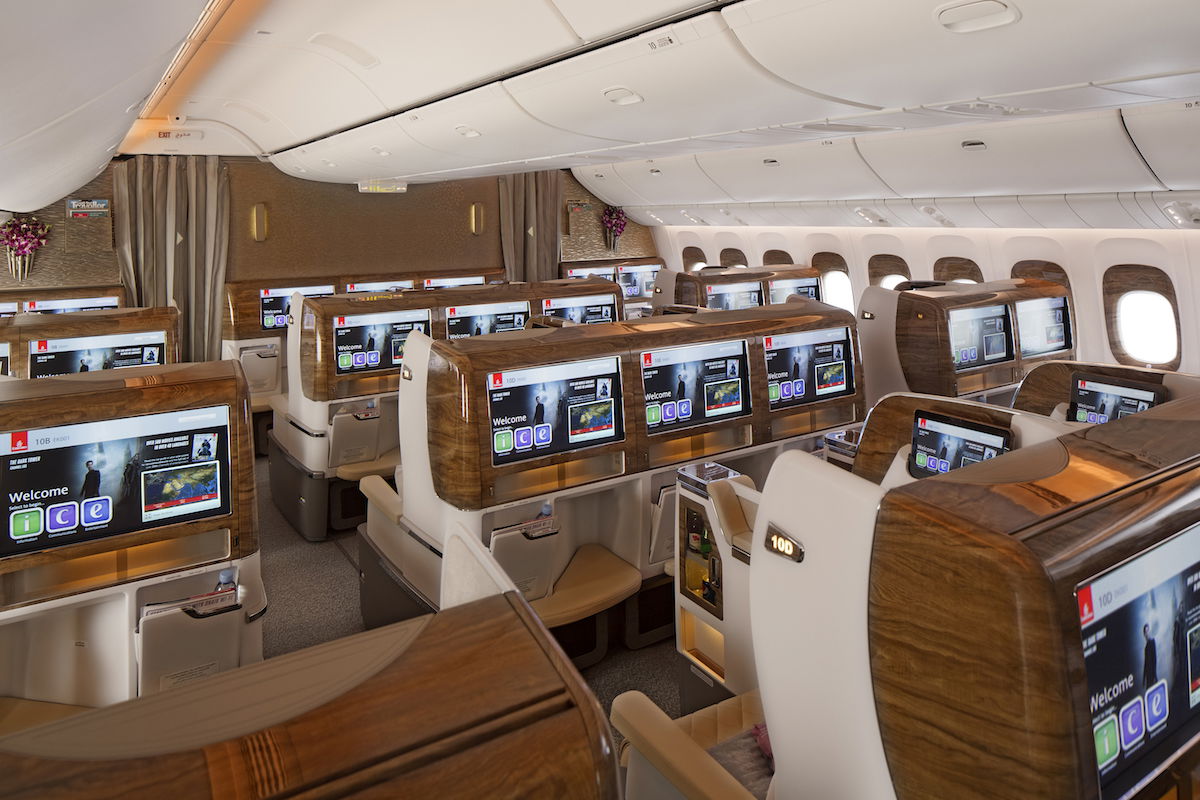 On the plus side, at least the seats are fully flat. Previous versions of the seats weren't, so if you're flying on most of Emirates' 777s, you'll find yourself in angled business class seats. The angle is pretty mild so you can sleep comfortably, but it's an angle nonetheless.
Emirates says they plan to introduce a new business class product on their 777-8 and 777-9 aircraft, which they'll start taking delivery of in 2020.
However, Emirates' A380s do feature fully flat business class seats with direct aisle access, and they also have an awesome onboard bar. That's great if you're flying the A380, but if you're not…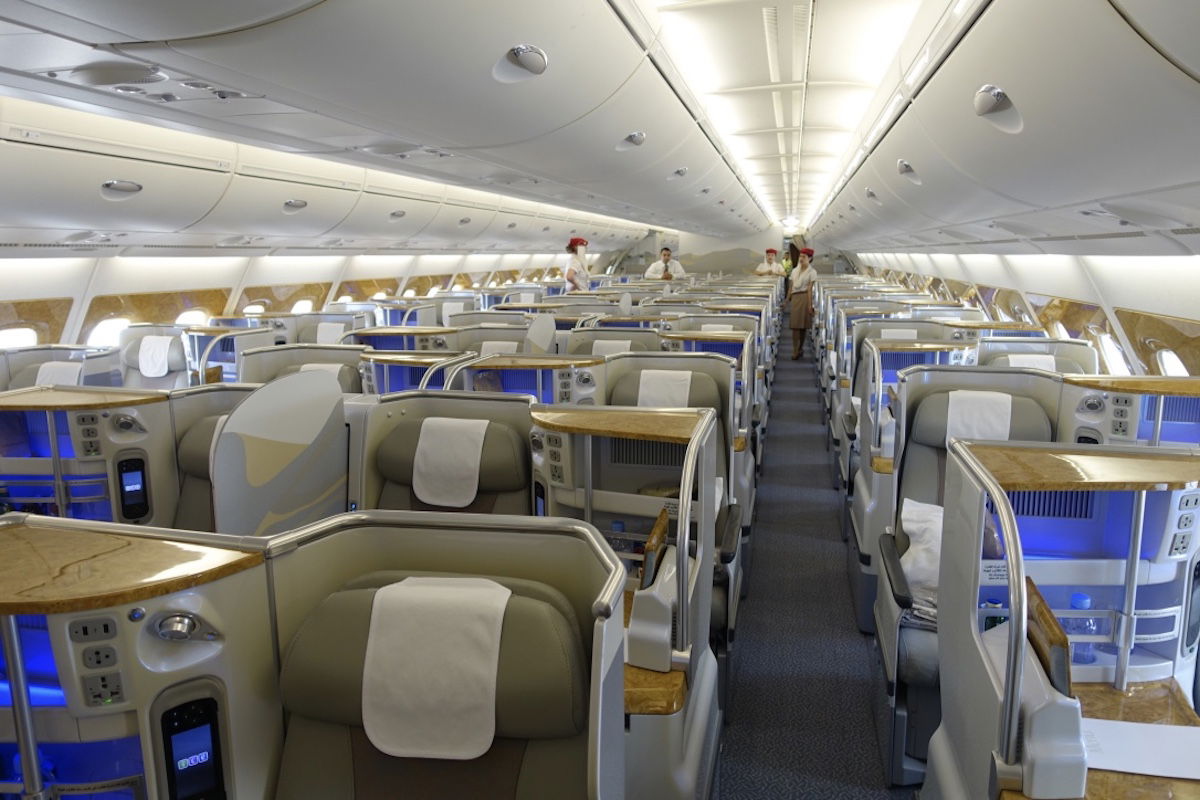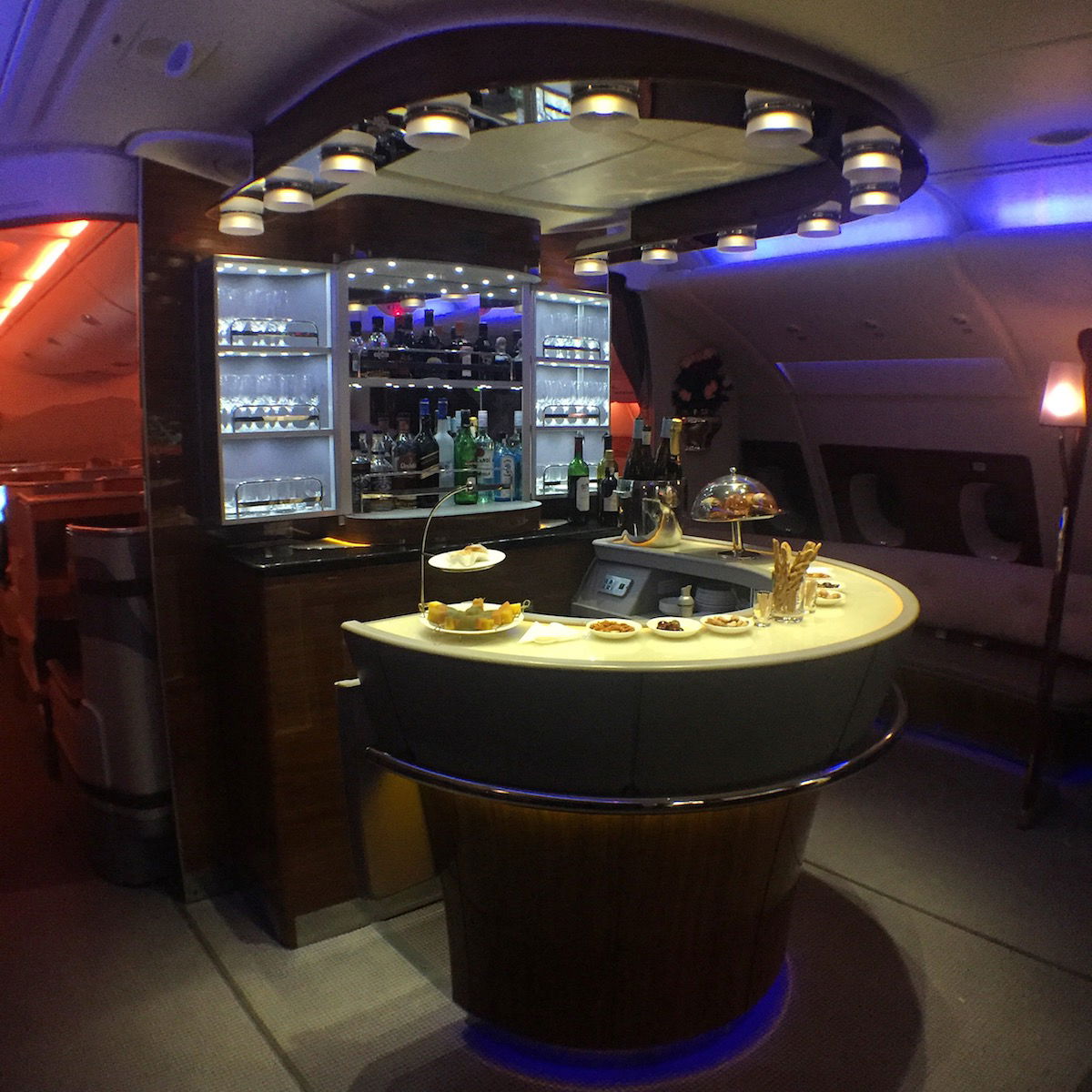 I think all of this is worth specifically pointing out since Emirates is known for being one of the world's best airlines, yet they have a pitiful business class hard product on their 777s, which is the backbone of their longhaul fleet. Could you imagine thinking you're booking one of the world's best airlines, and ending up alone in a middle seat on a 777? It's embarrassing.
But the truth is that Emirates can get away with it, partly because they have generally attractive fares, and partly because Emirates is incredible at marketing, so it doesn't bother people much.
For example, with United's Polaris debut, I'm amazed by how many people have flown Polaris since United introduced it on one of their old planes, and commented on how great the new seat was. I've received dozens and dozens of comments, emails, etc., from people saying "I loved the new Polaris 787 seat." None of the 787s have the new seats.
Emirates spends a lot on sponsorships and has global brand recognition, and therefore people expect it to be a great experience. They also market the A380 onboard bar quite a bit. Passengers have a positive bias coming in, and typically they won't be disappointed, even though the product isn't that great. Socially I constantly hear people talk about how they flew Emirates, and then someone comments "I love Emirates, they're the best." It's the cool thing to say.
It's not just that Emirates' business class seat isn't great on the 777, but unlike Qatar Airways, they don't offer pajamas in business class, and unlike Etihad and Qatar, they don't offer dine on demand in business class, though they're starting to trial it. It's just not a competitive business class product on the 777.
Bottom line
In my opinion Emirates should be embarrassed by the business class seats they have on the 777. It's one thing if they had announced a new product and not all the planes had it yet, but in this case they don't have a better business class seat on any of their 777s, and haven't even announced concrete details of a new product to be introduced in the future. All we have is a promise of something new coming in 2020, and then who knows how many years it will be until a majority of the 777s have those seats.
The truth is that I can't blame Emirates. They can get away with it, because they're great at marketing. It's similar to how US airlines are terrible at marketing — they have among the most consistently good business class hard products in the world, but people come in expecting the experience to be bad.
The halo effect that Emirates gets from their global sponsorships, their onboard bar, their minibar at each seat, Dubai's perceived glamor, etc., really pays dividends.
Are you surprised that Emirates still hasn't introduced a new business class product? Do you think people are unfairly positive towards it?