Hello from Milan! Andrew and I just flew from New York to Milan on Air Italy (we booked our tickets using Avios — see this post for more on how to do that), which is the airline formerly known as Meridiana. The airline recently rebranded, after Qatar Airways took a 49% stake in the carrier.
I was curious to see what their experience would be like, given that I flew an old Meridiana 767 from Naples to New York last summer, which had an awful hard product but an excellent soft product.
Well, Air Italy's A330 business class was a very pleasant surprise. Actually, I'd argue it was too good for the short seven hour redeye from New York to Milan — they might benefit from simplifying the service.
Air Italy's A330s are ex-Qatar Airways aircraft, with a total of 24 business class seats, in a 2-2-2 configuration. There are three rows in the forward cabin, and then a mini-cabin with just one row behind the second set of doors.
The seats are technically angled, though the angle is just a few degrees, and I slept without issue (and I'm usually sensitive to angled seats). So this is similar to the angle you'll find in business class on Emirates, EgyptAir, and Korean Air, rather than on other airlines.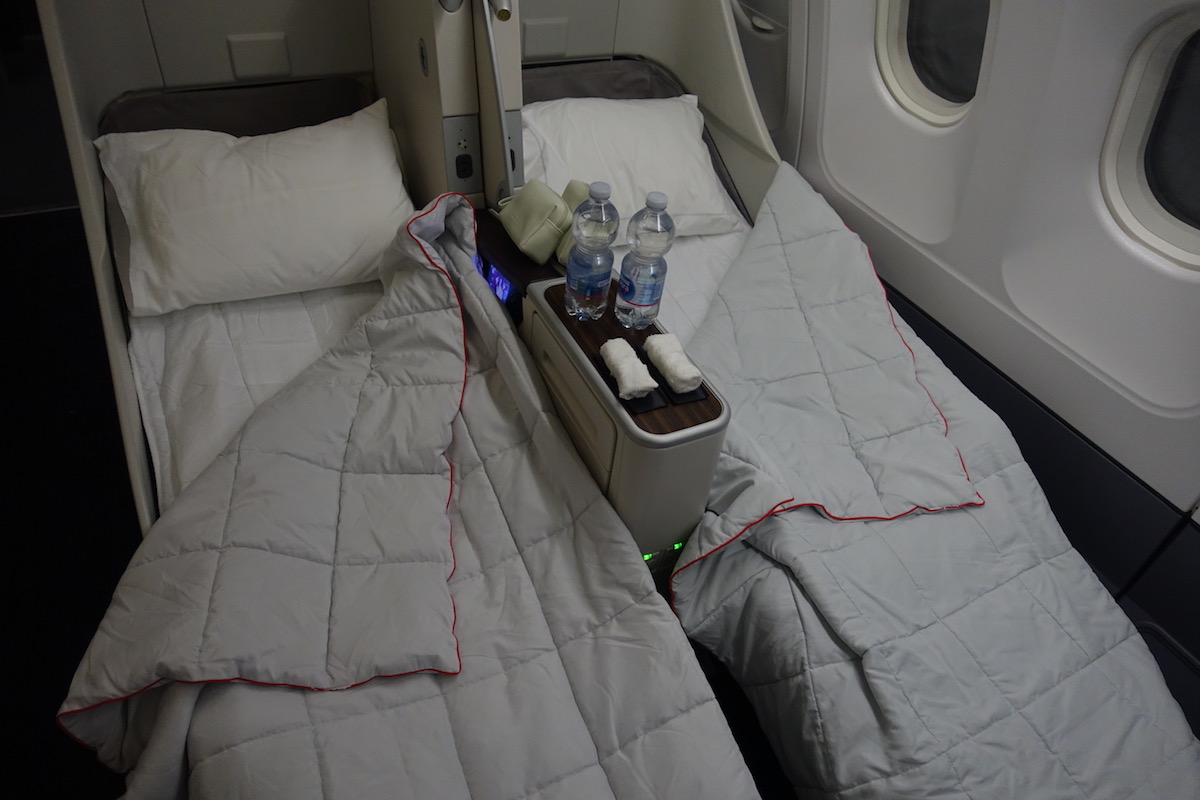 My gosh, the soft product was so good, among the best you'll find on any transatlantic airline. The service reminded me very much of what you'd get on Qatar Airways, with an Italian twist.
Each business class passenger received an amenity kit, pajamas, slippers, and excellent bedding, with a comfortable blanket and pillow. There was even turndown service when it was time to sleep.
After takeoff there was an extensive dinner service. While it was great, it might have been a bit much for a short redeye, since it took the crew about 2.5 hours to complete the service.
Service began with warm mixed nuts and drinks.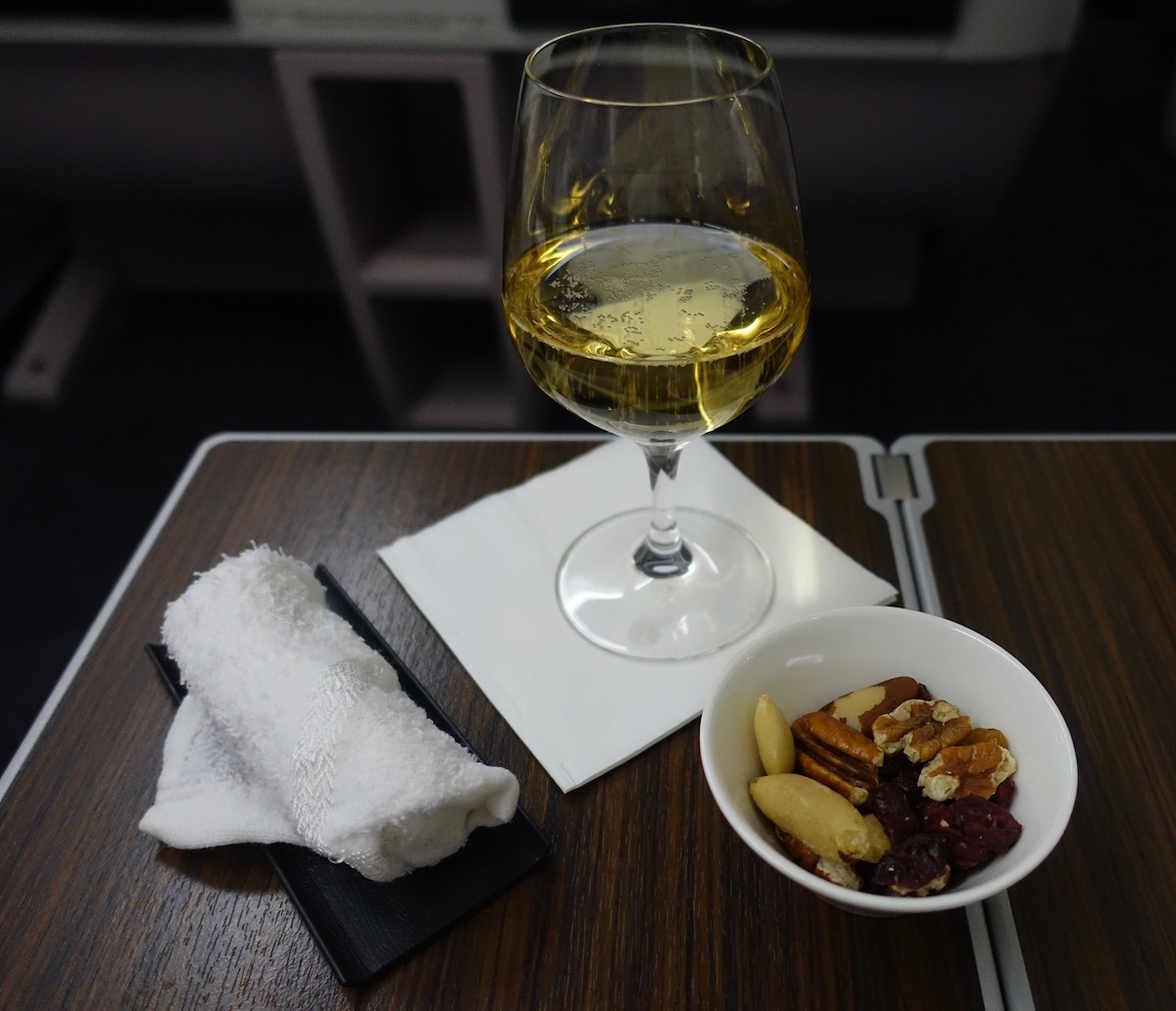 For the appetizer there was the choice between salmon and mango tartare and bresola and Grana cheese.
Then there was a pasta course, consisting of cannelloni with ricotta cheese, spinach, pesto, tomato, and mozzarella.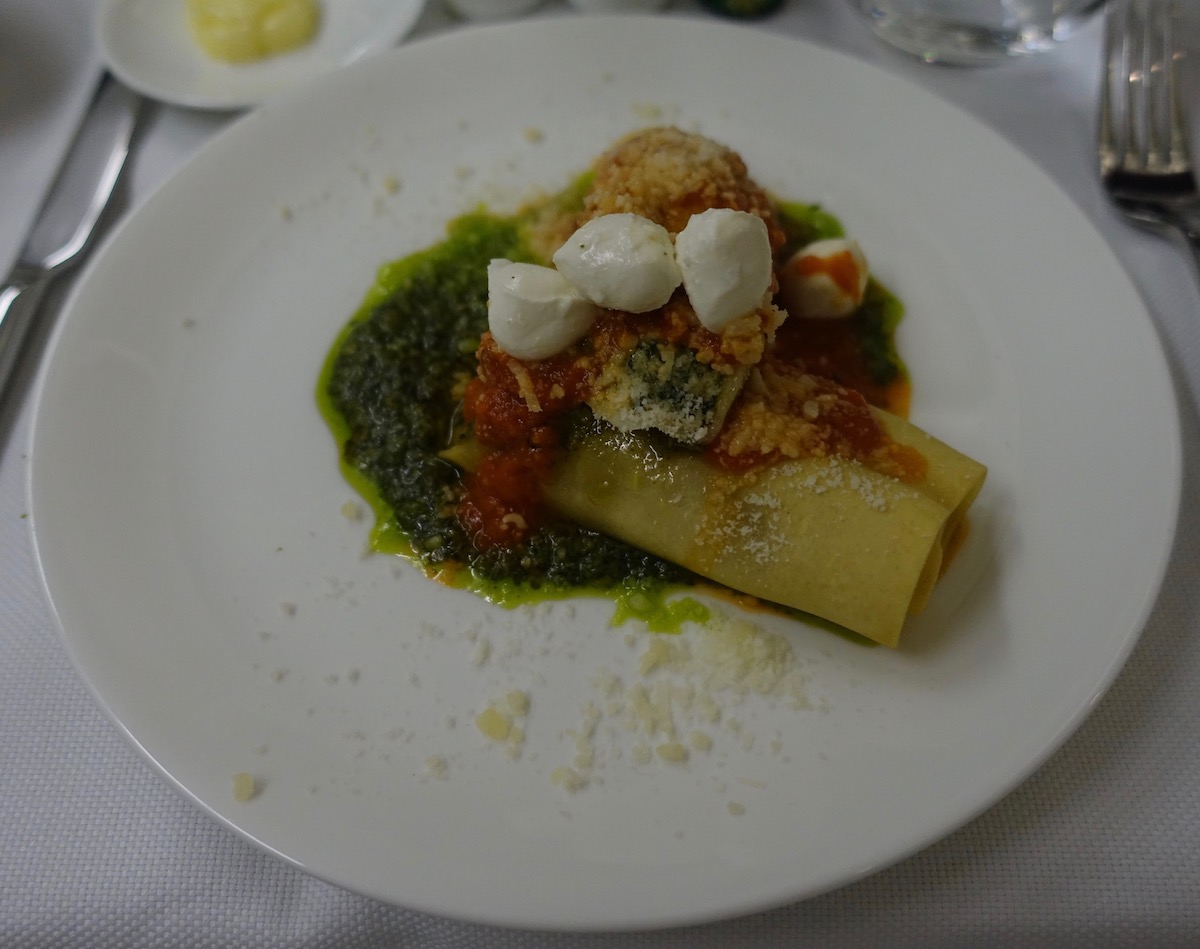 There were three main course choices, and I selected the grilled salmon in lemon sauce with mixed vegetables.
Then for dessert was a strawberry mousse cake.
I would have much rather slept in given how short the flight was, but I wanted to review the entire service, so asked to be woken up for breakfast, which was excellent as well. I especially enjoyed the cappuccino.
Not only was the food excellent, but all the guys working in business class couldn't have been more lovely, which matches my previous experience on Meridiana. They were all clearly so proud of their new airline, and delivered charming Italian service along the lines of what you'd get on Qatar Airways.
All food was served directly on the tray table (there were no trays used otherwise), when wine was ordered they'd always bring out the bottle, etc.
I'll have a full review soon, but I was extremely impressed by Air Italy. I was worried about the angled seats, but that concern was unfounded, because the angle was minor. The food and service were among the best I've had in business class on any transatlantic flight.
There were a couple of minor downsides to the product. The entertainment selection wasn't good, there was no airshow, and while there's apparently wifi (business class passengers even get vouchers for free wifi), it wasn't working.
My only other "issue" is that maybe the service was too good for such a short overnight flight, where the focus should be on sleeping?
The airline will only get better from here, as Air Italy will eventually operate Qatar Airways 787s featuring even better seats.
If you've flown Air Italy, what was your experience like?