Just as different airlines have different procedures for priority boarding, they also have different policies for priority deplaning.
For example, some airlines will have flight attendants "block" passengers seated behind the door, and allow those in front of the door to deplane first. Other airlines will draw the curtain between cabins once the plane gets to the gate, and only open them once the forward cabin is empty.
And then there's how Air India did it on my recent journey with them. Based on my two flights with Air India, it seems like their policy is to let first class passengers deplane first, regardless of where they're seated or which door is used.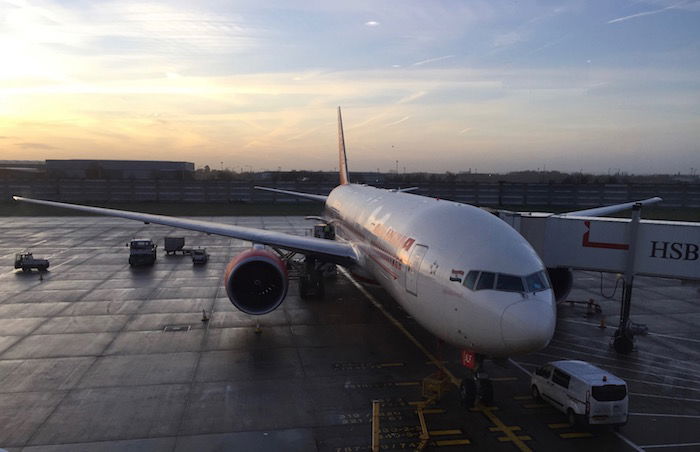 In the case of both of my Air India flights, only the second cabin door was opened. So there are two rows of first class, and then another two rows of business class before you get to the door. But on both flights they insisted on walking me through the aisle and to the door before it opened.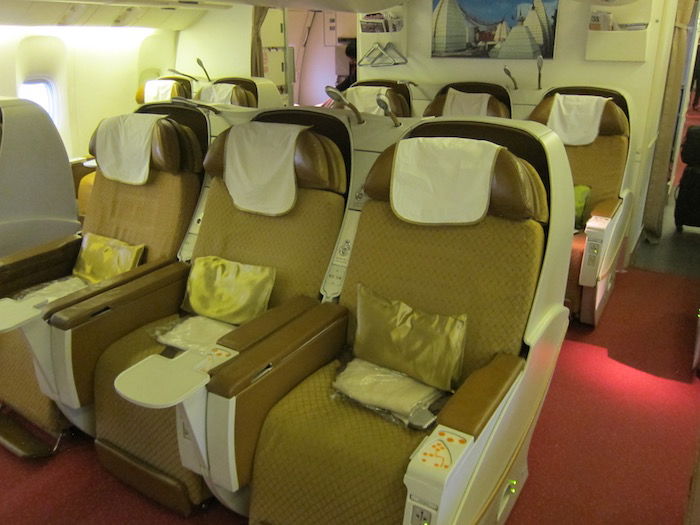 On the London to Delhi flight it wasn't a big deal, since it was fairly empty. On the Delhi to San Francisco flight the business class cabin was full. The cabin crew in charge was an absolute gem throughout the flight, and insisted on walking me to the door. I said "oh, that's alright," but she insisted. So this leads me to believe this is their company policy.
I was behind her, and as we tried to walk past a few of the passengers, I sort of mouthed "sorry" and made a momentarily uncomfortable face to the people we were passing. After all, they were in the aisle, and I was trying to squeeze through with my luggage. It is awkward.
At this point one of the passengers just goes off on the cabin crew in charge, with a really loud and hostile tone:
"You cannot simply do this, it is completely unacceptable. If you want special priority for first class passengers you need to have a separate door. I am Indian, and I know how this works, but now we are in America, and everyone is equal. You do not simply do this. This would never happen on a US airline. We are all equal."
First of all, that's the first time I've seen US carriers used as a baseline for service standards. 😉
She tried to diffuse the situation and said "oh, he is in first class, and it is our policy for those passengers to deplane first."
This time he gets even louder, basically repeating everything he had previously said. "I did not come to America to be treated like this." And he goes on and on and on. It took the ground staff a few minutes to open the door, and the whole time he's chewing the kind cabin crew in charge out for just following company policy.
Meanwhile at this point, I'm exchanging glances with everyone else at the cabin, as we all just got off a 19 hour flight (including a fog delay) and were ready to get the hell out of there.
In all honesty, I don't disagree with the guy. In general I think such a service is awkward for everyone involved, and while it's well intentioned, it's just impractical.
This wasn't this flight attendant's decision, but rather she was just enforcing the company policy. Therefore I think his feedback was misdirected — this is something you take up with customer service, and not with the individual enforcing the policy. For that matter, if he felt the need to say it to the flight attendant, he could have made his point and stopped, rather than going on and on and on.
Bottom line
I agree that the deplaning process can be awkward when they "force" first class passengers to the door. It's something I've witnessed on several airlines, though this was the first time I've seen a passenger call the flight attendant out over it. While I agree with his conclusion, I do think his feedback was misdirected, and he made the situation more awkward for everyone.
How do you feel about this method of deplaning first class passengers, and was the guy in the right for sharing feedback with/chewing out the cabin crew in charge?