Aer Lingus has eight Airbus A321LRs on order, which will very nicely complement their existing fleet. The airline will be able to use these planes for transatlantic flights, both to add new destinations, and to replace their leased 757-200s.
Unfortunately Aer Lingus experienced some delivery delays with these planes. Initially Aer Lingus was supposed to start flying the A321LR between Dublin and Hartford as of July 1, 2019, and then fly the plane between Dublin and Montreal as of August 8, 2019.
Due to delivery delays, the airline has postponed the Montreal flight until next year (as they don't have enough planes to operate the route), and there was a delay of several weeks on getting the A321LR on the Hartford route.
Aer Lingus takes delivery of first A321LR
There's some good news finally — Aer Lingus has finally taken delivery of their very first Airbus A321LR, just in time for the plane's scheduled August 2 debut. The plane features a total of 184 seats, including 168 economy seats and 16 business class seats.
Aer Lingus' A321LR routes
Currently Aer Lingus has scheduled the A321LR for the following transatlantic routes:
Between Dublin and Hartford as of August 2, 2019
Between Shannon and Boston as of October 27, 2019
Between Dublin and Washington Dulles as of October 29, 2019 (not daily, alternating with an A330)
Between Dublin and Philadelphia as of November 1, 2019 (not daily, alternating with an A330)
Between Dublin and Newark between February 13 and March 10, 2020 (not daily, alternating with an A330)
I'd note that these plans are subject to change. Just as they've changed the schedule a couple of times already, they can change it again.
Aer Lingus' A321LR business class
Aer Lingus has a consistent business class product, and one of the cool things about the A321LR is that they'll offer the same business class they have on their A330s.
Business class will consist of staggered seats that alternate between a 2-2 configuration and a 1-1 configuration.
Now, there are probably some downsides to the A321 — the plane won't feel as spacious, there will be a single aisle, etc. At the same time, it's awesome the routes that planes like this open up.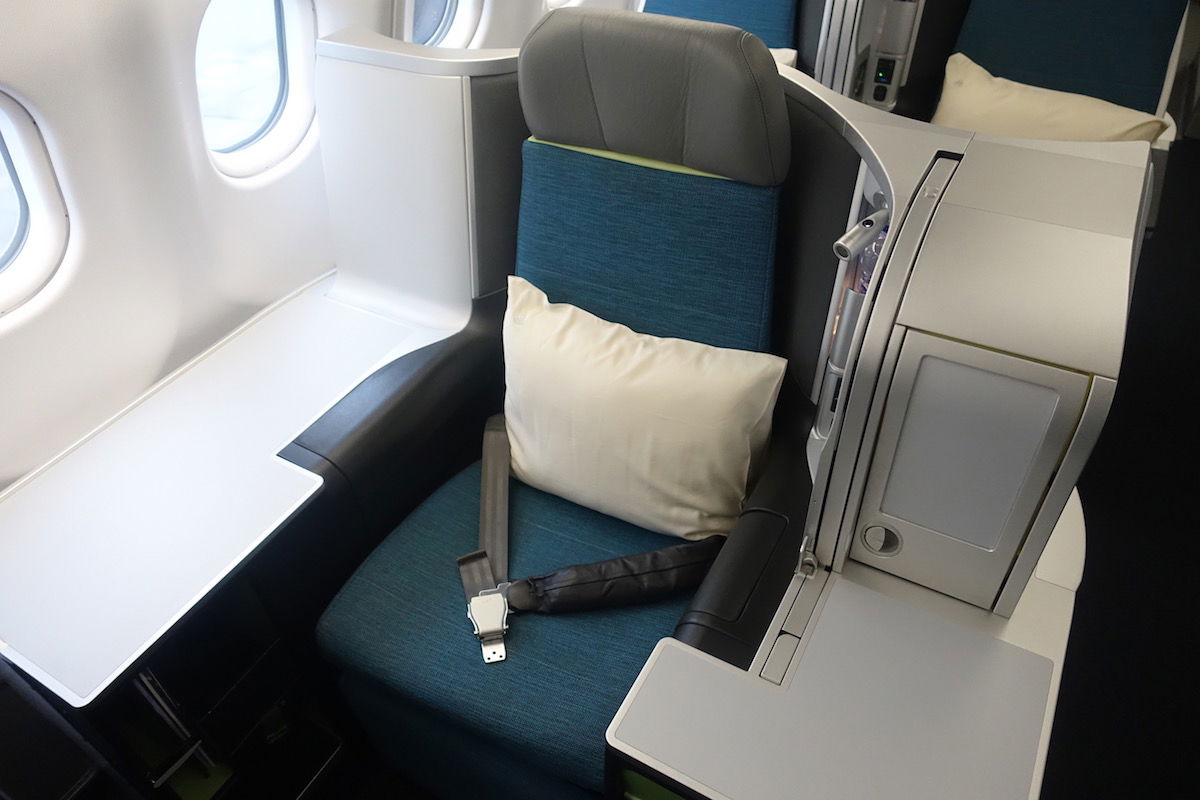 Aer Lingus' A330 business class
How to redeem miles on Aer Lingus
If you want to redeem miles on an Aer Lingus transatlantic flight, they do sometimes make business class award seats available, and you have three best options for redeeming:
Bottom line
We should get used to seeing the A321 on more transatlantic routes, especially with the recent announcement of the A321XLR, which will open up longer flights than ever before on these kinds of planes.
In addition to the eight A321LRs that Aer Lingus has on order, the airline has also ordered six A321XLRs.