The information and associated card details on this page for the Hilton Honors American Express Surpass® Card has been collected independently by OMAAT and has not been reviewed or provided by the card issuer.
The new year is right around the corner, and for a lot of people that means it's time to rethink their hotel strategy for the next year, as most elite status counters reset on January 1. This post will focus on leisure travelers, since for business travelers hotel choice is often dictated by company policy, location of hotels, etc.
I'll also only focus on what I consider to be the five "big" hotel loyalty programs — Hilton HHonors, Hyatt Gold Passport, Marriott Rewards, Priority Club Rewards, Starwood Preferred Guest. Admittedly this is highly subjective, so I'm not suggesting that my suggestions are right, but am rather only proving a framework for my thought process.
For what it's worth I'm presently Starwood Platinum, Hyatt Diamond, InterContinental Royal Ambassador/Priority Club Platinum, Hilton Gold, and have been Marriott Gold in the past.
And it may surprise some of you to hear this coming from me, but I don't think being loyal to a hotel chain always makes sense. Years ago most hotel chains had extremely generous promotions that almost always made "mattress running" economical. Hyatt's "Faster Free Nights" promotion comes to mind, whereby they offered one free night after two stays at any of their properties. Unfortunately we rarely see promotions as generous anymore, though on the plus side elite hotel benefits have improved considerably lately, so it's a bit of a trade off.
Still, if your primary goals with hotels is to get a comfortable place to rest your head at night, you may very well be better off just using Priceline or booking independent hotels. There's no doubt that independent hotels can be a much better value if you don't care about elite benefits, and many are even higher quality than their chain competitors. Furthermore, if you're into truly high end hotels and don't really care about cost as much, I highly recommend using American Express Fine Hotels & Resorts and Virtuoso, which get you elite-style treatment at many luxury hotels without loyalty programs (and even many with). I love these programs, especially in conjunction with regular elite benefits at high end hotels I frequent.
With that out of the way, I figured I'd provide a quick rundown of status with each of the major programs, and under which circumstances I think each is worth pursuing. This won't be a thorough analysis of the elite benefits of each program, but rather an overview of my thought process in selecting the right program.
Hilton HHonors
Hilton isn't my favorite loyalty program, though they're growing on me.The thing about Hilton is that it's extremely easy to achieve mid and top tier status with them. You get mid tier (Gold) status for as long as you have their Citi Hilton Honors Reserve Visa Card (which has just a $95 annual fee), and top tier (Diamond) status if you spend $40,000 in a calendar year on either the Citi Hilton Honors Reserve Visa Card or Hilton Honors American Express Surpass® Card.
The cool thing is that both Gold and Diamond status get you free internet and breakfast/lounge access. One of the only meaningful differences between the two levels is that in theory Diamond members get suite upgrades (at the hotel's discretion), though in practice that's often not the case. Furthermore Diamond members get a larger points bonus and are guaranteed lounge access, while it's based on availability for Gold members. That being said, if you don't get lounge access as a Gold member you get restaurant breakfast, which many prefer anyway.
In my opinion Hilton Honors is the best program if you make fewer than 25 stays per year at hotels or want easy top tier status up front. They give you Gold status just for having a credit card, and $40,000 of spend for top tier status isn't half bad either. It's worth keeping in mind that Hilton has a ton of properties all over the world, so is a great secondary program if your primary status is with a chain that doesn't have as large of a global footprint as Hilton. I won't even mention actually qualifying for status with them, given the easy ways out there to avoid having to do that.
Starwood Preferred Guest
If there's one program with which you should earn status "the hard way" it's Starwood, in my opinion. They're not perfect, but they're a very well rounded program.
They have a good number of properties — substantially more than Hyatt, but also substantially fewer than Hilton or Marriott.
Platinum status with them is awesome. It gives you free internet, guaranteed 4PM late check-out, free continental breakfast (which you have to choose as your Platinum amenity with each stay), and suite upgrades based on availability. Earning Platinum status takes a reasonable 25 stays or 50 nights, and if you qualify based on 50 nights you earn 10 suite night awards, which can be used to confirm a suite upgrade five days before arrival.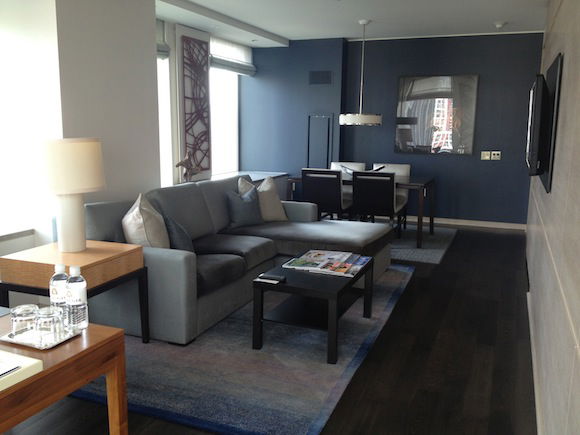 Metropolitan Suite from Suite Night Award at St. Regis San Francisco
25 stays or 50 nights are reasonable requirements, in my opinion, though what makes it even easier is that both the Starwood Preferred Guest® Credit Card from American Express and Starwood Preferred Guest® Business Card from American Express get you two stays and five nights towards status annually. That means between the two cards you get four stays and 10 nights towards status, lowering the threshold for Platinum to 21 stays or 40 nights. That's extremely reasonable, in my opinion, and provides a threshold that most travel nuts can achieve.
Like I said, status with them isn't perfect. Sometimes you have to fight for suite upgrades, though for me the suite upgrade fiasco has improved considerably since I started earning suite night awards. I can use these to lock in the suite upgrades that matter the most to me five days out. Previously I was getting suite upgrades on my one night airport hotel stays, but missing upgrades for the stays that actually mattered.
So I think Starwood provides a great balance in terms of benefits, properties, and elite status qualification. They don't have hotels everywhere, but they have enough of a footprint to make them your primary chain, in my opinion.
Hyatt Gold Passport
I love Hyatt Gold Passport. They consistently under promise and over deliver, and I love them for that. There's just one small problem — they only have around 500 properties worldwide, and that's not really enough to make them a primary chain, in my opinion.
Top tier status with them takes 25 stays or 50 nights, much like with Starwood, and the benefits are great — guaranteed 4PM late check-out, free internet, guaranteed lounge access or hot restaurant breakfast, upgrades to the best non-suites, and four confirmed suite upgrades, which can each be used to confirm a suite upgrade for up to seven nights at the time of booking. Those suite upgrades are hugely valuable. Being able to confirm a suite for the stays that matter most to you at the time of booking sure adds a lot of value to the program.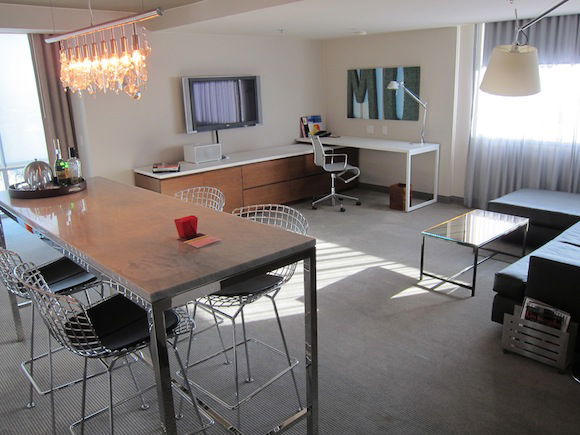 Suite upgrade at Andaz West Hollywood
Hyatt recently added a benefit to their Chase Hyatt Visa Card whereby you get two stay credits and five nights towards status annually if you spend $20,000 on the card, and an additional three stay credits and five nights towards status upon spending $40,000 on the card in an annual year. I don't find either threshold especially enticing, since $40,000 of spend on the Citi Hilton Honors Reserve Visa Card will get you top tier status without spending a night at their hotels. That being said you get Hyatt Platinum status for as long as you have the card, which at least gets you free internet.
I still think the benefits you get for top tier status are well worth the stay/night requirements. That's why I think Hyatt is a great secondary program for the super-frequent leisure traveler. They'd be a great primary program if they had a larger global footprint, though their current portfolio is lacking hotels in some major cities.
Marriott Rewards
I'll keep this short — Marriott has the highest elite qualification tiers of any of the major programs, yet offers fewer published benefits than Hyatt, Starwood, and Hilton. The only thing they have going for them is how many properties they have globally, which is where Hilton and Marriott both shine. If you decide to be loyal to Marriott for whatever reason, the easiest way to get status with them is through The Ritz-Carlton Rewards Visa Card, which offers you Gold status for the first year, and allows you to maintain it for just $10,000 of spend on the card per year. While this is technically status in the Ritz-Carlton Rewards program, the benefits are virtually the same. At Marriott properties you get free internet, lounge access/breakfast, etc. Now, the card does have a hefty annual fee of $395, though comes with a lot of other benefits that justify that, as discussed in this post.
Priority Club Rewards

Priority Club is only worth mentioning in passing, because as far as loyalty programs go, their benefits are a bad joke. If you do frequent their hotels the Priority Club Select Visa Card does get you Platinum status for as long as you have the card, so is worth having. But there's no point in really having any loyalty to the chain beyond that.
Conclusion
I'm tweaking my hotel strategy somewhat for the coming year. I'll continue to have Starwood Platinum and Hyatt Diamond be my primary hotel programs that I actually work to requalify for. While I slightly prefer Hyatt Diamond status, Starwood has the edge in terms of their properties worldwide. But I'll also be going for Diamond status with Hilton by spending $40,000 on the Citi Hilton Honors Reserve Visa Card. I find the return on the card to be pretty good to begin with, and it only becomes more rewarding when you factor in Diamond status. I probably won't make more than a dozen or so stays at Hilton properties per year, mostly on points redemptions, but it'll be nice to have top tier status for those stays.
So sum it all up, here are my suggestions:
If you don't make enough hotel stays to qualify for top tier status, stick to Hilton. They give you Gold status just for having the Citi Hilton Honors Reserve Visa Card (which is a really decent mid tier hotel status), and Diamond status for a reasonable $40,000 of spend per year.
Starwood is a great primary program thanks to a combination of their elite benefits and portfolio of hotels.
Hyatt is a great secondary program due to the great benefits, or is a great primary program if you frequent destinations in which they have hotels.
Hotel elite status isn't worth it for everyone. There are plenty of hotels that are cheaper and higher quality than chain hotels, and if you're really into luxury hotels, look into American Express Fine Hotels & Resorts and Virtuoso.
Any questions or comments?
(Full disclosure: I earn a referral bonus for anyone that is approved through some of the above links. I'm very appreciative of your support, regardless of whether or not you use my links.)