I've been digging into the World of Hyatt program lately as it's about to launch on March 1. As you might have figured out by now, I'm not a fan. Mostly I think the qualification requirements are insane for a hotel chain that has around 700 properties worldwide.
That said, assuming you can get to 60 nights per year, there are some things to like about the new program. The unlimited complimentary suite upgrades are a really nice perk, at least in theory. I travel a lot with my family and the three most important features for us — be it on the plane, at the hotel, or in the rental car — are space, space, and more space. So if this works as advertised, it'll be great.
But it's not all fun and games even for top-tier Globalists as devaluations and gotchas lurk around every corner. Some of these changes, like the diluted breakfast benefit, just don't make a lot of sense to me.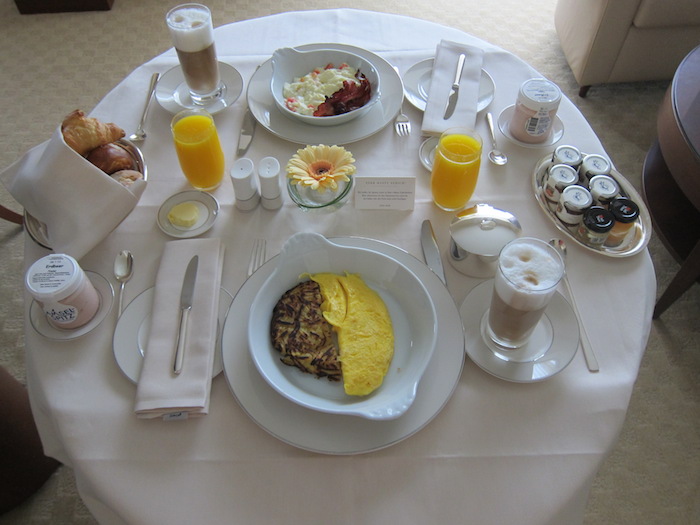 Gold Passport breakfast
Under Hyatt Gold Passport, Diamonds officially received breakfast in the club. If the property didn't have a club, or it was closed, Diamond members received breakfast in the restaurant for up to four registered guests in the room. This policy seemed to work fine and in fact was one of the most highly touted aspects of Hyatt Gold Passport.
It could also be quite valuable, at least in terms of the what the hotel would have otherwise charged.
For many properties in the US, it's possible to register four adults in the room for roughly the same cost. That means that two couples could share a room and all four would receive the Diamond breakfast.
World of Hyatt breakfast
The breakfast benefit is changing under the new program. Starting March 1, top-tier Globalists will receive breakfast for up to two adults and two children rather than four adults. So even for a room with two double beds that can legitimately sleep four adults, you'll still only receive breakfast for two of them.
But what defines a child?
Can an older couple bring their two adult children to breakfast with them? After all, my mom says that I'll always be her little boy. As another point of reference, the Affordable Care Act could be said to define a child as up to age 26.
For its part, the Hyatt website asks you to specify the age of a child at the time of booking, and provides choices up to age 18.
I checked the World of Hyatt terms and conditions and it seems the lawyers have chosen to simply foist this point of ambiguity off on the individual hotels. The age cut-off for a "child" is determined by each hotel or resort in its sole discretion. 
It seems as though the quotes around child are an acknowledgement that this is going to be a point of contention.
There's no such thing as a free breakfast anyway
I've often wondered who incurs the cost of loyalty perks such as free breakfast. In general, I've assumed that the property is not reimbursed for it. Since Hyatt doesn't own most of their hotels, that would mean they don't actually bear this cost at all. In that case, why would they bother diluting this breakfast benefit when it doesn't actually cost them anything?
And even if I'm wrong and they do pay the hotel the marginal cost of breakfast for Diamond guests, is there really that much savings to be had here? I mean, I'm guessing most Diamond guests travel alone or with their spouse the majority of the time. Following that, I'd suppose they bring their kids, who are, at least subject to interpretation, still included.
The least likely scenario then is a Diamond guest traveling with two or three other adults in the same room. And that's the only scenario under which this dilution saves money.
In other words, are the savings from the fringe case of a Diamond traveling with two or three other adults really worth changing the policy over? And creating confusion for families? I guess Hyatt thinks so.
Bottom Line
There's something to be said for consistency. As a Dad who travels a lot with his family, I appreciate showing up at a hotel and knowing what to expect. If breakfast is included, I'd like to know. If it's not, that's okay too. But leaving it up to the hotel to decide if my child is a "child" is just silly and bound to cause some confrontations at properties that choose not to be as family-friendly.
That said, I'm confident that many hotels will go ahead and be generous. But I'm also sure that some will choose to push the issue — particularly those that have tried to play games with the Diamond breakfast in the past.
It's a shame that Hyatt chose to dilute and add ambiguity to what was once an industry-leading benefit.
Are you concerned about the changes to the Globalist breakfast benefit?