OMAAT commenter Andrew M. is a frequent traveler and points/miles enthusiast as well as a knowledgeable wine expert, who weighed in on the great English sparkling wine debate a couple months ago. Because wine takes on a totally different flavor and complexity at 35,000 feet as opposed to sea level, Andrew M. has offered to share his insights as to maximizing your enjoyment of wine in flight; he's also reviewed wine on a few different first class and business class legs for comparison. Enjoy this series, and thanks, Andrew M.!
Introduction And Selecting Wine On Airplanes
Wine Review: American Business Class Beijing To Dallas
Wine Review: American First Class Dallas To Madrid
Wine Review: Cathay Pacific First Class Frankfurt To Hong Kong
Conclusion And Bottom Line
---
Note from Andrew M.: Apologies for the picture quality – I only had my cell phone and I didn't want to annoy the crew too much by taking multiple shots of the wine and slowing down meal service for others.
American First Class Wine
American 36, DFW-MAD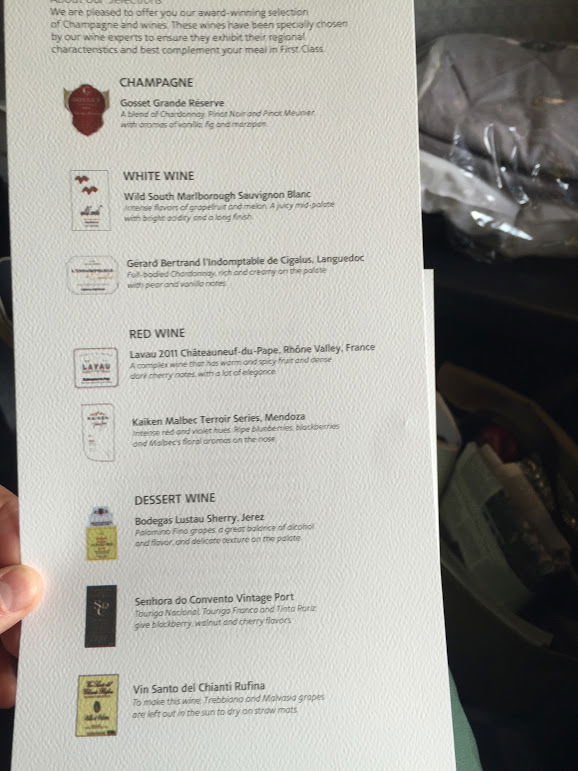 Champagne Gosset Grand Reserve
Wild South Marlborough Sauvignon Blanc
Gérard Bertrand l'Indomptable de Cigalus, Languedoc
Lavau 2011 Châteauneuf-du-Pape, Rhône Valley
Kaiken Malbec Terroir Series, Mendoza
Wine list general commentary
Some very interesting choices here.
I'm a big fan of Sauvignon Blanc on airplanes as the strong gooseberry, melon, and cut grass flavors of the wine (it tastes better than it sounds – trust me!) have often stayed strong at altitude.
Languedoc is in the southernmost region of France and therefore generally produces much more fruit forward wines as compared to Chardonnays from Burgundy, which tend to be more minerally and subtle.
The Châteauneuf-du-Pape is a rightly famous wine AOC that primarily feature the hot and spicy Grenache varietal.
Malbecs tend to be very spicy and fruit forward, so another wine that ought to translate well in the air.
I also like the option of multiple dessert wines. While a good Port is always appreciated, sometimes it is nice to have the option of a drier Sherry or other type of dessert wine.
This was the first time I've had Gosset champagne (I don't drink champers too often) but the flavor notes in the description are somewhat unusual flavors for champagne and so I was looking forward to trying it.
Overall, a promising list for flying. Some quality wines that strike a good balance between familiarity for those looking for name brand wines (Châteauneuf-du-Pape) with wines that should hold up very well at altitude.
Again, though, I wish American better described their wines. The Languedoc wine turned out to be a NV IGP wine (i.e. not made in the traditional style) which would have been nice to know.
Note: I actually did try to get some sleep on this flight so I didn't get a chance to try the Sauvignon Blanc – apologies! The crew kept the wine in the galley and brought out individual glasses, so I don't have bottle pictures.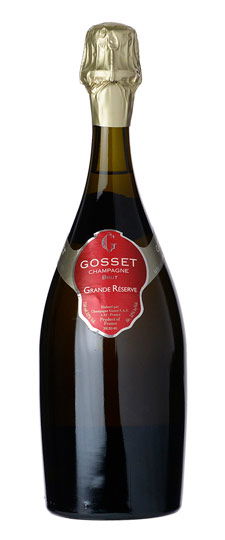 Cost: ~$40
Tasting Notes (on the ground): Strong fig notes with nice vanilla aspect. Not much toasty yeast expression so likely not aged quite so long. Not a classic champagne but still interesting to drink.
My Rating (0-5 scale)(on the ground): 3.5
Tasting Notes (in the air): Fig aspect has mostly disappeared just leaving a modest vanilla flavor. OK but nothing special.
My Rating (0-5 scale)(in the air): 2.5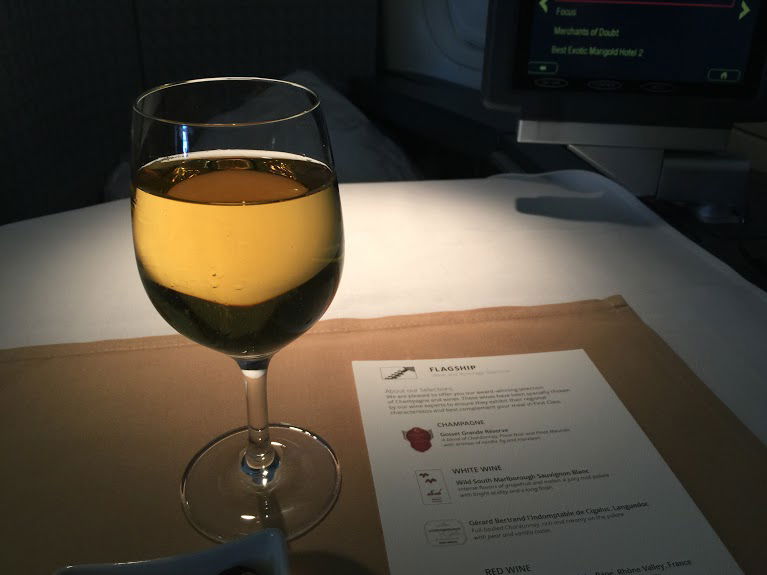 Cost: ~$28
Tasting Notes: Green citrus fruit and oak on the nose. Moderate creaminess and a citrus fruit finish. A very pleasant drinkable wine.
My Rating: 3.5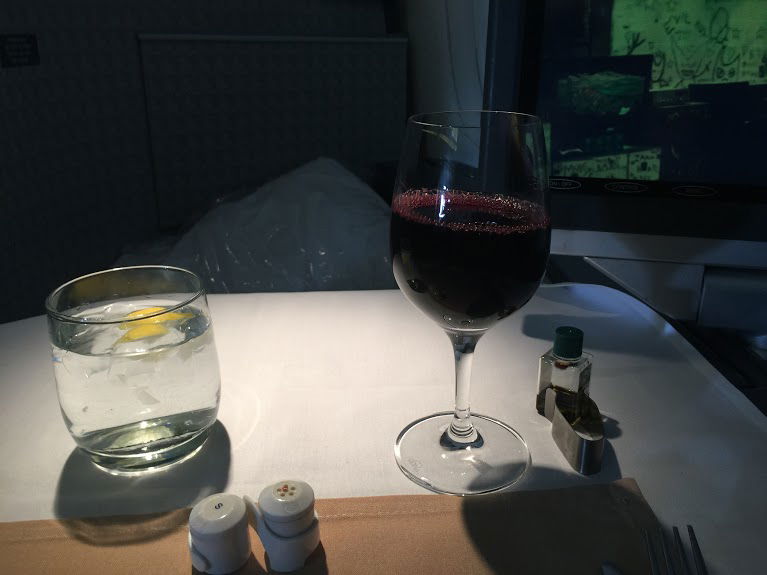 Cost: ~$35
Tasting Notes: Berry fruit nose with a hint of sweetness. Spicy modest tannin finish but the fruit follows through. A real winner.
My Rating: 4.5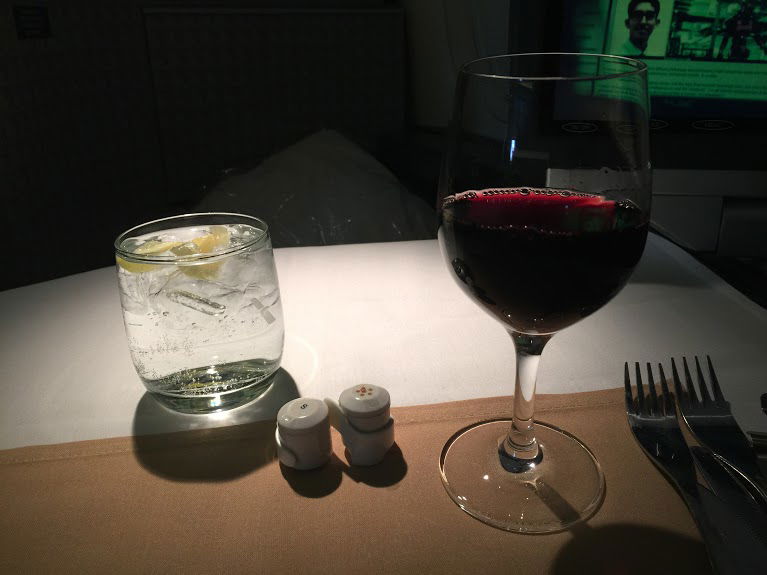 Cost: ~$14
Tasting Notes: Strong blackberry and cherry nose. Green apple flavors with a slight hint of berry/fig on the finish. Drinkable but a bit monoflavored.
My Rating: 3.0
Verdict
I had an excellent time with these wines, and very much enjoyed several of them and was very pleasantly shocked by how well chosen they were. One thing I wish American would do, however, is better label their wines on the wine list. Several of the wines were mislabeled or incompletely labeled, making it difficult to search for the wine on the ground if you liked it in the air.
Stay tuned for further installments in Andrew M.'s series as he reviews the wine on Cathay Pacific in First — and he takes on Ben's beloved Krug.