OMAAT commenter Andrew M. is a frequent traveler and points/miles enthusiast as well as a knowledgeable wine expert, who weighed in on the great English sparkling wine debate a couple months ago. Because wine takes on a totally different flavor and complexity at 35,000 feet as opposed to sea level, Andrew M. has offered to share his insights as to maximizing your enjoyment of wine in flight; he's also reviewed wine on a few different first class and business class legs for comparison. Enjoy this series, and thanks, Andrew M.!
Introduction And Selecting Wine On Airplanes
Wine Review: American Business Class Beijing To Dallas
Wine Review: American First Class Dallas To Madrid
Wine Review: Cathay Pacific First Class Frankfurt To Hong Kong
Conclusion And Bottom Line
---
Note from Andrew M.: Apologies for the picture quality – I only had my cell phone and I didn't want to annoy the crew too much by taking multiple shots of the wine and slowing down meal service for others.
Cathat Pacific First Class Wine
Cathay Pacific 288, FRA-HKG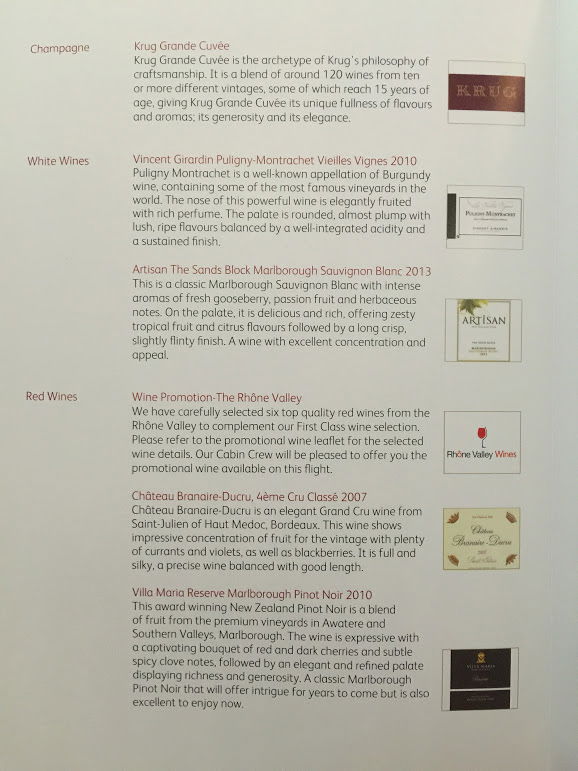 Krug Grand Cuvée
Vincent Girardin Puligny-Montrachet Vieilles Vignes 2010
Artisan The Sands Black Marlborough Sauvignon Blanc 2013
Wine Promotion – The Rhône Valley
Château Brainaire-Ducru, 4ème Cru Classé 2007
Villa Maria Reserve Marlborough Pinot Noir 2010
Wine list general commentary
A large focus on cool climate wines made me a little leery about how they'd translate in the air. The region of the Burgundy white is not known for fruit forward wines (contra the wine list descriptions). New Zealand sauvs are often quite good and fruity but while their pinots are good, they are typically not fruit forward wines.
The Bordeaux is described as "elegant" which often means subtle and complex – not a good sign; and it is from the Left Bank of Bordeaux, which, while it includes the most prestigious AOCs, is also the coolest and typically produces the most complex wines of the region.
I love Pinot – it's probably my favorite red, but a New Zealand pinot is the definition of a cool climate red.
I like the partnership with the Rhône Valley – Rhône wines are typically spicier and more full bodied than their Northern counterparts and I previously had a great experience with a Rhône wine in American Airlines First Class.
As far as the Champagne goes, Krug is Krug and needs no introduction.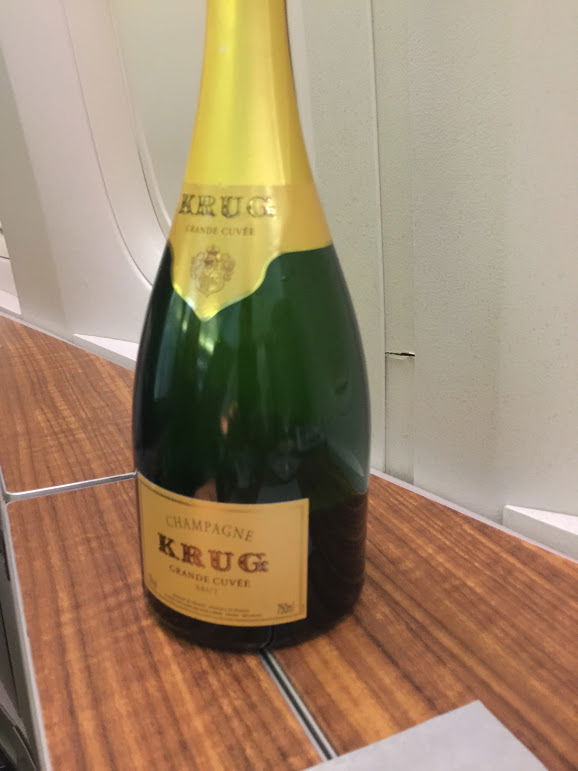 Cost: ~$150++
Tasting Notes (on the ground): A little bit of toast and spice on the nose. Green apple flavors dominant with a slight hint of berry/fig on the finish. Drinkable but a bit monoflavored.
My Rating (0-5 scale)(on the ground): 3.0
Tasting Notes (in the air): Green apple notes fade and just a modest creaminess/fig flavor remains. In some ways improves the taste.
My Rating (0-5 scale)(in the air): 3.5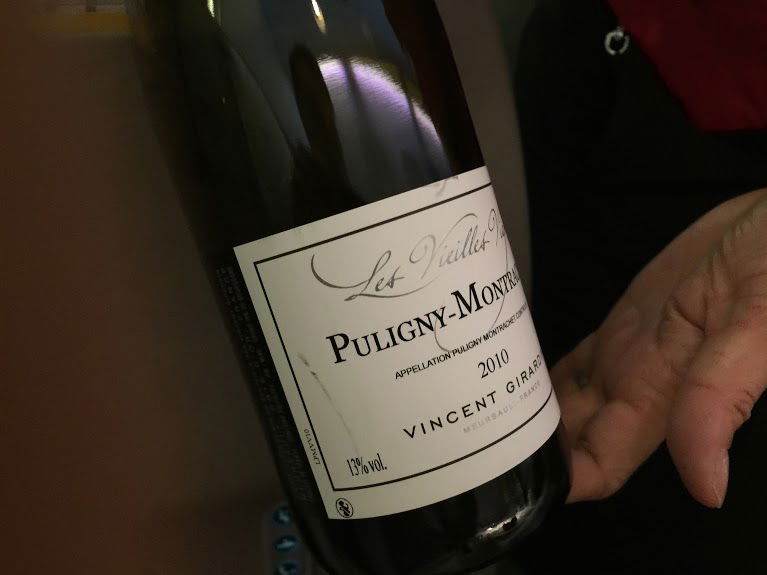 Cost: ~$58
Tasting Notes: Spicy with moderate oak presence. Modest stone fruit in the nose. Finish is modest and uninteresting.
My Rating: 2.0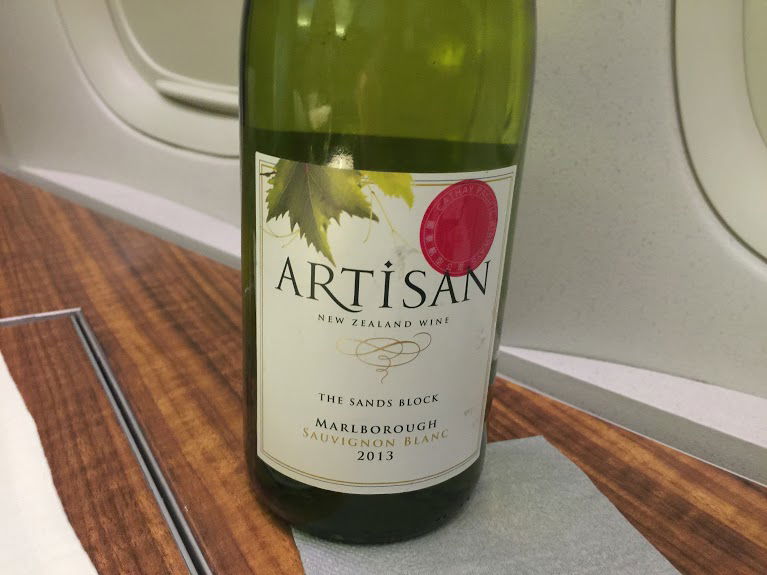 Cost: ~$19
Tasting Notes: Pear on the nose. Strong notes of gooseberry/raspberry. A pleasant and drinkable wine although not particularly complex or interesting.
My Rating: 3.0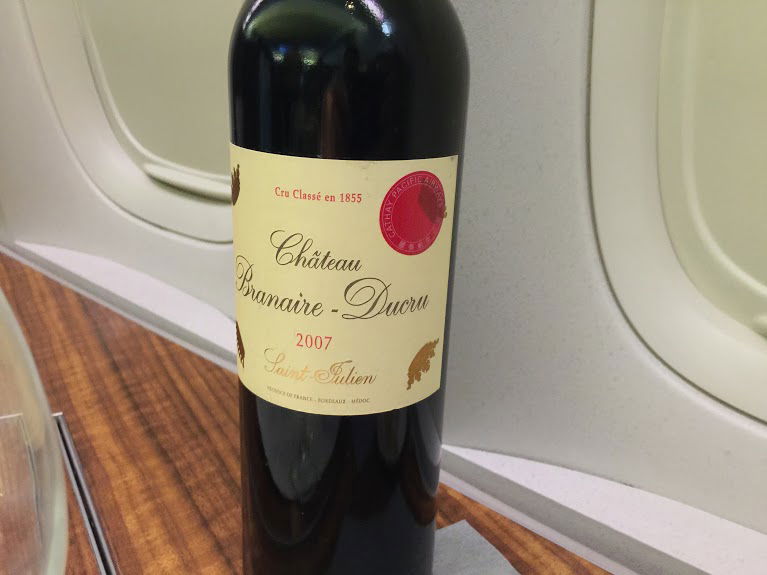 Cost: ~$55
Tasting Notes: Nose is dominated by the tannins. Very modest fruit expression. What you might expect from Trader Joe's.
My Rating: 1.5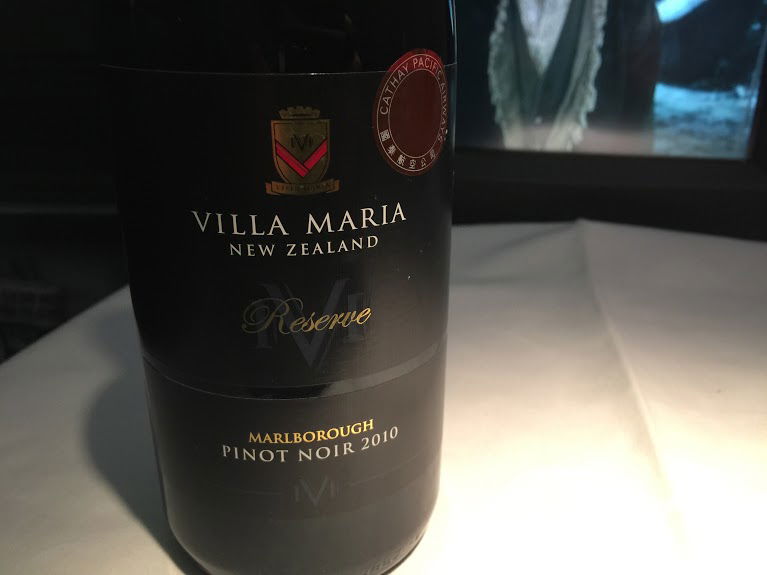 Cost: ~$28
Tasting Notes: Sweet cherries on the nose with a hint of tannins. Acidic wine with a modest cherry flavor and a bit of spiciness. Drinkable but not much interesting going on.
My Rating: 2.0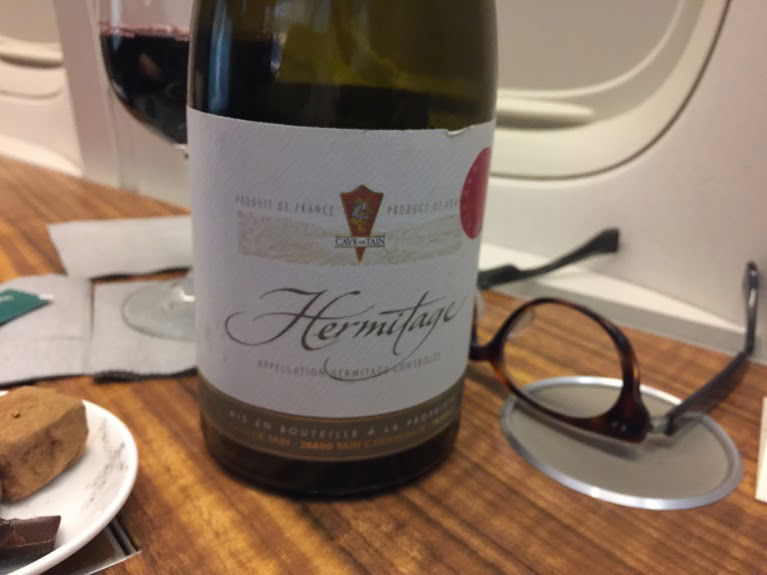 Cost: ~$35
Tasting Notes: Rich ripe fruit on the nose. Full bodied with nice tannins and acidity. Good raspberry and tobacco notes and a very pleasant cherry finish.
My Rating: 4.0
Verdict
Probably my Krug review will mean this will be my first and last post on the blog for such heresy but I actually preferred the Gosset on the ground over the Krug. Surprisingly the Krug opened better in the air as the green apple flavor became a little less dominant.
Most of the expensive French wines disappointed, no doubt because of the altitude factor. Surprisingly, from the main wine list, it was the cheapest wine onboard that I liked the most, as a good New Zealand Sauv does well on airplanes and can usually be had fairly cheaply.
In sum, a good list on paper but the list suffered from having to include "name brand" wines and cool climate wines. While Cathay's wine list no doubt costs more than the American Airlines First Class wine list, I'd take the American Airlines First Class list hands down.
Stay tuned for further installment in Andrew M.'s series as he provides his final thoughts on in flight wine in this series.