OMAAT commenter Andrew M. is a frequent traveler and points/miles enthusiast as well as a knowledgeable wine expert, who weighed in on the great English sparkling wine debate a couple months ago. Because wine takes on a totally different flavor and complexity at 35,000 feet as opposed to sea level, Andrew M. has offered to share his insights as to maximizing your enjoyment of wine in flight; he's also reviewed wine on a few different first class and business class legs for comparison. Enjoy this series, and thanks, Andrew M.!
Introduction And Selecting Wine On Airplanes
Wine Review: American Business Class Beijing To Dallas
Wine Review: American First Class Dallas To Madrid
Wine Review: Cathay Pacific First Class Frankfurt To Hong Kong
Conclusion And Bottom Line
---
At the end of the day, drink what you like.
My reviews in the previous days are just my personal taste preferences and I respect that everyone likes different things (variety is the spice of life, etc.). If you love Krug (as some people around here do) then don't let anything I've written stop you from enjoying as much of it as you can reasonably consume on a Cathay flight. 😉
However, I think my experience on these flights and other scientific research suggests that wine does taste significantly different in the air. The kinds of wines that win awards on the ground do not necessarily taste that great in the air.
Combined with the many different ways our own subtle inherent biases play out when drinking wine, one can have a dramatically different experience drinking the same wine on an airplane than they would drinking it on the ground.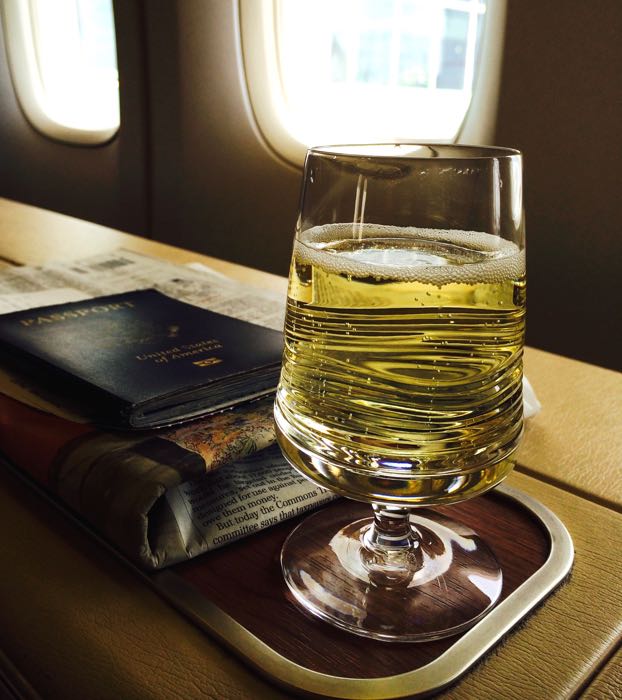 Still, having said that, for the average wine drinker, by making a few smart choices in your wine selection you can increase the odds you'll like what you're drinking in the air. A little bit of knowledge and strategy can hopefully beat the brand name syndrome and produce some surprising (and pleasurable) experiences.
In particular, in my experience in the previous posts, higher alcohol hot climate wines seem to hold up the best on airplanes. However, as my review of American business class wines showed, finding these types of wines is more of a necessary but not sufficient case to finding great wines on planes – there are still plenty of crap hot and heavy wines that still underperform whether on the ground or up in the air.
Instead, my best advice for the average wine drinker would be to seek out hot and spicy wines that already seem liked they'd be winners on the ground and something you'd like to drink anyway (Cathay Pacific's first class Rhône Valley wines, for example). Then, enjoy their full flavor while you watch the miles go by. As American first class wines showed to me at least that for equivalent or even cheaper amount of money than the competition spends, careful wine selection can beat picking wines by their Wine Spectator score in the air.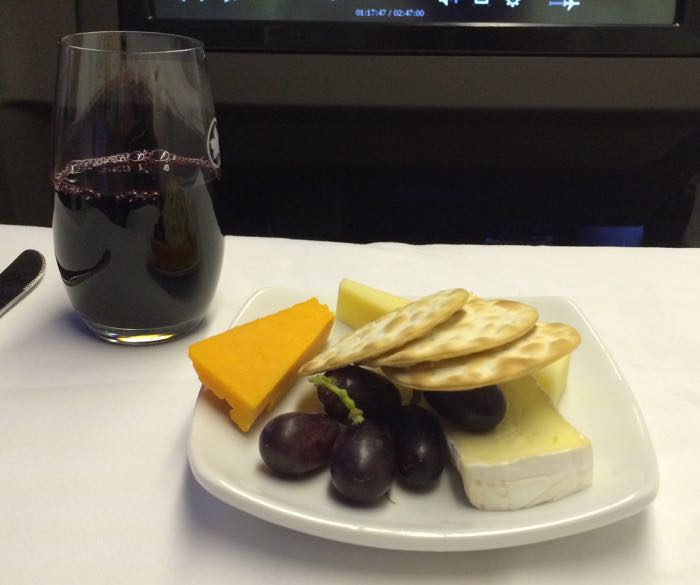 Moreover, it's at least interesting that in one aspect of international first class soft product an American carrier can hold its own against one of the best international first class products out there (although they hilariously fail to compete in many other ways). My kudos to American for some very good choices in first class.
Bottom Line
To distill this four part word dump into bullet points, I would say:
Drink what you like
Recognize that things taste different in the air than on the ground
Be open to new tasting experiences in the air and try to at least be aware of the subtle biases that we all bring to tasting new wines
Enjoy!
No matter what your drink of choice is onboard, from Diet Coke with lime to Baileys and coffee to vintage Bordeaux, safe travels and salud!