Reader David W asked the following question in the Ask Lucky forum:
@Lucky @Tiffany and anyone else:

Will you be making changes to existing flights that are affected as well as changing plans that are in the works?
I can't speak for Tiffany or anyone else, though I will share my perspective. As I assume just about everyone knows at this point, there are restrictions on electronic devices in the cabins of planes for nonstop flights from:
As of now this isn't a temporary ban that's just lasting a few day, but rather it's in effect indefinitely. Let's keep in mind that originally the liquids ban in the U.S. was rumored to be a temporary measure, though it now applies globally on most commercial flights. To me it's terrifying to think that this policy may spread.
How this ban impacts me
This isn't intended to be a "woe is me" statement (instead it's in response to David's question), but this ban will have a massive impact on my "work." My job is quite literally to fly on airlines and review and share my experiences on them. I spend most of my time on planes working. This is quite literally a normal "office view" for me: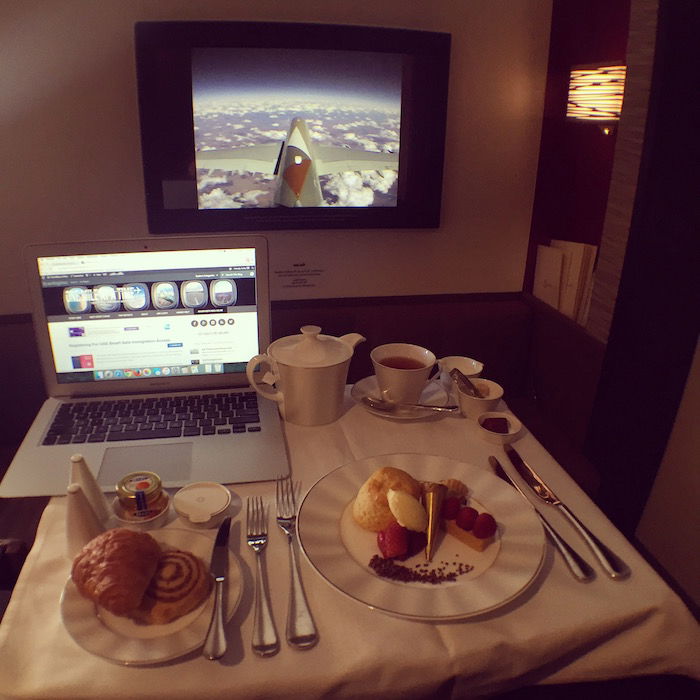 So this ban is problematic for me for a few reasons:
Part of the reason I can justify flying so much is because I can be productive while I fly. While I fly 400,000+ miles per year, in reality I don't have nearly as much lost productivity as that would suggest, given that I'm always working on planes. I'm often most productive in spurts, like when I'm waiting for a flight to board, etc.
Beyond the huge potential of direct lost productivity by not being able to work on some flights, my other concern is a lost or damaged laptop. Even with backing up data, etc., the lost productivity from having a laptop stolen or broken could be massive.
Will the electronics ban impact my travels?
Yes, unfortunately. I can't in good conscience check my laptop, in terms of the risk, in terms of the lost productivity of not being able to work while I fly, etc. It's simply not worth it to me.
So as much as I was hoping to review several airlines based in countries that are on the electronics ban list, it looks like I'll have to wait. And that's sad, because there are quite a few products I wanted to try, like Kuwait's new first class, Saudia's new first class, Turkish business class, MEA business class, etc.
I guess one possible solution would be to only fly these airlines in one direction, from the U.S. or U.K. to their hubs, rather than the other way around. Perhaps I'll do that.
I'm really happy I didn't take advantage of those great Qatar Airways fares business class fares from the U.S. to Asia a while back, because I'd definitely be canceling them. That would be costly, since there are no travel waivers in place. I don't have any other trips booked on the Gulf carriers at the moment, and will keep it that way.
Bottom line
I can't imagine the impact this is going to have on the Gulf carriers, especially for flights to the U.S., which is among their biggest market. Obviously they're trying to downplay the impact of this, by saying that they have great inflight entertainment, etc.
Let us entertain you. pic.twitter.com/FKqayqUdQ7

— Emirates Airline (@emirates) March 21, 2017
However, I suspect this is going to have a catastrophic effect on demand for travel on them, especially among business travelers.
As much as I'd like to think this will just last a few days, I highly doubt it. I'm curious if the impacted airlines will somehow get creative. I don't know how, but I almost wonder if some Gulf carriers will plan "security" stops in Europe, so that passengers can bring their electronics in the cabin. After all, Emirates' flights from Dubai to Milan to New York, and Dubai to Athens to Newark, aren't impacted by this ban.
It's the same reason Pakistan isn't subjected to this restriction, since their U.S. bound flights stop in Manchester.
Did you know? You can carry your laptop/tablets onboard US bound #PIA flights. pic.twitter.com/pc8g8Owo9G

— PIA (@Official_PIA) March 22, 2017
To what extent will the electronics ban impact the airlines you fly? Will you change any existing bookings as a result of it? Will it change the airlines you book going forward? Or no?