Update, 6AM Tuesday — Further details have been announced by DHS, please read this post for more information.
Update, 10PM Eastern — The Associated Press is reporting the electronics ban will apply to flights from Amman, Abu Dhabi, Cairo, Casablanca, Dubai, Doha, Istanbul, Jeddah, Kuwait City, and Riyadh. Developing.
Update, 6PM Eastern — Royal Jordanian has removed their notices from social media, but Saudia has posted a similar message (only in Arabic thus far). The notice states that larger personal electronics must now be checked on flights to the United States. We'll post further updates as they become available, but in the meantime see our thoughts about the logic behind this directive.
تنويه لضيوف #الخطوط_السعودية بشأن منع اصطحاب أجهزة الحواسيب المحمولة واللوحية داخل الطائرة على الرحلات المتجهة للولايات المتحدة الأمريكية pic.twitter.com/GSJ47hJgpU

— السعودية | SAUDIA (@Saudi_Airlines) March 20, 2017
---
Oh my, this is about to get interesting…
A couple of hours ago, Royal Jordanian announced that they are banning electronics from the cabins of their flights to/from the U.S. With the exception of cell phones and medical devices, all other electronics need to be checked in the cargo hold.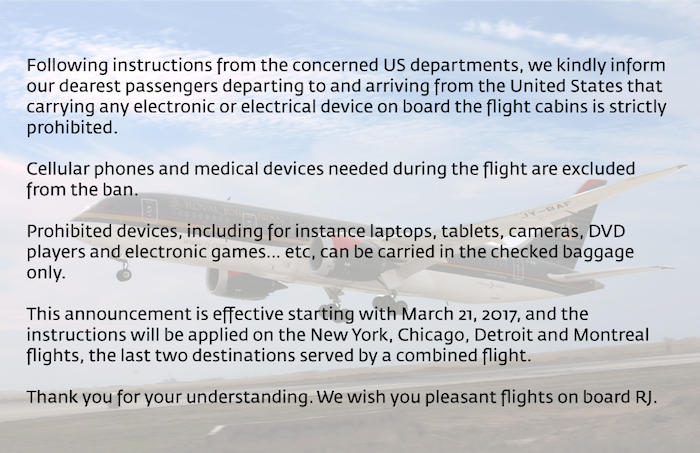 At first I assumed they horribly misinterpreted some directive, or something. To me it seems highly illogical to want passengers to check electronics. If there's some threat of terrorism or a safety concern, then I didn't really understand how requiring passengers to check electronics would help.
Historically many explosives have been in the cargo hold rather than in the cabin. That's just me talking out loud based on my understanding of things, though of course I'm no security expert — I'm sure there's logic behind this, and they're going off some specific intelligence.
However, it looks like Royal Jordanian was onto something, and we're about to see a widespread electronics ban. The details are still emerging, but I've been seeing lots of references to 13 countries having to implement a ban on electronics.
This has also been confirmed by a Saudi executive on Twitter:
https://twitter.com/ahfahad/status/843886459090288640
It sounds like passengers originating in 13 countries will soon have a very rough travel experience. While I think we can all speculate as to what some of those countries are, we haven't yet received any official confirmation.
This story is very much still developing. However, what seems certain is that Royal Jordanian wasn't misinterpreting some policy, but rather there's some intelligence that's about to change travel for a lot of people.