Reader Nick asked the following question in the Ask Lucky forum:
Love the blog! I'm just wondering, do you always need an internet connection to add content to your blog? For instance I remember in one of your posts, you were on the aircraft that didn't have Wi-Fi and then again in the uber (obviously didn't have Wi-Fi there), so how do you get your content out so quickly and efficiently?

Is it just a simple case of writing in pages and then cutting and pasting one you're in Wi-Fi range? What about adding pictures? Same thing?

I know this isn't about travel (well…kinda) but I was just curious. Thanks for all you do. Keep it up!
This is a fun question, because I suspect I'm different than most in terms of when I'm most productive. I write an average of about eight blog posts per day, and often I find that I'm significantly more productive on insane travel days, than on days where I'm just sitting in a hotel room.
Often when I plan crazy trips I say "well how am I going to be able to stay caught up on things with this sort of itinerary?" But often it proves easier than a day at a desk. Why?
I don't think there's any skill required to be productive while sitting at a desk with high speed internet, so I won't go into that part of my "work" any further. Instead I'll focus on the more challenging circumstances, where I find that I'm surprisingly productive:
When I'm tethering off my phone
With my travel schedule I have a lot of idle time. There's always a few minutes while I wait for boarding to begin, then once I'm on the plane it's usually another 30 minutes before the door closes. I spend a countless amount of time in Ubers and on trains as well.
Under those circumstances, being able to tether off my phone is a lifesaver. No, it's not high speed Wi-Fi, but in many ways that's a blessing, because it allows me to stay focused and not get distracted. When on my laptop and tethering from my phone, the speeds are fast enough so I can save a WordPress draft and schedule posts, but not so fast that I end up watching cat videos on YouTube.
Let me give an example of a "work day" for me on the road. A couple of days ago I flew Singapore Airlines from Frankfurt to New York, arrived at 11AM, had some things to attend to in the city, and then had a midnight flight to Vancouver on Philippine Airlines:
We had to wait for a gate for about 20 minutes on arrival from Frankfurt, so I was able to tether there, and crank out a blog post
I got two more blog posts done during the Uber ride into the city
I got another post done while taking an Uber ride from downtown to midtown
I got another two blog posts done during the Uber ride back to the airport
I got another post down while I was waiting for my Philippine Airlines flight to finish boarding
Hell, I'm writing this post from an Uber as we speak.
I know it's weird, but the above circumstances are where I focus best and am insanely efficient. I hate being in cars and hate waiting, so rather than being frustrated about it, I just get in work mode and am so happy when I arrive and have accomplished something. Then when I actually have a fast and stable internet connection I can watch YouTube videos instead.
So tethering whenever I'm in a situation where I'd otherwise be bored works really well for me.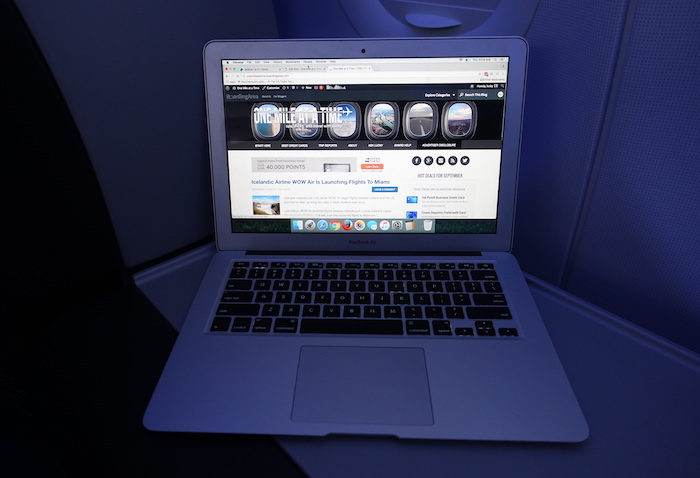 When I'm using a word processor to write
When I don't have a stable internet connection or even the ability to tether (like on a flight without Wi-Fi), I spend my time drafting stuff in a word processor. Obviously it's not ideal for posts with a lot of pictures, etc., but for posts that are wordier, it's great. I can get all my writing done uninterrupted, and then can make everything "prettier" when I have a stable internet connection again.
Furthermore, I also take this time to edit and resize pictures, and then I have them ready to go when I have a stable internet connection again.
Also, before a long flight I'll often load up some WordPress pages for posts I'm working on. For example, trip reports are time consuming, so I'll insert all the pictures into a WordPress page when I have a stable internet connection, and then I'll do the actual writing when I don't have an internet connection. I just save a backup of it, in case the page crashes.
Bottom line
Obviously the above is pretty specific to blogging, though that's also what the question was about. However, I think the general philosophy works for staying productive on the road, regardless of what type of work you're doing. In a way, I find that I'm more productive and focused with slow internet, which is why being able to tether off my phone during idle time is such a lifesaver.
Anyone else have any tips for maximizing productivity on the road?