In late October I wrote about how Kuwait Airways is undergoing a rebranding, which is starting with a (long overdue) livery change.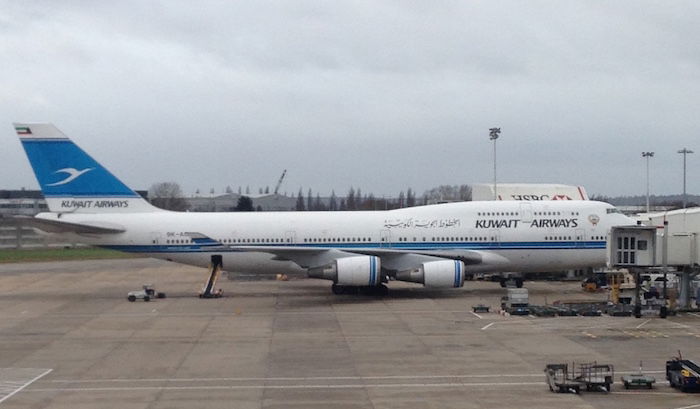 The airline is taking delivery of 10 new 777-300ERs, so my hope has been that the new planes will also feature modern products. I'd argue Kuwait Airways' existing 777s feature the most outdated products of any 777 in the world.
Well, Kuwait Airways has finally taken delivery of their first 777-300ER within the past couple of days, and they've had a celebration surrounding it in Kuwait City.
Good Morning! It's a new day & a new dawn on our journey of transformation. Our 1st B777-300ER is here! #iflykuwaitairways #blue_bird_rising pic.twitter.com/RTbwa8eFoe

— Kuwait Airways (@KuwaitAirways) December 10, 2016
Based on pictures I've seen from the media event, it looks like Kuwait Airways has really improved their onboard product, which I'm very excited about.
Specifically, their new 777-300ERs seem to have fully enclosed suites in first class:
كراسي الدرجه الاولى pic.twitter.com/7gXCIWwoNT

— م. عبدالرحمن الغريب (@alghareeb83) December 9, 2016
Then they have fully flat B/E Aerospace Diamond seats in business class:
كراسي البزنس pic.twitter.com/3QFMsIsDeC

— م. عبدالرحمن الغريب (@alghareeb83) December 9, 2016
Then in economy they only have nine seats per row, rather than the industry standard 10:
اكبر كراسي economy class من نوعهم pic.twitter.com/AQ9oKBFihp

— م. عبدالرحمن الغريب (@alghareeb83) December 9, 2016
Overall the new plane looks gorgeous, and represents a massive upgrade for the airline, given how outdated their fleet has long been. Also, the airline presently only has two 777-200s, so them taking delivery of 10 new ones should help them greatly expand their route network.
Now the big question is just when Kuwait Airways will begin flying their new 777-300ERs to New York, which is their flagship route. I've been wanting to review Kuwait Airways for a long time, though wanted to wait until they had their new product. I imagine that Kuwait's first longhaul 777-300ER destination will be New York, and I imagine that will happen within a few months. However, the plane hasn't yet been loaded into the schedule.
There are some fantastic Kuwait Airways first & business class fares at the moment, which I'd book in a heartbeat if I knew they'd feature the new product.
For example, you can fly from Cairo to New York for ~$558 one-way in business class:

Or you can fly from Cairo to New York for ~$1,009 in first class:

Between this and Saudia installing new first class suites on their 777s, the historically second-rate Gulf carriers are starting to narrow the quality gap just a little bit
What do you make of Kuwait Airways' new 777-300ER cabins?