Whenever I'm talking with people who are just getting started with miles and points, I'm often surprised by both what miles they're accumulating, and how intimidated they are by actually using those miles. The natural instinct is to look for shortcuts or somewhere to outsource the research to, but if you're invested enough to be reading One Mile at a Time, I think it's worthwhile to learn how to do this stuff on your own.
There are certainly more complicated elements, but that doesn't mean you can't book your own awards with a bit of practice.
Beyond that, myself and everyone I work with are really passionate about this hobby. Like, crazy-scouring-award-charts-for-fun-on-Sunday-mornings passionate. And as someone who loves miles and points it just makes sense to me that you'd learn how to redeem your miles as you learn how to earn them.
After all, if you don't know what's practical with your miles, how do you know if you're accumulating the right ones?
So I thought I'd go through the bare-bones basics of what sites and tools to use to look for award space.
Caveats: If you've been reading OMAAT for years, have redeemed United miles for Lufthansa first class, or LifeMiles for anything, then this post will probably be a bit basic for you.
I'm also only going to cover publicly available tools and ExpertFlyer — there are some "pro" tools out there for searching award space, but I don't use them.
Even beyond that, just because these are the tools that I use to search space, that doesn't mean there aren't other sites with the same information. I gravitate towards using the British Airways site out of habit, not because it's any good, so if you have alternatives or tools you prefer, please share in the comments!
Alliances & Partnerships
Airline alliances and partnerships are really the building blocks of award travel. Pretty much every airline has partners nowadays, and for the most part you can redeem the miles you've earned on an airline on their partners as well.
However, you will always follow the charts and rules for the program you have miles with. Always.
This is an area where there's often a great deal of confusion, so to be clear: you can earn miles with one airline, and potentially use that airlines' miles to fly another airline. With very very limited exceptions you will not transfer miles between the two airlines.
So if you have United miles, you're going to be paying United's award rates.
You're going to use united.com or call MileagePlus to book your ticket.
Your email confirmation will come from United, regardless of which airline is operating your flight.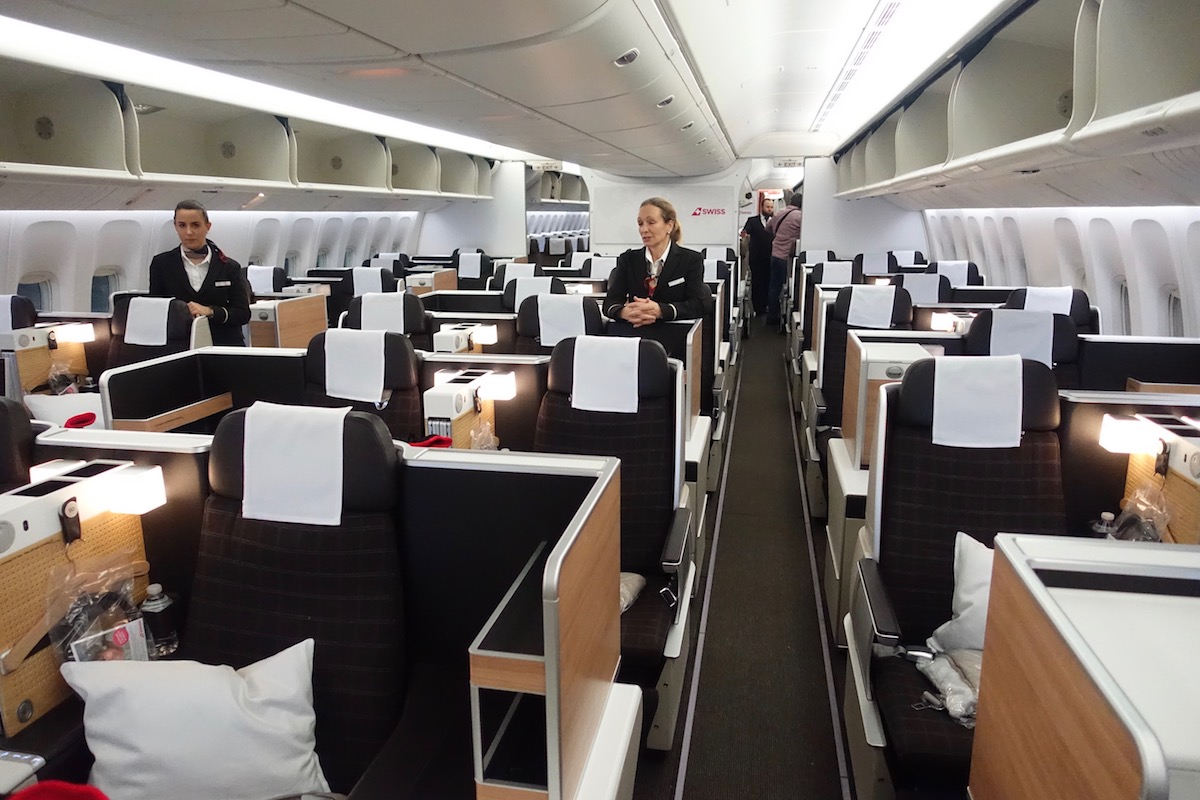 So you can accrue Marriott points to transfer to Aeroplan to book on Swiss — oh my!
Make sense so far?
Saver vs. Standard
The next key thing to understand is that many airlines have multiple tiers of award space.
A subset of space is often reserved for members of the airlines' frequent flyer program, and partners don't have access to that inventory.
Singapore Airlines, for example, typically only releases long-haul premium cabin availability to members of their own KrisFlyer program. Delta Air Lines has (roughly) five tiers of award availability, but partner airlines only have access to the first tier.
Visually, one of the easiest ways to show this is through the old United site. United used to display their "Saver" award space in blue:

All partner airlines should have access to this award inventory. The price you pay is going to be dependent upon which program you're using, so you can just ignore the numbers if you're booking through a Star Alliance partner.
Meanwhile the flights listed in yellow are only available if you're redeeming United MileagePlus miles.
The new United website isn't as helpfully color-coded (or helpful at all, really), but there are still separate categories for "Saver" and "Everyday" if you're looking at premium cabins: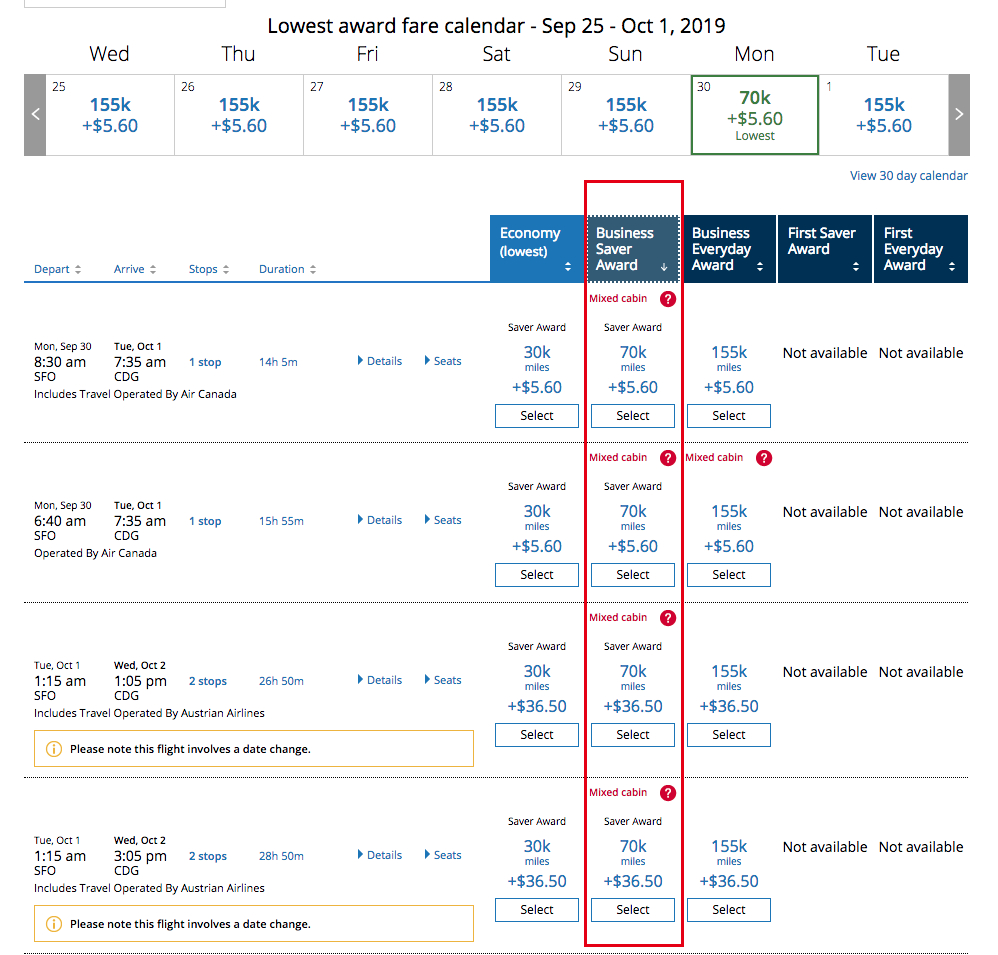 Similarly, American's "MileSAAver" award space should match what their partner airlines have access to:
While "AAnytime" awards are reserved for those using AAdvantage miles: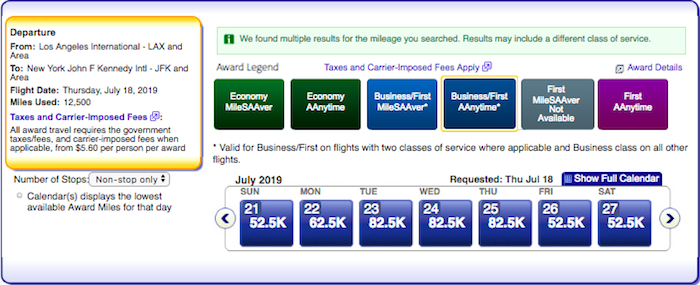 So if you can find saver award space, you can generally use miles from any partner or alliance member to book the flights.
But where do you go about finding this mythical saver award space?
Where to search for award space
There isn't a great way to consolidate this information, but it basically boils down to some airlines having more robust websites than others. We've compiled a list of where we search for space — again, that doesn't mean these are the only options, just our favorites (or the ones where we've fallen in to a rut).
Star Alliance
The little asterisks on this chart are because life is complicated. Sometimes, for reasons I don't quite understand, these websites come up with random "phantom space" that doesn't actually exist.
United.com is the worst culprit here, although they've gotten much better in the past year or so. But it's good to take a  "trust but verify" approach with and check multiple sources if you find exceedingly rare space.
oneworld
The phantom space situation is much better with oneworld, but there are still a few things to watch out for. British Airways will sometimes show inaccurate space for Cathay Pacific, and American randomly makes up availability on Finnair.
SkyTeam
Ah, SkyTeam.
So the main thing to understand here is that Delta doesn't really understand what "alliance" means, so you have to pretty much disregard everything I've said about saver space being open to all partners. Delta often only has access to a subset of a subset of partner space, so just because you see something on one of these other tools doesn't necessarily mean Delta can book it. Sorry 🙁
Other key airlines
When airlines aren't part of an alliance they tend to have different agreements regarding award space. So while Alaska Air shares award space equally with all of its partners, Aer Lingus does not. So you can use these tools as a starting point, but know that availability will ultimately be different based on what the program you're booking through has access to.
Booking mileage tickets
When you're searching, just search for one segment at a time — these websites need all the help they can get, so if you're going to be making a few connections start with the long flights. You'll get better results starting your search with Chicago > Frankfurt than expecting the website to pull up a Portland > Chicago > Frankfurt > Athens itinerary.
If you don't know how to use any of the tools in the tables above, or if the previous paragraph sounds like Martian, you might want to check out the Beginner's Guide, or Ben's tutorials. For more specifics on how to use certain types of points, be sure to read over Spencer's guides to Ultimate Rewards and Membership Rewards as well.
As you find flights, make notes. When you've put together your entire itinerary, go back to the airline where you have miles to book your award.
Also, in many/most cases, if you've found award space using one of the tools above, you won't be able to book using the issuing carriers website and will need to call.
Bottom line
When it comes time to redeem your points, you nearly always have more options than are immediately apparent on the airline website.
Knowing where to find award space can expand your options greatly, and can help keep you on track with earning miles as well.
Which are your favorite sites to search award space?