While we all know SkyTeam is kind of the alliance of the "leftovers," this move makes me wonder whether calling them an "alliance" at all is too generous.
Delta announced today that for flights flown on or after September 1, 2013, they've changed the earnings structure for travel on partner airlines. Partner airlines now fall into four groups, as follows: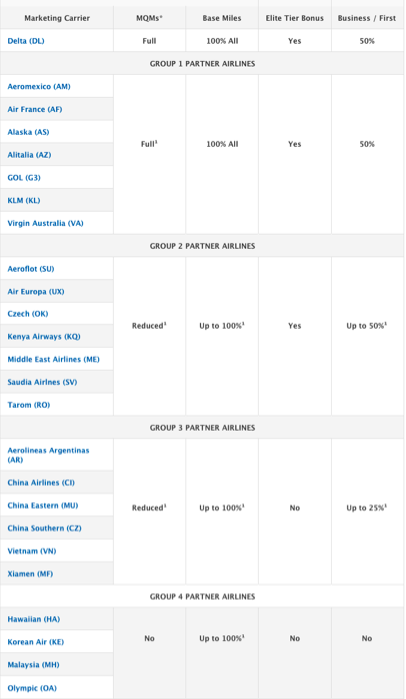 This is puzzling on so many levels. For example, Korean Air belongs to SkyTeam, but as of September 1 you won't be able to earn MQMs (Medallion Qualifying Miles) for travel on them. Meanwhile you can earn MQMs for travel on Virgin Australia, which doesn't belong to SkyTeam. This is the first case I can think of where an airline changed policies to the point that you can't earn any elite qualifying miles for travel on an alliance airline.
Interestingly on FlyerTalk, Delta explains it in part as follows:
We'd like you to understand that each airline determines its level of participation in partnership with us, so there are varying levels of customer rewards when flying with our partners.
I mean, that's a complete BS reason. "Participation" requires two parties, so it's pathetic that they're trying to remove themselves entirely from this situation.
I can understand airlines have a tough time balancing their interests and their alliance's interests. After all, if you award the same number of miles for traveling on a partner airline as you do for traveling on your own flights, and your partner airline has a better premium cabin product, is that really a smart business decision? Earlier this year United cut the mileage accrual rates for premium cabins on some of their partner airlines, and to some degree I can't blame them.
But to completely eliminate the ability to earn elite qualifying miles on a partner airline is downright ridiculous. Then again I hope most of you are earning Delta miles through non-flying means, and this doesn't impact you.