In the interest of full disclosure, One Mile at a Time earns a referral bonus for purchases made through some of the below links. These are products and services we use ourselves, and are the best offers we know of. Check out our Advertising Policy for further details. Thanks for your support!
In the interest of full disclosure, OMAAT earns a referral bonus for anyone that's approved through some of the below links. These are the best publicly available offers that we have found for each card. Opinions expressed here are the author's alone, not those of the bank, credit card issuer, airlines or hotel chain, and have not been reviewed, approved or otherwise endorsed by any of these entities. Please check out my advertiser policy for further details about our partners, and thanks for your support!
Since early April, Hilton Honors has been offering a 100% bonus on purchased points. I've written about this promotion before, and if you haven't yet taken advantage of the promotion, it expires tomorrow, Tuesday, May 28, 2019, so this is your last chance to buy points.
In this post I wanted to look at some specific examples of when it makes sense to buy Honors points.
What's the real cost to buy Hilton points?
When Hilton is offering a 100% bonus on purchased points, you're paying just 0.5 cents per purchased point. This is as low as the cost on purchased Hilton points gets.
Each member can purchase up to 80,000 points pre-bonus, meaning you can purchase a total of 160,000 Honors points at a cost of $800.
But really the cost is slightly lower than that, since you have to factor in the value of credit card rewards you're earning for buying points.
Hilton points purchases are processed by points.com, meaning they don't count as a hotel purchase for the purposes of credit card spend. So I'd recommend using a card on which you're trying to reach minimum spend, or otherwise, a credit card that maximizes your return on everyday spend, like the Chase Freedom Unlimited® or Citi® Double Cash Card.
These are the credit cards which are best for buying points.
For the math I do below I won't even factor that in (since different people will use different credit cards), but keep in mind the cost is even lower.
How to buy more than 160K Hilton points per year
As mentioned above, each member can purchase at most 80,000 points pre-bonus per account per calendar year. However, Hilton Honors has the best policy of any hotel program when it comes to letting you easily transfer points to other members. You can transfer them online to a family member, friend, etc., at no cost.
The limits for this are as follows:
Members can transfer up to 500,000 points per calendar years to others
Members can receive up to two million points per calendar year from others
Members are limited to making six transfers to other member accounts per calendar year
So in reality you can buy Hilton Honors points for several accounts, and then pool them. This doesn't violate any rules (assuming the accounts belong to actual, consenting people).
Hilton offers a fifth night free on awards
In the below examples I'm going to provide, remember that Hilton Honors offers a fifth night free on award redemptions for all elite members. Just about anyone should have Hilton Honors elite status, since you get it just for having one of their co-branded credit cards (and there are other easy ways to get it as well).
You don't pay most taxes and fees on awards
When you're calculating the value of your redemption, you of course want to compare it to how much a cash stay would cost. But one important thing to keep in mind is that most taxes and fees are a percentage of the room rate, and for an award stay that amount is zero.
So you don't just want to compare the points cost to the base rate, but compare it to the "all-in" cost, given that taxes and fees can often be 20%+ of the room rate.
Some hotels that are an exceptionally good value
There are many hotels where you can get an incredible deal by just outright buying points for a stay (you'll have to do so through multiple accounts, as explained above).
I'm going to completely ignore festive season here. During the high season, you can get even better value, because hotels can often charge two or three times as much as they'd usually charge. But let's forget that for now, and just look at "normal" pricing.
So, let's look at a few examples.
Perhaps the best example nowadays is the Waldorf Astoria Maldives, opening this summer. This hotel costs 120,000 points per night, so in five-night increments will cost 96,000 Honors points per night. At the rate of 0.5 cents per point, that's like paying $480 per night, which is less than a third of the otherwise lowest rate.

So for five nights you can either redeem 480,000 points ($2,400 at 0.5 cents per point)…
Or you can pay $9,833 (note that this rate is non-refundable, while the points rate is typically refundable up until closer to your stay).
The Waldorf Astoria Beverly Hills is quickly becoming one of the most well-regarded hotels in LA, and best of all it's even a points property. It typically goes for 95,000 points per night, or 76,000 points per night with a fifth night free.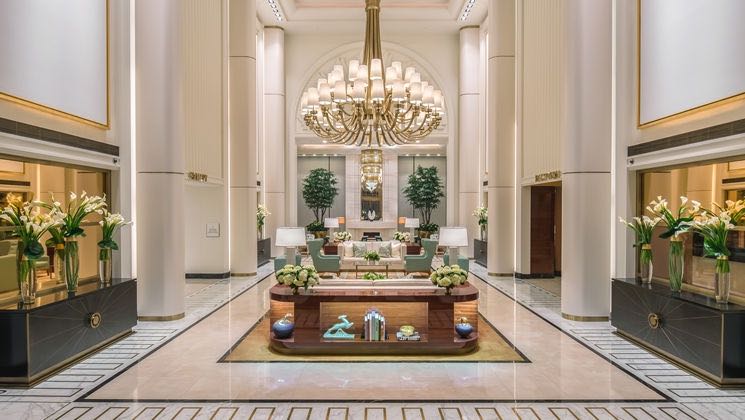 So for five nights you can either redeem 380,000 points ($1,900 at 0.5 cents per point)…
Or you can pay $3,883.
The Conrad Bora Bora has varying award pricing throughout the year, but in general it starts at 80,000 points per night. I stayed here last December, and this hotel is spectacular.
So for five nights you can either redeem 320,000 points ($1,600 at 0.5 cents per point)…
Or you can pay $4,725.
While the Waldorf Astoria Maldives is no doubt the new "it" Hilton hotel, there's still potentially some value in staying at the Conrad Maldives. At almost all properties in the Maldives, base rooms are over land, while only premium rooms are overwater villas, which is an experience a lot of people want to have.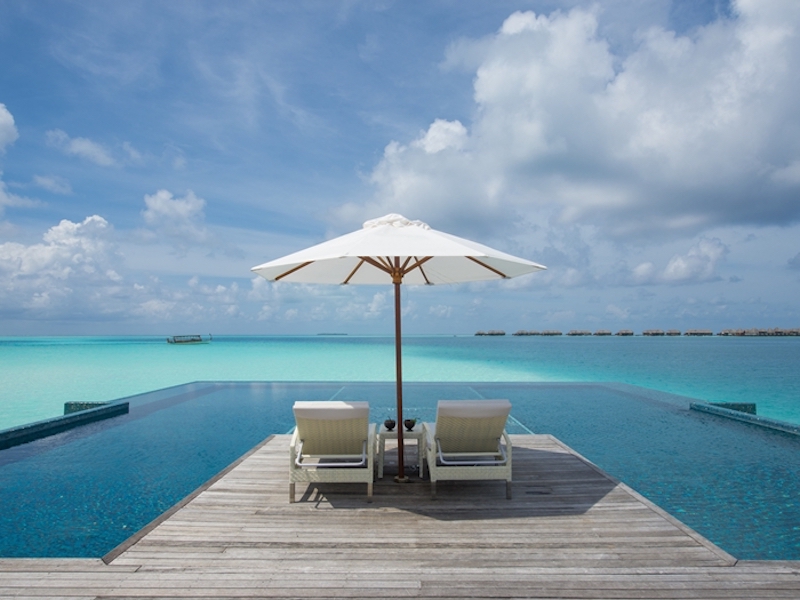 What makes the Conrad Maldives potentially worthwhile is that they actually let you redeem points at the standard rate for either a land or overwater villa.
This hotel costs 95,000 points per night, so in five night increments will cost 76,000 Honors points per night. At the rate of 0.5 cents per point, that's like buying $380 per night.
Alternatively the cash rate would be $5,583 for the same stay.
Bottom line
There are plenty of circumstances where buying Hilton points for 0.5 cents each can make sense. This isn't just true for luxury hotels, but also for mid-range hotels in peak season.
However, the above are just a few hotels where you'll almost always score well over 50% off just by buying points directly at a discount and then redeeming them.
Buying hotel nights for $320-480 when they would cost $1,000-2,000+ is a heck of a deal, if you ask me.
Now, I'd note that Hilton sells points fairly regularly (though the 100% bonus only comes around a few times per year). Generally speaking, I'd only recommend buying points with a relatively short term use in mind, since it's always possible there will be devaluations.
But seriously, this is a very clear case where there's a lot of value to be had to start from scratch and buy enough points for an award at specific properties.
Even if you don't usually collect points but want to go to the Maldives, where else will you get something of the caliber of the Waldorf Astoria for $480 per night (well, we're hoping it's good, since the hotel isn't yet open)?
So if you are considering one of Hilton's top properties, do consider buying Hilton points. But act quick, because this promotion expires tomorrow.