---
The bus ride from terminal five took maybe ten minutes, and after a quick security check I found myself in the maze known as terminal three.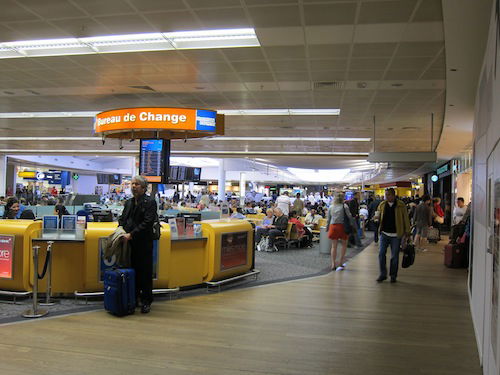 Terminal three
I headed for the American Admirals Club (which houses the Flagship Lounge), located near the Virgin Atlantic Clubhouse entrance.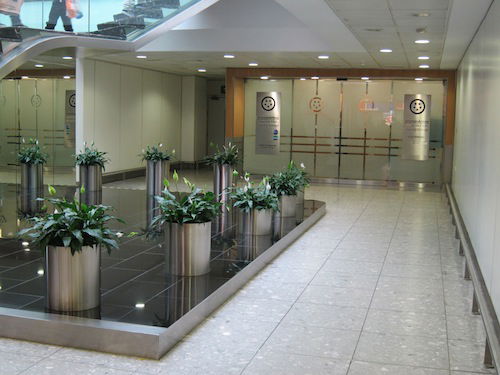 Admirals Club entrance
Upon entering I was asked some ridiculous security questions by a contract worker before being allowed to talk to an American agent. The guy asked me whether I had any new electronics, what kind they were, and how much they were worth. Does this guy work in cooperation with the rampers that steal electronics from checked bags? 😉
The agent gave me a key for the Flagship Lounge, which is off to the right side.
The Flagship Lounge itself was okay, though as seems to be a theme with OneWorld first class lounges, felt more like a business class lounge. The furnishings were nice enough and the snack selection was decent, similar to the breakfast spread you would expect in a nice hotel club lounge.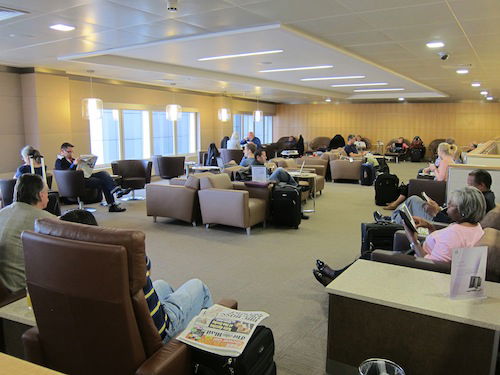 Flagship Lounge seating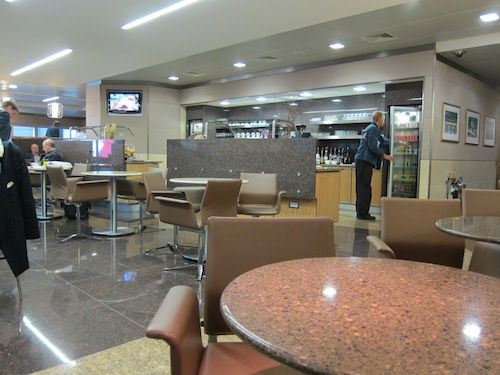 Flagship Lounge seating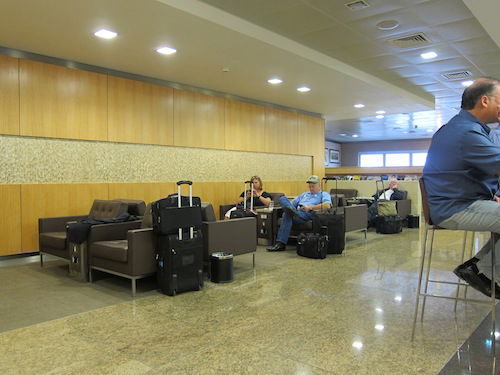 Flagship Lounge seating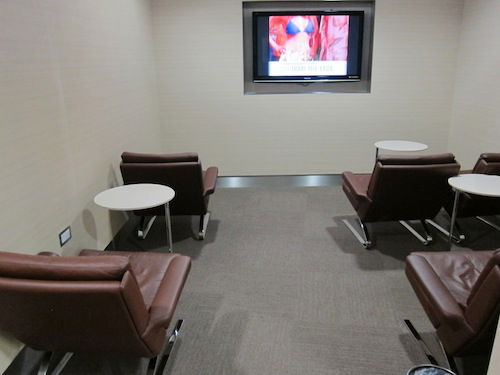 Flagship Lounge relaxation area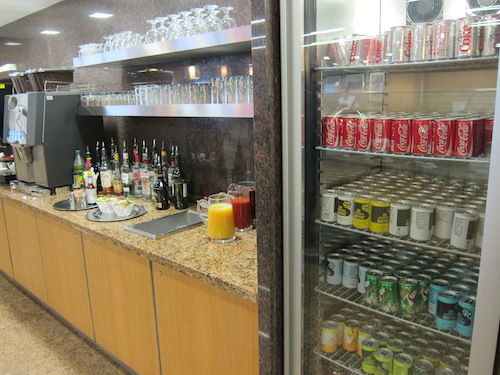 F
Flagship Lounge drink selection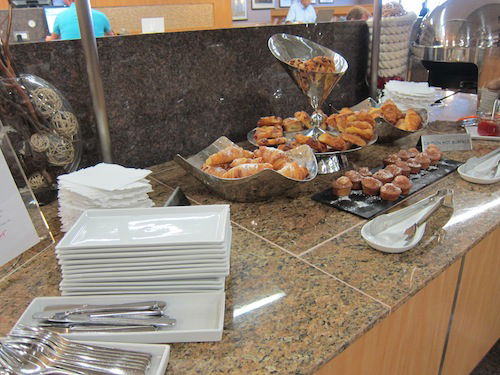 Flagship Lounge snack selection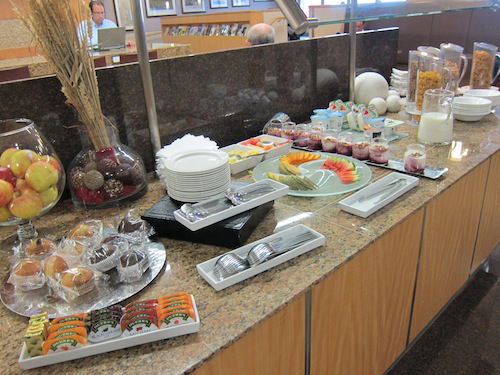 Flagship Lounge snack selection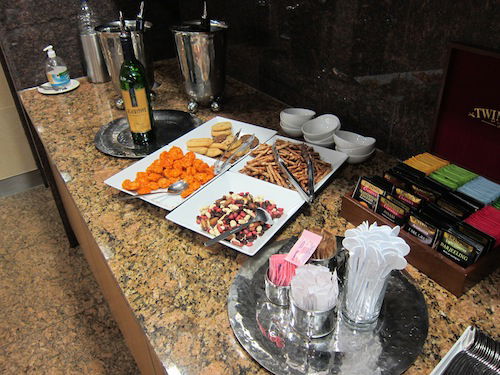 Flagship Lounge snack selection
The issue was that it was incredibly crowded, to the point that it was tough to find a spot to sit, at least in any sort of semi-privacy. Instead I sat next to a guy that was making Skype calls to just about possible loved one imaginable.
At around 9AM I headed to my departure gate for boarding, which was gate 35.
As is the norm at Heathrow, it was quite a haul, and took the better part of 15 minutes to get to the gate.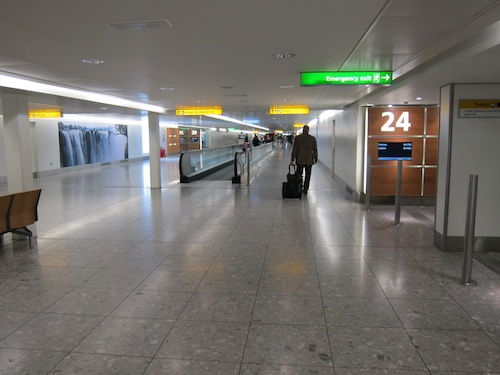 Heading to departure gate
They must have started boarding early because I was among the last to board. The agent working the gate said "have a nice flight, buddy" as I boarded… that's a first for me in Europe.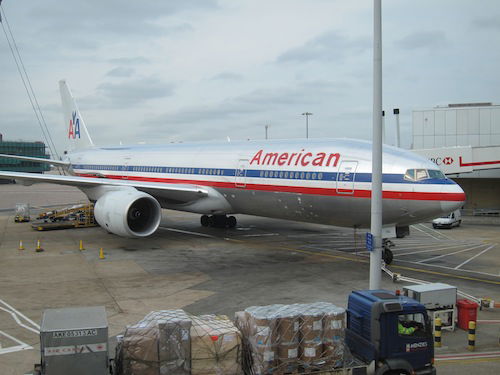 Miami bound American 777
American 57
London (LHR) – Miami (MIA)
Sunday, June 5
Depart: 9:50AM
Arrive: 2:30PM
Duration: 9hr40min
Aircraft: Boeing 777-200
Seat: 3A (First Class)
Once aboard I turned left towards the first class cabin and settled into 3A, where an amenity kit and Bose noise canceling headphones were waiting for me.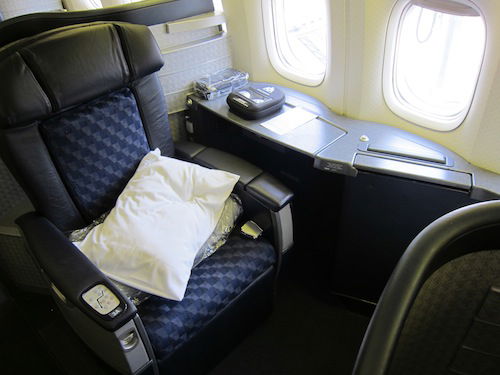 Seat 3A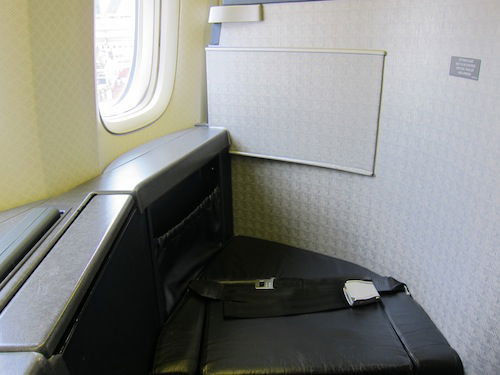 Ottoman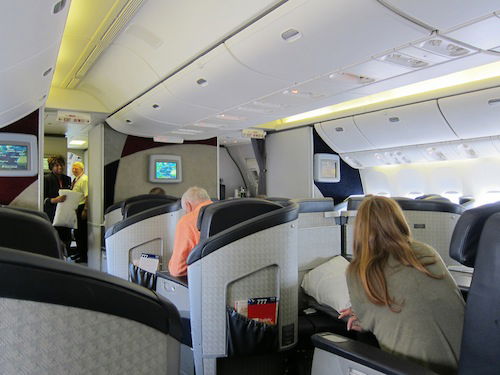 Cabin view
I could almost immediately tell it would be a great flight thanks to the great purser, Dave.
Admittedly he's not everyone's style, though what impressed me about him was his ability to tailor his service to each individual passenger. The crowd in first wasn't very business-like, so he was full of jokes.
There was an older couple seated in front of me that were taking pictures of each other, so Dave went up to them and said "want me to take a picture of you two? The first one's free." It probably doesn't sound funny as I write this, but it was all in the delivery.
As soon as I settled in I was offered a pre-departure beverage by Dave, and went with an orange juice. Shortly thereafter he offered me the lunch menu.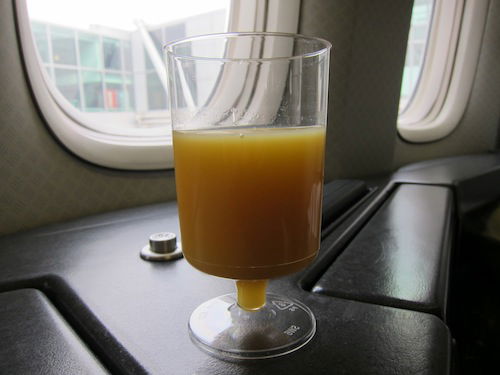 Pre-departure orange juice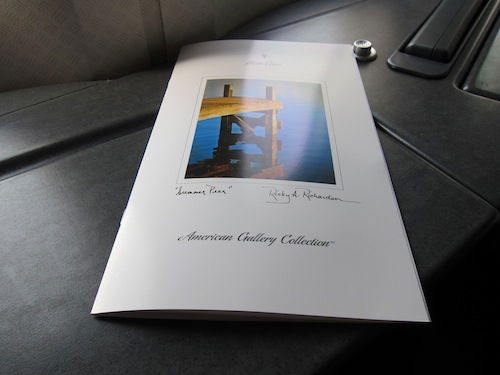 Menu
The captain came on the PA at this point to advise us of our flight time of 8hr48min, anticipating an early arrival.
Shortly thereafter the gentleman seated behind me, the only traditional "business traveler" in the cabin, asked Dave where the power outlet was. Dave explained that you needed one of the adapters, though the passenger responded with "well, how am I supposed to work?" Dave told him there was a British Airways flight an hour or two later that he might be able to switch to, though finished with "but it's Sunday, you should take the day off. You deserve it, I'm sure."
At this point Dave took lunch orders, along the lines of "Ben, what do you think of my wife's menu? She's in the kitchen today, so what do you want her to fix you up?" I thought he was joking, though his wife was in fact working the first class galley.
As we taxied out Dave came by my seat to make some movie suggestions, entirely unsolicited. Dave recommended "Just Go With It," starring Adam Sandler and Jennifer Anniston, so I decided to watch that.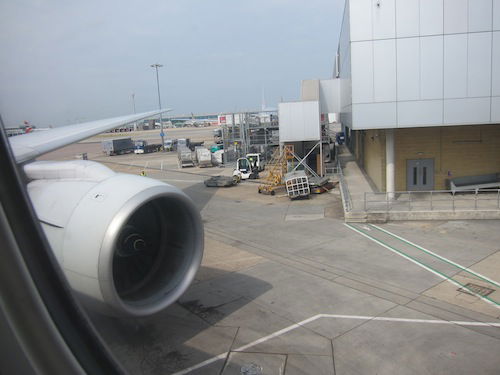 View
After the safety demo we pushed back and started our quick taxi to the runway, where we only had about a five-minute wait before we took off.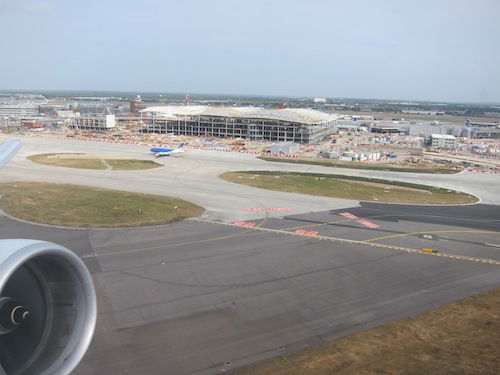 Shortly after takeoff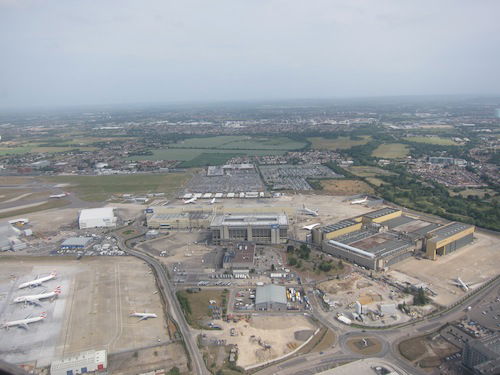 View after takeoff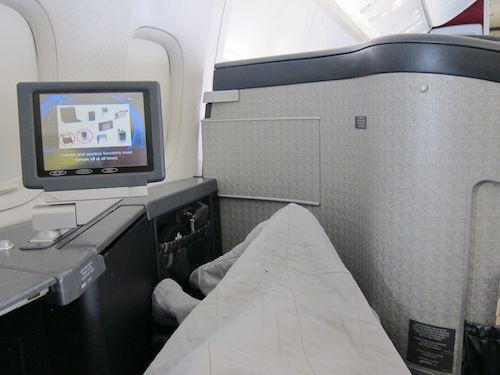 Entertainment system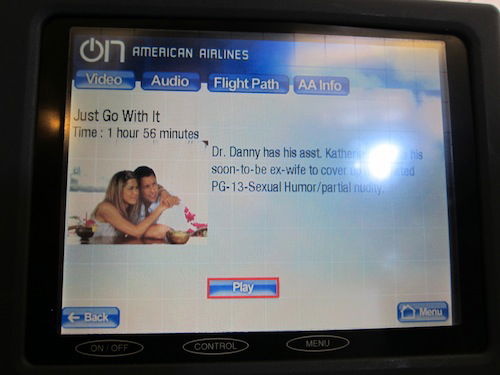 Movie selection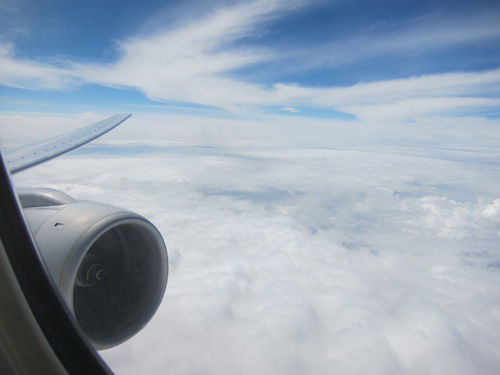 Leveling off
About 30 minutes into the flight the seatbelt sign was turned off and service began starting with hot towels.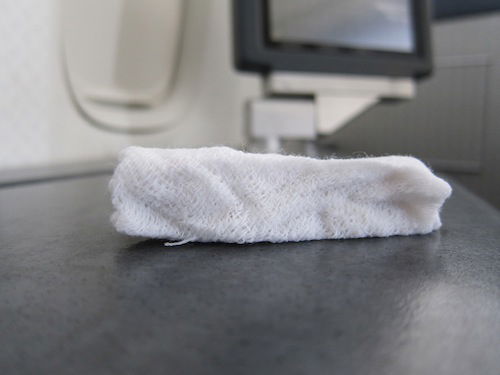 Hot towel
At this point the meal service began. The lunch menu read as follows:
Dining Service


To Start
Warm mixed nuts
or
Crudités and dip

Appetizer
Smoked salmon and citrus marinated shrimp accompanied by capers, red onion and sour cream

The Salad Cart
Fresh seasonal greens with artichokes, red bell peppers, kalamata olives and cucumbers, offered with Greek vinaigrette or premium extra virgin olive oil and balsamic vinegar

Sliced lemon garlic chicken breast

Bread Basket
Assorted gourmet breads

Main Course
Chateaubriand with Red Wine Sauce
Grilled fillet of beef enhanced by a red wine and shallot sauce, offered with haricots verts and mustard mashed potatoes

Coriander Lime Chicken
Breast of chicken flavored with coriander and lime, served with pumpkin sauce, tomato couscous and stir-fried vegetables

Salmon with Onion Pine Nut Confit
Grilled salmon topped with an onion pine nut confit, accompanied by spinach mashed potatoes, sauteed peppers and zucchini

Vegetable Lasagna
Lasagna with eggplant, root vegetables, bell peppers, zucchini, tomatoes and bechamel sauce topped with grated Italian cheese, arugula, sweet herbs and pesto

Dine Upon Request
You may choose one of the featured entrees to be served with an appetizer and dessert, presented all at once, at any time you wish.

Dessert
Ice Cream Sundae
Vanilla ice cream with a choice of hot fudge, butterscotch or seasonal berry toppings, whipped cream and pecans.

Fruit and Cheese
A selection of gourmet cheeses offered with fresh seasonal fruit and assorted crackers
And for those of you interested, the wine list read as follows:
Champagne

Pommery Brut Champagne
Chardonnay, Pinot Noir, Pinot Meunier Grapes

White Wines

Folie à Deux
Chardonnay Grapes

Groom Lenswood Saugivnon Blanc, Adelaide Hills, Australia
Sauvignon Blanc Grapes

Red Wines

Château Villa Bel-Air
Cabernet Sauvignon, Merlot, Cabernet Franc Grapes

Cyan Prestigio
Tinta de Toro Grapes

Sherry

Emilio Lustau Sherry
Palomino Fino Grapes

Dessert Wines

Graham's Vintage Port
Touriga Nacional Grapes

Inniskillin Vidal Icewine
Vidal Grapes
In addition to Dave and his wife was another chatty older lady working first class, who was equally awesome. She smiled at every interaction, and couldn't have been any "warmer."
She started by offering veggies and hot nuts, along with drinks of choice. I ordered a Diet Coke with lime and LOTS of ice, at which point she relayed a story about the first time her mom flew to Europe, and how on the flight back she was craving ice due to the lack of it in Europe. Like I said, definitely on the chatty side, though friendly as could be.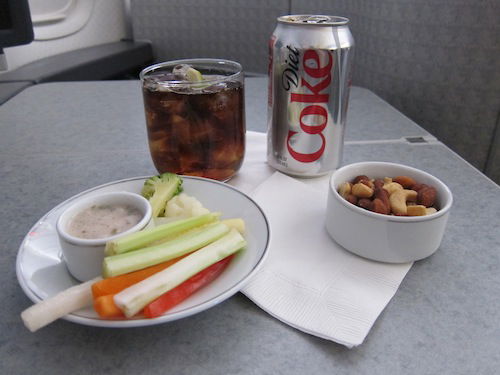 Diet Coke, hot nuts, and veggies
Dave came out with the appetizer cart, which was identical to what they served as the appetizer on the outbound. Since Dave was a funny guy I couldn't help but comment "talk about poor man's caviar," given how the presentation is so similar to a caviar service… minus the caviar. Dave responded "yeah, I guess Al Qaeda must have liked caviar, cause they took that with them on 9/11." Dave also convinced me to have a glass of champagne with lunch, which he constantly insisted on topping off.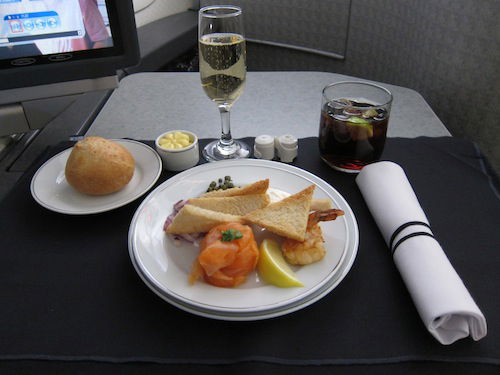 Smoked salmon and citrus marinated shrimp accompanied by capers, red onion and sour cream
Due to the E coli outbreak at the time they weren't serving salad on this flight as advertised on the menu, but instead served a cold plate of pasta. They get an "A" for effort, "E" for execution.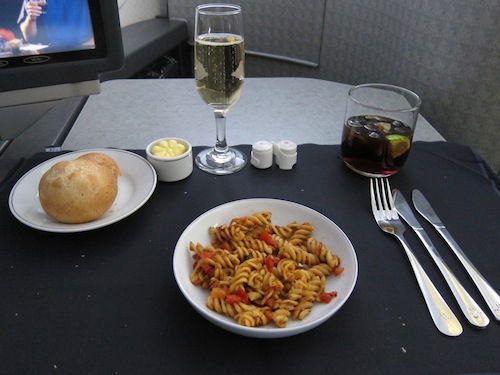 Salad replacement
For the main course I had the chateaubriand. It was good, though not quite as good as the one I had on American Flagship Service from New York to San Francisco last year.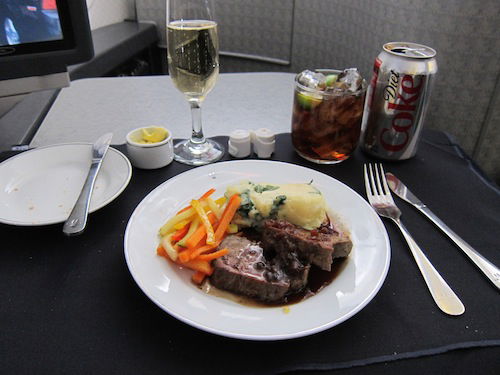 Chateaubriand with Red Wine Sauce
For dessert was an ice cream sundae. Instead of asking me what I wanted on it, Dave said "you've gotta trust me on this one Ben, let me give you the Margaret Thatcher special." I played along, and sure enough it was rather tasty, though seemed to have as much alcohol in it as ice cream!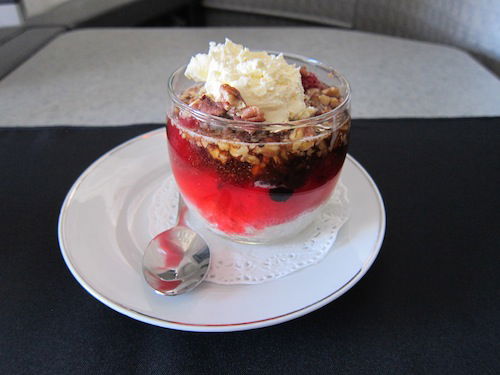 Ice cream sundae
After lunch I was offered a bottle of water.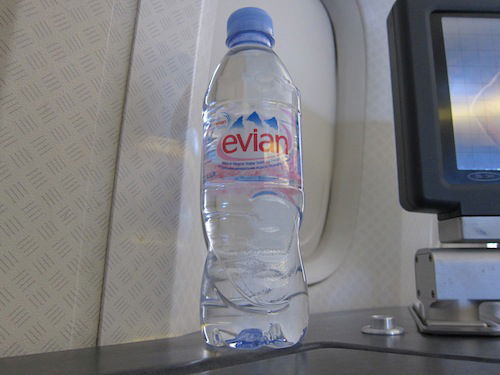 Bottled water
Shortly thereafter the cabin lights were dimmed so I decided to take a nap for a few hours.
I changed into more comfortable clothes in the lavatory, at which point Dave introduced me to his wife — "Marge, I wanted you to meet Ben, he's a drug dealer from Tampa. He wanted to tell you how good your cooking was." ROFL!
I woke up with about two hours to go to Miami, at which point Dave appeared to see if I wanted anything.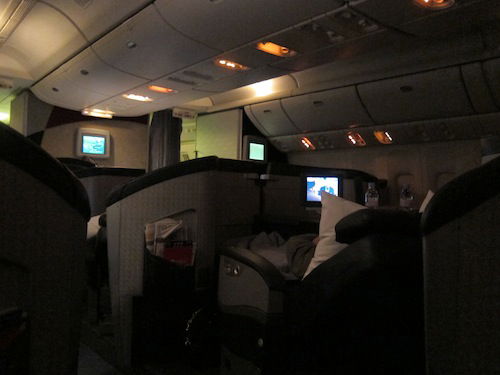 Lights out after lunch
After watching a sitcom, the pre-arrival meal was served. The menu for that read as follows:
Light Meal
A light meal offered prior to landing


Select From
Uno's Spinach and Garlic Pizza
A deep-dish spinach pizza seasoned with garlic, offered with a fresh green salad topped with broccoli, tomatoes and Italian herb vinaigrette

Beef Cold Plate
Sliced fillet of beef offered with tabbouleh kebab and caprese salad

Dessert
Fresh fruit or cookies, freshly baked on board

Pre-Arrival Beverage
For Your Enjoyment
Chilled sparkling or still water with a fresh citrus garnish
I was mildly intrigued by the pizza, so went with that. While it's incredibly trashy to serve pizza in first class (in my opinion), I've gotta be honest – it wasn't half bad. It was supposed to be served with a salad, though due to the E coli outbreak that was replaced with a plate of grapes. There was also a bowl of fresh fruit and an oatmeal raisin cookie.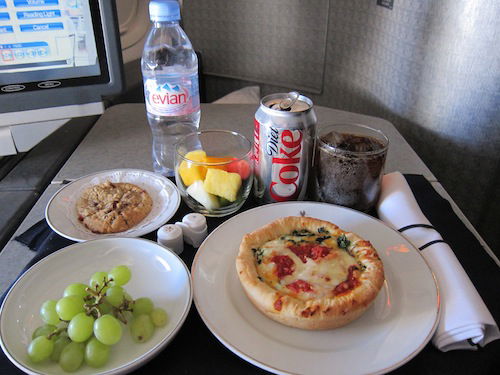 Uno's Spinach and Garlic Pizza
About 30 minutes before landing sparking water and mints were served.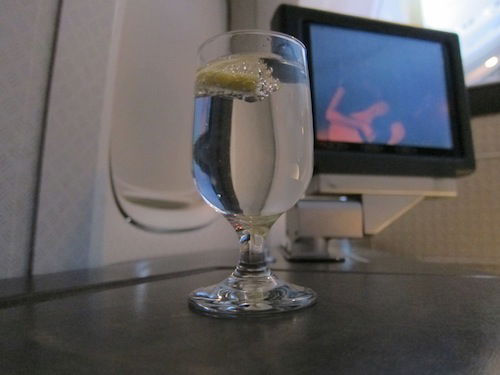 Chilled sparkling or still water with a fresh citrus garnish
Around this time the captain came on the PA to provide us with updated arrival information and also advise us that the seatbelt sign would be turned on shortly.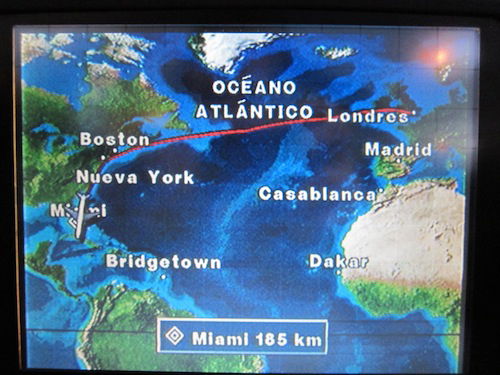 Airshow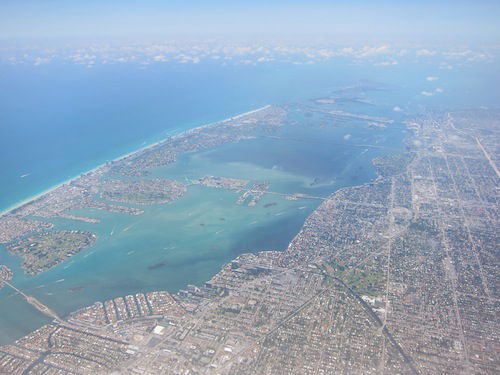 Airshow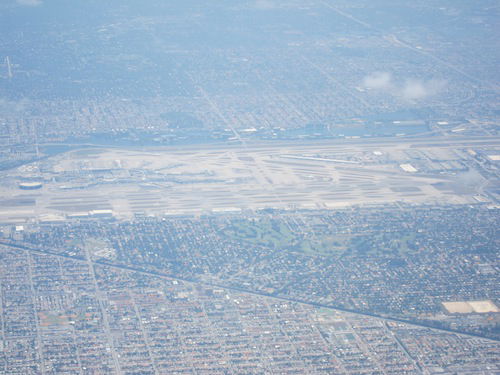 Miami Airport
After a smooth descent we touched down a few minutes ahead of schedule and taxied to our arrival gate, where everyone had to board a shuttle to get to customs and immigration.
Fortunately the line at immigration was short so I was through in no time, and ready for my two connecting flights before finally making it home.
This flight was awesome. There are lots of personalities out there. You have jokers like Dave or more "serious" guys like Terrence. Both are awesome in different ways.
In this day and age of "flight attendants being there primarily for our safety," I love being served by anyone that obviously loves their job and shows it, and it was clear that Dave does. At the end of the flight I couldn't help but pay him a compliment and say "you really seem to love your job," to which he responded "are you kidding me? I get to fly around the world with my wife and even get paid for it — what could be better?"
Dave, you're awesome, and I can't wait to fly with you again.
Just comes to show you flight attendants can make or break a flight.