---
(Full disclosure: The hotel comped my one night stay)
If you have elite status with a hotel chain, chances are you don't look all that far outside of your preferred chain when considering hotels at a destination. The benefits of elite status can be amazing. Then again, at the weekend I was looking at staying in Paris the Park Hyatt didn't have availability on points and was running over 1,000 Euros per night, while no Starwood hotels had rates under 500 Euros either. Lastly, both InterContinentals were sold out. I guess that's what you should expect in Paris in summer.
But oftentimes I'd say we're missing out by only considering major hotel chains, when there are plenty of other great options out there. Furthermore, if you don't actively participate in hotel loyalty programs, you're probably best off staying somewhere local, since chain hotels in major cities usually charge a huge premium over local places, not to mention are often "sterile."
So when the opportunity to stay at Le Pavillon des Lettres presented itself I jumped on it.
The hotel is certainly intriguing and refers to itself as a "literary hotel." It has 26 rooms, each assigned a different letter of the alphabet.
As a point of reference, rooms usually go for 250 Euros per night, which is very reasonable for Paris in summer.
The hotel has a great location not far from the Champs Elysees. Getting there turned out to be an adventure since it's somewhat hidden and I'm challenged when it comes to directions, though I'll save that for the next installment about "exploring Paris," given that half of my exploring occurred on my way to and from the airport thanks to how many times I got lost. 😉
The hotel has an unassuming exterior and is located on rue des Saussaies, a quiet street that's minutes from the action but still peaceful enough to get some rest.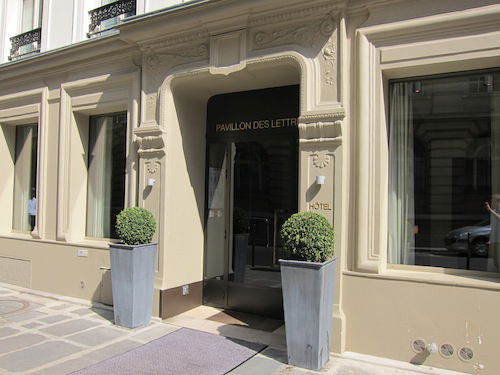 Hotel entrance
Once inside I was warmly greeted at the modern reception by several agents.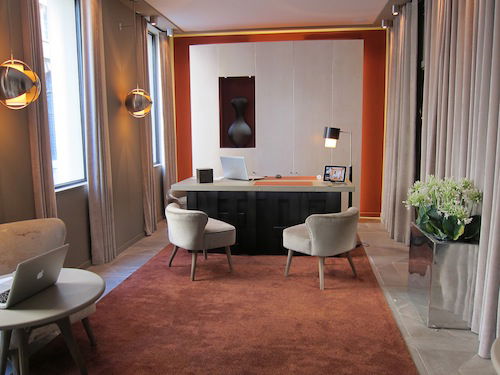 Lobby
I was escorted to my room on the second floor, which was room "Q."
The hotel has both an elevator and a beautiful staircase. Since I had bags I took the elevator the first time around.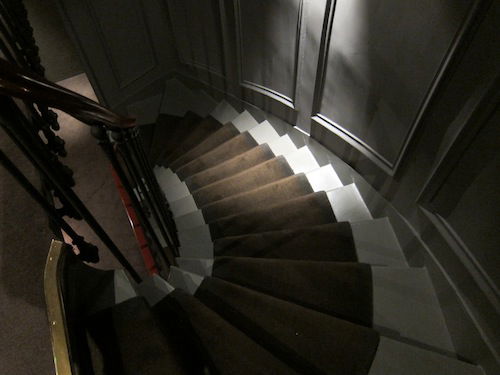 Staircase
My room was at the end of the hallway.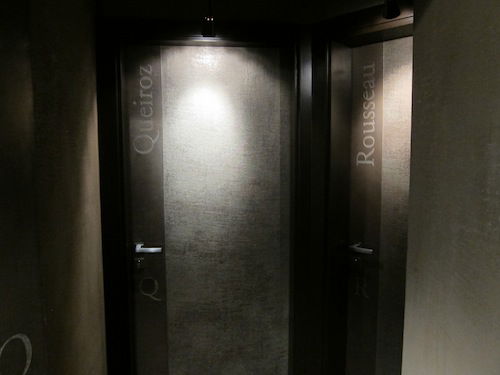 Room entrance
For whatever reason, I instinctively associate small hotels or bed and breakfasts with being "classic" and not especially modern. That's what surprised me the most about the room. It was incredibly modern yet charming, as I think the pictures show.
Hotel rooms in Europe are notoriously small, so I'd say this room was average in size, and definitely comfortable for one person.
The bed in the room was comfortable with soft sheets and firm pillows.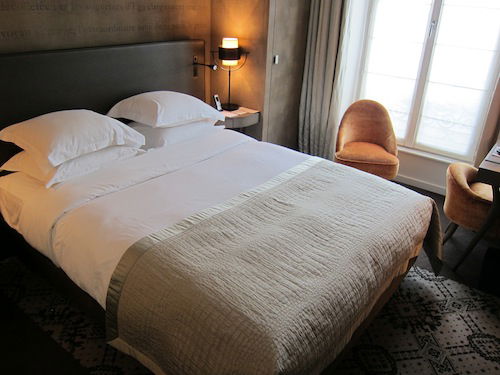 Room "Q"
The wallpaper is pretty cool in that it's "literary," with different literary texts in each room.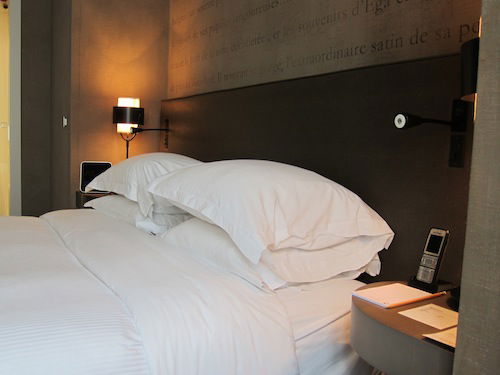 Bed
The room also had a desk near the window. The hotel offers free high speed Wi-Fi, and when I say high speed I really mean high speed. That's pretty rare in European hotels, in my experience (both the speed and it being free).
Despite the hotel being "literary" it wasn't short on other technology. The room featured a huge flat screen TV with lots of international channels, and also offered iPads to guests for the duration of their stay. They're available at no additional cost at the reception, which I thought was pretty cool.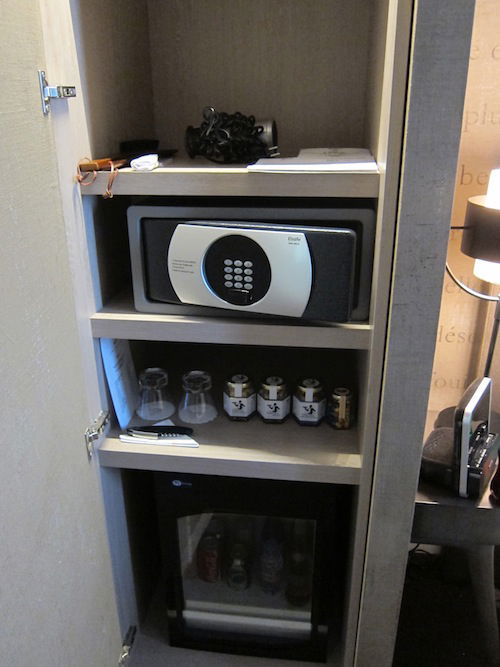 Safe and minibar
The bathroom offered all the features you would expect. The shower had good water pressure and temperature, and offered Plantation shower amenities.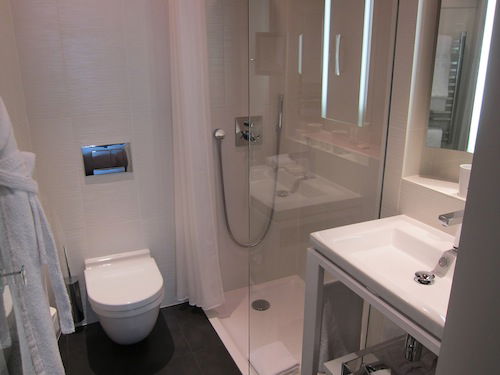 Bathroom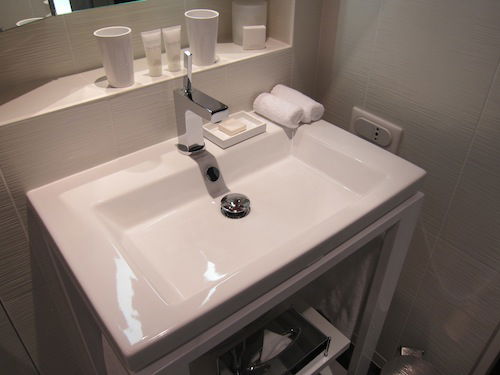 Sink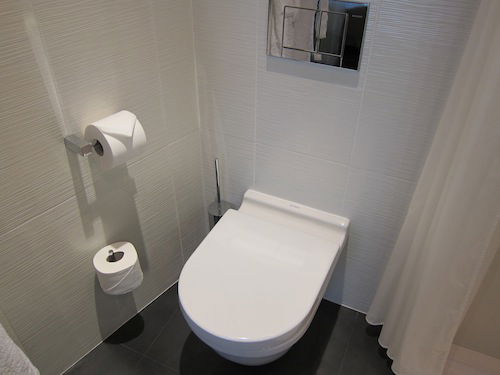 Toilet
The view from my room was of rue des Saussaies. While it's not a view of the Eiffel Tower, I enjoyed overlooking a quiet street so I could open my window and enjoy the fresh air without too much noise, given how nice the weather was.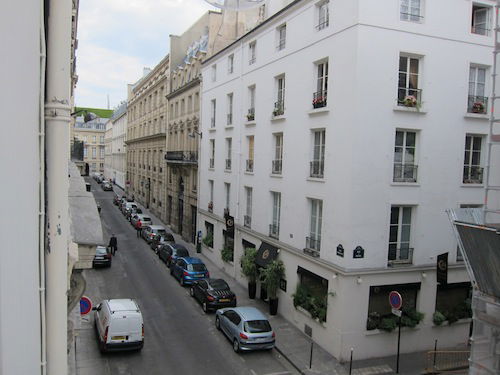 View from my room
After a good night of sleep and rising early, I decided to have breakfast at the hotel's restaurant, which cost me a very reasonable 12 Euros. I was there right as they opened at 7AM, and was the only guest for the whole time I sat there. While I'd usually venture outside of a hotel's restaurant in a city like Paris which has some of the best pastries and bread, I quickly saw just how fresh the bread was. As I was seated a local bakery came by to drop off the bread and pastries for breakfast, so it was fairly obvious that the food wasn't coming from Dunkin Donuts' freezer (not that I would expect that). 😉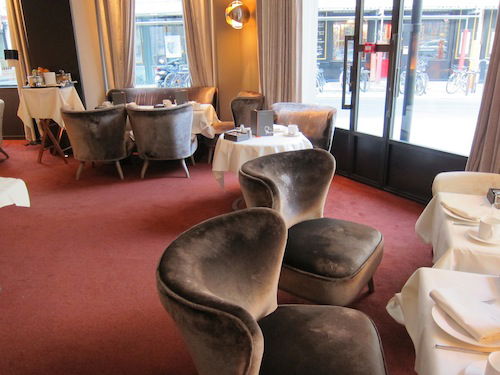 Hotel restaurant
As soon as I was seated I was offered coffee and orange juice.
The buffet setup was great, with cereal, scrambled eggs, baguette, pastries, meats, cheeses, etc.

Breakfast buffet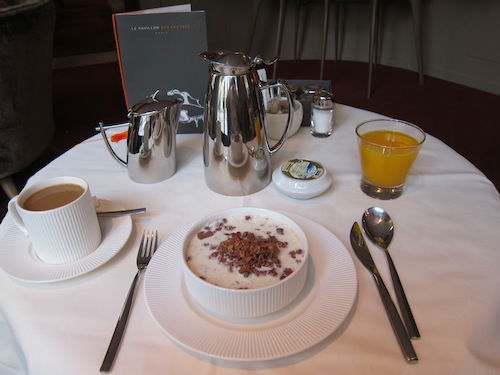 Cereal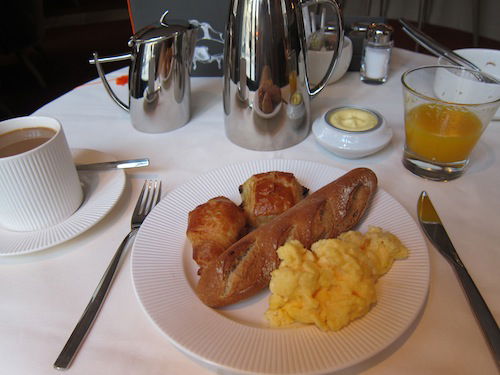 Scrambled eggs, baguette, and pastries
Breakfast was delicious, and I was good to go until later in the afternoon when I met fellow blogger Matthew for lunch.
Despite only staying for one night, I had a fantastic stay. Admittedly as someone that is obsessed with loyalty programs, I often don't have a need to pay for hotels in expensive cities. Usually I can plan far enough in advance so that I can secure a points booking. In this case, though, no other hotels were available at a reasonable price, so I'm really happy I was able to try the Le Pavillon des Lettres.
I would recommend this hotel in a heartbeat, especially for those that don't have elite status with a hotel chain (which is 90% of people out there — though maybe not on this blog!). 250 Euros during peak season is a rate that's tough to beat, especially for a hotel as cool as this, and one that doesn't charge for Wi-Fi or even iPads. But even if you do have points, this place delivered a unique experience which I wouldn't have gotten at a major chain, as if I was a guest in someone's house.