---
After a quick visit to the Admirals Club (which was more crowded than a DMV) it was off to my departure gate, D23.

Miami terminal
While boarding was supposed to start at 5:25PM, they only started shortly after 5:45PM. Those with special needs were invited to board first, followed by first and business class.

Departure gate, D23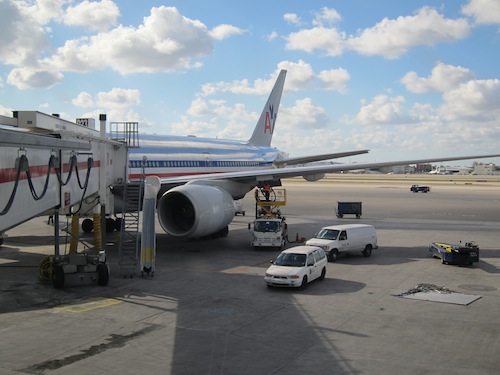 777 taking me to London
American 56
Miami (MIA) – London (LHR)
Thursday, June 2
Depart: 6:25PM
Arrive: 8:10AM (+1 day)
Duration: 8hr45min
Aircraft: Boeing 777-200
Seat: 2A (First Class)
Once aboard I turned left into American's rather massive first class cabin, consisting of 16 seats. As a matter of fact, I don't know of any other airline that has as large of a first class cabin.
It's apparent that the cabin isn't new, though it's fairly well maintained, thanks to the rather "sturdy" design of the seats (as opposed to United's old first class suites, which have more individual parts than a box of Rice Krispies).

First class cabin

My seat, 2A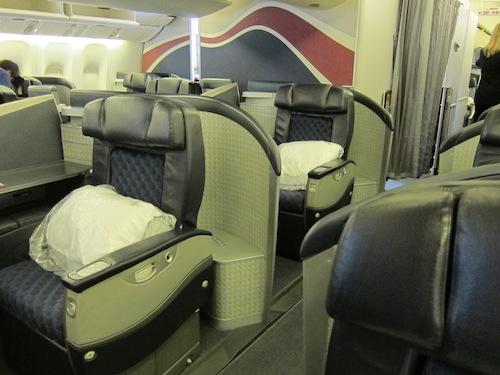 View from my seat

Seat with blanket

My ottoman

TV screen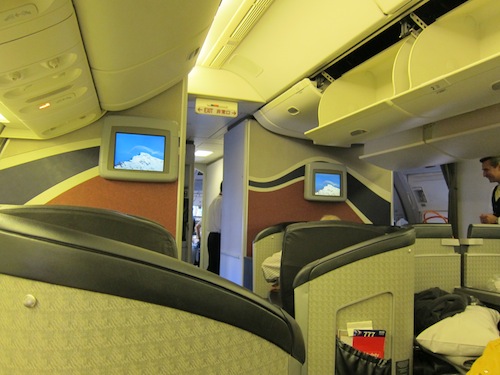 View from my seat

Seat controls
As soon as I settled in I was approached by one of the flight attendants and offered a pre-departure beverage. Both of the flight attendants working first class were older males, and it seemed like Spanish was their first language, which seems to be the case among a lot of Miami based flight attendants.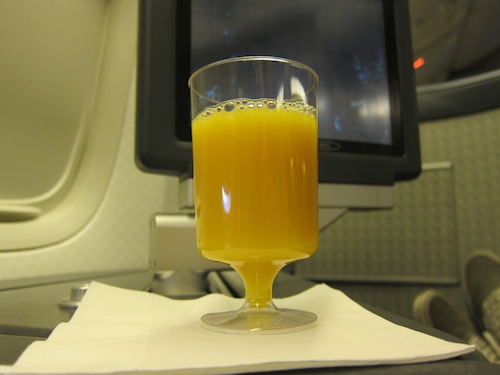 Pre-departure orange juice
I was then offered the dinner menu as well as an amenity kit and priority immigration pass, not that I'd need it, given that I was connecting to Paris. I was also offered a refill on my pre-departure beverage.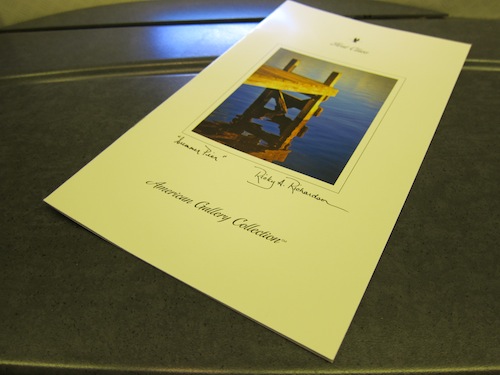 Menu
I made a few last minute phone calls, and before I knew it the door was closed and we were off to London with a flight time of 8hr20min.
The first class cabin was full, and the first thing that was different about American than other airlines I've flown in first was the first class crowd. The crowd in first class is usually business-like, though in this case I don't think there was a single "business traveler" in first class.
There were three general categories of people in first class. One category would be retired vacationers — there were two older couples, both of which were toasting champagne and taking flash pictures of them in their seats. Then there was one big family with three kids — again, not all that "businessy." And then there were a few non-revs.
Right before the door closed I overheard the older lady seated across from me making a phone call in Spanish to some family member. While my Spanish isn't great anymore, I could make out that her son had given her the first class seat, and she was so excited. I'm always happy to see other people happy, and this was certainly a "happy" cabin.
We pushed back right on time and began our 10 minute taxi to the runway, during which time the safety video played.

Pushing back
While American's entertainment system isn't cutting edge, I do appreciate that they activate it on the ground. That meant I could watch "Hall Pass" while we were still taxiing out.

Entertainment system
Our climb out was fairly smooth, and I quite enjoyed the views of the coastline.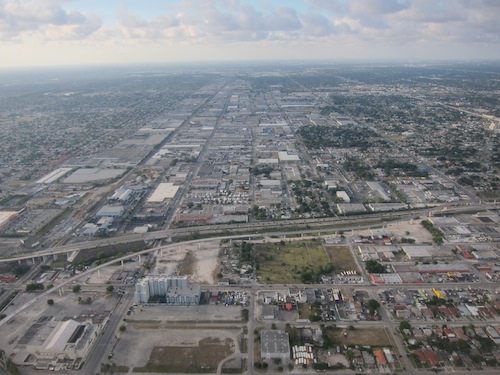 Shortly after takeoff

View
About 20 minutes after takeoff the fasten seatbelt sign was turned off and the service commenced, starting with distributing the Bose headphones. Big kudos to American for their headphones, as opposed to virtually every other airline which uses a cheap substitute.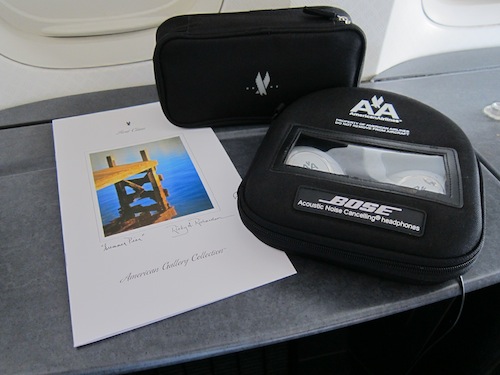 Menu, amenity kit, and headphones
I also took a minute to inspect the contents of the amenity kit. They had tissues and lotion — what more could you need for a good redeye (I kid… seriously)?

Amenity kit
About 45 minutes after takeoff the meal service began. The dinner menu read as follows:
Dining Service
Thank you for choosing American Airlines. It is our pleasure to offer you a variety of dining options on today's flight. We invite you to experience a new menu item developed in collaboration with Chefs' Conclave member Stephan Pyles. 

To Start
Warm mixed nuts
or
Crudités and dip

Appetizer
Smoked salmon and citrus marinated shrimp accompanied by capers, red onion and sour cream

The Salad Cart
Fresh seasonal greens with julienned zucchini, yellow bell peppers, button mushrooms and cherry tomatoes, offered with classic Caesar dressing or premium extra virgin olive oil and balsamic vinegar

Peppered roasted chicken breast

Bread Basket
Assorted gourmet breads

Main Course
Mango Chili Beef
Grilled Fillet of Beef featured with a mango chile demi-glace, blue cheese potatoes and glazed carrots

Seared Balsamic Chicken
Savory chicken breast with a balsamic white chocolate sauce, offered with tomatoes, grilled asparagus and pumpkin raspberry rissole

Red Snapper with Ají Cream Corn Sauce
Sautéed red snapper topped with an ají cream corn sauce, served with crab ceviche and black bean refrito
A signature Stephan Pyles item

Cheese Ravioli
Semolina pasta filled with four cheeses, offered with a mushroom, offered with a mushroom tomato cream sauce, sautéed shallots and sliced mushrooms

Dine Upon Request
You may choose one of the featured entrees to be served with an appetizer and dessert, presented all at once, at any time you wish.

Dessert
Ice Cream Sundae
Vanilla ice cream with a choice of hot fudge, butterscotch or seasonal berry toppings, whipped cream and pecans.

Fruit and Cheese
A selection of gourmet cheeses offered with fresh seasonal fruit and assorted crackers
Service started with drinks, and I went with a Diet Coke with lime. When it was served the flight attendant also brought a glass of water, along with mixed nuts and crudites.
To me there's just something funny about having "crudites" as a starter. Hot nuts in a ramekin work because they're something at least a little bit out of the ordinary. Dirty, dried out vegetables that belong in an rabbit's cage airline lounge, on the other hand, not so much. 😉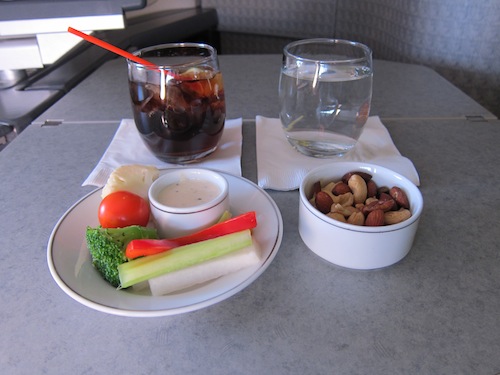 Diet Coke with lime, mixed nuts, and crudites
After that the meal service began, which was all done by cart. First my table was set up, including plate and silverware. I was then offered bread, and went with a pretzel roll. Then the appetizer was served.
The flight attendant paid a lot of attention to detail, which I give him credit for. The starter was actually quite tasty, though it feels like such a "poor man's caviar" presentation with the capers, sour cream, onions, and toast. That being said, I'll take salmon and shrimp over caviar any day of the week. Hell, I'll take a bag of Doritos over caviar. Okay, maybe not really.

Smoked salmon and citrus marinated shrimp accompanied by capers, red onion and sour cream
Once the starter was cleared the salad cart was brought around, with each ingredient in a separate container, so I could really choose what I wanted. Again, while the flight attendants weren't overly friendly, they deserve a lot of credit for the amount of attention they paid to detail with the presentation and serving of food.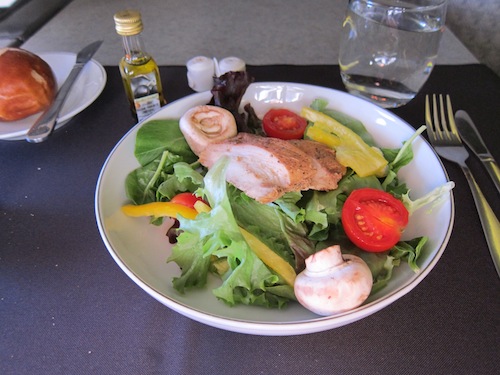 Salad
For the main course I went with the beef, which was surprisingly tasty, and even had a nice kick to it.

Mango Chili Beef
After all the plates in the cabin were cleared, dessert was served. Of course I went with the ice cream sundae, which was spectacularly deliciously awesomely amazing. Seriously, you can't beat an ice cream sundae.

Ice cream sundae
The meal service finished about 2.5 hours after takeoff, around the same time as "Hall Pass." For the record, it was one of the best movies I've seen in a long time, so I highly recommend it.
All-in-all it was actually a pretty good meal. It was nothing memorable, but I feel like a lot of airlines try too hard with some of their dishes, and end up failing. American's food is simple yet tasty.
The flight attendants came around with bottled water and also closed the window shades as much as possible.

Sunset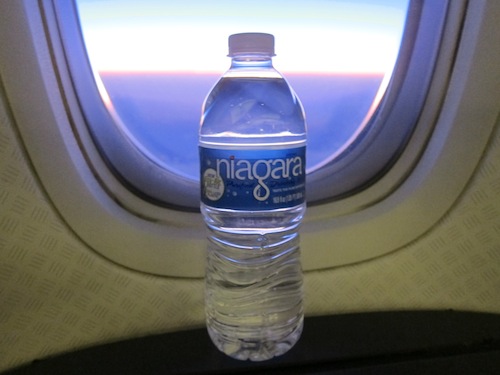 Bottled water
A quick word about the seats. They're quite comfortable for lounging, and one of the cooler features is that they actually "swivel." So you can turn your seat 90 degrees so that it's facing the window, which is pretty cool. My biggest complaint about the seats is that they don't have proper power plugs, but instead require you to have the adapter for the plug. The problem is they don't have any spares aboard and don't even offer them in duty free. This proved to be a huge issue for a passenger on the return, though we'll save that for then.
At this point it was time to get some shut eye. I headed to the lav to change into some comfy Qantas pajamas. As I exited the lav the purser gave me a look of pure confusion, as if I had just just put on an alien costume. I'm guessing he was shocked at the concept of someone wearing pajamas on an airplane, or at least someone other than a 14 year old girl with "PINK" written on her rear wearing pajamas. C'mon, it's not like I'd ever walk around in them in an airport or anything! 😉
I didn't feel it was my place to explain to him that most airlines actually offer their first class passengers pajamas, so I simply walked away.
As I got back to my seat I noticed one thing was missing — a comforter. I wasn't sure whether American offered them or not, as all I had was a single pillow and blanket, the same exact ones offered in business class.
I went back up to the purser and asked if American offered comforters. After standing there pondering for a moment, he said "ohh, you didn't get a blanket?" I explained "no, I was wondering if you had a comforter, like a mattress pad to sleep on?" While the look on his face was funny enough when I changed into pajamas, it was nothing compared to the look on his face after I said that. I'm pretty sure he wanted to tell me "this is an airplane, not a hotel," but instead he just said they didn't have them. Again, I didn't think it was my place to explain to him that most airlines have comforters in international first class… I'm not the crazy one (I've been tested)!
Now before anyone calls me picky, it appears that American has actually improved in both areas in the past few weeks. Rumor has it that they're offering pajamas and mattress pads in first class to Europe now. Score! Too bad I can't take credit for the change. 😉

Seat in bed position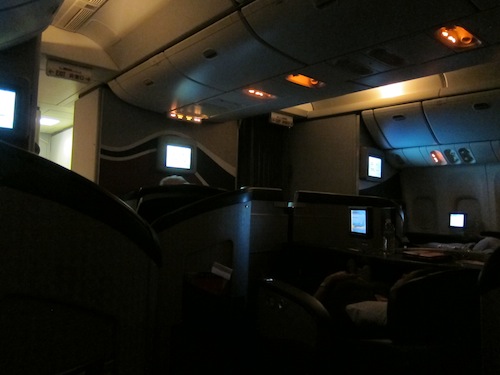 Dark cabin
So the seat itself was fairly comfortable in the bed position. A comforter would have really helped to smooth out the sleeping surface, though I slept just fine for about three hours.
When I woke up we had about 2.5 hours to go to London, so I watched an episode of "Curb Your Enthusiasm."

Airshow as we approach London
A little under two hours before landing, breakfast service began.
The breakfast menu read as follows:
Breakfast

Select From
Cheese Omelet
Served with filet mignon and O'Brien potatoes

Yogurt
Creamy fruit yogurt

Cereal
Kellogg's cereal with milk

All options are offered with fresh seasonal fruit and chilled orange juice

Breakfast Breads
A selection of breakfast breads

Express Breakfast
Served 45 minutes prior to landing to allow you to sleep as long as possible.
Warm breakfast breads, season fruit and your choice of beverage

Pre-Arrival Beverage
For Your Enjoyment
Chilled sparkling or still water with a fresh citrus garnish
Service started with a glass of orange juice and hot towels.

Orange juice
Then for breakfast I went with the omelet, which sounded spectacular. An omelet and filet mignon? Yum yum yum. Unfortunately it was one of the driest omelets and pieces of meat I've ever eaten, and should have read more like this on the menu:
Signature Holiday Inn Express Mystery Egg Dish
Garnished with crisco and served with McFilet of shoe

Breakfast
At least the fruit and croissant were good…
About 30 minutes before landing the captain came on the PA to advise us of our on-time arrival in London, at which point he turned on the seatbelt sign.
The views on approach were quite nice, including of Windsor Castle.

Approach
After a smooth touchdown and quick taxi we made it to our gate in terminal 3.

Plane parked next to us

Our plane from Miami
All-in-all it was a perfectly nice flight. It was in no way memorable compared to Lufthansa, Qantas, Thai, etc., but then again I don't expect that from a US airline.
After disembarking I was ready to tackle Heathrow in all its glory.