---
For years I've wanted to go for American Airlines Executive Platinum status (their top tier), but the opportunity never practically presented itself. The fact is, American refused to status match top tiers from other airlines, even to their middle tier. Instead they only issued "paid" challenges to Platinum status, which anyone can take advantage of.
After missing literally a handful of upgrades over five or six years as a United 1K, I wasn't about to go to American and start all over. Well, at least until this year. You see, in late January American announced a top tier status challenge. Top tier elites at United and Delta could be issued "challenges," whereby they would be given instant Platinum status and then require you to earn 25,000 elite qualifying points within 90 days.
Now, to most of you 25,000 points doesn't sound like that much. But that's probably because you're not an American flier. American has three qualification metrics. You can qualify based on segments, elite qualifying miles, or elite qualifying points. At American, you earn one elite qualifying mile for every mile you fly, regardless of whether it's on the cheapest coach fare or the most expensive paid first class ticket. However, the points you earn are based on what fare class you're booked into. A discounted coach ticket earns 0.5 points per mile, while a paid first class ticket earns 1.5 points per mile.
In other words, to complete the challenge I needed to fly either 50,000 miles in discounted coach or about 17,000 miles in a paid premium cabin.
In the past I would have roughed it out in coach, but this time around I decided to make it fun. I noticed American had very reasonable discounted business class fares from Florida to London and Paris, around $1,600. Furthermore, American has incredibly generous routing rules, so I was able to route the ticket as follows:
06/02 AA0415, Tampa to Chicago, 8:25AM-10:15AM, 737-800
06/02 AA2074, Chicago to Miami, 12:45PM-4:45PM, 767-300
06/02 AA0056, Miami to London, 6:25PM-8:10AM (+1 day), 777-200
06/03 BA0308, London to Paris, 10:45AM-1:00PM, 320
06/05 BA0303, Paris to London, 7:35AM-7:55AM, 320
06/05 AA0057, London to Miami, 9:50AM-2:30PM, 777-200
06/05 AA0544, Miami to Dallas, 4:10PM-6:25PM, 737-800
06/05 AA0674, Dallas to Tampa, 8:40PM-11:55PM, MD-80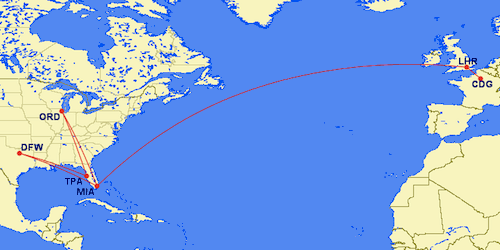 That's right, I flew from Tampa to Paris via Chicago, Miami, and London, and from Paris to Tampa via London, Miami, and Dallas. The ticket cost me $1,600, but I would nearly be completing my Executive Platinum challenge through this trip alone, which would earn me eight systemwide upgrades.
The icing on the cake was that I had a friend with expiring systemwide upgrades, so I was able to upgrade my segments between Miami and London to first class both ways.
Even better, American was running a double elite qualifying miles promotion on their Miami to London route and offering 20,000 bonus miles for paid first or business class.
So for $1,600 I was getting a weekend in Paris, international first class to Paris, eight systemwide upgrades and Executive Platinum status, about 25,000 elite qualifying miles, and over 50,000 redeemable miles.
Unfortunately my trip took a turn for the worse, as the evening before my flight I tried to check-in online, only to find that my ticket was from Raleigh to Los Angeles instead of from Tampa to Paris. I managed to have a supervisor reinstate the ticket.The lesson I learned? I have one or two really malicious blog readers. Oh, and protect your itineraries. You can read all about that story here.
Anyway, once the ticket was fixed I was quite looking forward to the journey, despite having only returned from my trip around the world three days prior.