---
Once through customs and immigration I proceeded through security to once again get airside. I was pleased to see they weren't using full body scanners, which made for an efficient and painless process.
Past security I briefly stopped by the Admirals Club near gate D30 to catch up on email. At the Admirals Club I was given a Wi-Fi card and a couple of drink chits, which I redeemed for a bottle of water and a bottle of Diet Coke (always good to have while traveling).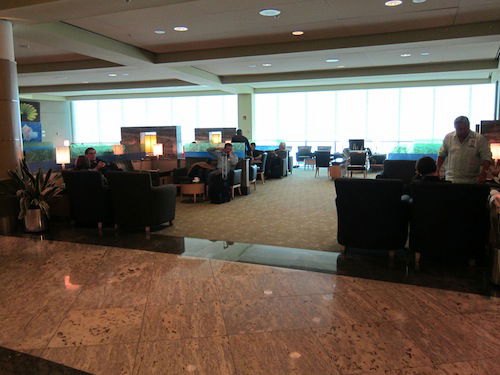 Miami Admirals Club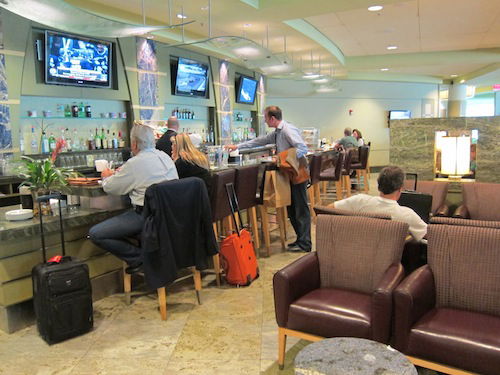 Admirals Club bar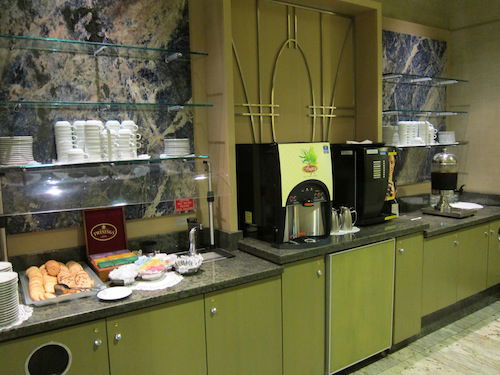 Admirals Club snack selection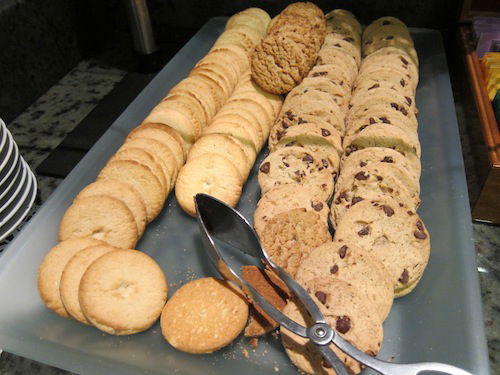 "The Spread"
About 40 minutes before boarding I left the Admirals Club for gate D32, where my flight to Dallas would be departing from. I was happy to see on the gate monitor that the flight would offer Wi-Fi, which is great after a flight from Europe and being generally disconnected for the weekend.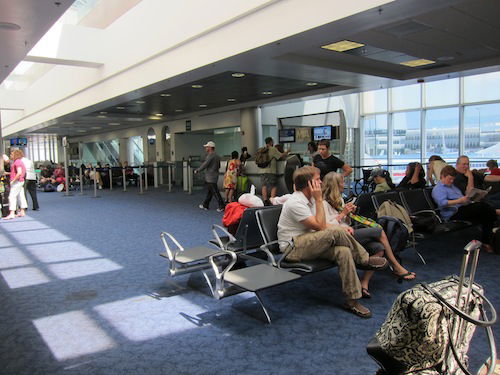 Gate for Dallas flight
Boarding started within a few minutes.
American 544
Miami (MIA) – Dallas (DFW)
Sunday, June 5
Depart: 4:10PM
Arrive: 6:25PM
Duration: 3hr15min
Aircraft: Boeing 737-800
Seat: 5B (First Class)
Once onboard I settled into 5B, which is in the second to last row of first class (I chose it because the flight had an odd flight number, and American starts taking meal orders in the back of the cabin on odd numbered flights). Within minutes of settling in I was offered a pre-departure beverage, though I declined.
I do love American's 737s that are equipped with the new "slim" seats, which drastically increase legroom and are actually quite comfortable.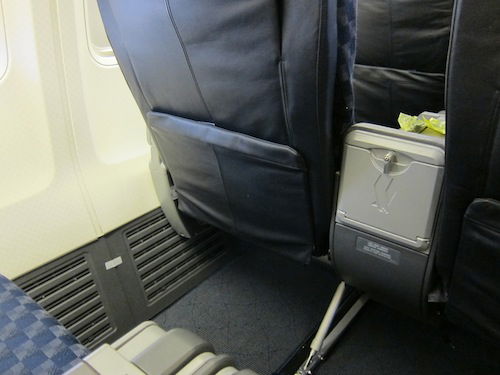 Great legroom on new 737
Boarding finished up right on time and the captain made his welcome aboard announcement, advising us of our flight time of 2hr40min. We began our taxi to the runway, where we had a bit of a wait due to the afternoon rush of departing flights.
As soon as we passed through 10,000 feet I started working on my laptop, and about 30 minutes into the flight service began, starting with hot nuts and beverages. I went with a Diet Coke with lime.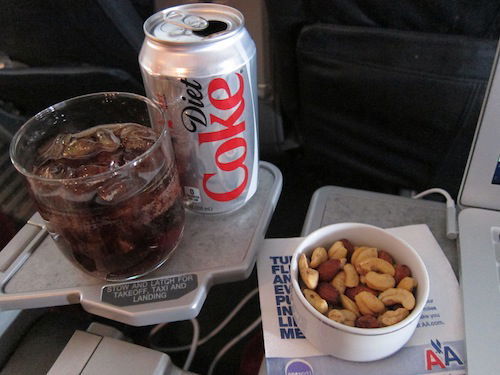 Diet Coke with lime and hot nuts
For dinner we were given the option between chipotle chicken and lasagna. I went with the latter, which was served with a side salad with balsamic vinaigrette. Also on the tray was a slice of cheesecake, which was amazing.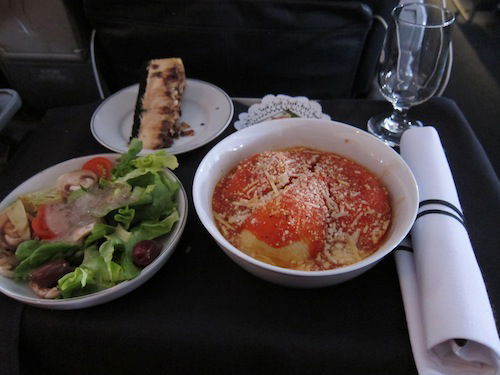 Dinner
The service throughout the flight was generally attentive, as drinks were constantly topped off. The flight attendants were almost always visible. Service on 737s tends to be really good, given that there are only 16 first class seats and two flight attendants working first class, making for one of the highest crew to passenger ratios of any domestic first class product I know.
About 30 minutes out we began our descent and the flight attendants distributed mints.
We landed right on schedule and had a quick taxi to the gate.
I took the monorail towards my departure gate, which was C39, and visited the closest Admirals Club to it. I was once again given a Wi-Fi card and two drink chits upon entering.
The Admirals Clubs, especially in Dallas, are beautifully decorated and really comfortable for lounging around, though the snack selection is abysmal, consisting of nothing more than stale cookies and snack mix.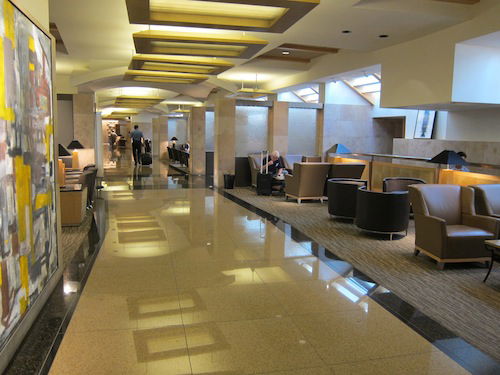 Dallas Admirals Club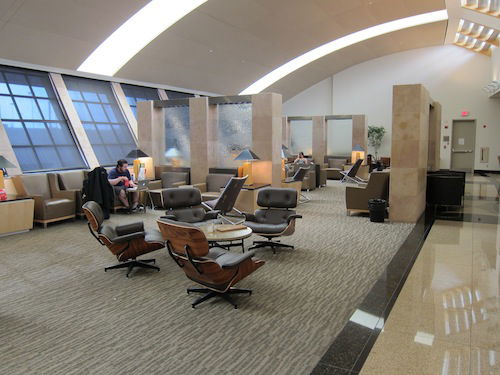 Admirals Club seating area
40 minutes before departure I headed to gate C39, where I found boarding already underway.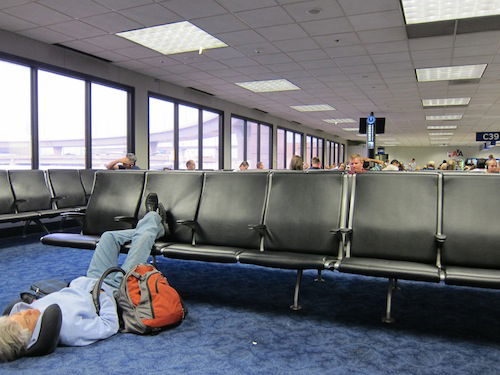 Departure gate for Tampa
American 674
Dallas (DFW) – Tampa (TPA)
Sunday, June 5
Depart: 8:40PM
Arrive: 11:55PM
Duration: 2hr15min
Aircraft: MD80
Seat: 4B (First Class)
At this point I was rather tired and just wanted to sleep, so I'm pretty sure I slept through takeoff. I do love first class on the MD80s because the cabin is so quiet thanks to the engines being at the back of the plane.
When we leveled off the flight attendant working first class offered hot nuts along with a beverage of choice. I went with a… okay, do I really have to say it?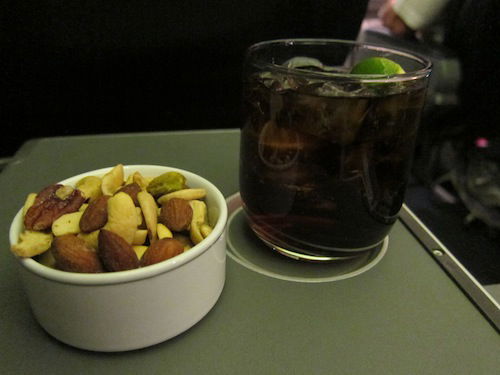 Diet Coke with lime and hot nuts
For the snack was the option between a chicken salad and a hamburger. I went with the salad, which I considered to be the lesser of two evils. It was served with tortilla strips and also pita chips with a cheese spread.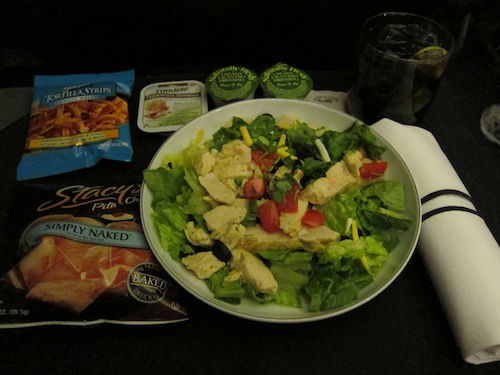 Chicken salad
While American's catering is generally far superior to that of most other US airlines, the "snack" flights that offer the choice between a hamburger and chicken salad are hands down my least favorite. The hamburgers are nasty and the chicken on the salad tastes so artificial that it's almost inedible. That being said, given that other airlines serve just a cheese plate at best for a flight at that time, I really shouldn't complain.
After the snack the flight attendant served chocolate chip cookies.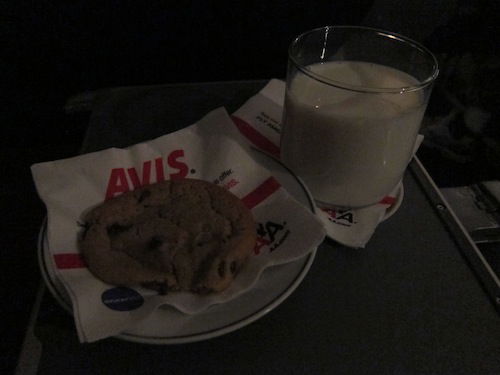 Chocolate chip cookie and milk
I dozed off until touchdown, at which point we basically rolled all the way to the gate given how close American's gates are to the runway in Tampa.
After a quick shuttle ride I picked up my car and was ready to head home, where I had a real bed waiting for me.