Virgin Atlantic will be installing an all new business class seat on their A350-1000s, which will be delivered from the middle of next year.
Their current seats all have direct aisle access and are fully flat, which sounds great for a business class seat, but I don't like them at all. There is zero storage (I had to keep my menu on the floor near my feet), zero privacy and I hate facing away from the window rather than towards it.
There have been very few clues about the new seat other than Virgin Atlantic saying it will be 'revolutionary,' which by definition means it should be significantly different to the current seat. But I have learned the hard way that 'marketing speak' can grossly exaggerate the reality of product improvements.
VS1 London Heathrow – Newark
AirlineRoute has published a preliminary one-off route for Virgin Atlantic's A350 between London Heathrow and New York Newark. The new A350 will operate this route, VS1, on September 9, 2019.
As this is a one off flight I expect it will be for promotional purposes on what may be one of their most premium routes (noting this flight carries the prized 'VS1 flight number'), to show off their new plane and new seat. Virgin Atlantic has not announced an inaugural flight for the aircraft (this may be it, or may not), but Hong Kong and Shanghai are tipped to receive the A350 on regular flights before other routes.
So how does this provide clues regarding their new business class seat?
Well, ExpertFlyer shows an updated seat map for this flight, showing 44 seats across 11 rows.
My interpretation of the seat-map (if the seat map is correct), is that:
The configuration will be 1-2-1 (which is pretty obvious from the above image), so different to their 1-1-1 current herringbone configuration
All seats will have direct aisle access, which is a bare minimum for any new business class product in 2019
I don't believe the middle pairs of seats will be in alternating 'honeymoon' and 'divorce' layouts, where two seats are close together, with the row behind it having the two seats far apart, like on the Emirates or Etihad A380s, Qatar QSuites, or United Polaris
This is because the seat map would usually show the difference between the pairs of seats close together and those far apart, because the middle seats are very different depending on which row you choose, so seat maps usually make this obvious. The seat map may also show the difference between the 'true' window seats and those window seats that are closer to the aisle.
Here's the Expert Flyer seat map for the Etihad A380 business class:
The big question for me that remains is whether this seat will be (forward facing) reverse herringbone like the Cathay Pacific A350 business class, where every pair of middle seats is in the same position across the cabin, or if the two middle seats will be forward facing, but each row staggered (n\either close together, or far apart), like the Qantas 787/A330 seating
For staggered configurations, some airlines choose to display that on their seatmaps, while others do not. So it's too early to say if it will be one or the other.
Note the different seat layouts in the two images below but the almost identical seat maps: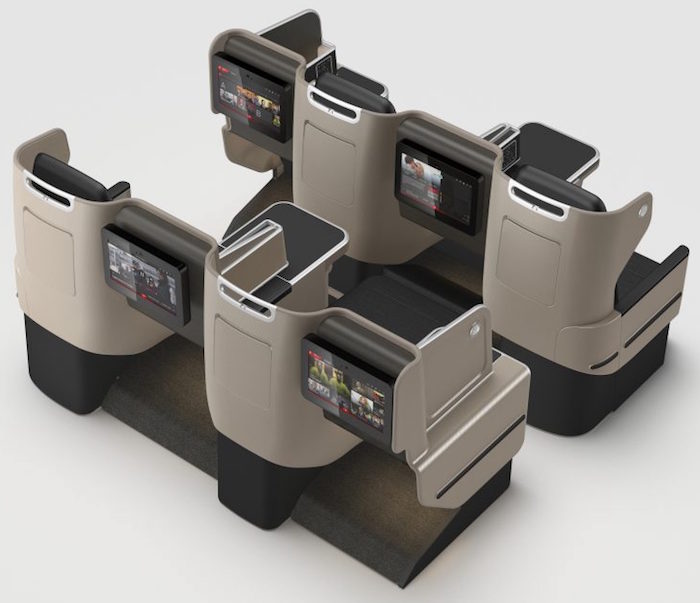 Bottom line
I would be very happy to see either a reverse herringbone seat like what Cathay Pacific has, or a staggered 1-2-1 forward facing seat like the latest Qantas business class seat. Both are a dramatic improvement on the current Virgin Atlantic Upper Class seat.
I've flown both several times, and have a slight preference for the reverse herringbone, especially on Cathay Pacific as the head shroud provides more privacy, though both are excellent.
Of course, this seat map may not be completely accurate, and there's still plenty of optionality Virgin Atlantic could include in the design to differentiate themselves from their competitors. I'll be watching with keen interest as more details are released — Virgin Atlantic has always been a bit 'kooky' as an airline so it would be great if the new seats had some features not seen on other airlines.
What type of seat do you think Virgin Atlantic has chosen for their A350s?