Last week was a rough one for United. It started with a flight attendant ordering a passenger to place their dog in the overhead bin, and upon landing they found out that the dog had died. This is a horrific situation. While United claims they take responsibility for the situation, in reality they're not punishing the flight attendant. They claim she didn't know there was a dog in there, despite it being obvious that it was a dog carrier, and also despite all eyewitness reports suggesting that there was a lengthy conversation about that between her and the passengers. I don't think she should be punished out of maliciousness, but rather because I genuinely have concerns about her being able to carry out her duties as a flight safety professional.
While that may have been somewhat of an isolated incident, what's not isolated is United's horrible PetSafe program, which is their program for transporting pets as cargo. Last week alone, United accidentally:
These aren't isolated incidents, but rather are reflective of a culture of carelessness when it comes to pet transport. As far as animals traveling in the cargo hold go, three times as many animals die on United as all other US airlines combined. That's not acceptable.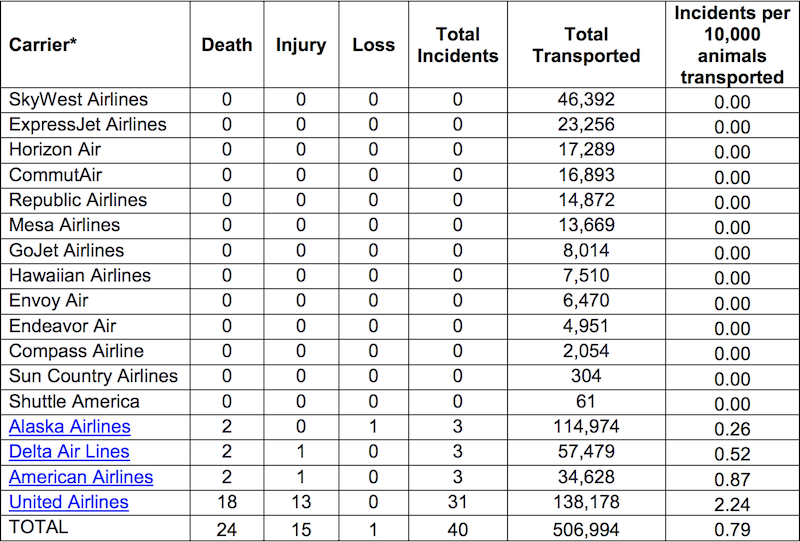 I've been saying that it's time United suspend their PetSafe program — if they can't safely transport our four legged friends, then they need to get out of that business.
So there's good news on that front — United is suspending their PetSafe program. Specifically, they are suspending new PetSafe reservations while they review their service. Those with existing PetSafe reservations have the option of canceling them at no cost. United expects the review to be complete by May 1, 2018.
A United spokesperson tells the Washington Post:
United spokesman Charles Hobart said the airline was pausing new PetSafe reservations while it reviews and improves the program. He said the airline would consult independent experts in pet safety. He said the airline is not killing the program.

Hobart said the airline also will give airport crews more advance warning about the number and type of animals flying in cargo for each flight. He said a ramp supervisor will be required to oversee the loading and unloading of all animals in cargo, and another official will have to certify that the animals were handled properly before the flight takes off.
I'm happy to see United suspending the program, and I hope that they release their findings and what they're going to do to improve. The good thing is that we'll very easily be able to judge their performance going forward, since airlines have to report these incidents to the DOT.
Note that this doesn't impact their transport of pets in the cabin, which is separate from their PetSafe program.
(Tip of the hat to View from the Wing)