Yesterday I wrote about the tragic story of how a United flight attendant instructed a passenger to place her dog (in a carrier) in an overhead bin, and at the end of the flight the dog was found dead. As someone who loves dogs (probably) far too much, I'm so disturbed and enraged by the story.
For reasons I explained in a separate post, I 100% put the blame on this incident on the airline. The flight attendant wasn't following protocol, and while I assume she wasn't trying to kill the dog, the negligence shown for someone in a safety role is completely unacceptable. I don't know how you could ever recommend to put a living creature in the overhead bin, especially when United clearly states that the only safe place to put pets is underneath the seat in front.
So, was this just an isolated incident, or is United actually worse with transporting animals than other airlines? Last month the US Department of Transportation published all kinds of statistics for 2017 travel. Among these statistics is the number of losses, injuries, and deaths of animals transported by airlines that are reported to the DOT.
In 2017, United transported 138,178 animals and reported 18 deaths, 13 injuries, and 31 total incidents.
All other airlines combined transported 368,816 animals, and reported six deaths, two injuries, and nine total incidents.
Here's a chart with the comparison by airline: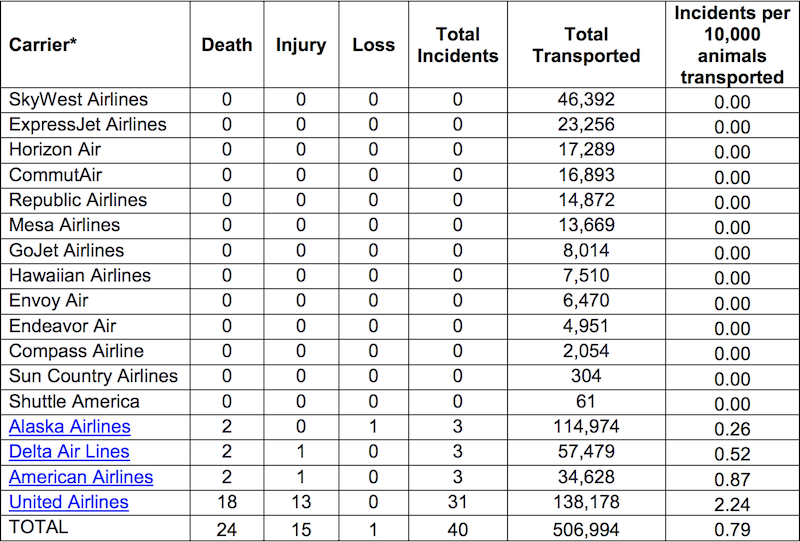 It's pretty telling when an airline that transports 27% of animals also has 75% of animal deaths, 87% of animal injuries, and 78% of animal incidents.
This includes animals that are transported in the cabin and in the cargo hold. Ironically, United's pet transport program is called PetSafe, though based on their performance it's anything but…
It's time that United really look at their program for transporting animals. While perhaps not specific to this incident that happened in the cabin, it's clear that United has a systematic problem with transporting animals safely, and that's not cool.
(Tip of the hat to AlexS)