We got to the Conrad at around noon via a cab from the ferry terminal. As we entered about 30 different people tried to help us with our bags, despite politely declining every time.
Check-in was efficient if not a bit cold. The agent asked for our reward confirmation (we were using 40,000 points for the stay) and upgraded us to an executive level room, which we were very happy about, since I've heard stellar reviews of the club lounge.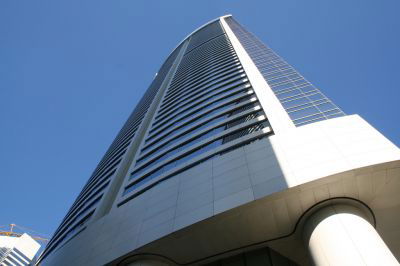 Exterior hotel view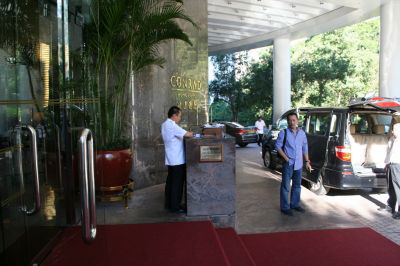 Hotel entrance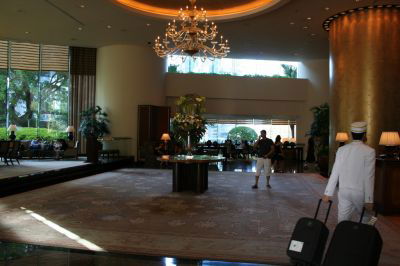 Hotel lobby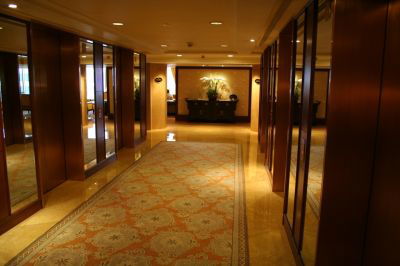 Elevators
Our room was located on the 57th floor (if I recall correctly, might be off by a floor or two), and was at the very end of the hallway.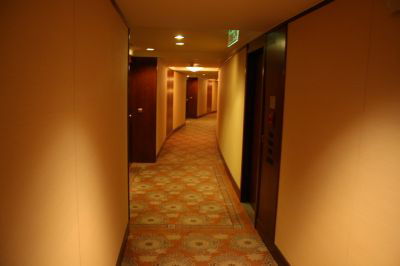 Hallway to the room
The size of the room was extremely impressive, especially by Hong Kong standards. The room had two beds which had excellent bedding and great mattresses, a welcomed change after the Holiday Inn the night before.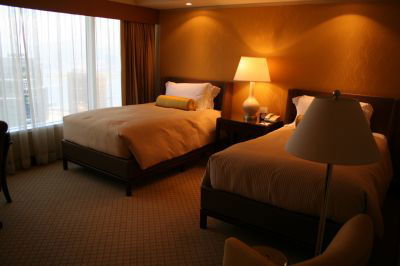 Two beds

Side of the room
The room also had a good sized plasma TV and a functional desk with a great chair that was fun to lean back in (I'm a complete office chair nut).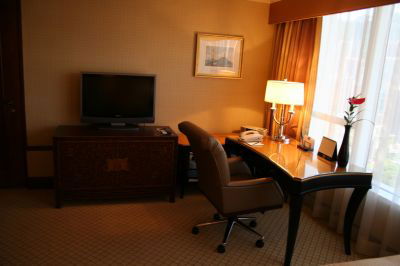 Desk and TV
The room also had an amazing view of Hong Kong, half of the harbor and half of the mountains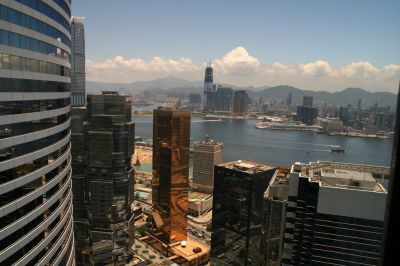 Harbor view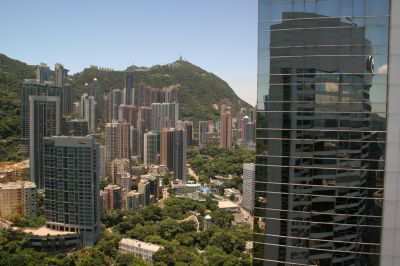 Mountain view
The room also had a very well stocked minibar. Of course it took me all of three seconds to realize that we'd actually have to pay the exorbitant minibar prices to consume the contents, but I still snapped a couple of pictures of it out of habit.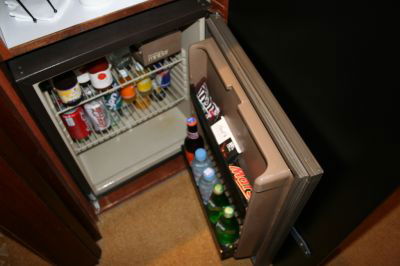 Minibar
There were also a couple of free bottles of water.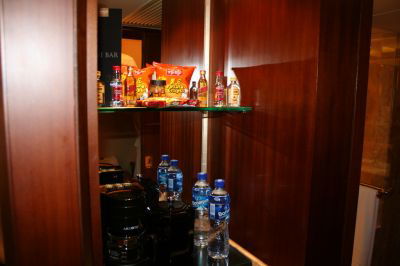 Snacks and water
The bathroom was extremely large for a standard hotel room, and had a bath, shower, two sinks, and separate toilet.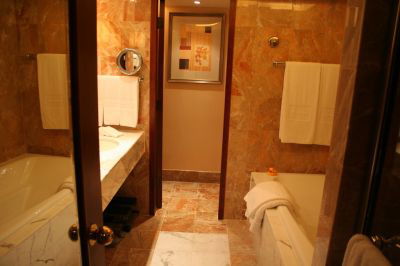 Bathroom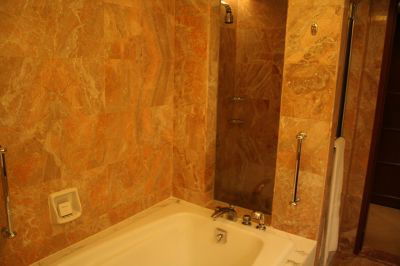 Bathtub and shower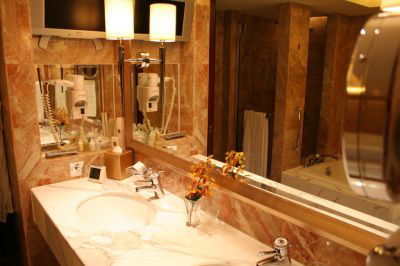 Two sinks and mirrors
After settling in we decided to go up a couple of floors to the executive lounge, which is located on the 60th floor (if I recall correctly). The lounge was impressive, without a doubt one of the best I've been to.
The lounge is split up into two sides, one with seating, computers (which have to be paid for, totally ridiculous), and the toilet. The other side had more seating as well as the food area.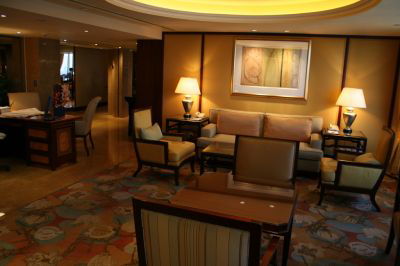 Seating closest to entrance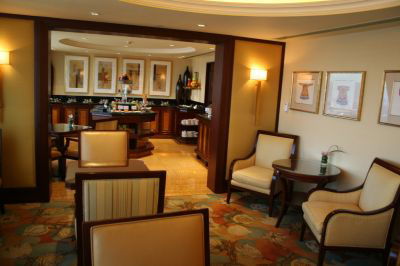 Food serving area and more seating
As soon as we sat down we were offered drinks and also informed that there's free Wi-Fi, which is a big plus. Most lounges don't have much food outside of breakfast and evening snacks, but this one had food all day, which was great. The food selection below is what we found at around 1PM.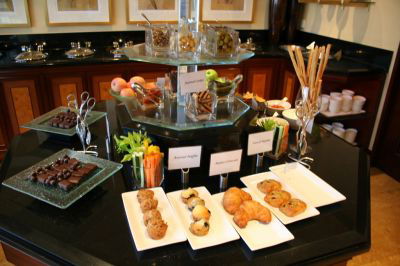 All kinds of sweets, chips, bread, and other stuff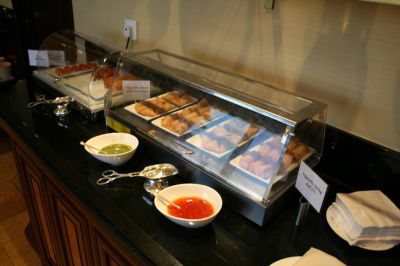 More good snacks
There was much more, just didn't want to take too many pictures…
The lounge also has amazing views of Hong Kong.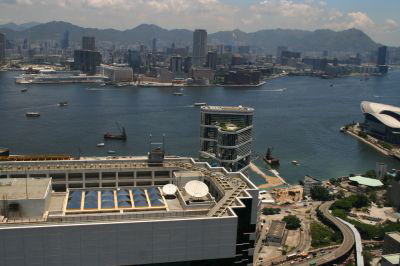 View from the lounge
We actually didn't get back to the hotel until later that night (made a trip to Stanley Market and surrounding areas, followed by the symphony of lights, followed by Ladies Market), and found that a welcome gift was placed in our room, consisting of fruit and chocolate, along with a card.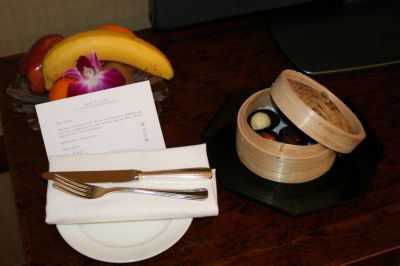 Welcome gift
Turndown service was also complete, and each bed had a Conrad bear, which is a nice souvenir.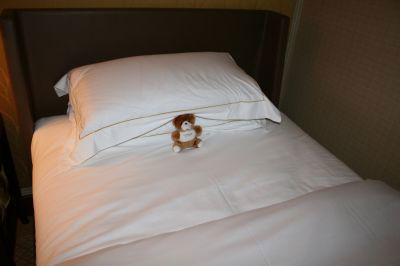 Conrad bear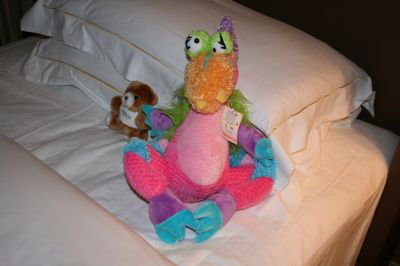 AJ made a new friend, don't ask…
We had a wake-up call for early the next morning because we had a flight to Bali shortly after 10AM, so we went for a quick breakfast upstairs at around 7AM.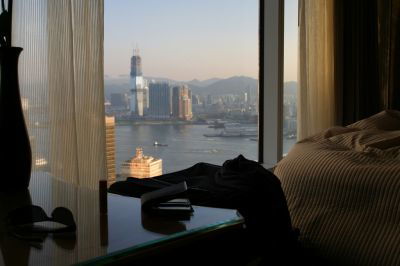 Early morning view from the room
The breakfast was impressive for a club lounge, which I usually find to be quite continental at most hotels. They had all kinds of fruit (which were fresh and delicious), cooked to order omelets, all kinds of toast, muffins, pastries, hash browns, waffles, pancakes, meats, cheeses, yogurt, cereal, muesli, etc. It never ended…

Fruit, cottage cheese, jam, smoothies, muesli, etc.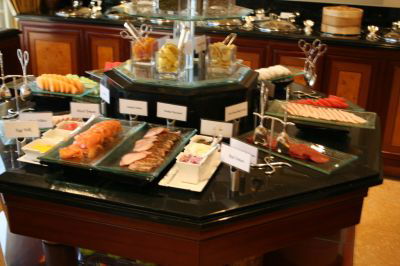 Meats, fruit, etc.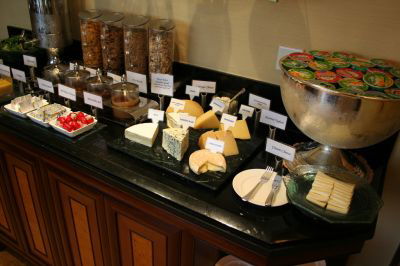 Cereal, cheese, etc.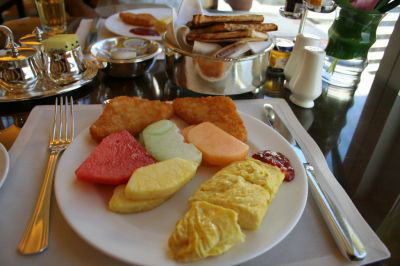 My breakfast: omelet, hash browns, fruit
Check-out was efficient and we were on our way in no time.
This is without a doubt my favorite hotel in Hong Kong. While the service was slightly rough around the edges at times (or at least in some cases not overly friendly), the room, lounge, location, and public facilities were all top notch.
I'd definitely return. In my opinion almost any Conrad is a total steal at 40,000 points.