We got to HKG via the Airport Express at around 8:30AM for our 10:30AM flight. We proceeded to SQ check-in, which was quick and friendly. We actually went separately as the other person waited around the corner with the bags, since we had slightly more than the carry-on allowance between the two of us (read: kitchen sink).
As AJ was up at the desk he overheard three guys from Star Alliance talking to the station manager about how they were doing "audits," and they proceeded to stand there as they snooped in on the agents. Hopefully my future employer.;)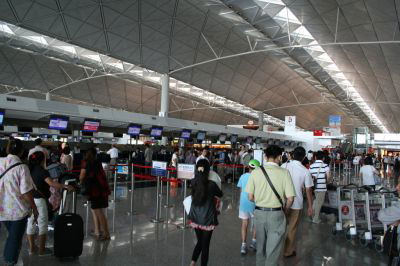 Departures hall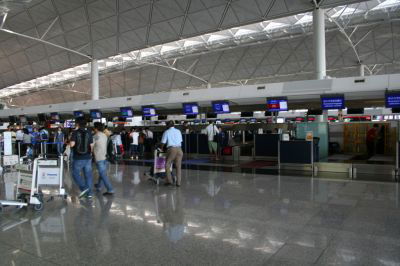 SQ check-in
Once we had our BP's we proceeded to security, which took all of five minutes. We then did some duty free browsing, followed by a visit to my favorite Star Gold lounge in the world, the Thai Royal Orchid lounge. It was a bit of a haul (in the mid-40's area while we were leaving from the 20's), but well worth it.
The friendly agent made a copy of our boarding passes and promptly admitted us.
The lounge was basically empty, and I checked my email while AJ used the massage chair (which I love, especially after a longhaul from the US).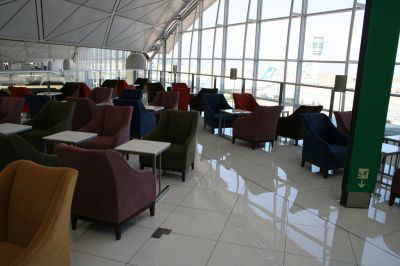 Thai lounge seating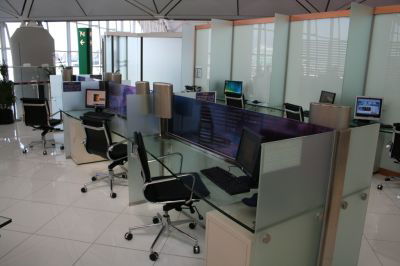 Computers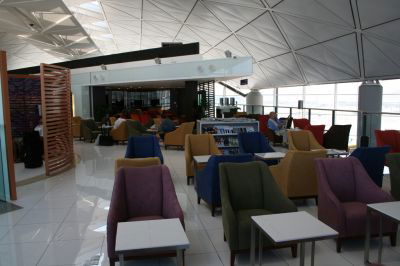 More Thai seating…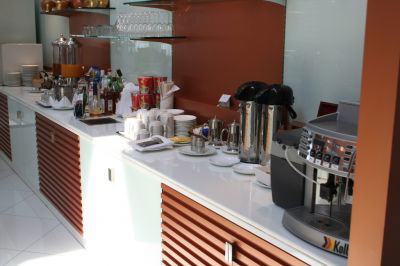 Food selection (somewhat limited at this time)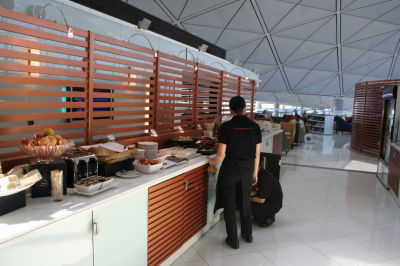 More food
After about 30 minutes in the lounge we decided to make a quick stop at the RCC before heading to the gate (and also to have SQ donate $40 to UA, if ya know what I mean).
The RCC was totally packed, not surprisingly. In the lounge we overheard a guy on his phone saying something along the lines of "they offered me a first class seat for taking the flight through Chicago instead of my current seat in business class through San Francisco, but I declined. That would mean two hours less at the beach." While AJ could relate to the guy, I nearly had a heart attack!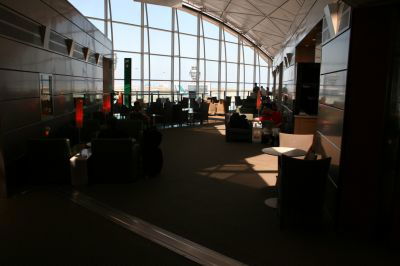 RCC (pardon the lighting)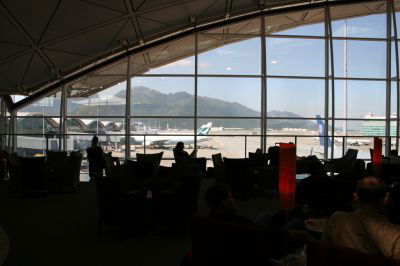 More RCC shots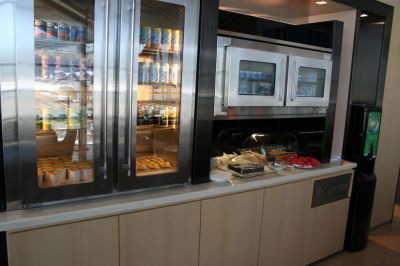 RCC drinks/snacks
While the Thai lounge is substantially nicer than the RCC, this is still without a doubt the best RCC in the system, in my opinion.
After a few minutes in the RCC we headed over to our gate, where boarding was just starting. We got in the Business/First/PPS line, and were promptly aboard.
HKG-SIN, SQ857, 1030-1410
This was a regionally configured 777-200, and we were seated in the forward business cabin. I'm going to avoid going on and on about SQ, because frankly it's always the same– consistently excellent! As usual, everything was offered promptly, in abundance, and with a smile. Why continue raving about it?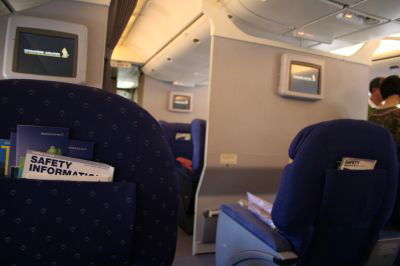 Cabin looking forward before takeoff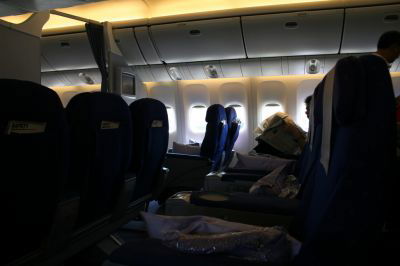 Looking across the plane
Anyway, for pre-departure bevvies I had pineapple/orange/whatever juice and AJ had OJ.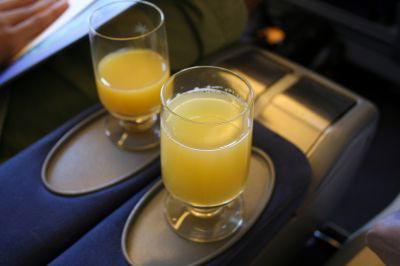 PDB beverages
The flight was about half full, and we pushed back on time. We were airborne in no time, and service began shortly after takeoff.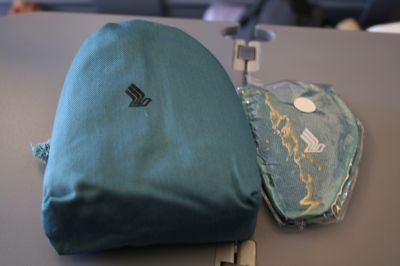 Socks/eyeshades passed out shortly after takeoff
The curtains were closed quickly so that the people up front wouldn't have the eyesore of having to look at us lowly Biz passengers.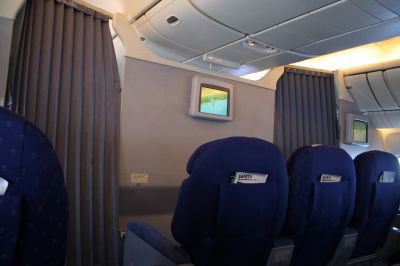 Curtains
Drink orders were taken, and I went with one of their signature fruity cocktails. Forgot which one exactly.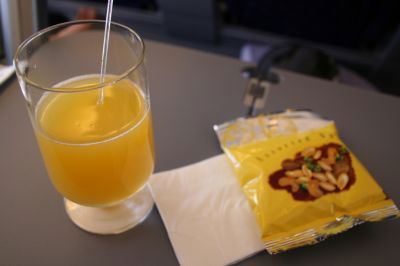 Drink after takeoff
While I had originally done "Book the Cook" for chicken, I preferred the steak on the menu and the FA's had extras, so gladly swapped it out for me.
The meal service took the better part of an hour, which is always a nice way to pass a flight.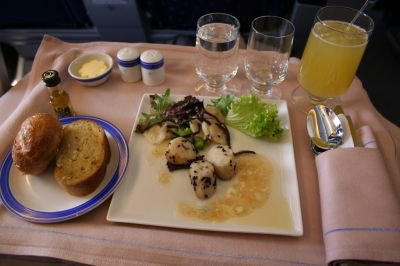 Appetizer, along with the best thing about SQ, GARLIC BREAD!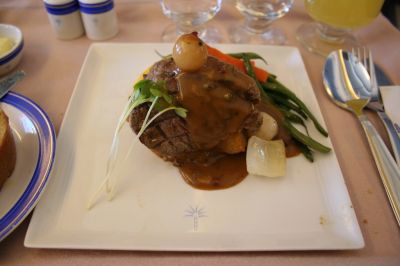 Excellent steak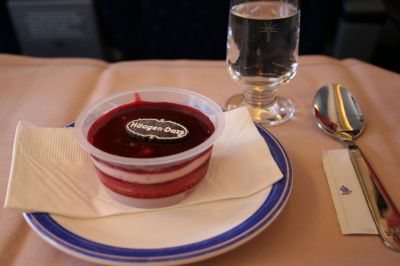 Dessert along with some water
The service on this flight was truly superb, although it's not too tough to get used to. I watched some sitcoms for most of the flight while AJ tried to study. I saw what has to be the funniest Two and a Half Men episode (Jake starts middle school), along with a great episode of The Simpsons (Marge starts a business). My apologies to the other passengers that had to put up with me laughing my rear off.
I also read the in-flight magazine, which had a mention of the new male uniforms. They're a HUGE Improvement. The old suits (which were suitable for a 1970's disco party, IMO) are now replaced by classy black suits. Big, huge thumbs up on that.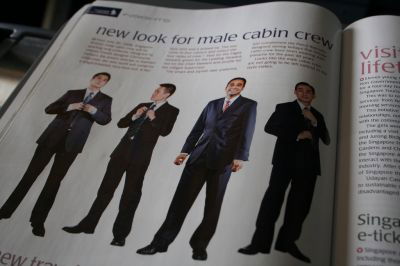 New male uniforms
I took a short nap before landing, and forgot to keep the menu, so sorry, no description of the meal on this flight.
We landed into a rainy SIN and had a long taxi to our gate which was in T3, something I was looking forward to seeing.
Overall I was quite impressed by T3. It's not anything absolutely stunning, but it's nice, modern, convenient, functional, and aesthetically pleasing. Good enough for me!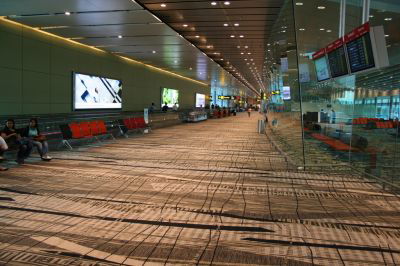 T3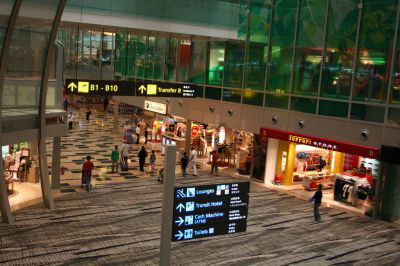 Shops area of T3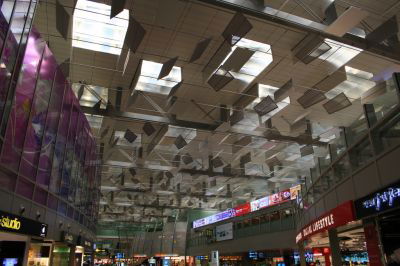 Ceiling, hmmm…
We then headed to the T3 SKL, which is relatively new. This lounge is a substantial improvement over the old lounge, in my opinion. While the food selection was good at the old one, this one was much more modern and spacious, something the old one really lacked. I know I'm a bit extreme in saying this, but this one just doesn't feel like a refugee camp anymore (by SQ standards)….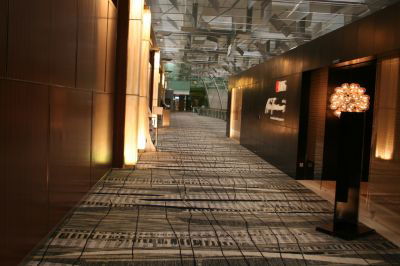 Walking towards the lounge

SKL seating area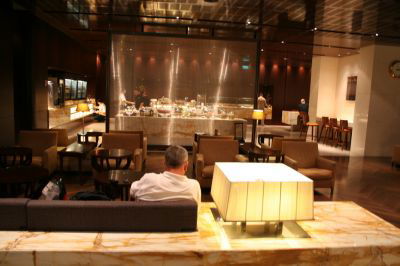 Seating area and food service area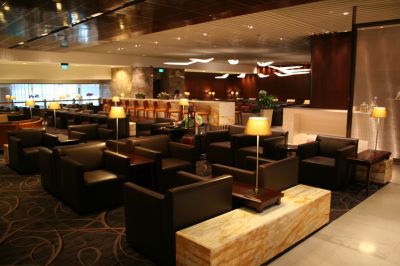 More seating…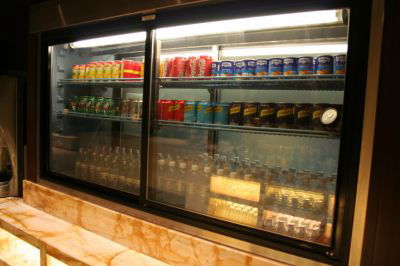 Drink cooler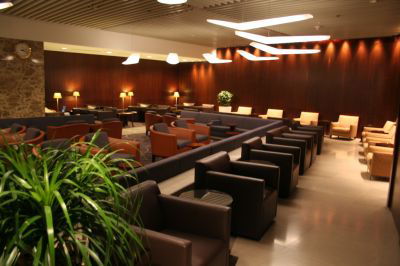 Even more seating!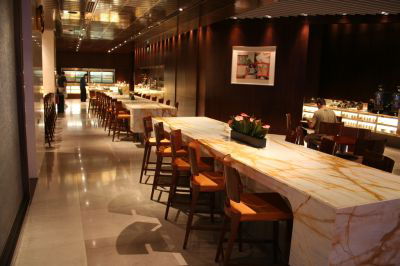 I bet you can guess what this is!
We headed to the gate right as boarding started, where we were handed immigration forms which were pretty big. Shortly thereafter they called boarding for business class, but basically the whole plane proceeded on board (one weakness of already checking boarding passes before passengers get in the holding area).
SIN-DPS, SQ946, 1640-1910
The flight was full, including up front. There was an American family seated across from us, and I couldn't help but think "Did a family really fly paid business all the way from the US?" Stay tuned for an interesting turn on that situation…
I'll let pictures do most of the talking here, since it was a typical SQ flight.
This time we were on a regional two cabin 777-200.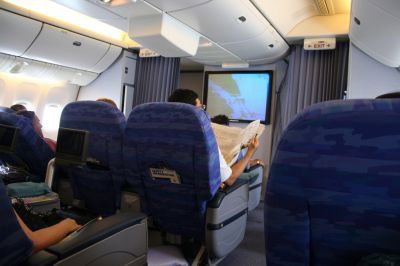 Business cabin from our seats in row 12
Drink service began shortly after takeoff, and I chose some other random drink from the cocktail menu. It was a bit too strong for my taste, but still not bad.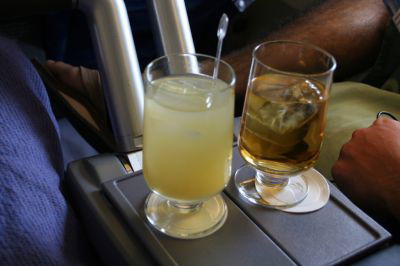 Drinks
While I had done "Book the Cook" again, I swapped with AJ. He took my pre-ordered beef, and I ordered another beef entree.
The menu read as follows:
A Savoury Note
Yam somo
Thai style pomelo with prawn salad

The Main Event
Cod fillet with steamed mussel in moroccan spice sauce, baby leek, peas, carrot and fettuccine

Beef rendang
Braised beef with vegetables in coconut gravy and steamed rice

Braised chicken with ginger and spring onion, seasonal vegetables and noodles

A Sweet Note
Ben & Jerry Ice Cream
Choice of vanilla for a chance or berry nice

A Connoisseur's Choice
Gourmet coffee
Selection of tea
Since this flight was only two hours and pretty late, the appetizer was on the same tray as the main course. I went with the braised beef, and it was incredible. Really really good. I'm also a huge fan of the foccacio (in addition to garlic bread, of course).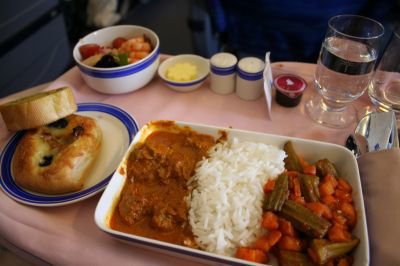 My dinner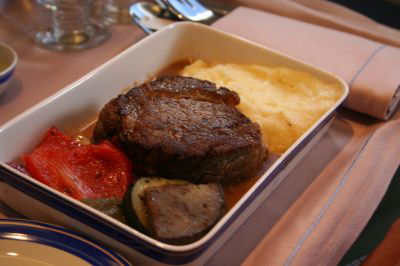 AJ's dinner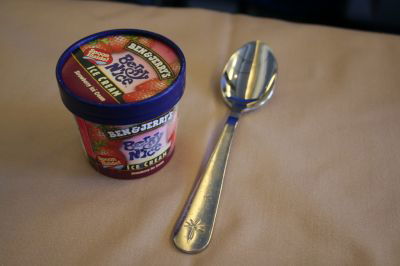 Dessert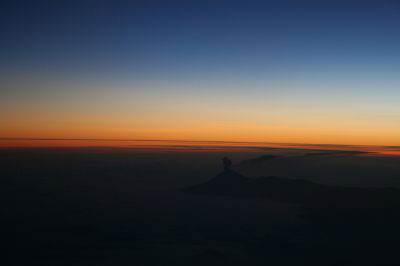 Incredible sunset as we approached Bali…
We got into Bali right on time. I'll save everything from getting out of the jetway for the next post, since part of the benefit of being a club guest at the IC is the arrivals service.
More to come…