I'm going to try and write all of the hotel and flight reviews first, and then go back to talk about the destinations a bit.
We got to the Macau Ferry Terminal at around 4PM and took a cab to the hotel from there. The ride was five minutes at most.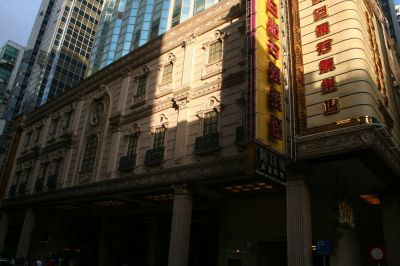 Hotel exterior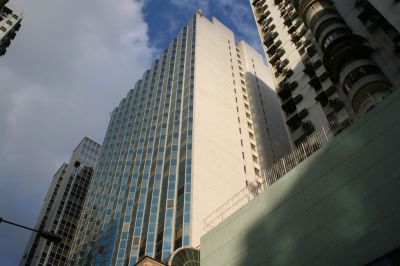 Full hotel exterior
At check-in I presented my Priority Club Platinum card and the agent immediately got another agent to handle check-in, who turned out to be the "front desk supervisor." She was very professional, gave us her business card, and said she had upgraded us to a club suite.
Based on what I had seen previously on the website, all of the suites had just one king bed, so one of us was going to sleep on the couch. When she realized there were two of us she said "Hmm, would you prefer two beds?" I explained that I didn't know they had suites with two beds but that we'd much prefer that.
She got us a suite on the top floor, and within a few minutes we were on our way. She told us to call her if we ever needed anything.
The one thing that's annoying as all heck about this property is that the elevators can take quite a while, it's anything but nonstop service.
Regardless, we found our room and were quite impressed overall, considering the rate was under $100 all-in.
Upon entering was the living room, which had a nice couch along with two chairs and a flat screen TV.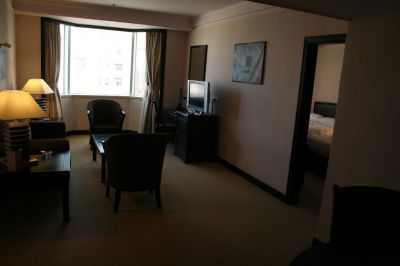 Living room
There was also a small table with a few chairs.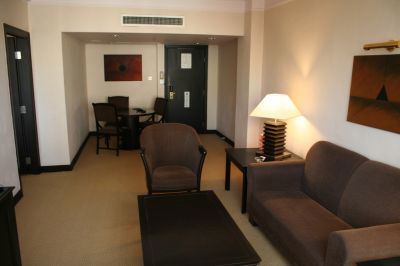 Dining area and living room
The bedroom was a decent size with yet another TV. This is where the major weakness came in– the bed was hard, REALLY hard! If I were to take a hammer to the mattress to try and break it, I'd break the hammer before I break the mattress. I really think they stuffed the mattress with bricks, because there's no other plausible explanation for how hard the mattress was. I've been to plenty of hotels with "hard" mattresses, but this one was a new experience for both of us…
We called housekeeping for some comforters, and they brought up five of them…. I'm guessing the hard bedding is one of their more frequent complaints.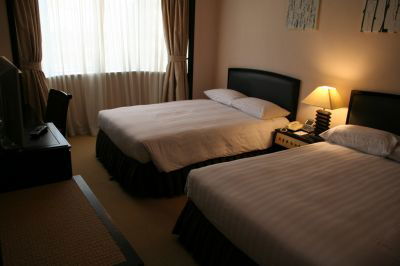 Bedroom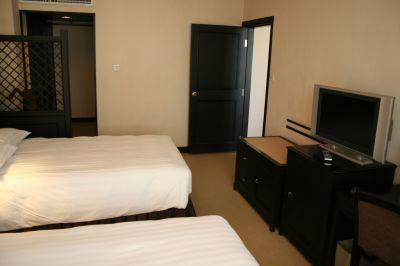 Bedroom looking towards bathroom
Off the side of the bedroom is the bathroom, which is alright although has the strangest in-room lighting I've ever seen. It's the definition of flourescent, and almost painfully so.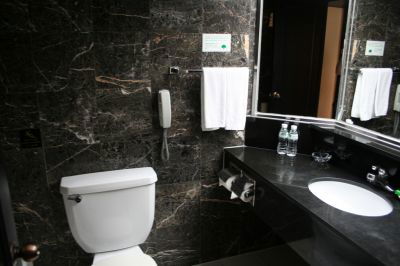 Bathroom
All of the toiletries read "Executive Club," which I thought was pretty funny since they didn't strike me as being any different than the standard ones.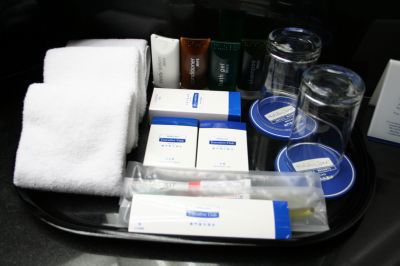 Toiletries
Within a few minutes of getting to our room they brought up a newspaper and plate of fruit.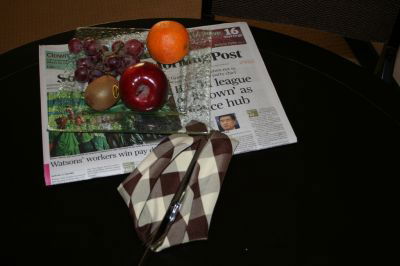 Fruit and newspaper
We explored the hotel facilities a bit and were pleasantly surprised by the nice sized gym, hot tubs, and pool. Sadly I forgot to take a picture of the pool, but it was a really good size for such a hotel, and was very nicely designed.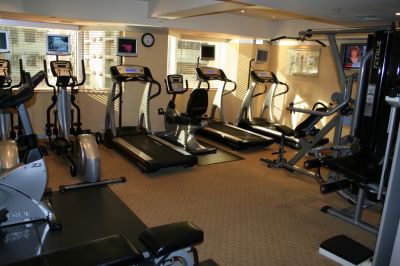 Gym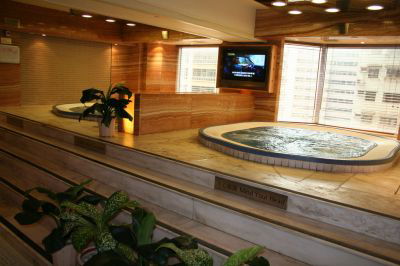 Whirlpools
By that time it was 5PM, which is when the club lounge opens for the evening. Ultimately we were upgraded to this so I shouldn't be too critical, but there seemed to be a reason it was always empty. The food and drink selection were quite limited. While the design was fine, I never actually saw anyone else in it.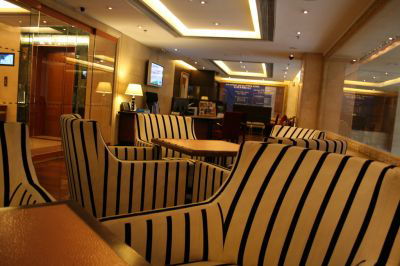 Club lounge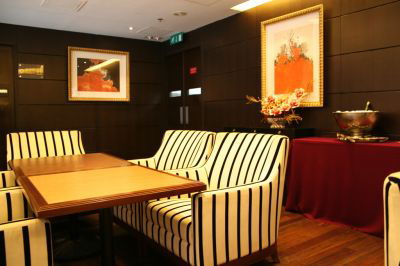 Club lounge (extent of drinks in back right)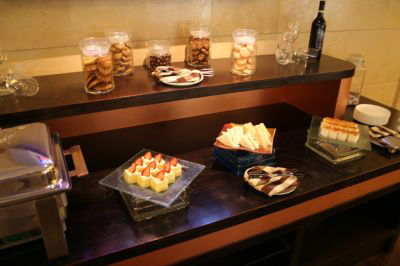 Evening snacks
We went there again for breakfast and saw that the breakfast selection was about as continental as what I'd expect on a Continental flight from TPA-EWR in coach.
Fortunately (and this is a really big plus), breakfast is free in the restaurant for club guests. It would usually cost $20USD per person, so that was a great feature to have for free. The breakfast in the restaurant was top notch, with everything one could possibly want.
We were once again checked out by the front desk manager, who was exceedingly professional.
Overall I give this hotel an A+ for effort (the upgrade, personalized check-in, fruit plate, etc.) and a B+ for execution, which is pretty good. Considering our low rate (which is still the standard rate at this hotel) and what we received (upgrade to a club level suite which includes free breakfast in the restaurant), I'd happily return.