On Monday I flew Swiss first class from Zurich to Los Angeles, on their new 777-300ER aircraft. Yesterday I shared my experience on the flight, which was great for the most part.
The one major wrinkle with the flight was that the entertainment didn't work at all. I was in seat 2K, and while everyone else's entertainment was working, my entertainment was broken.
My entertainment controller said "loading," so I pointed it out to the flight attendant shortly after takeoff and she said she'd reset my system.

She tried, though the same problem continued. She tried to reset it again. It still didn't work. She then did a hard reset of the seat, and it still didn't work.
At this point the flight attendant called over the maitre d'cabin, who was extremely apologetic. I said "it's alright, this happens with technology" and she said "no, no, it's not alright."
She went through the manual on her iPad to see if there was anything else they could do to reset the system, though unfortunately there wasn't. She did say she could basically "send" a movie to my seat, so asked me to pick out a movie. So I picked one out, and she said she'd "send" it to my screen.
She returned to my seat five minutes later and let out a loud gasp when she noticed it wasn't playing on my screen.
The maitre d'cabin and first class flight attendants were all so apologetic throughout the flight, so they did a great job handling it.
On one hand I think it's really unfortunate when an entertainment screen doesn't work in first class. A one-way first class ticket between Zurich and Los Angeles retails for over $13,000, so at least I had paid "only" 70,000 miles for the seat.

Closer to landing, the maitre d'cabin returned to my seat with a box of chocolates and an apology card with a code on it.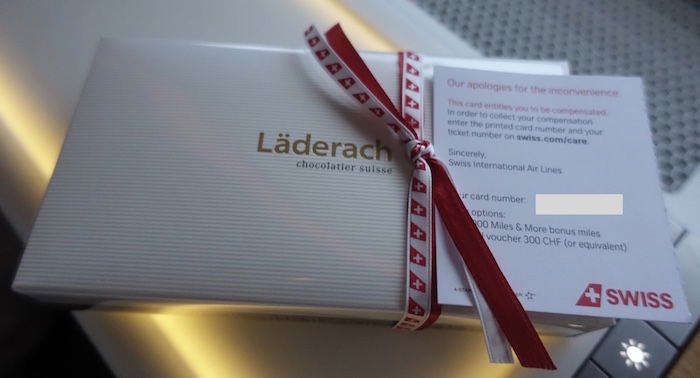 The card was an interesting concept, since it had perforated edges and listed the compensation amount, so I suspect the lead flight attendant can choose from a few different amounts.
In my case, I was offered the choice between 10,000 Miles & More miles or a 300CHF (~$300) travel voucher on Swiss.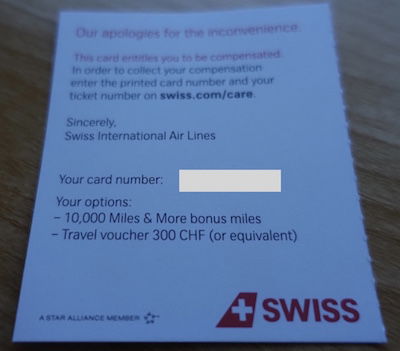 I appreciate the gesture, though I'm not sure I'll get much out of either in practice. Miles & More isn't my preferred Star Alliance frequent flyer program, so I doubt I'll use the miles anytime soon. Furthermore, the travel voucher is only valid if flying Swiss, and I don't see myself booking a paid ticket on them anytime soon.
Assuming either of those is transferrable, maybe I can do a blog giveaway for it.
Bottom line
I appreciated how proactive and apologetic the crew was about the broken entertainment. It obviously wasn't their fault, but they were extremely embarrassed. Ultimately I realize technology failures happen, though it's especially unfortunate when it's in first class on a longhaul flight.
As far as the compensation offer goes, I'm a bit conflicted. If I had actually paid ~$13K+ for the one-way ticket, I'd expect compensation amounts 10x this high. If paying that much I'd think 100,000 Miles & More miles would be more reasonable.
At the same time, I recognize that I redeemed 70,000 miles for my ticket, so don't think I deserve that much. The 300CHF travel voucher would seem fair to me if I usually booked tickets on Swiss, while the 10,000 mile offer seems a bit low.
Ultimately this happens once in a while, and I fly often enough that it doesn't bother me. The one reason the timing was especially unfortunate is because this was my one opportunity to review Swiss, so I couldn't really review their entertainment system. Oh well.
So for those of you who asked, that's how this all played out.
What do you make of Swiss' compensation offer — is 10,000 miles or a 300CHF travel voucher "fair?"