Staying connected while abroad without getting a separate SIM card keeps getting easier thanks to the number of great plans available through cell phone providers. For frequent international travelers, there seem to be two options that are most popular: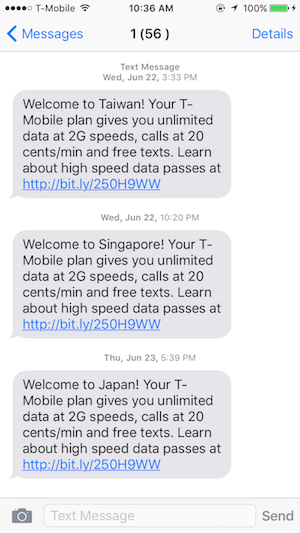 I love T-Mobile, and am so happy I made the switch from AT&T last year. I'm not exaggerating when I say that it has been life changing, given that I can tether off my phone and also have data when traveling internationally. Of the bigger carriers I think T-Mobile has been doing the most innovating, though it also needs to be pointed out that other cell phone providers are narrowing the gap.
Not only that, but Sprint may just have caught up, if not surpassed, T-Mobile. This week Sprint announced their new Global Roaming Plan. Sprint users now get free data at up to 2G speeds, free texting, and calls at 20 cents per minute, in 165 countries. This is very similar to T-Mobile's international plan, except T-Mobile roaming is only available in 145 countries, so Sprint has 20 more countries on the list.
On top of that, Sprint is offering a reasonably priced option to upgrade your data internationally. In most countries, Sprint users can pay $5 per day or $25 per week to upgrade to LTE high-speed data when traveling. This new feature can be activated directly on your smartphone in a few clicks, so this isn't something that needs to be done in advance.
Here's the chart that Sprint provides in their press release with a comparison of what they offer, compared to their competitors: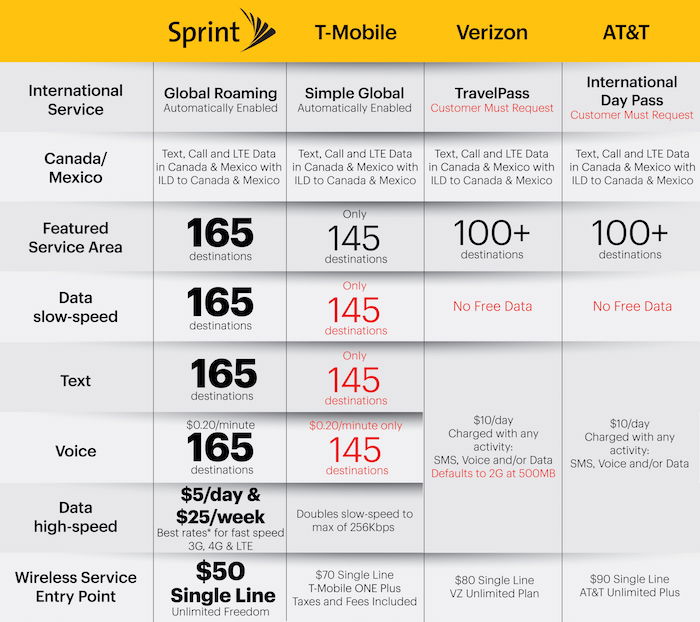 T-Mobile also has an updated international plan, called T-Mobile ONE Plus. It costs an extra $25 per line per month, and gets you international data at 256kbps internationally, up to 3G speeds. Many frequent international travelers will find this worthwhile, though 3G still isn't LTE, like what Sprint is offering.
Bottom line
Sprint's new international data plan is compelling. On the most basic level, they're offering unlimited data internationally in 20 more countries than T-Mobile is. But I actually think their option to upgrade to LTE speeds could be a good value as well, given how slow 2G is. I'm curious to see how T-Mobile responds.
What do you make of Sprint's new international plan?
(Tip of the hat to @RoamingRei)