Reader Shawn asked me the following question in the Ask Lucky forum:
Thinking of changing over to t-mobile soon. How have they been for you? Any regrets?
Simply put, switching to T-Mobile has been life changing for me. I shared my experience switching from AT&T to T-Mobile, and also my first experience using T-Mobile's Simple Choice International Plan.
For those of you not aware, T-Mobile offers unlimited data in over 140 countries around the world, and you can even make phone calls for 20 cents per minute while abroad (though you can also use Skype or Google Voice to make calls for free).

I've been with T-Mobile for over two months now, and have traveled internationally a lot during this time. I'm just as much of a fan of them today as I was the first day I switched. I'm paying half as much as I was with AT&T, and am getting so much more.
What stands out to me about T-Mobile?
Prior to switching, people warned me that T-Mobile's service wasn't as good in the US. I've noticed zero difference in my service in the US compared to when I had AT&T (which isn't to say that will be the case for you, but it has been the case for me).
T-Mobile's Simple Choice International Plan is simply incredible. Being able to stay connected while abroad without having to worry about charges has been life changing in terms of keeping in touch with my family and friends, and up to date on work.
With AT&T I wasn't able to tether at all, since I had a grandfathered unlimited data plan (which was such a ripoff, in retrospect). I didn't even consider this when making the switch, but tethering has proven so useful. I am so much more productive nowadays, as I can work on my laptops while in Ubers, while sitting on the plane waiting for boarding to finish, etc. I get a couple of extra hours of productivity out of this every week.
An hour of free Gogo Wi-Fi on every flight, plus unlimited free messaging, is awesome as well.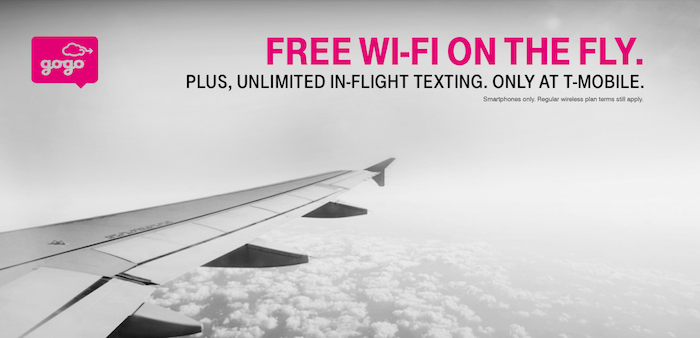 Are there any downsides to T-Mobile?
Well, I'm not sure I'd call them downsides, per se, but rather considerations. As T-Mobile publishes, the Simple Choice Plan is available in 140+ countries. There are almost 200 countries in the world, so it goes without saying that not all countries are included. In my travels since switching to T-Mobile, the plan wasn't available in Morocco or Fiji.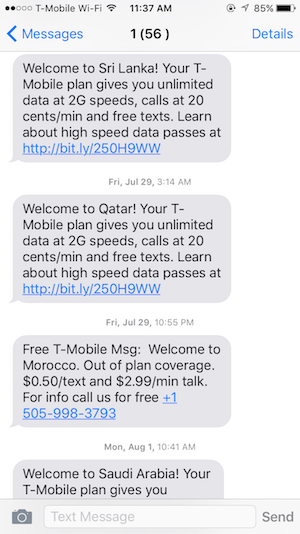 Also, to be realistic, T-Mobile offers 2G speeds abroad. That's by no means high speed. That being said, I'm not using my phone abroad to watch videos while roaming the streets. 2G is just fine for Twitter, Instagram, email, maps, Googling stuff, etc. Do keep in mind sometimes they offer faster speeds in certain areas. For example, all summer they've been offering 4G speed in Europe, which has been awesome.
Bottom line
T-Mobile's Simple Choice Plan is everything I could have hoped for and then some. I pay half as much as I had paid with AT&T, and get so much more. If you haven't made the switch yet, I can't recommend T-Mobile enough. The only other service worth considering is Google-Fi, which Tiffany has written about in the past.