T-Mobile has become the "go to" wireless carrier for international travelers, thanks to their revolutionary Simple Choice International Plan, which offers automatic coverage in over 140 countries around the world, with data and texting at no extra charge, plus a cost of just 20 cents per minute for calls.
Last week T-Mobile became even better for travelers, as they introduced free Gogo Wi-Fi for customers.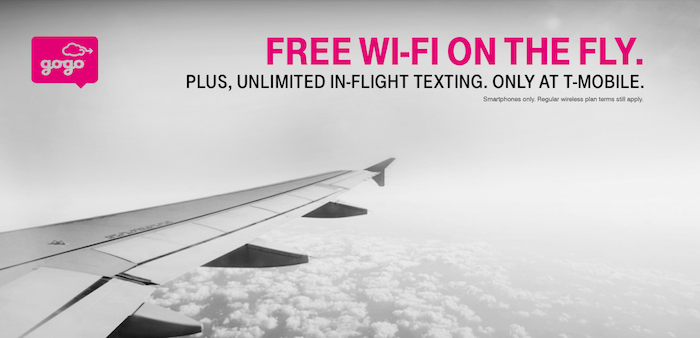 Why I haven't had T-Mobile up until now
There's no good reason, unfortunately. For years I've had AT&T, and I've hated them. But I guess it's that I hate cell phone companies so much that I didn't even want to think how aggravating it would be to switch cell phone providers. So much like going to the dentist or getting a yearly check-up, I pushed off switching cell phone providers.
When traveling internationally I'd typically just not use any cell phone data, but instead would rely mostly on hotel Wi-Fi. As someone who spends nearly half their time out of the US, what a stupid system!
I was also considering switching to Google Fi, which Tiffany recently wrote about. However, as someone who isn't especially tech savvy, that seemed a bit too complicated for me, and it doesn't seem like it's especially compatible with iPhones.
What finally caused me to switch
Last week when T-Mobile announced free Gogo Wi-Fi, I figured it was about time I switch. I also have a ton of international travel coming up, and it would be so nice to have continuous phone coverage around the world. I've almost never thought of even turning data on abroad with my AT&T phone.
For example, one minute of data in the UAE once cost me $500 with AT&T (I could retroactively sign-up for a plan to get that lowered, but I find it ridiculous that this is even a price they would consider charging, when T-Mobile offers it for free). It's so beyond customer unfriendly.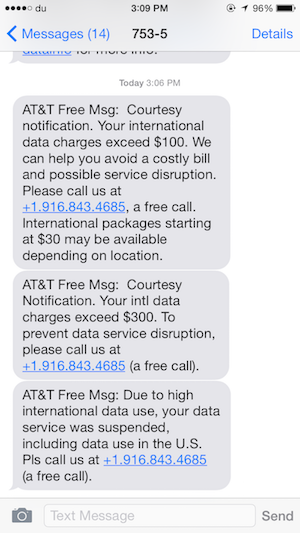 I can save how much with T-Mobile?!
This past week I was in Florida visiting my mom, and we decided to go to the T-Mobile store to finally make the switch.
For reference, I've been paying $260 a month for two lines (my line, and my mom's line). The last time I called about lowering the cost of the bill, the AT&T representative said "oh no, you don't want to switch, you have one of our grandfathered plans with unlimited data, which you'll never be able to get again."
As someone who isn't especially tech savvy, I believed her, and kept our current plan.
So I was shocked when T-Mobile told me that the total cost for two lines with 10GB of data each (which, based on looking at our usage over the past several years, is more than enough) would cost a total of $100 per month.
I could cut the cost of my cell phone bill by 60% while also getting free international data? Yes please!!
Then starts the process of switching
The first step was to unlock my phone and my mom's phone. That required calling AT&T… from the T-Mobile store. For anyone making a similar switch, I'd recommend having your phone unlocked before you go to a competing store (with AT&T it can be done through this webpage).
The associate explained that I should call AT&T and ask for the phone to be unlocked.
"So do I tell them I'm leaving AT&T, or…?"
"No, you don't have to."
"Okay, but presumably they'll ask, no? What's a good answer?"
"Just tell them you're traveling internationally and want to use your own SIM card."
I spoke to the rudest imaginable AT&T associate who was so condescending (the account is technically in my mom's name, but I've been paying the bill for us for over five years, and she talked down to me as if I was a little kid wasting her time, despite the fact that the account was verified and that my mom authorized me to talk to her).
I guess I should have expected it, but the process of unlocking a phone isn't instant. You have to request it to be unlocked, and then get a follow-up email within 24 hours confirming you want it unlocked, and then have to wait a further period. How ridiculous.
She then tried to sell me on AT&T's international plan, which was incredibly awkward, since I was in a T-Mobile store with T-Mobile ads playing over the speakers. I'm not sure if she caught onto what I was doing or not.
The unlocking process worked relatively seamlessly for my mom's phone. She made the request, and later that afternoon the phone was unlocked, which was faster than expected (I still don't get why it isn't instant, but…).
In the case of my phone, it took five days to get my phone unlocked. Five days. The email confirming the switch never arrived, so I followed up three times, each time being told it should arrive within 24 hours. I finally got pushier yesterday (while still being nice), and requested they do it on the spot, since it had been much longer than they promised. Fortunately the representative was able to get it unlocked on the spot.
So I headed back to the T-Mobile store to get my SIM cards changed and my number transferred over, which was an easy process.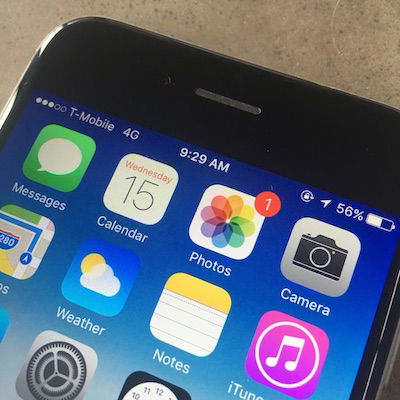 How bad is T-Mobile reception?
One of the downsides to T-Mobile is that apparently their coverage in the US isn't as good as with other AT&T. I'm sure that's the case, but I'd note that in Tampa & St. Petersburg (where I was over the weekend) the reception was as good as with AT&T.
Now I'm in Los Angeles, and since activating T-Mobile yesterday, I haven't noticed any change in the quality of the reception.
I'll report back if I notice any substantial difference, but so far it seems to be the best case scenario, since I haven't noticed a difference.
Bottom line
I'm thrilled to have finally made the switch from AT&T to T-Mobile. I'm saving ~$150 per month on my cell phone plan, and I'm getting data while traveling abroad, which I'm so excited about. Furthermore, 20 cents per minute for international phone calls is very reasonable, so I won't hesitate to use my phone when abroad. Essentially I'll treat it the same abroad as I do in the US, which I never thought would be the case.
Seriously, I can't emphasize enough how excited I am to have made the switch to T-Mobile, and perhaps even more so, to tell AT&T to shove it for overcharging me and providing me with horrible service for years. I think this text perfectly sums up my feelings about AT&T: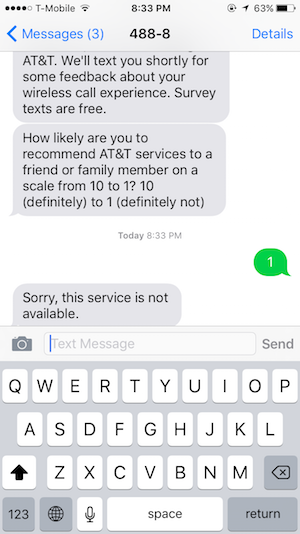 If you've made the switch to T-Mobile, what has your experience been like? Anything to be aware of?