I made the switch from AT&T to T-Mobile back in June, and couldn't be happier about it. I pay less than half as much as I did before, and I get unlimited international data, can finally tether my phone (I had one of those grandfathered unlimited plans with AT&T that didn't allow it), and get an hour of free Gogo Wi-Fi on every eligible flight.
I'm perfectly happy with my current plan, though yesterday T-Mobile announced a new plan that might be of interest to international travelers.
They're introducing T-Mobile ONE, which provides unlimited data for as little as $40 per line. This doesn't actually change T-Mobile's current international plan, as they'll continue to offer 128kbps, up to 2G speeds, with this plan.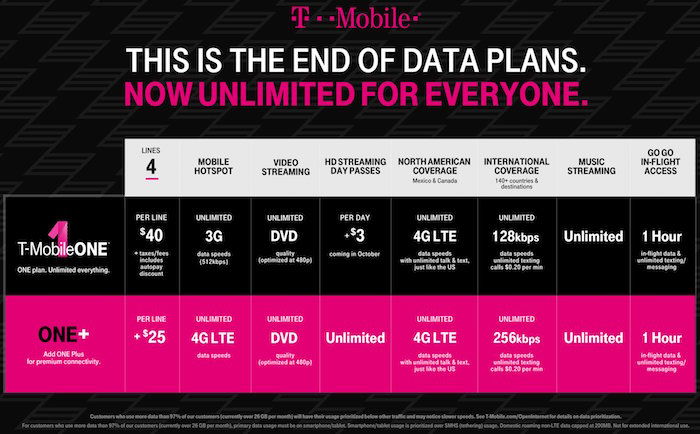 However, they're also introducing T-Mobile ONE Plus, which costs an extra $25 per line per month. This comes with added perks like unlimited 4G LTE tethering in the US and international data at twice the speeds. That means you can get 256kbps internationally, up to 3G speeds. Per T-Mobile's press release:
2x faster speeds abroad. Already, T-Mobile ONE comes with Simple Global – which includes free data roaming in 140+ countries and destinations. Customers with the new T-Mobile One Plus will get the same awesome global connection at twice the speed, up to 3G speeds wherever available.
One complaint people have had about T-Mobile internationally are the 2G speeds, which are on the slow side, admittedly. They do the trick for me, since I'm mainly using my phone for email, Google Maps, etc., when traveling.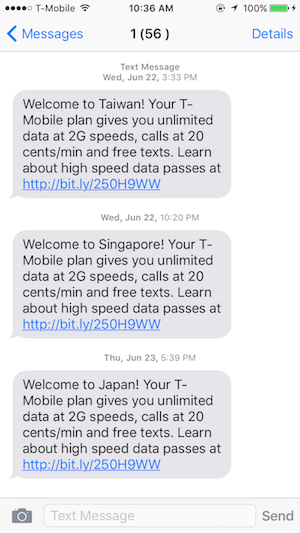 However, there hasn't been a reasonable buy-up option that I know of with T-Mobile for faster speeds without data caps. T-Mobile ONE Plus finally presents the opportunity to get faster speeds abroad.
Is T-Mobile ONE Plus worth it? I guess it depends how much you travel. I know I'd certainly spend an extra few dollars a day for faster phone speeds when traveling abroad, so I might just upgrade when the new offering is introduced on September 1.
What do you make of T-Mobile ONE Plus, and do you plan on upgrading?
(Tip of the hat to @dbender54)