In 2020 we saw airline loyalty programs largely extend status, or at least make it easier to earn. Given that travel hasn't recovered much, we're seeing a similar trend in 2021. Today a variety of positive Southwest Airlines Rapid Rewards policies have been announced for the 2021 program year.
Southwest Companion Pass extended by six months
Southwest Rapid Rewards had already Companion Pass expiration from December 31, 2020, to June 30, 2021. Those same memberships have now been extended by a further six months, through December 31, 2021. You can expect your accounts to reflect this change within a week.
That means 2020 Companion Pass members will have in the end received a 12 month status extension. Note that this doesn't apply to members who earned a promotional Companion Pass, or those who previously received an extension.
For those of you not familiar with Companion Pass:
It ordinarily requires 100 flights or 125,000 qualifying points
The most valuable perk is that you can always have a companion fly with you for just the cost of the taxes, regardless of whether paying cash or redeeming points; this is one of the best deals in travel
Note that A-List status had already been extended by 12 months (through December 31, 2021), so there's no further extension there for now, which is fair enough.
Southwest makes it easier to earn status
Beyond the Companion Pass extension, Southwest Rapid Rewards is making it easier to earn status in 2021, at least for those who had an account open as of December 31, 2020. In recognition of normal flying patterns having been interrupted, all Rapid Rewards members are getting a boost of:
15,000 qualifying points and 10 flight credits towards A-List and A-List Preferred
25,000 qualifying points and 25 flight credits towards Companion Pass
For context on A-List and A-List Preferred:
A-List ordinarily requires 25 flights or 35,000 qualifying points, and offers perks like bonus points, priority check-in, priority boarding, same-day standby, and more
A-List Preferred ordinarily requires 50 flights or 70,000 qualifying points, and includes many of the above perks, plus 100% bonus points, free inflight Wi-Fi, and more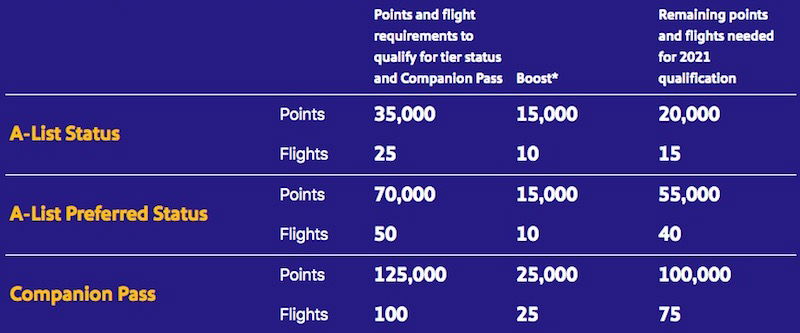 This potentially gets you 40% of the way to A-List, or 20% of the way to Companion Pass. This could be a great incentive to get a Southwest Rapid Rewards credit card, since points earned on those cards qualify towards Companion Pass.
Earn Southwest status through credit card spending
In 2021, those with Southwest Airlines credit cards will have uncapped spending towards A-List and A-List Preferred status:
Those with the Premier, Priority, Premier Business, and Performance Card, can earn 1,500 qualifying points towards A-List or A-List Preferred for every $10,000 spent
This is valid between the first day of the January 2021 billing cycle through the last statement of 2021
There's no cap on how many qualifying points you can earn towards A-List and A-List Preferred during the promotion period, so you could earn this purely through spending
Bottom line
Southwest Airlines Rapid Rewards is extending Companion Pass for a further six months, and is also making it significantly easier to earn A-List or Companion Pass in 2021.
Will you benefit from this Southwest Rapid Rewards development?