Back in August, Southwest Airlines introduced the ability to convert vouchers into Rapid Rewards points. This is a reminder that today is the last day to do so — if you have any remaining Southwest vouchers, you'll have to make a decision today.
Should you convert Southwest vouchers into points?
Basics of converting Southwest vouchers into points
Since August, Southwest Airlines travel funds can be converted into Rapid Rewards points:
This can be done through December 15, 2020
You must be a Rapid Rewards members to take advantage of this (signing up is free and instant)
This is only valid for travel funds expiring September 7, 2022 (which is when vouchers from tickets canceled during the pandemic expire)
This is only valid for tickets purchased directly from Southwest Airlines
The names on the travel funds and Rapid Rewards account must match exactly
Travel funds from corporate tickets (SWABIZ) aren't eligible for conversion, unless it has specifically been requested by the company
At what rate can you convert travel funds into points?
At the time of posting, Southwest travel funds can be converted into Rapid Rewards points at the same rate at which you'd be able to purchase tickets today. As a general rule of thumb:
Southwest Airlines Wanna Get Away fares cost 76-78 points per dollar
Southwest Airlines Anytime fares cost 78 points per dollar
Business Select fares cost 78 points per dollar
This means that Rapid Rewards points can be redeemed for somewhere around 1.3 cents each towards the cost of a ticket, which is in line with how I valued points at the time.
What's the process like?
First customers can check the expiration date and amount of their travel funds by going to the "View Travel Funds" section of southwest.com.
Once you know your travel fund situation, you can log into your Rapid Rewards account at this link to start the process of converting credits into points. If your travel funds weren't already linked to your Rapid Rewards account, then you just have to add your confirmation number.
The voucher balance will then be displayed, along with how many points you could get.
For example, I pulled up my mom's travel funds, for a trip we were supposed to take back in April. The option was to convert a $204.98 credit into 15,988 points.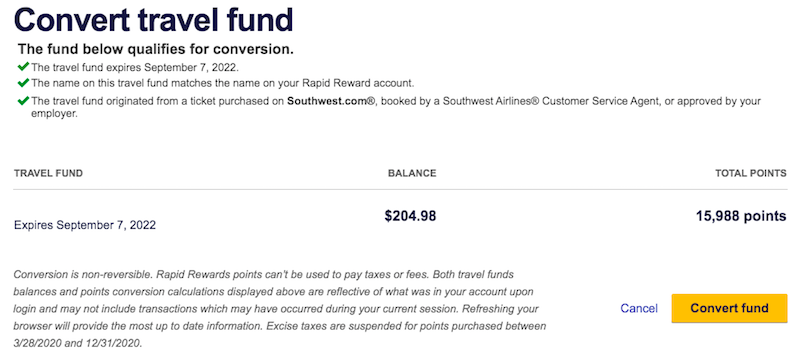 This was initially an "Anytime" fare, so as expected, the credit converted into points at a ratio of 78 points per dollar.
Is converting credits into points worth it?
There are pros and cons to converting travel funds into Rapid Rewards points, so which option is better?
The benefit of travel funds is that:
When you redeem your travel funds towards a ticket you'll still earn Rapid Rewards points, as if you paid cash for the ticket
The benefits of Rapid Rewards points are that:
Rapid Rewards points never expire, while the travel funds expire in 2022
You can redeem your Rapid Rewards points for anyone, while with travel funds only the original passenger can be booked
My personal take is that unless you're certain that you'll book a ticket on Southwest for travel by September 2022, you should convert the voucher into Rapid Rewards points.
In the case of my mom's voucher, we decided to convert it into points. We don't know when she'll fly Southwest again, and this gives us lots more flexibility.
Bottom line
It's fantastic to see Southwest allowing Rapid Rewards members to convert ticket credits into points at a "fair" rate. Converting credits into points gives people a lot more flexibility, since there's no expiration for points, and you can redeem them for anyone.
This opportunity has been around for months, and is expiring today (unless it's extended), so now is the time to make a decision.
If you have Southwest ticket credits, have you converted them into points (or will you today)?