The "Discover Your Singapore Airlines" initiative was recently revealed, intended for those who have been grounded for too long and wish they could travel.
While the airline isn't operating flights to nowhere (as we've seen from some other airlines), the airline is opening up an A380 restaurant, giving people behind the scenes tours, and delivering premium airplane meals.
Today Singapore Airlines has launched its [email protected] experience, whereby those in Singapore can pay to have a first or business class meal delivered to their home (unfortunately this isn't available internationally yet).
While we had a general sense of what pricing would be like, the exact packages are now on sale, including all the details, and I thought it would be fun to go over that.
What does an 888 SGD first class experience get you?
The most premium dining experience to be enjoyed at home costs 888 SGD (~650USD), or can be had for 111,000 KrisFlyer miles. This is intended to replicate the experience of flying from Singapore to Sydney in first class, and features a signature Matt Moran menu. What are you getting for that?
Well, to start, there's the standard meal, including:
Satay as a canapé
Oscietra caviar
Your choice of appetizer
Your choice of main course
Your choice of dessert
A cheese plate and a variety of seasonal fruit
Here's the full menu: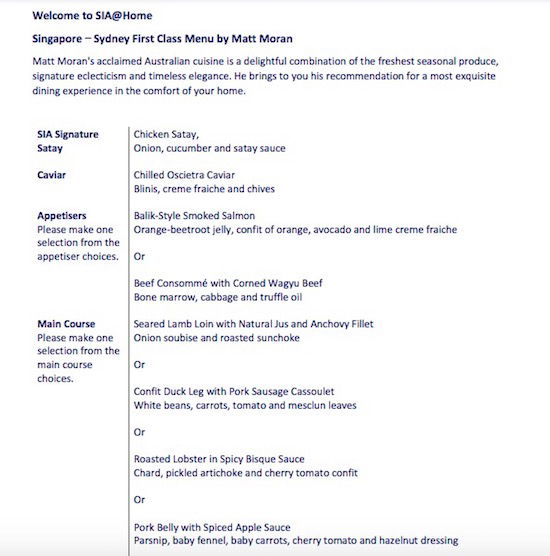 The drink selection is also pretty impressive, as you get:
A bottle of 2008 Dom Perignon
A bottle of 2014 Albert Bichot, Morey-Saint-Denis 1er Cru "Les Sorbets" OR a bottle of 2017 Bouchard Père & Fils Meursault 1er Cru "Genevrières"
You also get a 22-piece set of tableware, including a 12-piece bone china dinnerware set, a six-piece crystalware set, and more:
2x presentation plate
2x small plate
4x large plate
2x soup plate
2x small bowl
2x salad plate
2x butter chip
2x champagne glass
2x wine glass
2x water glass
Salt and pepper shakers
Lastly you get a variety of amenities, including:
1x Lalique male amenity kit
1x Lalique female amenity kit
1x Lalique unisex amenity kit
2x sleeper suits
2x slippers
2x socks
2x eyeshades
Obviously this is a significant amount of money, but it's an all around better value than I was expecting, frankly. You're getting caviar, Dom Perignon, a 22-piece china set, and a lot more.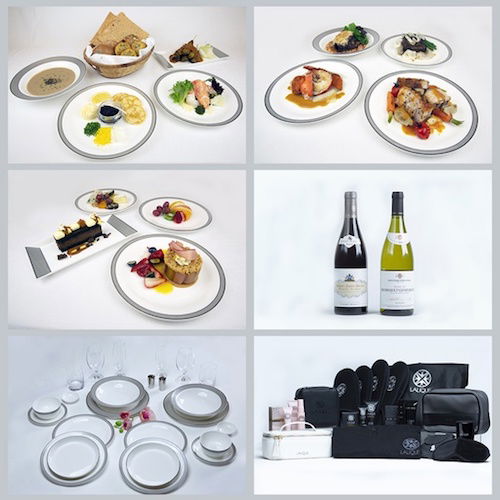 A first class "budget" option
The above isn't the only way to enjoy some aspects of Singapore Airlines first class at home. There's also a more basic first class experience for 328 SGD (~240 USD), or 41,000 KrisFlyer miles. This includes:
Oscietra caviar (2x 30g) with blinis, creme fraiche, and chives
A dozen pieces of chicken satay, including onion, cucumber, and satay sauce
A bottle of 2008 Dom Perignon
Two first class Lalique unisex amenity kits
That cost is pretty close to what you'd usually pay just for a bottle of Dom Perignon, so to get caviar, satay, and amenity kits thrown in, is pretty cool.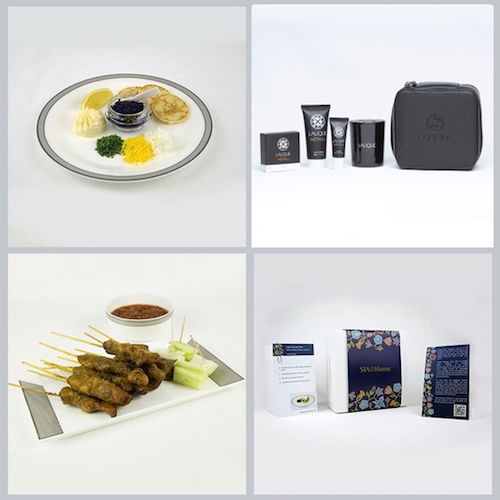 Am I the only one amused by this?!
I'm a huge aviation geek, so I think this initiative is really cool. However, more than anything else, am I the only one who just kind of finds this to be hilarious? I can't help but picture how disastrous it would be if I ordered this for my home:
Ford would hate me, because I'd force us to watch the safety video first, would arbitrarily declare the seatbelt sign to be on, and would constantly tell him to wait before eating so I can get the right pictures (much like on planes)
Having enjoyed the United Polaris dining experience at home, something tells me that my plating and reheating would be a complete disaster
Bottom line
In the past we've seen some airlines sell meals to be enjoyed at home, but they've almost always been economy meals that were intended to replace a microwave dinner, rather than offer a gourmet dining experience.
In that sense Singapore Airlines is doing something really unique here, by trying to replicate the first class dining experience at home. It goes without saying that this is pricey — after all, it comes with Dom Perignon and caviar — but the pricing is significantly more reasonable than I was expecting.
What do you make of this Singapore Airlines dining concept for at home? To readers in Singapore, are you taking part in this? If you live elsewhere, would you buy one of these packages if you were eligible?